Abstract
G protein-coupled receptors (GPCRs) control crucial physiological processes and their dysfunction contributes to various human diseases, including cancer. The orphan GPCR GPR55 was identified and cloned more than a decade ago, but very little is known about its physio-pathological relevance. It has been recently shown that GPR55 controls the behavior of human cancer cell lines in culture and xenografts. However, the assessment of the actual role of this receptor in malignant transformation in vivo is hampered by the lack of studies on its functional impact in clinically-relevant models of cancer. Here we demonstrate that GPR55 drives mouse skin tumor development. Thus, GPR55-deficient mice were more resistant to DMBA/TPA-induced papilloma and carcinoma formation than their wild-type littermates. GPR55 exerted this pro-tumor effect primarily by conferring a proliferative advantage on cancer cells. In addition, GPR55 enhanced skin cancer cell anchorage-independent growth, invasiveness and tumorigenicity in vivo, suggesting that it promotes not only tumor development but also tumor aggressiveness. Finally, we observed that GPR55 is upregulated in human skin tumors and other human squamous cell carcinomas compared with the corresponding healthy tissues. Altogether, these findings reveal the pivotal importance of GPR55 in skin tumor development, and suggest that this receptor may be used as a new biomarker and therapeutic target in squamous cell carcinomas.
Relevant articles
Open Access articles citing this article.
Thangesweran Ayakannu

,

Anthony H. Taylor

&

Justin C. Konje

Histochemistry and Cell Biology Open Access 29 July 2021

Maurizio Morri

,

Inmaculada Sanchez-Romero

…

Harald Janovjak

Nature Communications Open Access 16 May 2018

Dan He

,

Jun Wang

…

Chaojun Duan

Molecular Cancer Open Access 01 April 2015
Access options
Subscribe to this journal
Receive 50 print issues and online access
$259.00 per year
only $5.18 per issue
Rent or buy this article
Get just this article for as long as you need it
$39.95
Prices may be subject to local taxes which are calculated during checkout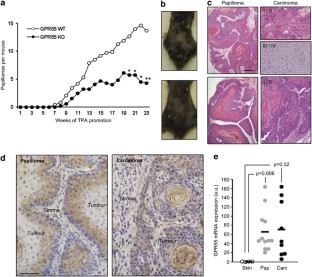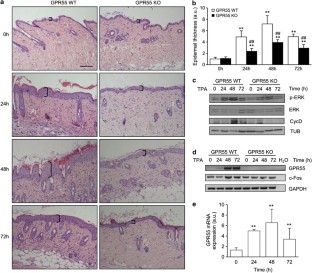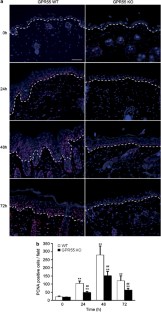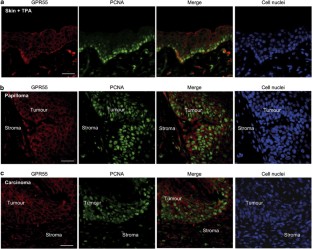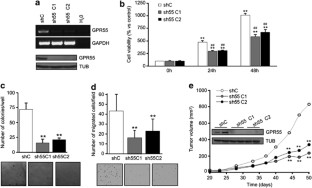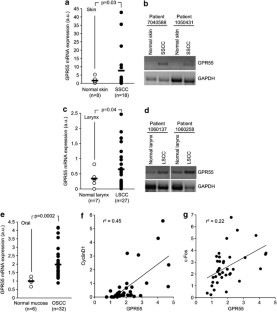 Accession codes
Accessions
GenBank/EMBL/DDBJ
References
Oka S, Nakajima K, Yamashita A, Kishimoto S, Sugiura T . Identification of GPR55 as a lysophosphatidylinositol receptor. Biochem Biophys Res Commun 2007; 362: 928–934.

Sutphen R, Xu Y, Wilbanks GD, Fiorica J, Grendys EC, LaPolla JP et al. Lysophospholipids are potential biomarkers of ovarian cancer. Cancer Epidemiol Biomarkers Prev 2004; 13: 1185–1191.

Xiao YJ, Schwartz B, Washington M, Kennedy A, Webster K, Belinson J et al. Electrospray ionization mass spectrometry analysis of lysophospholipids in human ascitic fluids: comparison of the lysophospholipid contents in malignant vs nonmalignant ascitic fluids. Anal Biochem 2001; 290: 302–313.

Falasca M, Corda D . Elevated levels and mitogenic activity of lysophosphatidylinositol in k-ras-transformed epithelial cells. Eur J Biochem 1994; 221: 383–389.

Falasca M, Iurisci C, Carvelli A, Sacchetti A, Corda D . Release of the mitogen lysophosphatidylinositol from H-Ras-transformed fibroblasts; a possible mechanism of autocrine control of cell proliferation. Oncogene 1998; 16: 2357–2365.

Ford LA, Roelofs AJ, Anavi-Goffer S, Mowat L, Simpson DG, Irving AJ et al. A role for L-alpha-lysophosphatidylinositol and GPR55 in the modulation of migration, orientation and polarization of human breast cancer cells. Br J Pharmacol 2010; 160: 762–771.

Andradas C, Caffarel MM, Perez-Gomez E, Salazar M, Lorente M, Velasco G et al. The orphan G protein-coupled receptor GPR55 promotes cancer cell proliferation via ERK. Oncogene 2011; 30: 245–252.

Pineiro R, Maffucci T, Falasca M . The putative cannabinoid receptor GPR55 defines a novel autocrine loop in cancer cell proliferation. Oncogene 2011; 30: 142–152.

Abel EL, Angel JM, Kiguchi K, DiGiovanni J . Multi-stage chemical carcinogenesis in mouse skin: fundamentals and applications. Nat Protoc 2009; 4: 1350–1362.

Whyte LS, Ryberg E, Sims NA, Ridge SA, Mackie K, Greasley PJ et al. The putative cannabinoid receptor GPR55 affects osteoclast function in vitro and bone mass in vivo. Proc Natl Acad Sci USA 2009; 106: 16511–16516.

Staton PC, Hatcher JP, Walker DJ, Morrison AD, Shapland EM, Hughes JP et al. The putative cannabinoid receptor GPR55 plays a role in mechanical hyperalgesia associated with inflammatory and neuropathic pain. Pain 2008; 139: 225–236.

Perez-Gomez E, Villa-Morales M, Santos J, Fernandez-Piqueras J, Gamallo C, Dotor J et al. A role for endoglin as a suppressor of malignancy during mouse skin carcinogenesis. Cancer Res 2007; 67: 10268–10277.

Sticht C, Freier K, Knopfle K, Flechtenmacher C, Pungs S, Hofele C et al. Activation of MAP kinase signaling through ERK5 but not ERK1 expression is associated with lymph node metastases in oral squamous cell carcinoma (OSCC). Neoplasia 2008; 10: 462–470.

Sawzdargo M, Nguyen T, Lee DK, Lynch KR, Cheng R, Heng HH et al. Identification and cloning of three novel human G protein-coupled receptor genes GPR52, PsiGPR53 and GPR55: GPR55 is extensively expressed in human brain. Brain Res Mol Brain Res 1999; 64: 193–198.

Henstridge CM, Balenga NA, Kargl J, Andradas C, Brown AJ, Irving A et al. Minireview: recent developments in the physiology and pathology of the lysophosphatidylinositol-sensitive receptor GPR55. Mol Endocrinol 2011; 25: 1835–1848.

Dorsam RT, Gutkind JS . G-protein-coupled receptors and cancer. Nat Rev Cancer 2007; 7: 79–94.

Lappano R, Maggiolini M . G protein-coupled receptors: novel targets for drug discovery in cancer. Nat Rev Drug Discov 2011; 10: 47–60.

Choi JW, Herr DR, Noguchi K, Yung YC, Lee CW, Mutoh T et al. LPA receptors: subtypes and biological actions. Annu Rev Pharmacol Toxicol 2010; 50: 157–186.

Houben AJ, Moolenaar WH . Autotaxin and LPA receptor signaling in cancer. Cancer Metastasis Rev 2011; 30: 557–565.

Henstridge CM, Balenga NA, Ford LA, Ross RA, Waldhoer M, Irving AJ . The GPR55 ligand L-alpha-lysophosphatidylinositol promotes RhoA-dependent Ca2+ signaling and NFAT activation. FASEB J. 2009; 23: 183–193.

Kapur A, Zhao P, Sharir H, Bai Y, Caron MG, Barak LS et al. Atypical responsiveness of the orphan receptor GPR55 to cannabinoid ligands. J Biol Chem 2009; 284: 29817–29827.

Lauckner JE, Jensen JB, Chen HY, Lu HC, Hille B, Mackie K . GPR55 is a cannabinoid receptor that increases intracellular calcium and inhibits M current. Proc Natl Acad Sci USA 2008; 105: 2699–2704.

Oka S, Kimura S, Toshida T, Ota R, Yamashita A, Sugiura T . Lysophosphatidylinositol induces rapid phosphorylation of p38 mitogen-activated protein kinase and activating transcription factor 2 in HEK293 cells expressing GPR55 and IM-9 lymphoblastoid cells. J Biochem 2010; 147: 671–678.

Oka S, Toshida T, Maruyama K, Nakajima K, Yamashita A, Sugiura T . 2-Arachidonoyl-sn-glycero-3-phosphoinositol: a possible natural ligand for GPR55. J Biochem 2009; 145: 13–20.

Yin H, Chu A, Li W, Wang B, Shelton F, Otero F et al. Lipid G protein-coupled receptor ligand identification using beta-arrestin PathHunter assay. J Biol Chem 2009; 284: 12328–12338.

Ross RA . The enigmatic pharmacology of GPR55. Trends Pharmacol Sci 2009; 30: 156–163.

Xu Y, Gaudette DC, Boynton JD, Frankel A, Fang XJ, Sharma A et al. Characterization of an ovarian cancer activating factor in ascites from ovarian cancer patients. Clin Cancer Res 1995; 1: 1223–1232.

Xu Y, Shen Z, Wiper DW, Wu M, Morton RE, Elson P et al. Lysophosphatidic acid as a potential biomarker for ovarian and other gynecologic cancers. Jama 1998; 280: 719–723.

Patterson AD, Maurhofer O, Beyoglu D, Lanz C, Krausz KW, Pabst T et al. Aberrant lipid metabolism in hepatocellular carcinoma revealed by plasma metabolomics and lipid profiling. Cancer Res 2011; 71: 6590–6600.

Pagotto U, Marsicano G, Fezza F, Theodoropoulou M, Grubler Y, Stalla J et al. Normal human pituitary gland and pituitary adenomas express cannabinoid receptor type 1 and synthesize endogenous cannabinoids: first evidence for a direct role of cannabinoids on hormone modulation at the human pituitary level. J Clin Endocrinol Metab 2001; 86: 2687–2696.

Petersen G, Moesgaard B, Schmid PC, Schmid HH, Broholm H, Kosteljanetz M et al. Endocannabinoid metabolism in human glioblastomas and meningiomas compared to human non-tumour brain tissue. J Neurochem 2005; 93: 299–309.

Schmid PC, Wold LE, Krebsbach RJ, Berdyshev EV, Schmid HH . Anandamide and other N-acylethanolamines in human tumors. Lipids 2002; 37: 907–912.

Ligresti A, Bisogno T, Matias I, De Petrocellis L, Cascio MG, Cosenza V et al. Possible endocannabinoid control of colorectal cancer growth. Gastroenterology 2003; 125: 677–687.

Schulte KM, Beyer A, Kohrer K, Oberhauser S, Roher HD . Lysophosphatidic acid, a novel lipid growth factor for human thyroid cells: over-expression of the high-affinity receptor edg4 in differentiated thyroid cancer. Int J Cancer 2001; 92: 249–256.

Fang X, Schummer M, Mao M, Yu S, Tabassam FH, Swaby R et al. Lysophosphatidic acid is a bioactive mediator in ovarian cancer. Biochim Biophys Acta 2002; 1582: 257–264.

Shida D, Watanabe T, Aoki J, Hama K, Kitayama J, Sonoda H et al. Aberrant expression of lysophosphatidic acid (LPA) receptors in human colorectal cancer. Lab Invest 2004; 84: 1352–1362.

Kitayama J, Shida D, Sako A, Ishikawa M, Hama K, Aoki J et al. Over-expression of lysophosphatidic acid receptor-2 in human invasive ductal carcinoma. Breast Cancer Res 2004; 6: R640–R646.

Yun CC, Sun H, Wang D, Rusovici R, Castleberry A, Hall RA et al. LPA2 receptor mediates mitogenic signals in human colon cancer cells. Am J Physiol 2005; 289: C2–C11.

Yamashita H, Kitayama J, Shida D, Ishikawa M, Hama K, Aoki J et al. Differential expression of lysophosphatidic acid receptor-2 in intestinal and diffuse type gastric cancer. J Surg Oncol 2006; 93: 30–35.

Zeng Y, Kakehi Y, Nouh MA, Tsunemori H, Sugimoto M, Wu XX . Gene expression profiles of lysophosphatidic acid-related molecules in the prostate: relevance to prostate cancer and benign hyperplasia. Prostate 2009; 69: 283–292.

Huang L, Ramirez JC, Frampton GA, Golden LE, Quinn MA, Pae HY et al. Anandamide exerts its antiproliferative actions on cholangiocarcinoma by activation of the GPR55 receptor. Lab Invest 2011; 91: 1007–1017.

Cantarella G, Scollo M, Lempereur L, Saccani-Jotti G, Basile F, Bernardini R . Endocannabinoids inhibit release of nerve growth factor by inflammation-activated mast cells. Biochem Pharmacol 2011; 82: 380–388.

Lin ME, Herr DR, Chun J . Lysophosphatidic acid (LPA) receptors: signaling properties and disease relevance. Prostaglandins Other Lipid Mediat 2010; 91: 130–138.

Schicho R, Bashashati M, Bawa M, McHugh D, Saur D, Hu HM et al. The atypical cannabinoid O-1602 protects against experimental colitis and inhibits neutrophil recruitment. Inflamm Bowel Dis 2011; 17: 1651–1664.
Acknowledgements
We are indebted to the members of our laboratories and to Dr MM Caffarel for critical discussion on this work. We thank Dr Manuel M Morente, Head of the CNIO Tumor Bank Core Unit, for kindly provided us with human tumor samples. This work was supported by grants from Fondo de Investigaciones Sanitarias (PI080253 to CS), Fundación Mutua Madrileña (to CS), GW Pharmaceuticals/Otsuka Pharmaceuticals (to CS), Comunidad de Madrid (S2010/BMD-2038 to MG) and Spanish Ministry of Science and Innovation (SAF2010-19152 to MQ and SAF2008-00121 and SAF2011-26122-C02-01 to JMP). EPG and CA were the recipients of a Postdoctoral Research Contract from Fundación Científica Asociación Española Contra el Cáncer (AECC) and a PFIS PhD studentship from the Spanish Ministry of Science and Innovation, respectively.
Ethics declarations
Competing interests
The authors declare no conflict of interest.
Supplementary information
About this article
Cite this article
Pérez-Gómez, E., Andradas, C., Flores, J. et al. The orphan receptor GPR55 drives skin carcinogenesis and is upregulated in human squamous cell carcinomas. Oncogene 32, 2534–2542 (2013). https://doi.org/10.1038/onc.2012.278
Received:

Accepted:

Published:

Issue Date:

DOI: https://doi.org/10.1038/onc.2012.278
Keywords
GPR55

G protein-coupled receptors

skin carcinogenesis

squamous cell carcinoma

cannabinoids