Abstract
Y-box binding protein-1 (YB-1) expression in the mammary gland promotes breast carcinoma that demonstrates a high degree of genomic instability. In the present study, we developed a model of pre-malignancy to characterize the role of this gene during breast cancer initiation and early progression. Antibody microarray technology was used to ascertain global changes in signal transduction following the conditional expression of YB-1 in human mammary epithelial cells (HMEC). Cell cycle-associated proteins were frequently altered with the most dramatic being LIM kinase 1/2 (LIMK1/2). Consequently, the misexpression of LIMK1/2 was associated with cytokinesis failure that acted as a precursor to centrosome amplification. Detailed investigation revealed that YB-1 localized to the centrosome in a phosphorylation-dependent manner, where it complexed with pericentrin and γ-tubulin. This was found to be essential in maintaining the structural integrity and microtubule nucleation capacity of the organelle. Prolonged exposure to YB-1 led to rampant acceleration toward tumorigenesis, with the majority of cells acquiring numerical and structural chromosomal abnormalities. Slippage through the G1/S checkpoint due to overexpression of cyclin E promoted continued proliferation of these genomically compromised cells. As malignancy further progressed, we identified a subset of cells harboring HER2 amplification. Our results recognize YB-1 as a cancer susceptibility gene, with the capacity to prime cells for tumorigenesis.
Relevant articles
Open Access articles citing this article.
Erbao Zhang

,

Xuezhi He

…

Wei De

Genome Biology Open Access 04 October 2018

Ken Matsumoto

,

Shingo Kose

…

Minoru Yoshida

Scientific Reports Open Access 18 April 2018

Atsushi Kawaguchi

,

Masamitsu N. Asaka

…

Kyosuke Nagata

Scientific Reports Open Access 05 March 2015
Access options
Subscribe to this journal
Receive 50 print issues and online access
$259.00 per year
only $5.18 per issue
Rent or buy this article
Prices vary by article type
from$1.95
to$39.95
Prices may be subject to local taxes which are calculated during checkout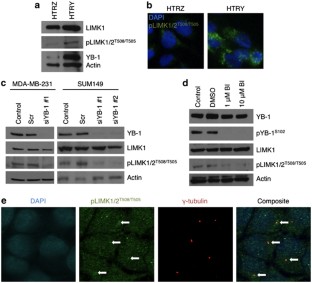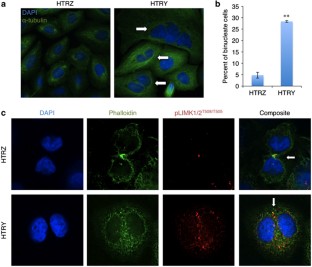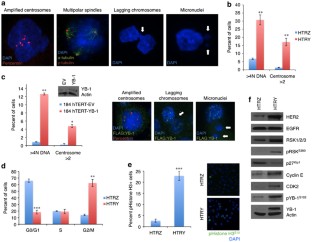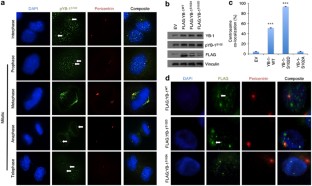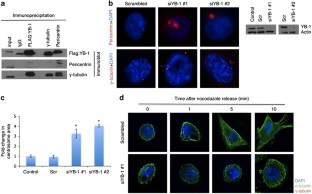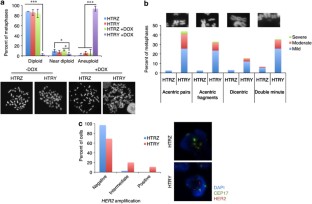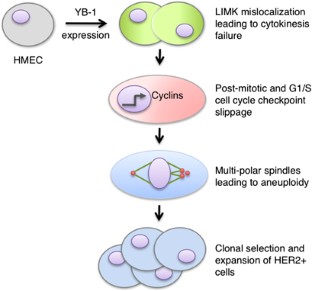 References
Alliegro MC, Alliegro MA, Palazzo RE . (2006). Centrosome-associated RNA in surf clam oocytes. Proc Natl Acad Sci USA 103: 9034–9038.

Amano T, Kaji N, Ohashi K, Mizuno K . (2002). Mitosis-specific activation of LIM motif-containing protein kinase and roles of cofilin phosphorylation and dephosphorylation in mitosis. J Biol Chem 277: 22093–22102.

Band V, Zajchowski D, Kulesa V, Sager R . (1990). Human papilloma virus DNAs immortalize normal human mammary epithelial cells and reduce their growth factor requirements. Proc Natl Acad Sci USA 87: 463–467.

Barber TD, McManus K, Yuen KW, Reis M, Parmigiani G, Shen D et al. (2008). Chromatid cohesion defects may underlie chromosome instability in human colorectal cancers. Proc Natl Acad Sci USA 105: 3443–3448.

Basaki Y, Taguchi K, Izumi H, Murakami Y, Kubo T, Hosoi F et al. (2010). Y-box binding protein-1 (YB-1) promotes cell cycle progression through CDC6-dependent pathway in human cancer cells. Eur J Cancer 46: 954–965.

Basto R, Brunk K, Vinadogrova T, Peel N, Franz A, Khodjakov A et al. (2008). Centrosome amplification can initiate tumorigenesis in flies. Cell 133: 1032–1042.

Bergmann S, Royer-Pokora B, Fietze E, Jurchott K, Hildebrandt B, Trost D et al. (2005). YB-1 provokes breast cancer through the induction of chromosomal instability that emerges from mitotic failure and centrosome amplification. Cancer Res 65: 4078–4087.

Bernard O . (2007). Lim kinases, regulators of actin dynamics. Int J Biochem Cell Biol 39: 1071–1076.

Berquin IM, Pang B, Dziubinski ML, Scott LM, Chen YQ, Nolan GP et al. (2005). Y-box-binding protein 1 confers EGF independence to human mammary epithelial cells. Oncogene 24: 3177–3186.

Bouvet P, Matsumoto K, Wolffe AP . (1995). Sequence-specific RNA recognition by the xenopus Y-box proteins. An essential role for the cold shock domain. J Biol Chem 270: 28297–28303.

Chakrabarti R, Jones JL, Oelschlager DK, Tapia T, Tousson A, Grizzle WE . (2007). Phosphorylated LIM kinases colocalize with gamma-tubulin in centrosomes during early stages of mitosis. Cell Cycle 6: 2944–2952.

Davila M, Jhala D, Ghosh D, Grizzle WE, Chakrabarti R . (2007). Expression of LIM kinase 1 is associated with reversible G1/S phase arrest, chromosomal instability and prostate cancer. Mol Cancer 6: 40.

Dhillon J, Astanehe A, Lee C, Fotovati A, Hu K, Dunn SE . (2010). The expression of activated Y-box binding protein-1 serine 102 mediates trastuzumab resistance in breast cancer cells by increasing CD44+ cells. Oncogene 29: 6294–6300.

Dimri G, Band H, Band V . (2005). Mammary epithelial cell transformation: insights from cell culture and mouse models. Breast Cancer Res 7: 171–179.

Dumont N, Crawford YG, Sigaroudinia M, Nagrani SS, Wilson MB, Buehring GC et al. (2009). Human mammary cancer progression model recapitulates methylation events associated with breast premalignancy. Breast Cancer Res 11: R87.

Elenbaas B, Spirio L, Koerner F, Fleming MD, Zimonjic DB, Donaher JL et al. (2001). Human breast cancer cells generated by oncogenic transformation of primary mammary epithelial cells. Genes Dev 15: 50–65.

Evdokimova V, Tognon C, Ng T, Ruzanov P, Melnyk N, Fink D et al. (2009). Translational activation of snail1 and other developmentally regulated transcription factors by YB-1 promotes an epithelial-mesenchymal transition. Cancer Cell 15: 402–415.

Finkbeiner MR, Astanehe A, To K, Fotovati A, Davies AH, Zhao Y et al. (2009). Profiling YB-1 target genes uncovers a new mechanism for MET receptor regulation in normal and malignant human mammary cells. Oncogene 28: 1421–1431.

Fujiwara T, Bandi M, Nitta M, Ivanova EV, Bronson RT, Pellman D . (2005). Cytokinesis failure generating tetraploids promotes tumorigenesis in p53-null cells. Nature 437: 1043–1047.

Fukasawa K . (2007). Oncogenes and tumour suppressors take on centrosomes. Nat Rev Cancer 7: 911–924.

Ganem NJ, Godinho SA, Pellman D . (2009). A mechanism linking extra centrosomes to chromosomal instability. Nature 460: 278–282.

Gaudreault I, Guay D, Lebel M . (2004). YB-1 promotes strand separation in vitro of duplex DNA containing either mispaired bases or cisplatin modifications, exhibits endonucleolytic activities and binds several DNA repair proteins. Nucleic Acids Res 32: 316–327.

Guay D, Gaudreault I, Massip L, Lebel M . (2006). Formation of a nuclear complex containing the p53 tumor suppressor, YB-1, and the werner syndrome gene product in cells treated with UV light. Int J Biochem Cell Biol 38: 1300–1313.

Habibi G, Leung S, Law JH, Gelmon K, Masoudi H, Turbin D et al. (2008). Redefining prognostic factors for breast cancer: YB-1 is a stronger predictor of relapse and disease-specific survival than estrogen receptor or HER-2 across all tumor subtypes. Breast Cancer Res 10: R86.

Hanahan D, Weinberg RA . (2000). The hallmarks of cancer. Cell 100: 57–70.

Holland AJ, Cleveland DW . (2009). Boveri revisited: chromosomal instability, aneuploidy and tumorigenesis. Nat Rev Mol Cell Biol 10: 478–487.

Ise T, Nagatani G, Imamura T, Kato K, Takano H, Nomoto M et al. (1999). Transcription factor Y-box binding protein 1 binds preferentially to cisplatin-modified DNA and interacts with proliferating cell nuclear antigen. Cancer Res 59: 342–346.

Janz M, Harbeck N, Dettmar P, Berger U, Schmidt A, Jurchott K et al. (2002). Y-box factor YB-1 predicts drug resistance and patient outcome in breast cancer independent of clinically relevant tumor biologic factors HER2, uPA and PAI-1. Int J Cancer 97: 278–282.

Jurchott K, Bergmann S, Stein U, Walther W, Janz M, Manni I et al. (2003). YB-1 as a cell cycle-regulated transcription factor facilitating cyclin A and cyclin B1 gene expression. J Biol Chem 278: 27988–27996.

Kohno K, Izumi H, Uchiumi T, Ashizuka M, Kuwano M . (2003). The pleiotropic functions of the Y-box-binding protein, YB-1. Bioessays 25: 691–698.

Lee C, Dhillon J, Wang MY, Gao Y, Hu K, Park E et al. (2008). Targeting YB-1 in HER-2 overexpressing breast cancer cells induces apoptosis via the mTOR/STAT3 pathway and suppresses tumor growth in mice. Cancer Res 68: 8661–8666.

Nigg EA . (2006). Origins and consequences of centrosome aberrations in human cancers. Int J Cancer 119: 2717–2723.

Nigg EA . (2002). Centrosome aberrations: cause or consequence of cancer progression? Nat Rev Cancer 2: 815–825.

Nigg EA, Raff JW . (2009). Centrioles, centrosomes, and cilia in health and disease. Cell 139: 663–678.

Raouf A, Brown L, Vrcelj N, To K, Kwok W, Huntsman D et al. (2005). Genomic instability of human mammary epithelial cells overexpressing a truncated form of EMSY. J Natl Cancer Inst 97: 1302–1306.

Romanov SR, Kozakiewicz BK, Holst CR, Stampfer MR, Haupt LM, Tlsty TD . (2001). Normal human mammary epithelial cells spontaneously escape senescence and acquire genomic changes. Nature 409: 633–637.

Scully R . (2000). Role of BRCA gene dysfunction in breast and ovarian cancer predisposition. Breast Cancer Res 2: 324–330.

Shi Q, King RW . (2005). Chromosome nondisjunction yields tetraploid rather than aneuploid cells in human cell lines. Nature 437: 1038–1042.

Shibao K, Takano H, Nakayama Y, Okazaki K, Nagata N, Izumi H et al. (1999). Enhanced coexpression of YB-1 and DNA topoisomerase II alpha genes in human colorectal carcinomas. Int J Cancer 83: 732–737.

Slamon DJ, Clark GM, Wong SG, Levin WJ, Ullrich A, McGuire WL . (1987). Human breast cancer: correlation of relapse and survival with amplification of the HER-2/neu oncogene. Science 235: 177–182.

Stratford AL, Fry CJ, Desilets C, Davies AH, Cho YY, Li Y et al. (2008). Y-box binding protein-1 serine 102 is a downstream target of p90 ribosomal S6 kinase in basal-like breast cancer cells. Breast Cancer Res 10: R99.

Stratford AL, Habibi G, Astanehe A, Jiang H, Hu K, Park E et al. (2007). Epidermal growth factor receptor (EGFR) is transcriptionally induced by the Y-box binding protein-1 (YB-1) and can be inhibited with iressa in basal-like breast cancer, providing a potential target for therapy. Breast Cancer Res 9: R61.

Sumi T, Hashigasako A, Matsumoto K, Nakamura T . (2006). Different activity regulation and subcellular localization of LIMK1 and LIMK2 during cell cycle transition. Exp Cell Res 312: 1021–1030.

Sutherland BW, Kucab J, Wu J, Lee C, Cheang MC, Yorida E et al. (2005). Akt phosphorylates the Y-box binding protein 1 at Ser102 located in the cold shock domain and affects the anchorage-independent growth of breast cancer cells. Oncogene 24: 4281–4292.

Takai N, Hamanaka R, Yoshimatsu J, Miyakawa I . (2005). Polo-like kinases (plks) and cancer. Oncogene 24: 287–291.

Tlsty TD, Crawford YG, Holst CR, Fordyce CA, Zhang J, McDermott K et al. (2004). Genetic and epigenetic changes in mammary epithelial cells may mimic early events in carcinogenesis. J Mammary Gland Biol Neoplasia 9: 263–274.

To K, Fotovati A, Reipas KM, Law JH, Hu K, Wang J et al. (2010). Y-box binding protein-1 induces the expression of CD44 and CD49f leading to enhanced self-renewal, mammosphere growth, and drug resistance. Cancer Res 70: 2840–2851.

Wang X, Zhou YX, Qiao W, Tominaga Y, Ouchi M, Ouchi T et al. (2006). Overexpression of aurora kinase A in mouse mammary epithelium induces genetic instability preceding mammary tumor formation. Oncogene 25: 7148–7158.

Wu J, Lee C, Yokom D, Jiang H, Cheang MC, Yorida E et al. (2006). Disruption of the Y-box binding protein-1 results in suppression of the epidermal growth factor receptor and HER-2. Cancer Res 66: 4872–4879.

Yang X, Yu K, Hao Y, Li DM, Stewart R, Insogna KL et al. (2004). LATS1 tumour suppressor affects cytokinesis by inhibiting LIMK1. Nat Cell Biol 6: 609–617.

Yoshioka K, Foletta V, Bernard O, Itoh K . (2003). A role for LIM kinase in cancer invasion. Proc Natl Acad Sci USA 100: 7247–7252.

Yu YN, Yip GW, Tan PH, Thike AA, Matsumoto K, Tsujimoto M et al. (2010). Y-box binding protein 1 is up-regulated in proliferative breast cancer and its inhibition deregulates the cell cycle. Int J Oncol 37: 483–492.
Acknowledgements
We thank Ching-Shih Chen (The Ohio State University) for providing BI-D1870 and Michel Lebel (l'Universite Laval) for providing plasmid encoding GFP-tagged YB-1. This study was supported by the National Institutes of Health RO1 CA114017 (SED, IMB), the Michael Smith Foundation for Health Research (AHD), the Canadian Institutes of Health Research (AHD, SED) and the Canadian Breast Cancer Foundation (ALS).
Ethics declarations
Competing interests
The authors declare no conflict of interest.
Supplementary information
About this article
Cite this article
Davies, A., Barrett, I., Pambid, M. et al. YB-1 evokes susceptibility to cancer through cytokinesis failure, mitotic dysfunction and HER2 amplification. Oncogene 30, 3649–3660 (2011). https://doi.org/10.1038/onc.2011.82
Received:

Revised:

Accepted:

Published:

Issue Date:

DOI: https://doi.org/10.1038/onc.2011.82
Keywords