Abstract
Inactivation of the von Hippel–Lindau (VHL) tumor-suppressor gene causes both hereditary and sporadic clear-cell renal-cell carcinoma (ccRCC). Although the best-characterized function of the VHL protein (pVHL) is regulation of hypoxia-inducible factor-α (HIFα), pVHL also controls the development of pheochromocytoma through HIF-independent pathways by regulating JunB. However, it is largely unknown how these pathways contribute to the development and progression of ccRCC. In the present study, we confirmed that JunB was upregulated in VHL-defective ccRCC specimens by immunostaining. Short-hairpin RNA (shRNA)-mediated knockdown of JunB in 786-O and A498 VHL null ccRCC cells suppressed their invasiveness. In addition, JunB knockdown significantly repressed tumor growth and microvessel density in xenograft tumor assays. Conversely, forced expression of wild-type, but not dimerization-defective, JunB in a VHL-restored 786-O subclone promoted invasion in vitro and tumor growth and vessel formation in vivo. Quantitative PCR array analysis revealed that JunB regulated multiple genes relating to tumor invasion and angiogenesis such as matrix metalloproteinase-2 (MMP-2), MMP-9 and chemokine (C-C motif) ligand-2 (CCL2) in 786-O cells. JunB knockdown in these cells reduced the proteolytic activity of both MMPs in gelatin zymography and the amount of CCL2 in the culture supernatant. Moreover, shRNA-mediated knockdown of MMP-2 or inhibition of CCL2 activity with a neutralizing antibody repressed xenograft tumor growth and angiogenesis. Collectively, these results suggest that JunB promotes tumor invasiveness and enhances angiogenesis in VHL-defective ccRCCs.
Relevant articles
Open Access articles citing this article.
Juliane Wutschka

,

Bettina Kast

…

Marina Schorpp-Kistner

Clinical & Experimental Metastasis Open Access 19 July 2021

Fengjuan Fan

,

Stefano Malvestiti

…

Klaus Podar

Leukemia Open Access 18 May 2021

Raj Kumar

,

Arul M. Mani

…

Gadiparthi N. Rao

Cell Death & Disease Open Access 07 May 2020
Access options
Subscribe to Journal
Get full journal access for 1 year
$119.00
only $2.38 per issue
All prices are NET prices.
VAT will be added later in the checkout.
Tax calculation will be finalised during checkout.
Buy article
Get time limited or full article access on ReadCube.
$32.00
All prices are NET prices.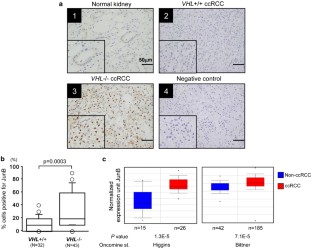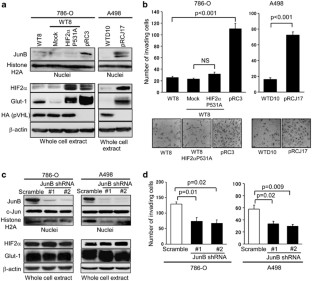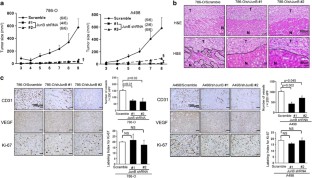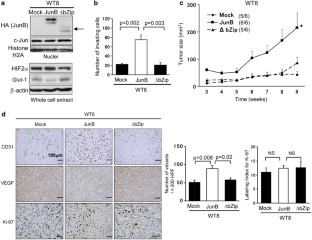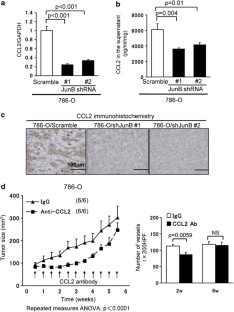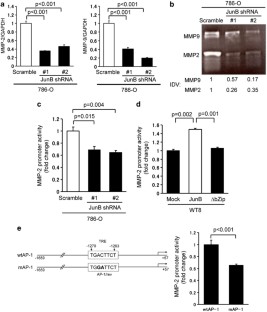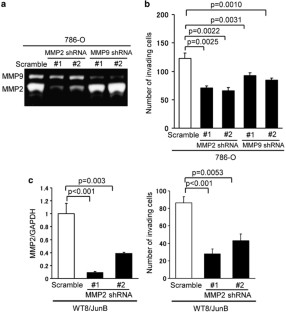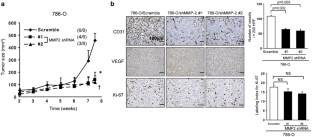 References
Balkwill F . (2004). Cancer and the chemokine network. Nat Rev Cancer 4: 540–550.

Bian J, Sun Y . (1997). Transcriptional activation by p53 of the human type IV collagenase (gelatinase A or matrix metalloproteinase 2) promoter. Mol Cell Biol 17: 6330–6338.

Brugarolas J . (2007). Renal-cell carcinoma—molecular pathways and therapies. N Engl J Med 356: 185–187.

Calzada MJ . (2010). von Hippel–Lindau syndrome: molecular mechanisms of the disease. Clin Transl Oncol 12: 160–165.

Eferl R, Wagner EF . (2003). AP-1: a double-edged sword in tumorigenesis. Nat Rev Cancer 3: 859–868.

Frew IJ, Krek W . (2008). pVHL: a multipurpose adaptor protein. Sci Signal 1: pe30.

Higgins JP, Shinghal R, Gill H, Reese JH, Terris M, Cohen RJ et al. (2003). Gene expression patterns in renal cell carcinoma assessed by complementary DNA microarray. Am J Pathol 162: 925–932.

Kaelin Jr WG . (2008). The von Hippel–Lindau tumour suppressor protein: O2 sensing and cancer. Nat Rev Cancer 8: 865–873.

Kaelin Jr WG . (2009). Treatment of kidney cancer: insights provided by the VHL tumor-suppressor protein. Cancer 115: 2262–2272.

Kallakury BV, Karikehalli S, Haholu A, Sheehan CE, Azumi N, Ross JS . (2001). Increased expression of matrix metalloproteinases 2 and 9 and tissue inhibitors of metalloproteinases 1 and 2 correlate with poor prognostic variables in renal cell carcinoma. Clin Cancer Res 7: 3113–3119.

Keeley EC, Mehrad B, Strieter RM . (2008). Chemokines as mediators of neovascularization. Arterioscler Thromb Vasc Biol 28: 1928–1936.

Kondo K, Kim WY, Lechpammer M, Kaelin Jr WG . (2003). Inhibition of HIF2alpha is sufficient to suppress pVHL-defective tumor growth. PLoS Biol 1: E83.

Kondo K, Klco J, Nakamura E, Lechpammer M, Kaelin Jr WG . (2002). Inhibition of HIF is necessary for tumor suppression by the von Hippel–Lindau protein. Cancer Cell 1: 237–246.

Koochekpour S, Jeffers M, Wang PH, Gong C, Taylor GA, Roessler LM et al. (1999). The von Hippel–Lindau tumor suppressor gene inhibits hepatocyte growth factor/scatter factor-induced invasion and branching morphogenesis in renal carcinoma cells. Mol Cell Biol 19: 5902–5912.

Kurban G, Duplan E, Ramlal N, Hudon V, Sado Y, Ninomiya Y et al. (2008). Collagen matrix assembly is driven by the interaction of von Hippel–Lindau tumor suppressor protein with hydroxylated collagen IV alpha 2. Oncogene 27: 1004–1012.

Kurban G, Hudon V, Duplan E, Ohh M, Pause A . (2006). Characterization of a von Hippel Lindau pathway involved in extracellular matrix remodeling, cell invasion, and angiogenesis. Cancer Res 66: 1313–1319.

Lee S, Jilani SM, Nikolova GV, Carpizo D, Iruela-Arispe ML . (2005a). Processing of VEGF-A by matrix metalloproteinases regulates bioavailability and vascular patterning in tumors. J Cell Biol 169: 681–691.

Lee S, Nakamura E, Yang H, Wei W, Linggi MS, Sajan MP et al. (2005b). Neuronal apoptosis linked to EglN3 prolyl hydroxylase and familial pheochromocytoma genes: developmental culling and cancer. Cancer Cell 8: 155–167.

Linehan WM, Pinto PA, Srinivasan R, Merino M, Choyke P, Choyke L et al. (2007). Identification of the genes for kidney cancer: opportunity for disease-specific targeted therapeutics. Clin Cancer Res 13: 671s–679s.

Linehan WM, Zbar B . (2004). Focus on kidney cancer. Cancer Cell 6: 223–228.

Lu X, Kang Y . (2009). Chemokine (C-C motif) ligand 2 engages CCR2+ stromal cells of monocytic origin to promote breast cancer metastasis to lung and bone. J Biol Chem 284: 29087–29096.

Martin T, Cardarelli PM, Parry GC, Felts KA, Cobb RR . (1997). Cytokine induction of monocyte chemoattractant protein-1 gene expression in human endothelial cells depends on the cooperative action of NF-kappa B and AP-1. Eur J Immunol 27: 1091–1097.

Maxwell PH, Wiesener MS, Chang GW, Clifford SC, Vaux EC, Cockman ME et al. (1999). The tumour suppressor protein VHL targets hypoxia-inducible factors for oxygen-dependent proteolysis. Nature 399: 271–275.

Morris MR, Ricketts C, Gentle D, Abdulrahman M, Clarke N, Brown M et al. (2010). Identification of candidate tumour suppressor genes frequently methylated in renal cell carcinoma. Oncogene 29: 2104–2117.

Nakamura E, Abreu-e-Lima P, Awakura Y, Inoue T, Kamoto T, Ogawa O et al. (2006). Clusterin is a secreted marker for a hypoxia-inducible factor-independent function of the von Hippel–Lindau tumor suppressor protein. Am J Pathol 168: 574–584.

Nakamura E, Kaelin Jr WG . (2006). Recent insights into the molecular pathogenesis of pheochromocytoma and paraganglioma. Endocr Pathol 17: 97–106.

Ohh M, Yauch RL, Lonergan KM, Whaley JM, Stemmer-Rachamimov AO, Louis DN et al. (1998). The von Hippel–Lindau tumor suppressor protein is required for proper assembly of an extracellular fibronectin matrix. Mol Cell 1: 959–968.

Ozanne BW, Spence HJ, McGarry LC, Hennigan RF . (2007). Transcription factors control invasion: AP-1 the first among equals. Oncogene 26: 1–10.

Passegue E, Jochum W, Behrens A, Ricci R, Wagner EF . (2002). JunB can substitute for Jun in mouse development and cell proliferation. Nat Genet 30: 158–166.

Perez-Gracia JL, Prior C, Guillen-Grima F, Segura V, Gonzalez A, Panizo A et al. (2009). Identification of TNF-alpha and MMP-9 as potential baseline predictive serum markers of sunitinib activity in patients with renal cell carcinoma using a human cytokine array. Br J Cancer 101: 1876–1883.

Piechaczyk M, Farras R . (2008). Regulation and function of JunB in cell proliferation. Biochem Soc Trans 36: 864–867.

Rini BI, Atkins MB . (2009). Resistance to targeted therapy in renal-cell carcinoma. Lancet Oncol 10: 992–1000.

Rini BI, Campbell SC, Escudier B . (2009). Renal cell carcinoma. Lancet 373: 1119–1132.

Roberts AM, Ohh M . (2008). Beyond the hypoxia-inducible factor-centric tumour suppressor model of von Hippel–Lindau. Curr Opin Oncol 20: 83–89.

Roy R, Yang J, Moses MA . (2009). Matrix metalloproteinases as novel biomarkers and potential therapeutic targets in human cancer. J Clin Oncol 27: 5287–5297.

Salcedo R, Ponce ML, Young HA, Wasserman K, Ward JM, Kleinman HK et al. (2000). Human endothelial cells express CCR2 and respond to MCP-1: direct role of MCP-1 in angiogenesis and tumor progression. Blood 96: 34–40.

Schmidt D, Textor B, Pein OT, Licht AH, Andrecht S, Sator-Schmitt M et al. (2007). Critical role for NF-kappaB-induced JunB in VEGF regulation and tumor angiogenesis. EMBO J 26: 710–719.

Shaulian E . (2010). AP-1—the Jun proteins: oncogenes or tumor suppressors in disguise? Cell Signal 22: 894–899.

Song H, Ki SH, Kim SG, Moon A . (2006). Activating transcription factor 2 mediates matrix metalloproteinase-2 transcriptional activation induced by p38 in breast epithelial cells. Cancer Res 66: 10487–10496.

Staber PB, Vesely P, Haq N, Ott RG, Funato K, Bambach I et al. (2007). The oncoprotein NPM-ALK of anaplastic large-cell lymphoma induces JUNB transcription via ERK1/2 and JunB translation via mTOR signaling. Blood 110: 3374–3383.

Struckmann K, Mertz K, Steu S, Storz M, Staller P, Krek W et al. (2008). pVHL coordinately regulates CXCR4/CXCL12 and MMP2/MMP9 expression in human clear-cell renal cell carcinoma. J Pathol 214: 464–471.

Takahashi M, Oka N, Naroda T, Nishitani MA, Kanda K, Kanayama HO et al. (2002). Prognostic significance of matrix metalloproteinases-2 activation ratio in renal cell carcinoma. Int J Urol 9: 531–538.

Terada N, Shimizu Y, Kamba T, Inoue T, Maeno A, Kobayashi T et al. (2010). Identification of EP4 as a potential target for the treatment of castration-resistant prostate cancer using a novel xenograft model. Cancer Res 70: 1606–1615.

Watanabe M, Sasaki M, Itoh K, Higashihara M, Umezawa K, Kadin ME et al. (2005). JunB induced by constitutive CD30-extracellular signal-regulated kinase 1/2 mitogen-activated protein kinase signaling activates the CD30 promoter in anaplastic large cell lymphoma and Reed–Sternberg cells of Hodgkin lymphoma. Cancer Res 65: 7628–7634.

Weidner N . (1995). Intratumor microvessel density as a prognostic factor in cancer. Am J Pathol 147: 9–19.

Woodward ER, Maher ER . (2006). von Hippel–Lindau disease and endocrine tumour susceptibility. Endocr Relat Cancer 13: 415–425.

Yang H, Minamishima YA, Yan Q, Schlisio S, Ebert BL, Zhang X et al. (2007). pVHL acts as an adaptor to promote the inhibitory phosphorylation of the NF-kappaB agonist Card9 by CK2. Mol Cell 28: 15–27.

Young AC, Craven RA, Cohen D, Taylor C, Booth C, Harnden P et al. (2009). Analysis of VHL gene alterations and their relationship to clinical parameters in sporadic conventional renal cell carcinoma. Clin Cancer Res 15: 7582–7592.
Acknowledgements
We thank Dr William G Kaelin, Jr, for critical comments and for providing us with the different RCC cell lines. We appreciate all members of Cancer Research Courses for Integrated Research Training at Kyoto University Graduate School of Medicine for helpful advice and discussion. We also thank Tomoko Matsushita, Megumi Kuraguchi and Yuko Fujieda for technical assistance. Grant support: Grant-in-Aid from the Ministry of Education, Culture, Sports, Science and Technology, Japan.
Ethics declarations
Competing interests
The authors declare no conflict of interest.
About this article
Cite this article
Kanno, T., Kamba, T., Yamasaki, T. et al. JunB promotes cell invasion and angiogenesis in VHL-defective renal cell carcinoma. Oncogene 31, 3098–3110 (2012). https://doi.org/10.1038/onc.2011.475
Received:

Revised:

Accepted:

Published:

Issue Date:

DOI: https://doi.org/10.1038/onc.2011.475
Keywords
renal-cell carcinoma

VHL gene

JunB

invasion

angiogenesis