Abstract
Common genetic alteration in cancer genomes is implicated for embracing an aberrant cancer gene participated in tumor progression. In this study, we identified a somatic mutated LIM and cysteine-rich domains-1 (LMCD1) as a putative metastatic oncogene in human hepatocellular carcinoma (HCC) using integrated genomic approaches. In addition to revealing genomic amplification and gene upregulation, we identified recurrent E135K (3/48 cases) mutations in HCC tissues and K237R mutation in the PLC/PRF/5 HCC cell line. Expression of mutant LMCD1 E135K or K237R reduced the stress fiber assembly, increased cortical actin accumulation and induced lamellipodial extension. Consistently, these mutations enhanced cell migration and showed activation of the Rac1-signaling pathway. Inhibition of the LMCD1/Rac1 pathway by an LMCD1 short-hairpin RNA (shLMCD1) or the Rac1 inhibitor NSC23766 suppressed the mutation-mediated lamellipodial protrusion and cell migration. In PLC/PRF/5 cells with endogenous K237R mutation, cell migration was enhanced by estrogen-induced LMCD1 expression but reversed by shLMCD1 treatment. Moreover, overexpression of LMCD1 E135K mutation significantly promoted systemic lung metastasis in a murine tail vein injection model. Together, our results suggest that LMCD1 mutations are potential oncogenic events in HCC metastasis to promote cell migration through the Rac1-signaling pathway.
Relevant articles
Open Access articles citing this article.
Shi Wei

,

Miaomiao Dai

…

Dan Xie

Protein & Cell Open Access 03 August 2020

Duarte M. S. Ferreira

,

Arthur J. Cheng

…

Jorge L. Ruas

Skeletal Muscle Open Access 31 October 2019

Bin Zhu

,

Feng Xue

…

Guangyi Li

Cell Death & Disease Open Access 09 September 2019
Access options
Subscribe to Journal
Get full journal access for 1 year
$119.00
only $2.38 per issue
All prices are NET prices.
VAT will be added later in the checkout.
Tax calculation will be finalised during checkout.
Buy article
Get time limited or full article access on ReadCube.
$32.00
All prices are NET prices.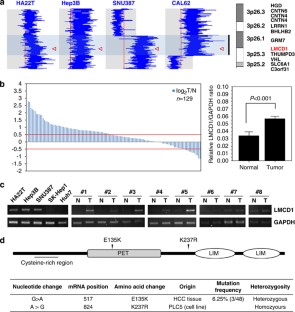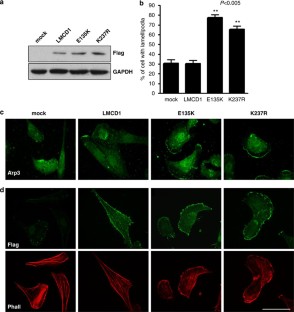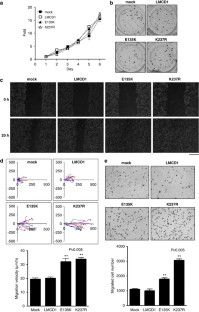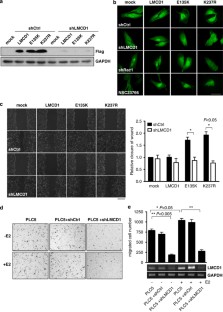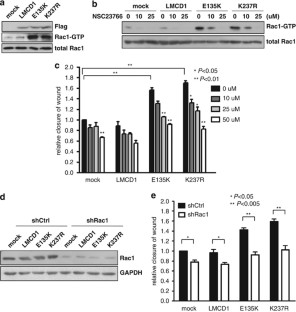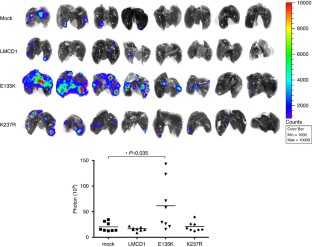 References
Aoyama M, Ozaki T, Inuzuka H, Tomotsune D, Hirato J, Okamoto Y . (2005). LMO3 interacts with neuronal transcription factor, HEN2, and acts as an oncogene in neuroblastoma. Cancer Res 65: 4587–4597.

Arber S, Barbayannis FA, Hanser H, Schneider C, Stanyon CA, Bernard O et al. (1998). Regulation of actin dynamics through phosphorylation of cofilin by LIM-kinase. Nature 393: 805–809.

Bagheri-Yarmand R, Mazumdar A, Sahin AA, Kumar R . (2006). LIM kinase 1 increases tumor metastasis of human breast cancer cells via regulation of the urokinase-type plasminogen activator system. Int J Cancer 118: 2703–2710.

Barrientos T, Frank D, Kuwahara K, Bezprozvannaya S, Pipes GC, Bassel-Duby R et al. (2007). Two novel members of the ABLIM protein family, ABLIM-2 and -3, associate with STARS and directly bind F-actin. J Biol Chem 282: 8393–8403.

Bespalova IN, Burmeister M . (2000). Identification of a novel LIM domain gene, LMCD1, and chromosomal localization in human and mouse. Genomics 63: 69–74.

Boehm T, Foroni L, Kaneko Y, Perutz MF, Rabbitts TH . (1991). The rhombotin family of cysteine-rich LIM-domain oncogenes: distinct members are involved in T-cell translocations to human chromosomes 11p15 and 11p13. Proc Natl Acad Sci USA 88: 4367–4371.

Challen C, Guo K, Collier JD, Cavanagh D, Bassendine MF . (1992). Infrequent point mutations in codons 12 and 61 of ras oncogenes in human hepatocellular carcinomas. J Hepatol 14: 342–346.

Chen CF, Hsu EC, Lin KT, Tu PH, Chang HW, Lin CH et al. (2010). Overlapping high-resolution copy number alterations in cancer genomes identified putative cancer genes in hepatocellular carcinoma. Hepatology 52: 1690–1701.

Cheng AL, Kang YK, Chen Z, Tsao CJ, Qin S, Kim JS et al. (2009). Efficacy and safety of sorafenib in patients in the Asia-Pacific region with advanced hepatocellular carcinoma: a phase III randomised, double-blind, placebo-controlled trial. Lancet Oncol 10: 25–34.

Coutts AS, MacKenzie E, Griffith E, Black DM . (2003). TES is a novel focal adhesion protein with a role in cell spreading. J Cell Sci 116: 897–906.

de La Coste A, Romagnolo B, Billuart P, Renard CA, Buendia MA, Soubrane O et al. (1998). Somatic mutations of the beta-catenin gene are frequent in mouse and human hepatocellular carcinomas. Proc Natl Acad Sci USA 95: 8847–8851.

De Souza AT, Hankins GR, Washington MK, Orton TC, Jirtle RL . (1995). M6P/IGF2R gene is mutated in human hepatocellular carcinomas with loss of heterozygosity. Nat Genet 11: 447–449.

Dudek P, Picard D . (2008). Genomics of signaling crosstalk of estrogen receptor alpha in breast cancer cells. PLoS One 3: e1859.

Farazi PA, DePinho RA . (2006). Hepatocellular carcinoma pathogenesis: from genes to environment. Nat Rev Cancer 6: 674–687.

Gao Y, Dickerson JB, Guo F, Zheng J, Zheng Y . (2004). Rational design and characterization of a Rac GTPase-specific small molecule inhibitor. Proc Natl Acad Sci USA 101: 7618–7623.

Gramantieri L, Ferracin M, Fornari F, Veronese A, Sabbioni S, Liu CG et al. (2007). Cyclin G1 is a target of miR-122a, a microRNA frequently downregulated in human hepatocellular carcinoma. Cancer Res 67: 6092–6099.

Griffith E, Coutts AS, Black DM . (2005). RNAi knockdown of the focal adhesion protein TES reveals its role in actin stress fibre organisation. Cell Motil Cytoskeleton 60: 140–152.

Grise F, Bidaud A, Moreau V . (2009). Rho GTPases in hepatocellular carcinoma. Biochim Biophys Acta 1795: 137–151.

Grunewald TG, Kammerer U, Winkler C, Schindler D, Sickmann A, Honig A et al. (2007). Overexpression of LASP-1 mediates migration and proliferation of human ovarian cancer cells and influences zyxin localisation. Br J Cancer 96: 296–305.

Harvell DM, Richer JK, Allred DC, Sartorius CA, Horwitz KB . (2006). Estradiol regulates different genes in human breast tumor xenografts compared with the identical cells in culture. Endocrinology 147: 700–713.

Imbeaud S, Ladeiro Y, Zucman-Rossi J . (2010). Identification of novel oncogenes and tumor suppressors in hepatocellular carcinoma. Semin Liver Dis 30: 75–86.

Jagadeeswaran R, Surawska H, Krishnaswamy S, Janamanchi V, Mackinnon AC, Seiwert TY et al. (2008). Paxillin is a target for somatic mutations in lung cancer: implications for cell growth and invasion. Cancer Res 68: 132–142.

Jou YS, Lee CS, Chang YH, Hsiao CF, Chen CF, Chao CC et al. (2004). Clustering of minimal deleted regions reveals distinct genetic pathways of human hepatocellular carcinoma. Cancer Res 64: 3030–3036.

Kadrmas JL, Beckerle MC . (2004). The LIM domain: from the cytoskeleton to the nucleus. Nat Rev Mol Cell Biol 5: 920–931.

Kanai T, Hirohashi S, Upton MP, Noguchi M, Kishi K, Makuuchi M et al. (1987). Pathology of small hepatocellular carcinoma. A proposal for a new gross classification. Cancer 60: 810–819.

Kang S, Xu H, Duan X, Liu JJ, He Z, Yu F et al. (2000). PCD1, a novel gene containing PDZ and LIM domains, is overexpressed in several human cancers. Cancer Res 60: 5296–5302.

Khurana T, Khurana B, Noegel AA . (2002). LIM proteins: association with the actin cytoskeleton. Protoplasma 219: 1–12.

Knuutila S, Aalto Y, Autio K, Bjorkqvist AM, El-Rifai W, Hemmer S et al. (1999). DNA copy number losses in human neoplasms. Am J Pathol 155: 683–694.

Kusano N, Shiraishi K, Kubo K, Oga A, Okita K, Sasaki K . (1999). Genetic aberrations detected by comparative genomic hybridization in hepatocellular carcinomas: their relationship to clinicopathological features. Hepatology 29: 1858–1862.

Liu CY, Chao TK, Su PH, Lee HY, Shih YL, Su HY et al. (2009). Characterization of LMX-1A as a metastasis suppressor in cervical cancer. J Pathol 219: 222–231.

Llovet JM, Ricci S, Mazzaferro V, Hilgard P, Gane E, Blanc JF et al. (2008). Sorafenib in advanced hepatocellular carcinoma. N Engl J Med 359: 378–390.

Matsuda Y, Ichida T, Matsuzawa J, Sugimura K, Asakura H . (1999). p16(INK4) is inactivated by extensive CpG methylation in human hepatocellular carcinoma. Gastroenterology 116: 394–400.

Meng F, Henson R, Wehbe-Janek H, Ghoshal K, Jacob ST, Patel T . (2007). MicroRNA-21 regulates expression of the PTEN tumor suppressor gene in human hepatocellular cancer. Gastroenterology 133: 647–658.

Mueller W, Nutt CL, Ehrich M, Riemenschneider MJ, von Deimling A, van den Boom D et al. (2007). Downregulation of RUNX3 and TES by hypermethylation in glioblastoma. Oncogene 26: 583–593.

Murata H, Tsuji S, Tsujii M, Sakaguchi Y, Fu HY, Kawano S et al. (2004). Promoter hypermethylation silences cyclooxygenase-2 (Cox-2) and regulates growth of human hepatocellular carcinoma cells. Lab Invest 84: 1050–1059.

Niketeghad F, Decker HJ, Caselmann WH, Lund P, Geissler F, Dienes HP et al. (2001). Frequent genomic imbalances suggest commonly altered tumour genes in human hepatocarcinogenesis. Br J Cancer 85: 697–704.

Ozturk M . (1991). p53 mutation in hepatocellular carcinoma after aflatoxin exposure. Lancet 338: 1356–1359.

Parkin DM, Bray F, Ferlay J, Pisani P . (2005). Global cancer statistics, 2002. CA Cancer J Clin 55: 74–108.

Pratt SJ, Epple H, Ward M, Feng Y, Braga VM, Longmore GD . (2005). The LIM protein Ajuba influences p130Cas localization and Rac1 activity during cell migration. J Cell Biol 168: 813–824.

Rath N, Wang Z, Lu MM, Morrisey EE . (2005). LMCD1/dyxin is a novel transcriptional cofactor that restricts GATA6 function by inhibiting DNA binding. Mol Cell Biol 25: 8864–8873.

Satoh S, Daigo Y, Furukawa Y, Kato T, Miwa N, Nishiwaki T et al. (2000). AXIN1 mutations in hepatocellular carcinomas, and growth suppression in cancer cells by virus-mediated transfer of AXIN1. Nat Genet 24: 245–250.

Tobias ES, Hurlstone AF, MacKenzie E, McFarlane R, Black DM . (2001). The TES gene at 7q31.1 is methylated in tumours and encodes a novel growth-suppressing LIM domain protein. Oncogene 20: 2844–2853.

Visvader JE, Venter D, Hahm K, Santamaria M, Sum EY, O'Reilly L et al. (2001). The LIM domain gene LMO4 inhibits differentiation of mammary epithelial cells in vitro and is overexpressed in breast cancer. Proc Natl Acad Sci USA 98: 14452–14457.

Wang G, Zhao Y, Liu X, Wang L, Wu C, Zhang W et al. (2001). Allelic loss and gain, but not genomic instability, as the major somatic mutation in primary hepatocellular carcinoma. Genes Chromosomes Cancer 31: 221–227.

Yakicier MC, Irmak MB, Romano A, Kew M, Ozturk M . (1999). Smad2 and Smad4 gene mutations in hepatocellular carcinoma. Oncogene 18: 4879–4883.

Yao YJ, Ping XL, Zhang H, Chen FF, Lee PK, Ahsan H et al. (1999). PTEN/MMAC1 mutations in hepatocellular carcinomas. Oncogene 18: 3181–3185.

Yoshida T, Kobayashi T, Itoda M, Muto T, Miyaguchi K, Mogushi K et al. (2010). Clinical omics analysis of colorectal cancer incorporating copy number aberrations and gene expression data. Cancer Inform 9: 147–161.

Zheng Q, Zhao Y . (2007). The diverse biofunctions of LIM domain proteins: determined by subcellular localization and protein–protein interaction. Biol Cell 99: 489–502.
Acknowledgements
We thank Dr Pei-Jer Chen and Dr Ding-Shinn Chen at School of Medicine, National Taiwan University, for helpful discussions and advice on the work. We also thank the core facilities from National Research Program for Genomic Medicine, National Science Council, Taiwan, including the National Genotyping Center, for their service in SNP genotyping and the National RNAi Core facility for providing shRNAs. Financial Support: This work was funded by the National Research Program for Genomic Medicine of the National Science Council, Taiwan, through grant numbers NSC98-3112-B-001-004, NSC98-3112-B-001-031 and NSC99-3112-B-001-019.
Author contributions: C-YC, S-CL and C-MH performed the experiments; C-YC, W-HS, C-MH and Y-SJ performed data analysis and interpretation; and C-YC and Y-SJ drafted the manuscript and supervised the study.
Ethics declarations
Competing interests
The authors declare no conflict of interest.
Supplementary information
About this article
Cite this article
Chang, CY., Lin, SC., Su, WH. et al. Somatic LMCD1 mutations promoted cell migration and tumor metastasis in hepatocellular carcinoma. Oncogene 31, 2640–2652 (2012). https://doi.org/10.1038/onc.2011.440
Received:

Revised:

Accepted:

Published:

Issue Date:

DOI: https://doi.org/10.1038/onc.2011.440
Keywords
somatic mutations

LMCD1

LIM domain

metastasis

hepatocellular carcinoma