Abstract
Alterations in the levels of adhesion and motility of cells are critical events in the development of metastasis. Cyclin D1 (CycD1) is one of the most frequently amplified oncogenes in many types of cancers and it is also associated with the development of metastasis. Despite this, we still do not know which are all the relevant pathways by which CycD1 induces oncogenic processes. CycD1 functions can be either dependent or independent of the cyclin-dependent kinase Cdk4, and they affect several cellular aspects such as proliferation, cell attachment and migration. In this work, we reveal a novel function of CycD1 that fosters our understanding of the oncogenic potential of CycD1. We show that CycD1 binds to the small GTPases Ral A and B, which are involved, through exocyst regulation, in the progression of metastatic cancers, inducing anchorage-independent growth and cell survival of transformed cells. We show that CycD1 binds active Ral complexes and the exocyst protein Sec6, and co-localizes with Ral GTPases in trans-Golgi and exocyst-rich regions. We have also observed that CycD1–Cdk4 phosphorylates the Ral GEF Rgl2 'in vitro' and that CycD1–Cdk4 activity stimulates accumulation of the Ral GTP active forms. In accordance with this, our data suggest that CycD1–Cdk4 enhances cell detachment and motility in collaboration with Ral GTPases. This new function may help explain the contribution of CycD1 to tumor spreading.
Relevant articles
Open Access articles citing this article.
Simon Body

,

Anna Esteve-Arenys

…

Brigitte Sola

Scientific Reports Open Access 24 October 2017

Noel P. Fusté

,

Rita Fernández-Hernández

…

Eloi Garí

Nature Communications Open Access 16 May 2016
Access options
Subscribe to Journal
Get full journal access for 1 year
$119.00
only $2.38 per issue
All prices are NET prices.
VAT will be added later in the checkout.
Tax calculation will be finalised during checkout.
Buy article
Get time limited or full article access on ReadCube.
$32.00
All prices are NET prices.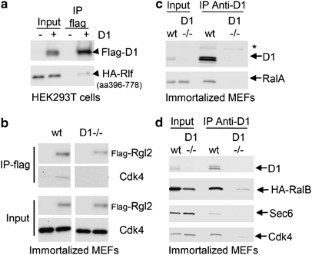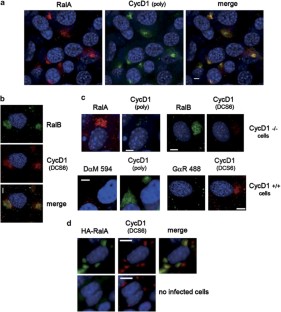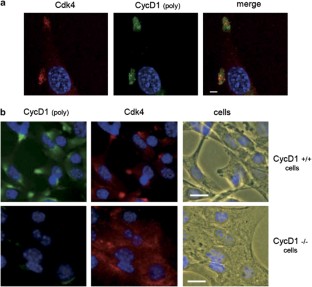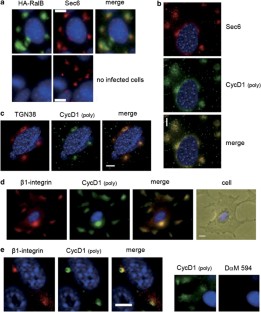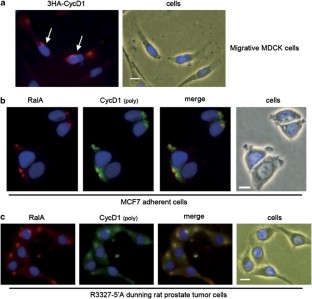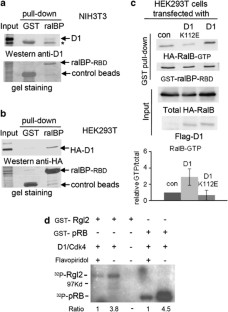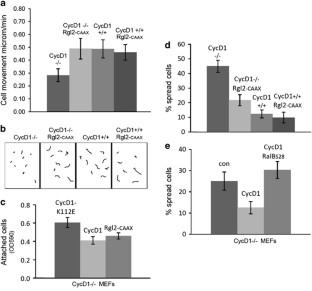 References
Alao JP . (2007). The regulation of cyclin D1 degradation: roles in cancer development and the potential for therapeutic invention. Mol Cancer 2: 6–24.

Alao JP, Gamble SC, Stavropoulou AV, Pomeranz KM, Lam EW, Coombes RC et al. (2006). The cyclin D1 proto-oncogene is sequestered in the cytoplasm of mammalian cancer cell lines. Mol Cancer 5: 7.

Beroukhim R, Mermel CH, Porter D, Wei G, Raychaudhuri S, Donovan J et al. (2010). The landscape of somatic copy-number alteration across human cancers. Nature 463: 899–905.

Bienvenu F, Jirawatnotai S, Elias JE, Meyer CA, Mizeracka K, Marson A et al. (2010). Transcriptional role of cyclin D1 in development revealed by a genetic-proteomic screen. Nature 463: 374–378.

Bodemann BO, White MA . (2008). Ral GTPases and cancer: linchpin support of the tumorigenic platform. Nat Rev Cancer 8: 133–140.

Condeelis J, Segall JE . (2003). Intravital imaging of cell movement in tumours. Nat Rev Cancer 3: 921–930.

Coqueret O . (2002). Linking cyclins to transcriptional control. Gene 299: 35–55.

Day PJ, Cleasby A, Tickle IJ, O'Reilly M, Coyle JE, Holding FP et al. (2009). Crystal structure of human CDK4 in complex with a D-type cyclin. Proc Natl Acad Sci USA 106: 4166–4170.

Diehl JA, Cheng M, Roussel MF, Sherr CJ . (1998). Glycogen synthase kinase-3beta regulates cyclin D1 proteolysis and subcellular localization. Genes Dev 12: 3499–3511.

Drobnjak M, Osman I, Scher HI, Fazzari M, Cordon-Cardo C . (2000). Overexpression of cyclin D1 is associated with metastatic prostate cancer to bone. Clin Cancer Res 6: 1891–1895.

Ewen ME, Lamb J . (2004). The activities of cyclin D1 that drive tumorigenesis. Trends Mol Med 10: 158–162.

Friedl P, Wolf K . (2003). Tumour-cell invasion and migration: diversity and escape mechanisms. Nat Rev Cancer 3: 362–374.

Fu M, Wang C, Li Z, Sakamaki T, Pestell RG . (2004). Cyclin D1: normal and abnormal functions. Endocrinology 145: 5439–5447.

Hulit J, Wang C, Li Z, Albanese C, Rao M, Di Vizio D et al. (2004). Cyclin D1 genetic heterozygosity regulates colonic epithelial cell differentiation and tumor number in ApcMin mice. Mol Cell Biol 24: 7598–7611.

Kim JK, Diehl JA . (2009). Nuclear cyclin D1: an oncogenic driver in human cancer. J Cell Physiol 220: 292–296.

Klein EA, Assoian RK . (2008). Transcriptional regulation of the cyclin D1 gene at a glance. J Cell Sci 121: 3853–3857.

Knaus M, Pelli-Gulli MP, van Drogen F, Springer S, Jaquenoud M, Peter M . (2007). Phosphorylation of Bem2 and Bem3 may contribute to the local activation of Cdc42 at bud emergence. EMBO J 26: 4501–4513.

Kono K, Nogami S, Abe M, Nishizawa M, Morishita S, Pellman D et al. (2008). G1/S cyclin-dependent kinase regulates small GTPase Rho1p through phosphorylation of RhoGEF Tus1p in Saccharomyces cerevisiae. Mol Biol Cell 19: 1763–1771.

Kozar K, Ciemerych MA, Rebel VI, Shigematsu H, Zagozdzon A, Sicinska E et al. (2004). Mouse development and cell proliferation in the absence of D-cyclins. Cell 118: 477–491.

Kriegstein A, Alvarez-Buylla A . (2009). The glial nature of embryonic and adult neural stem cells. Annu Rev Neurosci 32: 149–184.

Lalli G . (2009). RalA and the exocyst complex influence neuronal polarity through PAR-3 and aPKC. J Cell Sci 122: 499–506.

Li Z, Jiao X, Wang C, Ju X, Lu Y, Yuan L et al. (2006a). Cyclin D1 induction of cellular migration requires p27 (KIP1). Cancer Res 66: 9986–9994.

Li Z, Wang C, Jiao X, Lu Y, Fu M, Quong AA et al. (2006b). Cyclin D1 regulates cellular migration through the inhibition of thrombospondin 1 and ROCK signaling. Mol Cell Biol 26: 4240–4256.

Lim KH, Baines AT, Fiordalisi JJ, Shipitsin M, Feig LA, Cox AD et al. (2005). Activation of RalA is critical for Ras-induced tumorigenesis of human cells. Cancer Cell 7: 533–545.

Lu F, Gladden AB, Diehl JA . (2003). An alternatively spliced cyclin D1 isoform, cyclin D1b, is a nuclear oncogene. Cancer Res 63: 7056–7061.

Luo J, Sharma N, Seftor EA, De Larco J, Heidger PM, Hendrix MJC et al. (1997). Heterogeneous expression of invasive and metastatic properties in prostate tumor model. Pathol Oncol Res 3: 264–271.

Marampon F, Casimiro MC, Fu M, Powell MJ, Popov VM, Lindsay J et al. (2008). Nerve Growth factor regulation of cyclin D1 in PC12 cells through a p21RAS extracellular signal-regulated kinase pathway requires cooperative interactions between Sp1 and nuclear factor-kappaB. Mol Biol Cell 19: 2566–2578.

Matsushime H, Quelle DE, Shurtleff SA, Shibuya M, Sherr CJ, Kato J . (1994). D-type cyclin-dependent kinase activity in mammalian cells. Mol Cell Biol 14: 2066–2076.

Matsushime H, Roussel MF, Ashmun RA, Sherr CJ . (1991). Colony-stimulating factor 1 regulates novel cyclins during the G1 phase of the cell cycle. Cell 65: 701–713.

Moskalenko S, Henry DO, Rosse C, Mirey G, Camonis JH, White MA . (2002). The exocyst is a Ral effector complex. Nat Cell Biol 4: 66–72.

Musgrove EA . (2006). Cyclins: roles in mitogenic signaling and oncogenic transformation. Growth Factors 24: 13–29.

Neumeister P, Pixley FJ, Xiong Y, Xie H, Wu K, Ashton A et al. (2003). Cyclin D1 governs adhesion and motility of macrophages. Mol Biol Cell 14: 2005–2015.

Ohta Y, Suzuki N, Nakamura S, Hartwig JH, Stossel TP . (1999). The small GTPase RalA targets filamin to induce filopodia. Proc Natl Acad Sci USA 96: 2122–2128.

Rosse C, Hatzoglou A, Parrini MC, White MA, Chavrier P, Camonis J . (2006). RalB mobilizes the exocyst to drive cell migration. Mol Cell Biol 26: 727–734.

Sahai E . (2007). Illuminating the metastatic process. Nat Rev Cancer 7: 737–749.

Sherr CJ, Roberts JM . (1999). CDK inhibitors: positive and negative regulators of G1-phase progression. Genes Dev 13: 1501–1512.

Sherr CJ, Roberts JM . (2004). Living with or without cyclins and cyclin-dependent kinases. Genes Dev 18: 2699–2711.

Shi J, Badri KR, Choudhury R, Schuger L . (2006). P311-induced myofibroblasts exhibit ameboid-like migration through RalA activation. Exp Cell Res 312: 3432–3442.

Solomon DA, Wang Y, Fox SR, Lambeck TC, Giesting S, Lan Z et al. (2003). Cyclin D1 splice variants. Differential effects on localization, RB phosphorylation, and cellular transformation. J Biol Chem 278: 30339–30347.

Spiczka KS, Yeaman C . (2008). Ral-regulated interaction between Sec5 and paxillin targets Exocyst to focal complexes during cell migration. J Cell Sci 121: 2880–2891.

Sumrejkanchanakij P, Tamamori-Adachi M, Matsunaga Y, Eto K, Ikeda MA . (2003). Role of cyclin D1 cytoplasmic sequestration in the survival of postmitotic neurons. Oncogene 22: 8723–8730.

van Triest M, de Rooij J, Bos JL . (2001). Measurement of GTP-bound Ras-like GTPases by activation-specific probes. Methods Enzymol 333: 343–348.

Wang TC, Cardiff RD, Zukerberg L, Lees E, Arnold A, Schmidt EV . (1994). Mammary hyperplasia and carcinoma in MMTV-cyclin D1 transgenic mice. Nature 369: 669–671.

Wolthuis RM, de Ruiter ND, Cool RH, Bos JL . (1997). Stimulation of gene induction and cell growth by the Ras effector Rlf. EMBO J 16: 6748–6761.

Xiong Y, Connolly T, Futcher B, Beach D . (1991). Human D-type cyclin. Cell 65: 691–699.

Yeaman C, Grindstaff KK, Wright JR, Nelson WJ . (2001). Sec6/8 complexes on trans-Golgi network and plasma membrane regulate late stages of exocytosis in mammalian cells. J Cell Biol 155: 593–604.

Yu Q, Geng Y, Sicinski P . (2001). Specific protection against breast cancers by cyclin D1 ablation. Nature 411: 1017–1021.

Zhong Z, Yeow W, Zou C, Wassell R, Wang C, Pestell RG et al. (2010). Cyclin D1/cyclin-dependent kinase 4 interacts with filamin A and affects the migration and invasion potential of breast cancer cells. Cancer Res 70: 2105–2114.
Acknowledgements
We thank N Agell, C Yeaman, JL Bos, M Matsuda, X Bustelo, P Crespo, MA del Pozo and J Herreros for the gift of plasmids and reagents, and also N Eritja, M Bozic, JM Valdivielso, Lluís Fajas, Eloi Montanez and Sara Wickström for technical advice. We are grateful to J Odajima and P Sicinski for providing CCND1−/− and CCND1+/+ immortalized MEFs, and M Hendrix and E Seftor for providing R3327-5′A cells. We thank S Rius, I Navarro, I Montoliu and MA Cornadó for their technical assistance and the members of CYC lab for helpful discussions. This work was funded by the Ministry of Education and Science of Spain BFU2007-65640/BMC (Eloi Garí) and BFU2007-67929-C02-01 (Martí Aldea) and Consolider-Ingenio 2010 (CSD2007-00015). RMH Fernández and M Ruiz-Miró were supported by predoctoral fellowships from the Ministry of Education and Science of Spain.
Ethics declarations
Competing interests
The authors declare no conflict of interest.
About this article
Cite this article
Fernández, R., Ruiz-Miró, M., Dolcet, X. et al. Cyclin D1 interacts and collaborates with Ral GTPases enhancing cell detachment and motility. Oncogene 30, 1936–1946 (2011). https://doi.org/10.1038/onc.2010.577
Received:

Revised:

Accepted:

Published:

Issue Date:

DOI: https://doi.org/10.1038/onc.2010.577
Keywords
cyclin D1

Ral GTPases

exocyst

cell motility

cell adhesion

tumor spreading
This article is cited by
Mohammad Reza Zinatizadeh
Peyman Kheirandish Zarandi
Nima Rezaei

Genome Instability & Disease (2022)

Simon Body
Anna Esteve-Arenys
Brigitte Sola

Scientific Reports (2017)

Noel P. Fusté
Rita Fernández-Hernández
Eloi Garí

Nature Communications (2016)