Abstract
Cisplatin is a widely used cancer chemotherapeutic that promotes DNA damage-associated apoptosis. Although platinum compounds are known to form DNA adducts and provoke DNA damage, the molecular mechanism of cisplatin-induced cell death remains unclear. In this article, we show that the BH3-only protein Noxa is strongly transcriptionally upregulated in response to cisplatin and related platinum compounds. Cisplatin-induced Noxa expression was ERK dependent, but p53 independent, and inhibition of ERK activation markedly attenuated cisplatin-induced cell death, as well as Noxa expression. Furthermore, siRNA-mediated ablation of Noxa expression also inhibited cisplatin-induced cell death and permitted clonogenic survival. These observations reveal a novel ERK-regulated route to Noxa expression that is important for the cell killing activity of platinum-based chemotherapeutic drugs.
Relevant articles
Open Access articles citing this article.
Clara Alcon

,

Fernando Martín

…

Joan Montero

Cell Death Discovery Open Access 07 April 2022

Yuru Shang

,

Xianbin Zhang

…

Michael Linnebacher

British Journal of Cancer Open Access 09 February 2021

Matthew J. Sale

,

Emma Minihane

…

Simon J. Cook

Nature Communications Open Access 14 November 2019
Access options
Subscribe to this journal
Receive 50 print issues and online access
$259.00 per year
only $5.18 per issue
Rent or buy this article
Get just this article for as long as you need it
$39.95
Prices may be subject to local taxes which are calculated during checkout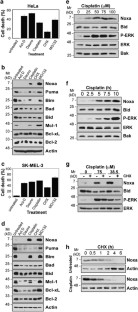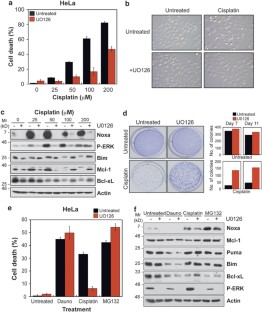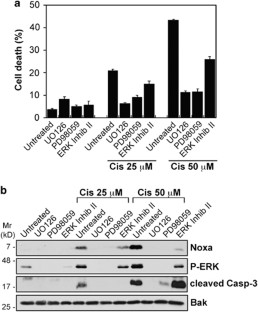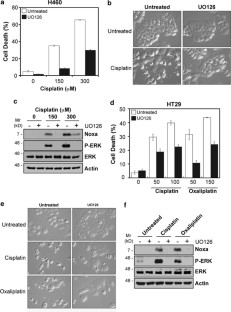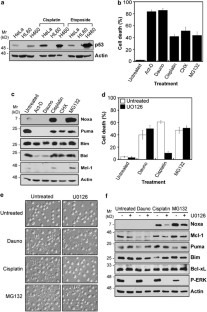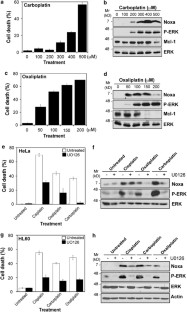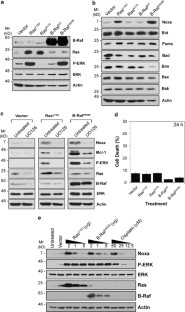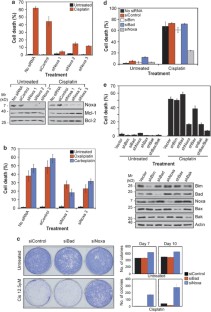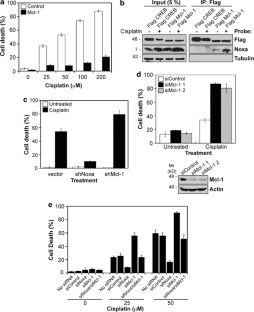 References
Adrain C, Martin SJ . (2006). Cell biology. Double knockout blow for caspases. Science 311: 785–786.

Alves NL, Derks IA, Berk E, Spijker R, van Lier RA, Eldering E . (2006). The Noxa/Mcl-1 axis regulates susceptibility to apoptosis under glucose limitation in dividing T cells. Immunity 24: 703–716.

Amran D, Sancho P, Fernandez C, Esteban D, Ramos AM, de Blas E et al. (2005). Pharmacological inhibitors of extracellular signal-regulated protein kinases attenuate the apoptotic action of cisplatin in human myeloid leukemia cells via glutathione-independent reduction in intracellular drug accumulation. Biochim Biophys Acta 1743: 269–279.

Bonni A, Brunet A, West AE, Datta SR, Takasu MA, Greenberg ME . (1999). Cell survival promoted by the Ras-MAPK signaling pathway by transcription-dependent and -independent mechanisms. Science 286: 1358–1362.

Chen L, Willis SN, Wei A, Smith BJ, Fletcher JI, Hinds MG et al. (2005). Differential targeting of prosurvival Bcl-2 proteins by their BH3-only ligands allows complementary apoptotic function. Mol Cell 17: 393–403.

Cheng EH, Wei MC, Weiler S, Flavell RA, Mak TW, Lindsten T et al. (2001). BCL-2, BCL-X(L) sequester BH3 domain-only molecules preventing BAX- and BAK-mediated mitochondrial apoptosis. Mol Cell 8: 705–711.

Choi SS, Park IC, Yun JW, Sung YC, Hong SI, Shin HS . (1995). A novel Bcl-2 related gene, Bfl-1, is overexpressed in stomach cancer and preferentially expressed in bone marrow. Oncogene 11: 1693–1698.

Cosaert J, Quoix E . (2002). Platinum drugs in the treatment of non-small-cell lung cancer. Br J Cancer 87: 825–833.

Dhomen N, Marais R . (2007). New insight into BRAF mutations in cancer. Curr Opin Genet Dev 17: 31–39.

Fernandez Y, Verhaegen M, Miller TP, Rush JL, Steiner P, Opipari Jr AW et al. (2005). Differential regulation of noxa in normal melanocytes and melanoma cells by proteasome inhibition: therapeutic implications. Cancer Res 65: 6294–6304.

Gong JG, Costanzo A, Yang HQ, Melino G, Kaelin Jr WG, Levrero M et al. (1999). The tyrosine kinase c-Abl regulates p73 in apoptotic response to cisplatin-induced DNA damage. Nature 399: 806–809.

Hao D, Ritter MA, Oliver T, Browman GP . (2006). Platinum-based concurrent chemoradiotherapy for tumors of the head and neck and the esophagus. Semin Radiat Oncol 16: 10–19.

Kim GP, Erlichman C . (2007). Oxaliplatin in the treatment of colorectal cancer. Expert Opin Drug Metab Toxicol 3: 281–294.

Kim H, Tu HC, Ren D, Takeuchi O, Jeffers JR, Zambetti GP et al. (2009). Stepwise activation of BAX and BAK by tBID, BIM, and PUMA initiates mitochondrial apoptosis. Mol Cell 36: 487–499.

Kim JY, Ahn HJ, Ryu JH, Suk K, Park JH . (2004). BH3-only protein Noxa is a mediator of hypoxic cell death induced by hypoxia-inducible factor 1alpha. J Exp Med 199: 113–124.

Kolch W . (2005). Coordinating ERK/MAPK signalling through scaffolds and inhibitors. Nat Rev Mol Cell Biol 6: 827–837.

Kollmannsberger C, Nichols C, Bokemeyer C . (2006). Recent advances in management of patients with platinum-refractory testicular germ cell tumors. Cancer 106: 1217–1226.

Kuwana T, Bouchier-Hayes L, Chipuk JE, Bonzon C, Sullivan BA, Green DR et al. (2005). BH3 domains of BH3-only proteins differentially regulate Bax-mediated mitochondrial membrane permeabilization both directly and indirectly. Mol Cell 17: 525–535.

Labi V, Erlacher M, Kiessling S, Villunger A . (2006). BH3-only proteins in cell death initiation, malignant disease and anticancer therapy. Cell Death Differ 13: 1325–1338.

Lennon SV, Martin SJ, Cotter TG . (1991). Dose-dependent induction of apoptosis in human tumour cell lines by widely diverging stimuli. Cell Prolif 24: 203–214.

Ley R, Balmanno K, Hadfield K, Weston C, Cook SJ . (2003). Activation of the ERK1/2 signaling pathway promotes phosphorylation and proteasome-dependent degradation of the BH3-only protein, Bim. J Biol Chem 278: 18811–18816.

Martin SJ, Cotter TG . (1990). Disruption of microtubules induces an endogenous suicide pathway in human leukaemia HL-60 cells. Cell Tissue Kinet 23: 545–559.

Martin SJ, Green DR . (1994). Apoptosis as a goal of cancer therapy. Curr Opin Oncol 6: 616–621.

Muggia F . (2009). Platinum compounds 30 years after the introduction of cisplatin: implications for the treatment of ovarian cancer. Gynecol Oncol 112: 275–281.

Nguyen M, Marcellus RC, Roulston A, Watson M, Serfass L, Murthy Madiraju SR et al. (2007). Small molecule obatoclax (GX15-070) antagonizes MCL-1 and overcomes MCL-1-mediated resistance to apoptosis. Proc Natl Acad Sci USA 104: 19512–19517.

Nijhawan D, Fang M, Traer E, Zhong Q, Gao W, Du F et al. (2003). Elimination of Mcl-1 is required for the initiation of apoptosis following ultraviolet irradiation. Genes Dev 17: 1475–1486.

Nikiforov MA, Riblett M, Tang WH, Gratchouck V, Zhuang D, Fernandez Y et al. (2007). Tumor cell-selective regulation of NOXA by c-MYC in response to proteasome inhibition. Proc Natl Acad Sci USA 104: 19488–19493.

O'Reilly LA, Kruse EA, Puthalakath H, Kelly PN, Kaufmann T, Huang DC et al. (2009). MEK/ERK-mediated phosphorylation of Bim is required to ensure survival of T and B lymphocytes during mitogenic stimulation. J Immunol 183: 261–269.

Oda E, Ohki R, Murasawa H, Nemoto J, Shibue T, Yamashita T et al. (2000). Noxa, a BH3-only member of the Bcl-2 family and candidate mediator of p53-induced apoptosis. Science 288: 1053–1058.

Pectasides D, Kamposioras K, Papaxoinis G, Pectasides E . (2008). Chemotherapy for recurrent cervical cancer. Cancer Treat Rev 34: 603–613.

Petit T, Bearss DJ, Troyer DA, Munoz RM, Windle JJ . (2003). p53-independent response to cisplatin and oxaliplatin in MMTV-ras mouse salivary tumors. Mol Cancer Ther 2: 165–171.

Qin JZ, Ziffra J, Stennett L, Bodner B, Bonish BK, Chaturvedi V et al. (2005). Proteasome inhibitors trigger NOXA-mediated apoptosis in melanoma and myeloma cells. Cancer Res 65: 6282–6293.

Schimmer AD, O'Brien S, Kantarjian H, Brandwein J, Cheson BD, Minden MD et al. (2008). A phase I study of the pan bcl-2 family inhibitor obatoclax mesylate in patients with advanced hematologic malignancies. Clin Cancer Res 14: 8295–8301.

Schubbert S, Shannon K, Bollag G . (2007). Hyperactive Ras in developmental disorders and cancer. Nat Rev Cancer 7: 295–308.

Schulze A, Nicke B, Warne PH, Tomlinson S, Downward J . (2004). The transcriptional response to Raf activation is almost completely dependent on mitogen-activated protein kinase kinase activity and shows a major autocrine component. Mol Biol Cell 15: 3450–3463.

Schweyer S, Soruri A, Meschter O, Heintze A, Zschunke F, Miosge N et al. (2004). Cisplatin-induced apoptosis in human malignant testicular germ cell lines depends on MEK/ERK activation. Br J Cancer 91: 589–598.

Sheridan C, Brumatti G, Martin SJ . (2008). Oncogenic B-RafV600E inhibits apoptosis and promotes ERK-dependent inactivation of Bad and Bim. J Biol Chem 283: 22128–22135.

Shibue T, Takeda K, Oda E, Tanaka H, Murasawa H, Takaoka A et al. (2003). Integral role of Noxa in p53-mediated apoptotic response. Genes Dev 17: 2233–2238.

Siddik ZH . (2003). Cisplatin: mode of cytotoxic action and molecular basis of resistance. Oncogene 22: 7265–7279.

Slee EA, Harte MT, Kluck RM, Wolf BB, Casiano CA, Newmeyer DD et al. (1999). Ordering the cytochrome c-initiated caspase cascade: hierarchical activation of caspases-2, -3, -6, -7, -8, and -10 in a caspase-9-dependent manner. J Cell Biol 144: 281–292.

Taylor RC, Cullen SP, Martin SJ . (2008). Apoptosis: controlled demolition at the cellular level. Nat Rev Mol Cell Biol 9: 231–241.

Villunger A, Michalak EM, Coultas L, Mullauer F, Bock G, Ausserlechner MJ et al. (2003). p53- and drug-induced apoptotic responses mediated by BH3-only proteins puma and noxa. Science 302: 1036–1038.

von Kriegsheim A, Baiocchi D, Birtwistle M, Sumpton D, Bienvenut W, Morrice N et al. (2009). Cell fate decisions are specified by the dynamic ERK interactome. Nat Cell Biol 11: 1458–1464.

Wang D, Lippard SJ . (2005). Cellular processing of platinum anticancer drugs. Nat Rev Drug Discov 4: 307–320.

Wang X, Martindale JL, Holbrook NJ . (2000). Requirement for ERK activation in cisplatin-induced apoptosis. J Biol Chem 275: 39435–39443.

Willis SN, Adams JM . (2005). Life in the balance: how BH3-only proteins induce apoptosis. Curr Opin Cell Biol 17: 617–625.

Wolf D, Rotter V . (1985). Major deletions in the gene encoding the p53 tumor antigen cause lack of p53 expression in HL-60 cells. Proc Natl Acad Sci USA 82: 790–794.

Xia Z, Dickens M, Raingeaud J, Davis RJ, Greenberg ME . (1995). Opposing effects of ERK and JNK-p38 MAP kinases on apoptosis. Science 270: 1326–1331.

Zhai D, Jin C, Satterthwait AC, Reed JC . (2006). Comparison of chemical inhibitors of antiapoptotic Bcl-2-family proteins. Cell Death Differ 13: 1419–1421.
Acknowledgements
We thank Dr Julian Downward, Dr Richard Marais and Dr Maria Soengas for provision of Ras, B-Raf and Bax/Bak shRNA expression plasmids, respectively; Dr Eric Eldering for provision of shRNA constructs against Noxa and Mcl-1; Dr Dean Fennell for provision of H460 cells and for very useful discussions; Dr Yihong Ye for provision of shRNA constructs against ATF4 and Dr Hans van Dam for provision of shRNA constructs against Fra1 and ATF3. We thank Science Foundation Ireland (08/IN.1/B203) and The Irish Cancer Society (CRP08MAR) for support of this work. GB was supported, in part, by an IRCSET post-doctoral fellowship. CS was supported, in part, by an IRCSET PhD studentship. SJM is a Science Foundation Ireland Principal Investigator.
Ethics declarations
Competing interests
The authors declare no conflict of interest.
Supplementary information
About this article
Cite this article
Sheridan, C., Brumatti, G., Elgendy, M. et al. An ERK-dependent pathway to Noxa expression regulates apoptosis by platinum-based chemotherapeutic drugs. Oncogene 29, 6428–6441 (2010). https://doi.org/10.1038/onc.2010.380
Received:

Revised:

Accepted:

Published:

Issue Date:

DOI: https://doi.org/10.1038/onc.2010.380
Keywords
apoptosis

cisplatin

Noxa

BH3-only

ERK

Ras