Abstract
The transcription factor E2F1 has a crucial role in the control of cell growth and has been shown to regulate neoangiogenesis in a p53-dependent manner through inhibition of activity of the VEGF-A (vascular endothelial growth factor) promoter. Besides being regulated by transcription, VEGF-A is also highly regulated by pre-mRNA alternative splicing, resulting in the expression of several VEGF isoforms with either pro-(VEGFxxx) or anti-(VEGFxxxb) angiogenic properties. Recently, we identified the SR (Ser-Rich/Arg) protein SC35, a splicing factor, as a new transcriptional target of E2F1. Here, we show that E2F1 downregulates the activity of the VEGF-A promoter in tumour cells independently of p53, leading to a strong decrease in VEGFxxx mRNA levels. We further show that, strikingly, E2F1 alters the ratio of pro-VEGFxxx versus anti-VEGFxxxb angiogenic isoforms, favouring the antiangiogenic isoforms, by a mechanism involving the induction of SC35 expression. Finally, using lung tumour xenografts in nude mice, we provide evidence that E2F1 and SC35 proteins increase the VEGF165b/VEGF ratio and decrease tumour neovascularization in vivo. Overall, these findings highlight E2F1 and SC35 as two regulators of the VEGFxxx/VEGFxxxb angiogenic switch in human cancer cells, a role that could be crucial during tumour progression, as well as in tumour response to antiangiogenic therapies.
Relevant articles
Open Access articles citing this article.
Tao Jia

,

Thibault Jacquet

…

Béatrice Eymin

BMC Biology Open Access 25 August 2021

B G M W Weijts

,

B Westendorp

…

A de Bruin

Oncogene Open Access 18 September 2017

Ying Cai

,

Ruben Nogales-Cadenas

…

Zhengdong D. Zhang

BMC Genomics Open Access 17 February 2017
Access options
Subscribe to Journal
Get full journal access for 1 year
$119.00
only $2.38 per issue
All prices are NET prices.
VAT will be added later in the checkout.
Tax calculation will be finalised during checkout.
Buy article
Get time limited or full article access on ReadCube.
$32.00
All prices are NET prices.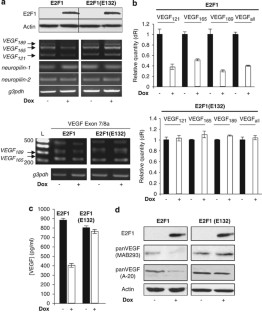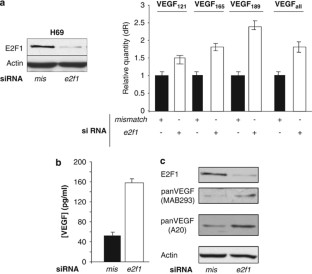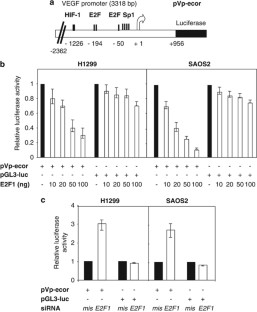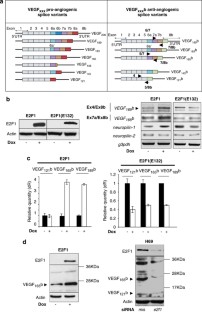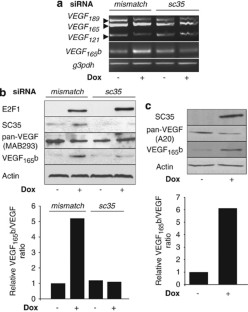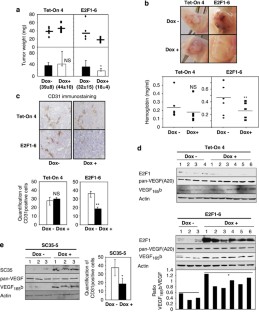 References
Bachelder RE, Crago A, Chung J, Wendt MA, Shaw LM, Robinson G et al. (2001). Vascular endothelial growth factor is an autocrine survival factor for neuropilin-expressing breast carcinoma cells. Cancer Res 61: 5736–5740.

Bachelder RE, Wendt MA, Mercurio AM . (2002). Vascular endothelial growth factor promotes breast carcinoma invasion in an autocrine manner by regulating the chemokine receptor CXCR4. Cancer Res 62: 7203–7206.

Bates DO, Cui TG, Doughty JM, Winkler M, Sugiono M, Shields JD et al. (2002). VEGF165b, an inhibitory splice variant of vascular endothelial growth factor, is down-regulated in renal cell carcinoma. Cancer Res 62: 4123–4131.

Bates DO, MacMillan PP, Manjaly JG, Qiu Y, Hudson SJ, Bevan HS et al. (2006). The endogenous anti-angiogenic family of splice variants of VEGF, VEGFxxxb, are down-regulated in pre-eclamptic placentae at term. Clin Sci (London) 110: 575–585.

Carmeliet P, Jain RK . (2000). Angiogenesis in cancer and other diseases. Nature 407: 249–257.

Catena R, Muniz-Medina V, Moralejo B, Javierre B, Best CJ, Emmert-Buck MR et al. (2007). Increased expression of VEGF121/VEGF165-189 ratio results in a significant enhancement of human prostate tumor angiogenesis. Int J Cancer 120: 2096–2109.

Cheung N, Wong MP, Yuen ST, Leung SY, Chung LP . (1998). Tissue-specific expression pattern of vascular endothelial growth factor isoforms in the malignant transformation of lung and colon. Hum Pathol 29: 910–914.

Cohen CD, Doran PP, Blattner SM, Merkle M, Wang GQ, Schmid H et al. (2005). Sam68-like mammalian protein 2, identified by digital differential display as expressed by podocytes, is induced in proteinuria and involved in splice site selection of vascular endothelial growth factor. J Am Soc Nephrol 16: 1958–1965.

Davis JN, Wojno KJ, Daignault S, Hofer MD, Kuefer R, Rubin MA et al. (2006). Elevated E2F1 inhibits transcription of the androgen receptor in metastatic hormone-resistant prostate cancer. Cancer Res 66: 11897–11906.

Elias AP, Dias S . (2008). Microenvironment changes (in pH) affect VEGF alternative splicing. Cancer Microenviron 1: 131–139.

Ferrara N, Gerber HP, LeCouter J . (2003). The biology of VEGF and its receptors. Nat Med 9: 669–676.

Folkman J . (2007). Angiogenesis: an organizing principle for drug discovery? Nat Rev Drug Discov 6: 273–286.

Fontemaggi G, Dell'Orso S, Trisciuoglio D, Shay T, Melucci E, Fazi F et al. (2009). The execution of the transcriptional axis mutant p53, E2F1 and ID4 promotes tumor neo-angiogenesis. Nat Struct Mol Biol 16: 1086–1093.

Hurwitz H, Fehrenbacher L, Novotny W, Cartwright T, Hainsworth J, Heim W et al. (2004). Bevacizumab plus irinotecan, fluorouracil, and leucovorin for metastatic colorectal cancer. N Engl J Med 350: 2335–2342.

Hurwitz HI, Fehrenbacher L, Hainsworth JD, Heim W, Berlin J, Holmgren E et al. (2005). Bevacizumab in combination with fluorouracil and leucovorin: an active regimen for first-line metastatic colorectal cancer. J Clin Oncol 23: 3502–3508.

Jiang SX, Sheldrick M, Desbois A, Slinn J, Hou ST . (2007). Neuropilin-1 is a direct target of the transcription factor E2F1 during cerebral ischemia-induced neuronal death in vivo. Mol Cell Biol 27: 1696–1705.

Kawamura H, Li X, Harper SJ, Bates DO, Claesson-Welsh L . (2008). Vascular endothelial growth factor (VEGF)-A165b is a weak in vitro agonist for VEGF receptor-2 due to lack of coreceptor binding and deficient regulation of kinase activity. Cancer Res 68: 4683–4692.

Ladomery MR, Harper SJ, Bates DO . (2007). Alternative splicing in angiogenesis: the vascular endothelial growth factor paradigm. Cancer Lett 249: 133–142.

Lantuejoul S, Constantin B, Drabkin H, Brambilla C, Roche J, Brambilla E . (2003). Expression of VEGF, semaphorin SEMA3F, and their common receptors neuropilins NP1 and NP2 in preinvasive bronchial lesions, lung tumours, and cell lines. J Pathol 200: 336–347.

Merdzhanova G, Edmond V, De Seranno S, Van Den Broeck A, Corcos L, Brambilla C et al. (2008). E2F1 controls alternative splicing pattern of genes involved in apoptosis through upregulation of the splicing factor SC35. Cell Death Differ 15: 1815–1823.

Nowak DG, Amin EM, Rennel ES, Hoareau-Aveilla C, Gammons M, Damodoran G et al. (2010). Regulation of vascular endothelial growth factor (VEGF) splicing from pro-angiogenic to anti-angiogenic isoforms: a novel therapeutic strategy for angiogenesis. J Biol Chem 285: 5532–5540.

Nowak DG, Woolard J, Amin EM, Konopatskaya O, Saleem MA, Churchill AJ et al. (2008). Expression of pro- and anti-angiogenic isoforms of VEGF is differentially regulated by splicing and growth factors. J Cell Sci 121: 3487–3495.

Polager S, Ginsberg D . (2008). E2F—at the crossroads of life and death. Trends Cell Biol 18: 528–535.

Pritchard-Jones RO, Dunn DB, Qiu Y, Varey AH, Orlando A, Rigby H et al. (2007). Expression of VEGF(xxx)b, the inhibitory isoforms of VEGF, in malignant melanoma. Br J Cancer 97: 223–230.

Qin G, Kishore R, Dolan CM, Silver M, Wecker A, Luedemann CN et al. (2006). Cell cycle regulator E2F1 modulates angiogenesis via p53-dependent transcriptional control of VEGF. Proc Natl Acad Sci USA 103: 11015–11020.

Rak J, Mitsuhashi Y, Bayko L, Filmus J, Shirasawa S, Sasazuki T et al. (1995). Mutant ras oncogenes upregulate VEGF/VPF expression: implications for induction and inhibition of tumor angiogenesis. Cancer Res 55: 4575–4580.

Rennel E, Waine E, Guan H, Schuler Y, Leenders W, Woolard J et al. (2008). The endogenous anti-angiogenic VEGF isoform, VEGF165b inhibits human tumour growth in mice. Br J Cancer 98: 1250–1257.

Robinson CJ, Stringer SE . (2001). The splice variants of vascular endothelial growth factor (VEGF) and their receptors. J Cell Sci 114: 853–865.

Salon C, Eymin B, Micheau O, Chaperot L, Plumas J, Brambilla C et al. (2006). E2F1 induces apoptosis and sensitizes human lung adenocarcinoma cells to death-receptor-mediated apoptosis through specific downregulation of c-FLIP(short). Cell Death Differ 13: 260–272.

Salon C, Merdzhanova G, Brambilla C, Brambilla E, Gazzeri S, Eymin B . (2007). E2F-1, Skp2 and cyclin E oncoproteins are upregulated and directly correlated in high-grade neuroendocrine lung tumors. Oncogene 26: 6927–6936.

Shweiki D, Itin A, Soffer D, Keshet E . (1992). Vascular endothelial growth factor induced by hypoxia may mediate hypoxia-initiated angiogenesis. Nature 359: 843–845.

Varey AH, Rennel ES, Qiu Y, Bevan HS, Perrin RM, Raffy S et al. (2008). VEGF 165 b, an antiangiogenic VEGF-A isoform, binds and inhibits bevacizumab treatment in experimental colorectal carcinoma: balance of pro- and antiangiogenic VEGF-A isoforms has implications for therapy. Br J Cancer 98: 1366–1379.

Woolard J, Wang WY, Bevan HS, Qiu Y, Morbidelli L, Pritchard-Jones RO et al. (2004). VEGF165b, an inhibitory vascular endothelial growth factor splice variant: mechanism of action, in vivo effect on angiogenesis and endogenous protein expression. Cancer Res 64: 7822–7835.

Zhang L, Yu D, Hu M, Xiong S, Lang A, Ellis LM et al. (2000). Wild-type p53 suppresses angiogenesis in human leiomyosarcoma and synovial sarcoma by transcriptional suppression of vascular endothelial growth factor expression. Cancer Res 60: 3655–3661.
Acknowledgements
We thank Patricia Betton, Pascal Perron and Celine Lampreia for technical assistance. This work was supported by the Ligue Nationale contre le Cancer (Equipe Labellisée Ligue 2007) and by the Conseil Scientifique National d'AGIR á dom. Galina Merdzhanova was supported by fellowships from the Research French Ministry and the Fondation pour la Recherche Medicale (FRM). Stephanie Gout was supported by a fellowship from Association pour la Recherche Contre le Cancer (ARC). Valerie Edmond was supported by a grant from the Conseil Scientifique National d'AGIR á dom.
Ethics declarations
Competing interests
The authors declare no conflict of interest.
About this article
Cite this article
Merdzhanova, G., Gout, S., Keramidas, M. et al. The transcription factor E2F1 and the SR protein SC35 control the ratio of pro-angiogenic versus antiangiogenic isoforms of vascular endothelial growth factor-A to inhibit neovascularization in vivo. Oncogene 29, 5392–5403 (2010). https://doi.org/10.1038/onc.2010.281
Received:

Revised:

Accepted:

Published:

Issue Date:

DOI: https://doi.org/10.1038/onc.2010.281
Keywords
alternative splicing

angiogenesis

cancer

E2F1

SC35

VEGF-A