Abstract
Topoisomerase IIα (topoIIα) is an essential mammalian enzyme that topologically modifies DNA and is required for chromosome segregation during mitosis. Previous research suggests that inhibition of topoII decatenatory activity triggers a G2 checkpoint response, which delays mitotic entry because of insufficient decatenation of daughter chromatids. Here we examine the effects of both topoIIα and topoIIβ on decatenatory activity in cell extracts, DNA damage and decatenation G2 checkpoint function, and the frequencies of p16INK4A allele loss and gain. In diploid human fibroblast lines, depletion of topoIIα by small-interfering RNA was associated with severely reduced decatenatory activity, delayed progression from G2 into mitosis and insensitivity to G2 arrest induced by the topoII catalytic inhibitor ICRF-193. Furthermore, interphase nuclei of topoIIα-depleted cells showed increased frequencies of losses and gains of the tumor suppressor genetic locus p16INK4A. This study shows that the topoIIα protein is required for decatenation G2 checkpoint function, and inactivation of decatenation and the decatenation G2 checkpoint leads to abnormal chromosome segregation and genomic instability.
Your institute does not have access to this article
Relevant articles
Open Access articles citing this article.
Wei Chong

,

Huikun Zhang

…

Feng Gu

Cell Death & Differentiation Open Access 19 August 2020

Andrew B. Fielding

,

Matthew Concannon

…

Judy M. Coulson

Oncogene Open Access 12 February 2018

Jacquelyn J. Bower

,

Leah D. Vance

…

William K. Kaufmann

npj Breast Cancer Open Access 31 March 2017
Access options
Subscribe to Journal
Get full journal access for 1 year
$119.00
only $2.38 per issue
All prices are NET prices.
VAT will be added later in the checkout.
Tax calculation will be finalised during checkout.
Buy article
Get time limited or full article access on ReadCube.
$32.00
All prices are NET prices.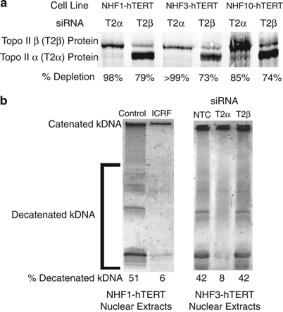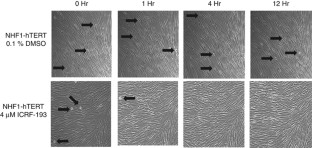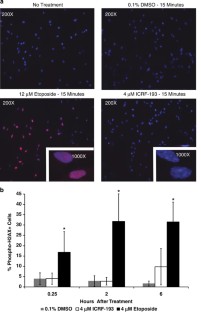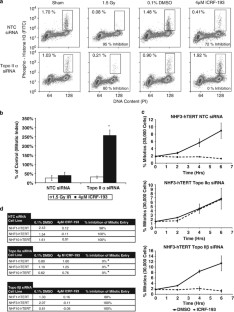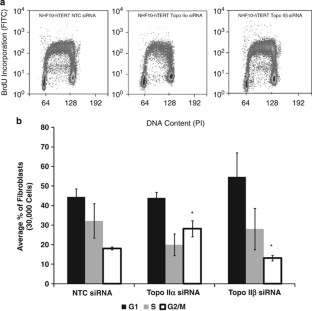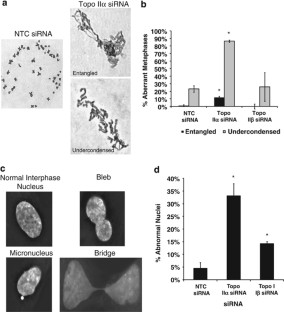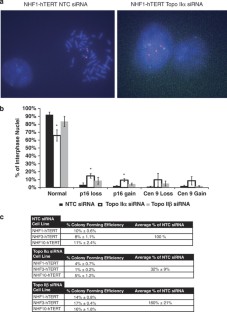 Abbreviations
topoII:

topoisomerase II

DSB:

double-strand break

NHDF:

normal human diploid fibroblast

NTC:

non-targeting control

MER:

mitotic entry rate
References
Akimitsu N, Adachi N, Hirai H, Hossain MS, Hamamoto H, Kobayashi M et al. (2003). Enforced cytokinesis without complete nuclear division in embryonic cells depleting the activity of DNA topoisomerase IIalpha. Genes Cells 8: 393–402.

Austin CA, Marsh KL . (1998). Eukaryotic DNA topoisomerase II beta. Bioessays 20: 215–226.

Bandele OJ, Osheroff N . (2007). Bioflavanoids as poisons of human topoisomerase IIα and IIβ. Biochemistry 46: 6097–6108.

Bandele OJ, Osheroff N . (2008). (-)-epigallocatechin gallate, a major constituent of green tea, poisons human type II topoisomerases. Chem Res Toxicol 21: 936–943.

Barjesteh van Waalwijk van Doorn-Khosrovani S, Janssen J, Maas LM, Godschalk RWL, Nijhuis JG, van Schooten FJ . (2007). Dietary flavonoids induce MLL translocations in primary human CD34+ cells. Carcinogenesis 28: 1703–1709.

Baxter J, Diffley JFX . (2008). Topoisomerase II inactivation prevents the completion of DNA replication in budding yeast. Mol Cell 30: 790–802.

Beser AR, Tuzlali S, Guzey D, Dolec Guler S, Hacihanefioglu S, Dalay N . (2007). Her-2, TOP2A, and chromosome 17 alterations in breast cancer. Pathol Oncol Res 13: 180–185.

Biersack H, Jensen S, Gromova I, Nielsen IS, Westergaard O, Andersen AH . (1996). Active heterodimers are formed from human DNA topoisomerase IIα and IIβ isoforms. Proc Natl Acad Sci USA 93: 8288–8293.

Bower JJ, Zhou Y, Zhou T, Simpson DA, Arlander SJ, Paules RS et al. (2010). Revised genetic requirements for the decatenation G2 checkpoint: the role of ATM. Cell Cycle 9: 1617–1628.

Burden DA, Osheroff N . (1998). Mechanism of action of eukaryotic topoisomerase II and drugs targeted to the enzyme. Biochim Biophys Acta 1400: 139–154.

Capranico G, Tinelli S, Austin CA, Fisher ML, Zunino F . (1992). Different patterns of gene expression of topoisomerase II isoforms in differentiated tissues during murine development. Biochim Biophys Acta 1132: 43–48.

Carpenter AJ, Porter AC . (2004). Construction, characterization, and complementation of a conditional-lethal DNA topoisomerase II alpha mutant human cell line. Mol Biol Cell 15: 5700–5711.

Coelho PA, Queiroz-Machado J, Carmo AM, Moutinho-Pereira S, Maiato H, Sunkel CE . (2008). Dual role of topoisomerase II in centromere resolution and aurora B activity. PLoS Biol 6: 1758–1777.

Cortes F, Pastor N, Mateos S, Dominguez I . (2003). Roles of DNA topoisomerases in chromosome segregation and mitosis. Mutat Res 543: 59–66.

Damelin M, Sun YE, Sodja VB, Bestor TH . (2005). Decatenation checkpoint deficiency in stem and progenitor cells. Cancer Cell 8: 479–484.

Dawlaty MM, Malureanu L, Jeganathan KB, Kao E, Sustmann C, Tahk S et al. (2008). Resolution of sister centromeres requires RanBP2-mediated SUMOylation of topoisomerase IIα. Cell 133: 103–115.

Deming PB, Cistulli CA, Zhao H, Graves PR, Piwnica-Worms H, Paules RS et al. (2001). The human decatenation checkpoint. Proc Natl Acad Sci USA 98: 12044–12049.

Deming PB, Flores KG, Downes CS, Paules RS, Kaufmann WK . (2002). ATR enforces the topoisomerase II-dependent G2 checkpoint through inhibition of Plk1 kinase. J Biol Chem 277: 36832–36838.

Diaz-Martinez LA, Gimenez-Abian JF, Azuma Y, Guacci V, Gimenez-Martin G, Lanier LM et al. (2006). PIASgamma is required for faithful chromosome segregation in human cells. PLoS ONE 1: e53.

Doherty SC, McKeown SR, McKelvey-Martin V, Downes CS, Atala A, Yoo JJ et al. (2003). Cell cycle checkpoint function in bladder cancer. J Natl Cancer Inst 95: 1859–1868.

Downes CS, Clarke DJ, Mullinger AM, Gimenez-Abian JF, Creighton AM, Johnson RT . (1994). A topoisomerase II-dependent G2 cycle checkpoint in mammalian cells (published erratum appears in Nature 1994; 372: 710). Nature 372: 467–470.

Emmons M, Boulware D, Sullivan DM, Hazlehurst LA . (2006). Topoisomerase II beta levels are a determinant of melphalan-induced DNA crosslinks and sensitivity to cell death. Biochem Pharmacol 72: 11–18.

Franchitto A, Oshima J, Pichierri P . (2003). The G2-phase decatenation checkpoint is defective in Werner syndrome cells. Cancer Res 63: 3289–3295.

Goswami PC, Roti Roti JL, Hunt CR . (1996). The cell cycle-coupled expression of topoisomerase IIα during S phase is regulated by mRNA stability and is disrupted by heat shock or ionizing radiation. Mol Cell Biol 16: 1500–1508.

Gromova I, Biersack H, Jensen S, Nielsen OF, Westergaard O, Andersen AH . (1998). Characterization of DNA topoisomerase II α/β heterodimers in HeLa cells. Biochemistry 37: 16645–16652.

Heck MMS, Hittelman WN, Earnshaw WC . (1988). Differential expression of DNA topoisomerases I and II during the eukaryotic cell cycle. Proc Natl Acad Sci USA 85: 1086–1090.

Holland AJ, Cleveland DW . (2009). Boveri revisited: chromosomal instability, aneuploidy, and tumorigenesis. Nat Rev Mol Cell Biol 10: 478–487.

Jarvinen TAH, Kononen J, Pelto-Huikko M, Isola J . (1996). Expression of topoisomerase IIα is associated with rapid cell proliferation, aneuploidy, and c-erbB2 overexpression in breast cancer. Am J Pathol 148: 2073–2082.

Jensen LH, Nitiss KC, Rose A, Dong J, Zhou J, Hu T et al. (2000). A novel mechanism of cell killing by anti-topoisomerase II bisdioxopiperazines. J Biol Chem 275: 2137–2146.

Johnson M, Phua HH, Bennett SC, Spence JM, Farr CJ . (2009). Studying vertebrate topoisomerase 2 function using a conditional knockdown system in DT40 cells. Nuc Acid Res 37: e98.

Ju BG, Lunyak VV, Perissi V, Garcia-Bassets I, Rose DW, Glass CK et al. (2006). A topoisomerase IIβ-mediated dsDNA break required for regulated transcription. Science 312: 1798–1802.

Kaufmann WK, Schwartz JL, Hurt JC, Byrd LL, Galloway DA, Levedakou E et al. (1997). Inactivation of G2 checkpoint function and chromosomal destabilization are linked in human fibroblasts expressing human papillomavirus type 16 E6. Cell Growth Differ 8: 1105–1114.

Larsen AK, Skladanowski A, Bojanowski K . (1996). The roles of DNA topoisomerase II during the cell cycle. Prog Cell Cycle Res 2: 229–239.

Li H, Wang Y, Liu X . (2008). Plk1-dependent phosphorylation regulates functions of DNA topoisomerase II in cell cycle progression. J Biol Chem 283: 6209–6221.

Lorusso V, Manzione L, Silvestris N . (2007). Role of liposomal anthracyclines in breast cancer. Ann Oncol 18: vi70–vi73.

Lou Z, Minter-Dykhouse K, Chen J . (2005). BRCA1 participates in DNA decatenation. Nat Struct Mol Biol 12: 589–593.

Luo K, Yuan J, Chen J, Lou Z . (2009). Topoisomerase IIα controls the decatenation checkpoint. Nat Cell Biol 11: 204–210.

Lyu YL, Kerrigan JE, Lin CP, Azarova AM, Tsai YC, Ban Y et al. (2007). Topoisomerase IIβ mediated DNA double-strand breaks: implications in Doxorubicin Cardiotoxicity and prevention by Dexrazoxane. Cancer Res 67: 8839–8846.

Maeshima K, Eltsov M, Laemmli UK . (2005). Chromosome structure: improved immunolabeling for electron microscopy. Chromosoma 114: 365–375.

Mao Y, Desai SD, Ting CY, Hwang J, Liu LF . (2001). 26 S proteasome-mediated degradation of topoisomerase II cleavable complexes. J Biol Chem 276: 40652–40658.

Nakagawa T, Hayashita Y, Maeno K, Masuda A, Sugito N, Osada H et al. (2004). Identification of decatenation G2 checkpoint impairment independently of DNA damage G2 checkpoint in human lung cancer cell lines. Cancer Res 64: 4826–4832.

Park I, Avraham HK . (2006). Cell cycle-dependent DNA damage signaling induced by ICRF-193 involves ATM, ATR, CHK2, and BRCA1. Exp Cell Res 312: 1996–2008.

Robinson HM, Bratlie-Thoresen S, Brown R, Gillespie DA . (2007). Chk1 is required for G2/M checkpoint response induced by the catalytic topoisomerase II inhibitor ICRF-193. Cell Cycle 6: 1265–1267.

Roca J, Ishida R, Berger JM, Andoh T, Wang JC . (1994). Antitumor bisdioxopiperazines inhibit yeast DNA topoisomerase II by trapping the enzyme in the form of a closed protein clamp. Proc Natl Acad Sci USA 91: 1781–1785.

Santamaria A, Neef R, Eberspacher U, Eis K, Husemann M, Mumberg D et al. (2007). Use of the novel Plk1 inhibitor ZK-Thiazolidinone to elucidate functions of Plk1 in early and late stages of mitosis. Mol Biol Cell 18: 4024–4036.

Sehested M, Jensen PB . (1996). Mapping of DNA topoisomerase II poisons (etoposide, clerocidin) and catalytic inhibitors (aclarubicin, ICRF-189) to four distinct steps in the topoisomerase II catalytic cycle. Biochem Pharm 51: 879–886.

Simpson DA, Livanos E, Heffernan TP, Kaufmann WK . (2005). Telomerase exression is sufficient for chromosomal integrity in cells lacking p53-dependent G1 checkpoint function. J Carcinog 4: 18.

Wang JC . (2002). Cellular roles of DNA topoisomerases: a molecular perspective. Nat Rev Mol Cell Biol 3: 430–440.

Wang LHC, Schwarzbraun T, Speicher MR, Nigg EA . (2008). Persistence of DNA threads in human anaphase cells suggests late completion of sister chromatid decatenation. Chromosoma 117: 123–135.

Xiao H, Mao Y, Desai SD, Zhou N, Ting CY, Hwang J et al. (2003). The topoisomerase II beta circular clamp arrests transcription and signals a 26S proteasome pathway. Proc Natl Acad Sci USA 100: 3239–3244.

Zhou T, Chou JW, Simpson DA, Zhou Y, Mullen TE, Medeiro M et al. (2006). Profiles of global gene expression in ionizing-radiation-damaged human diploid fibroblasts reveal synchronization behind the G1 checkpoint in a G0-like state of quiescence. Environ Health Persp 114: 553–559.
Acknowledgements
Financial Support: This work was supported by an NIH-NCI Ruth L. Kirschstein National Research Service Award Grant # 1F32CA134155-01 (JJ Bower) and PHS grants CA81343 and P30-ES10126 (WK Kaufmann).
Ethics declarations
Competing interests
The authors declare no conflict of interest.
Supplementary information
About this article
Cite this article
Bower, J., Karaca, G., Zhou, Y. et al. Topoisomerase IIα maintains genomic stability through decatenation G2 checkpoint signaling. Oncogene 29, 4787–4799 (2010). https://doi.org/10.1038/onc.2010.232
Received:

Revised:

Accepted:

Published:

Issue Date:

DOI: https://doi.org/10.1038/onc.2010.232
Keywords
decatenation

G2 checkpoint

topoisomerase IIα

topoisomerase IIβ

chromosomal instability