Abstract
Multiple expression signatures for the prediction of the site of origin of metastatic cancer of unknown primary origin (CUP) have been developed. Owing to their limited coverage of tumor types and suboptimal prediction accuracy on distinct tumors, there is still room for alternative CUP gene expression signatures. Whereas in past studies, CUP classifiers were trained solely on data from tumor samples, we now use expression patterns from normal tissues for classifier training. This approach potentially avoids pitfalls related to the representation of genetically heterogeneous tumor subtypes during classifier training. Two expression data sets of normal human tissues have been reanalyzed to derive an expression signature for liver, prostate, kidney, ovarian and lung tissues. In reciprocal validation, classifiers trained on either data set achieved overall accuracies greater than 97%. Classifiers trained on combined expression data from both normal tissue data sets were able to predict the site of origin in a cohort of 652 primary tumors with ∼90% accuracy. Prediction accuracies of primary cancer-based classifiers were in the same range, as determined by cross-validation on this cohort. For individual tumor types, normal tissue-based classifiers achieved sensitivities in the range of 64–99% and specificities in the range of 92–100%. Primary origins for 12 of 20 metastases were predicted correctly, with false predictions highlighting the need for accurate sample preparation to avoid contaminations by metastases-surrounding tissue. We conclude that gene expression patterns of normal tissues harbor phenotypic information that is retained in tumors and can be sufficient to recover the type of primary tumor from expression patterns alone.
Relevant articles
Open Access articles citing this article.
Kalle A Ojala

,

Sami K Kilpinen

&

Olli P Kallioniemi

Genome Medicine Open Access 17 October 2011
Access options
Subscribe to this journal
Receive 50 print issues and online access
$259.00 per year
only $5.18 per issue
Rent or buy this article
Get just this article for as long as you need it
$39.95
Prices may be subject to local taxes which are calculated during checkout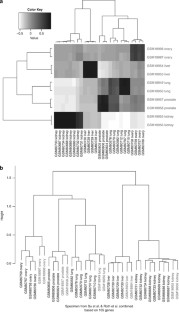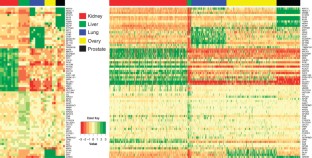 References
Abbruzzese JL, Abbruzzese MC, Hess KR, Raber MN, Lenzi R, Frost P . (1994). Unknown primary carcinoma: natural history and prognostic factors in 657 consecutive patients. J Clin Oncol 12: 1272–1280.

Bloom G, Yang IV, Boulware D, Kwong KY, Coppola D, Eschrich S et al. (2004). Multi-platform, multi-site, microarray-based human tumor classification. Am J Pathol 164: 9–16.

Bridgewater J, van LR, Floore A, Van'T VL . (2008). Gene expression profiling may improve diagnosis in patients with carcinoma of unknown primary. Br J Cancer 98: 1425–1430.

Canales RD, Luo Y, Willey JC, Austermiller B, Barbacioru CC, Boysen C et al. (2006). Evaluation of DNA microarray results with quantitative gene expression platforms. Nat Biotechnol 24: 1115–1122.

Dennis JL, Hvidsten TR, Wit EC, Komorowski J, Bell AK, Downie I et al. (2005). Markers of adenocarcinoma characteristic of the site of origin: development of a diagnostic algorithm. Clin Cancer Res 11: 3766–3772.

Dennis JL, Vass JK, Wit EC, Keith WN, Oien KA . (2002). Identification from public data of molecular markers of adenocarcinoma characteristic of the site of origin. Cancer Res 62: 5999–6005.

Dumur CI, Lyons-Weiler M, Sciulli C, Garrett CT, Schrijver I, Holley TK et al. (2008). Interlaboratory performance of a microarray-based gene expression test to determine tissue of origin in poorly differentiated and undifferentiated cancers. J Mol Diagn 10: 67–77.

Fellenberg K, Hauser NC, Brors B, Neutzner A, Hoheisel JD, Vingron M . (2001). Correspondence analysis applied to microarray data. Proc Natl Acad Sci USA 98: 10781–10786.

Horlings HM, van Laar RK, Kerst JM, Helgason HH, Wesseling J, van der Hoeven JJ et al. (2008). Gene expression profiling to identify the histogenetic origin of metastatic adenocarcinomas of unknown primary. J Clin Oncol 26: 4435–4441.

Ma XJ, Patel R, Wang X, Salunga R, Murage J, Desai R et al. (2006). Molecular classification of human cancers using a 92-gene real-time quantitative polymerase chain reaction assay. Arch Pathol Lab Med 130: 465–473.

Monzon FA, Lyons-Weiler M, Buturovic LJ, Rigl CT, Henner WD, Sciulli C et al. (2009). Multicenter validation of a 1550-gene expression profile for identification of tumor tissue of origin. J Clin Oncol 27: 2503–2508.

Oien KA, Evans TR . (2008). Raising the profile of cancer of unknown primary. J Clin Oncol 26: 4373–4375.

Pentheroudakis G, Golfinopoulos V, Pavlidis N . (2007). Switching benchmarks in cancer of unknown primary: from autopsy to microarray. Eur J Cancer 43: 2026–2036.

Ramaswamy S, Tamayo P, Rifkin R, Mukherjee S, Yeang CH, Angelo M et al. (2001). Multiclass cancer diagnosis using tumor gene expression signatures. Proc Natl Acad Sci USA 98: 15149–15154.

Roth RB, Hevezi P, Lee J, Willhite D, Lechner SM, Foster AC et al. (2006). Gene expression analyses reveal molecular relationships among 20 regions of the human CNS. Neurogenetics 7: 67–80.

Sorlie T, Tibshirani R, Parker J, Hastie T, Marron JS, Nobel A et al. (2003). Repeated observation of breast tumor subtypes in independent gene expression data sets. Proc Natl Acad Sci USA 100: 8418–8423.

Su AI, Cooke MP, Ching KA, Hakak Y, Walker JR, Wiltshire T et al. (2002). Large-scale analysis of the human and mouse transcriptomes. Proc Natl Acad Sci USA 99: 4465–4470.

Su AI, Welsh JB, Sapinoso LM, Kern SG, Dimitrov P, Lapp H et al. (2001). Molecular classification of human carcinomas by use of gene expression signatures. Cancer Res 61: 7388–7393.

Talantov D, Baden J, Jatkoe T, Hahn K, Yu J, Rajpurohit Y et al. (2006). A quantitative reverse transcriptase–polymerase chain reaction assay to identify metastatic carcinoma tissue of origin. J Mol Diagn 8: 320–329.

Tothill RW, Kowalczyk A, Rischin D, Bousioutas A, Haviv I, van Laar RK et al. (2005). An expression-based site of origin diagnostic method designed for clinical application to cancer of unknown origin. Cancer Res 65: 4031–4040.

van de Wouw AJ, Janssen-Heijnen ML, Coebergh JW, Hillen HF . (2002). Epidemiology of unknown primary tumours; incidence and population-based survival of 1285 patients in Southeast Netherlands, 1984–1992. Eur J Cancer 38: 409–413.

van Laar RK, Ma XJ, de JD, Wehkamp D, Floore AN, Warmoes MO et al. (2009). Implementation of a novel microarray-based diagnostic test for cancer of unknown primary. Int J Cancer 125: 1390–1397.

Varadhachary GR, Talantov D, Raber MN, Meng C, Hess KR, Jatkoe T et al. (2008). Molecular profiling of carcinoma of unknown primary and correlation with clinical evaluation. J Clin Oncol 26: 4442–4448.

Yeang CH, Ramaswamy S, Tamayo P, Mukherjee S, Rifkin RM, Angelo M et al. (2001). Molecular classification of multiple tumor types. Bioinformatics 17 (Suppl 1): S316–S322.
Acknowledgements
We thank Anja von Heydebreck for comments on an earlier version of the paper.
Author contributions: ES, HJB and JG conceived the study. ES prepared and analyzed the data and drafted the paper. HJB and JG reviewed and refined the paper. ES, HJB and JG released the final paper.
Ethics declarations
Competing interests
The authors declare no conflict of interest.
About this article
Cite this article
Staub, E., Buhr, HJ. & Gröne, J. Predicting the site of origin of tumors by a gene expression signature derived from normal tissues. Oncogene 29, 4485–4492 (2010). https://doi.org/10.1038/onc.2010.196
Received:

Revised:

Accepted:

Published:

Issue Date:

DOI: https://doi.org/10.1038/onc.2010.196
Keywords
gene expression signature

CUP

cancer type

expression profiling

microarray
This article is cited by
Mikihiro Fujiya
Yoshihiro Torimoto
Yutaka Kohgo

International Cancer Conference Journal (2014)

Kalle A Ojala
Sami K Kilpinen
Olli P Kallioniemi

Genome Medicine (2011)