Abstract
We have previously shown that a frequently downregulated gene, transcription elongation factor A-like 7 (TCEAL7), promoted anchorage-independent growth and modulated Myc activity in ovarian surface epithelial cells immortalized with temperature-sensitive large T antigen and human telomerase reverse transcriptase (OSEtsT/hTERT). Analysis of protein/DNA array showed that TCEAL7 downregulation resulted in an approximately twofold increase in nuclear factor (NF)-κB binding to its target DNA sequence. In this study we showed that short hairpin RNA (shRNA)-mediated downregulation of TCEAL7 in two different immortalized OSE cells showed higher NF-κB activity, as determined using reporter and gel-shift assays. Transient transfection of TCEAL7 inhibited the activation of NF-κB in TCEAL7-downregulated clones, IOSE-523 and in other ovarian cancer cell lines (OVCAR8, SKOV3ip and DOV13), suggesting that TCEAL7 negatively regulates NF-κB pathway. Consistent with this observation, TCEAL7-downregulated clones showed higher levels of NF-κB targets, such as pro-proliferative (cyclin-D1 and cMyc), pro-angiogenic (interleukin (IL)-6, IL-8 and vascular endothelial growth factor (VEGF)), inflammatory (intercellular adhesion molecule 1 (ICAM-1) and cyclooxygenase-2 (Cox-2)) and anti-apoptotic (B-cell lymphoma-extra large (Bcl-xl)) genes when compared with vector controls. Inhibition of NF-κB by IκB kinase (IKK) inhibitor (BMS 345541) attenuated cell survival and proliferation of TCEAL-knockdown clones. Although TCEAL7 inhibited p65 transcriptional activity, it did not modulate the cytoplasmic signaling of the NF-κB pathway, by itself or by tumor necrosis factor-α (TNF-α). Chromatin immunoprecipitation (ChIP) assays revealed increased recruitment of p65 and p300 to the promoters of IL-8 and IL-6 in TCEAL7-downregulated clones. Collectively, these results indicate a novel role for TCEAL7 in the negative regulation of NF-κB signaling at the basal level by modulating transcriptional activity of NF-κB on its target gene promoters, potentially providing a novel mechanism by which NF-κB activity may be deregulated in ovarian cancer cells.
This is a preview of subscription content
Access options
Subscribe to Journal
Get full journal access for 1 year
$119.00
only $2.38 per issue
All prices are NET prices.
VAT will be added later in the checkout.
Tax calculation will be finalised during checkout.
Buy article
Get time limited or full article access on ReadCube.
$32.00
All prices are NET prices.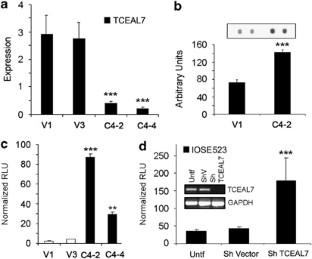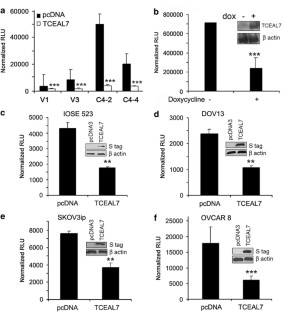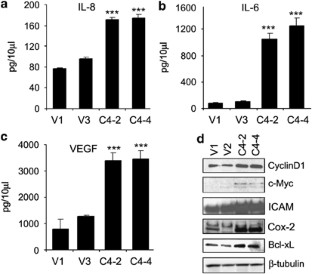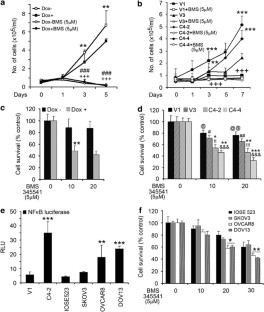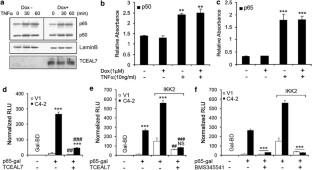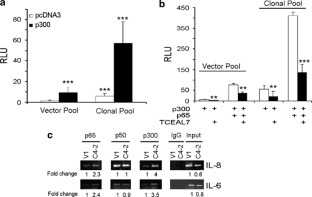 References
Abdollahi T, Robertson NM, Abdollahi A, Litwack G . (2003). Identification of interleukin 8 as an inhibitor of tumor necrosis factor-related apoptosis-inducing ligand-induced apoptosis in the ovarian carcinoma cell line OVCAR3. Cancer Res 63: 4521–4526.

Aggarwal BB . (2004). Nuclear factor-kappaB: the enemy within. Cancer Cell 6: 203–208.

Aggarwal BB, Takada Y, Oommen OV . (2004). From chemoprevention to chemotherapy: common targets and common goals. Expert Opin Investig Drugs 13: 1327–1338.

Ahn KS, Sethi G, Aggarwal BB . (2007). Nuclear factor-kappa B: from clone to clinic. Curr Mol Med 7: 619–637.

Arlt A, Schafer H . (2002). NFkappaB-dependent chemoresistance in solid tumors. Int J Clin Pharmacol Ther 40: 336–347.

Camp ER, Li J, Minnich DJ, Brank A, Moldawer LL, MacKay SL et al. (2004). Inducible nuclear factor-kappaB activation contributes to chemotherapy resistance in gastric cancer. J Am Coll Surg 199: 249–258.

Chen R, Alvero AB, Silasi DA, Mor G . (2007). Inflammation, cancer and chemoresistance: taking advantage of the toll-like receptor signaling pathway. Am J Reprod Immunol 57: 93–107.

Chien J, Narita K, Rattan R, Giri S, Shridhar R, Staub J et al. (2008). A role for candidate tumor-suppressor gene TCEAL7 in the regulation of c-Myc activity, cyclin D1 levels and cellular transformation. Oncogene 27: 7223–7234.

Chien J, Staub J, Avula R, Zhang H, Liu W, Hartmann LC et al. (2005). Epigenetic silencing of TCEAL7 (Bex4) in ovarian cancer. Oncogene 24: 5089–5100.

Collinson FJ, Hall GD, Perren TJ, Jayson GC . (2008). Development of antiangiogenic agents for ovarian cancer. Expert Rev Anticancer Ther 8: 21–32.

Ferrandina G, Ranelletti FO, Martinelli E, Paglia A, Zannoni GF, Scambia G . (2006). Cyclo-oxygenase-2 (Cox-2) expression and resistance to platinum versus platinum/paclitaxel containing chemotherapy in advanced ovarian cancer. BMC Cancer 6: 182.

Friedlander ML . (1998). Prognostic factors in ovarian cancer. Semin Oncol 25: 305–314.

Gerritsen ME, Williams AJ, Neish AS, Moore S, Shi Y, Collins T . (1997). CREB-binding protein/p300 are transcriptional coactivators of p65. Proc Natl Acad Sci USA 94: 2927–2932.

Giavazzi R, Nicoletti MI, Chirivi RG, Hemingway I, Bernasconi S, Allavena P et al. (1994). Soluble intercellular adhesion molecule-1 (ICAM-1) is released into the serum and ascites of human ovarian carcinoma patients and in nude mice bearing tumour xenografts. Eur J Cancer 30A: 1865–1870.

Giri S, Jatana M, Rattan R, Won JS, Singh I, Singh AK . (2002). Galactosylsphingosine (psychosine)-induced expression of cytokine-mediated inducible nitric oxide synthases via AP-1 and C/EBP: implications for Krabbe disease. FASEB J 16: 661–672.

Jeon C, Agarwal K . (1996). Fidelity of RNA polymerase II transcription controlled by elongation factor TFIIS. Proc Natl Acad Sci USA 93: 13677–13682.

Kalli KR, Falowo OI, Bale LK, Zschunke MA, Roche PC, Conover CA . (2002). Functional insulin receptors on human epithelial ovarian carcinoma cells: implications for IGF-II mitogenic signaling. Endocrinology 143: 3259–3267.

Kar R, Sen S, Singh A, Sharma H, Kumar S, Gupta SD et al. (2007). Role of apoptotic regulators in human epithelial ovarian cancer. Cancer Biol Ther 6: 1101–1105.

Karin M . (2006). Nuclear factor-kappaB in cancer development and progression. Nature 441: 431–436.

Kenny HA, Kaur S, Coussens LM, Lengyel E . (2008). The initial steps of ovarian cancer cell metastasis are mediated by MMP-2 cleavage of vitronectin and fibronectin. J Clin Invest 118: 1367–1379.

Mabuchi S, Ohmichi M, Nishio Y, Hayasaka T, Kimura A, Ohta T et al. (2004a). Inhibition of inhibitor of nuclear factor-kappaB phosphorylation increases the efficacy of paclitaxel in in vitro and in vivo ovarian cancer models. Clin Cancer Res 10: 7645–7654.

Mabuchi S, Ohmichi M, Nishio Y, Hayasaka T, Kimura A, Ohta T et al. (2004b). Inhibition of NFkappaB increases the efficacy of cisplatin in in vitro and in vivo ovarian cancer models. J Biol Chem 279: 23477–23485.

Mukai J, Hachiya T, Shoji-Hoshino S, Kimura MT, Nadano D, Suvanto P et al. (2000). NADE, a p75NTR-associated cell death executor, is involved in signal transduction mediated by the common neurotrophin receptor p75NTR. J Biol Chem 275: 17566–17570.

Mukai J, Shoji S, Kimura MT, Okubo S, Sano H, Suvanto P et al. (2002). Structure-function analysis of NADE: identification of regions that mediate nerve growth factor-induced apoptosis. J Biol Chem 277: 13973–13982.

Nath N, Khan M, Paintlia MK, Hoda MN, Giri S . (2009). Metformin attenuated the autoimmune disease of the central nervous system in animal models of multiple sclerosis. J Immunol 182: 8005–8014.

Nilsson MB, Armaiz-Pena G, Takahashi R, Lin YG, Trevino J, Li Y et al. (2007). Stress hormones regulate interleukin-6 expression by human ovarian carcinoma cells through a Src-dependent mechanism. J Biol Chem 282: 29919–29926.

Opala T, Drews K, Rzymski P, Wozniak J, Sajdak S . (2003). Evaluation of soluble intracellular adhesion molecule-1 (sICAM-1) in benign and malignant ovarian masses. Eur J Gynaecol Oncol 24: 255–257.

Rapp G, Freudenstein J, Klaudiny J, Mucha J, Wempe F, Zimmer M et al. (1990). Characterization of three abundant mRNAs from human ovarian granulosa cells. DNA Cell Biol 9: 479–485.

Roland CL, Harken AH, Sarr MG, Barnett Jr CC . (2007). ICAM-1 expression determines malignant potential of cancer. Surgery 141: 705–707.

Shridhar V, Lee J, Pandita A, Iturria S, Avula R, Staub J et al. (2001). Genetic analysis of early- versus late-stage ovarian tumors. Cancer Res 61: 5895–5904.

Shridhar V, Sen A, Chien J, Staub J, Avula R, Kovats S et al. (2002). Identification of underexpressed genes in early- and late-stage primary ovarian tumors by suppression subtraction hybridization. Cancer Res 62: 262–270.

Thomas MJ, Platas AA, Hawley DK . (1998). Transcriptional fidelity and proofreading by RNA polymerase II. Cell 93: 627–637.

Toutirais O, Chartier P, Dubois D, Bouet F, Leveque J, Catros-Quemener V et al. (2003). Constitutive expression of TGF-beta1, interleukin-6 and interleukin-8 by tumor cells as a major component of immune escape in human ovarian carcinoma. Eur Cytokine Netw 14: 246–255.

Williams J, Lucas PC, Griffith KA, Choi M, Fogoros S, Hu YY et al. (2005). Expression of Bcl-xL in ovarian carcinoma is associated with chemoresistance and recurrent disease. Gynecol Oncol 96: 287–295.

Yeh CH, Shatkin AJ . (1994). Down-regulation of Rous sarcoma virus long terminal repeat promoter activity by a HeLa cell basic protein. Proc Natl Acad Sci USA 91: 11002–11006.
Acknowledgements
This work was supported by Ovarian Cancer Research Fund to RR as a Program of Excellence grant and with funds from Mayo Foundation and Bernard and Edith Waterman Foundation to VS.
Supplementary information
About this article
Cite this article
Rattan, R., Narita, K., Chien, J. et al. TCEAL7, a putative tumor suppressor gene, negatively regulates NF-κB pathway. Oncogene 29, 1362–1373 (2010). https://doi.org/10.1038/onc.2009.431
Received:

Revised:

Accepted:

Published:

Issue Date:

DOI: https://doi.org/10.1038/onc.2009.431
Keywords
TCEAL7

NF-κB

ovarian cancer

tumor suppressor gene