Abstract
The tumor suppressor p53 protein supports growth arrest and is able to induce apoptosis, a signaling cascade regulated by sequential activation of caspases. Mechanisms that lead from p53 to activation of individual initiator caspases are still unclear. The present model for caspase-2 activation includes PIDDosome complex formation. However, in certain experimental models, elimination of complex constituents PIDD or RAIDD did not significantly influence caspase-2 activation, suggesting the existence of an alternative activation platform for caspase-2. Here we have investigated the link between p53 and caspase-2 in further detail and report that the latter is able to utilize the CD95 DISC as an activation platform. The recruitment of caspase-8 to this complex is required for activation of caspase-2. In the experimental system used, the DISC is formed through a distinct, p53-dependent upregulation of CD95. Moreover, we show that caspase-2 and -8 cleave Bid, and that both act simultaneously upstream of mitochondrial cytochrome c release. Finally, a direct interaction between the two caspases and the ability of caspase-8 to cleave caspase-2 are demonstrated. Thus, the observed functional link between caspase-8 and -2 within the DISC represents an alternative mechanism to the PIDDosome for caspase-2 activation in response to DNA damage.
Relevant articles
Open Access articles citing this article.
Gai Yamashita

,

Naoharu Takano

…

Keisuke Miyazawa

Cell Death Discovery Open Access 29 December 2022

Jeremy Forsberg

,

Xinge Li

…

Magnus Olsson

Cell Death & Disease Open Access 23 January 2018

Jay R Radke

,

Zeba K Siddiqui

…

James L Cook

Cell Death Discovery Open Access 31 October 2016
Access options
Subscribe to Journal
Get full journal access for 1 year
$119.00
only $2.38 per issue
All prices are NET prices.
VAT will be added later in the checkout.
Tax calculation will be finalised during checkout.
Buy article
Get time limited or full article access on ReadCube.
$32.00
All prices are NET prices.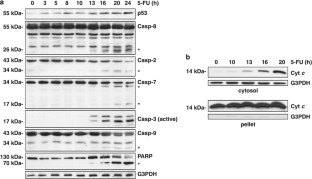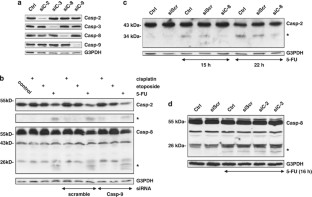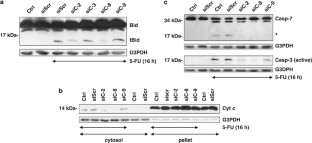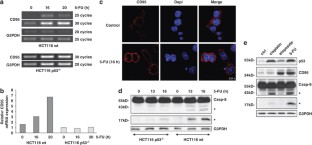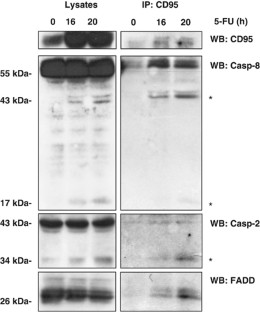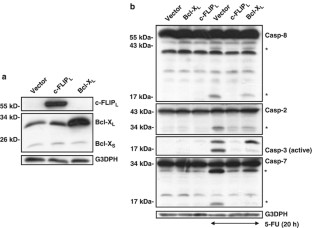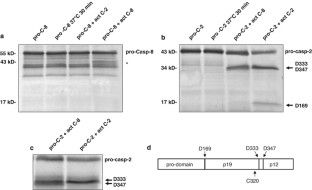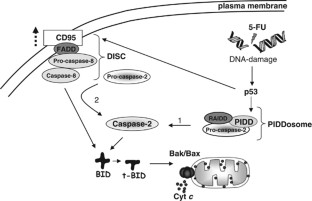 Abbreviations
5-FU:

5-fluorouracil

DISC:

death-inducing signaling complex
References
Baliga BC, Read SH, Kumar S . (2004). The biochemical mechanism of caspase-2 activation. Cell Death Differ 11: 1234–1241.

Baptiste-Okoh N, Barsotti AM, Prives C . (2008). A role for caspase 2 and PIDD in the process of p53-mediated apoptosis. Proc Natl Acad Sci USA 105: 1937–1942.

Bergeron L, Perez GI, Macdonald G, Shi L, Sun Y, Jurisicova A et al. (1998). Defects in regulation of apoptosis in caspase-2-deficient mice. Genes Dev 12: 1304–1314.

Berube C, Boucher LM, Ma W, Wakeham A, Salmena L, Hakem R et al. (2005). Apoptosis caused by p53-induced protein with death domain (PIDD) depends on the death adapter protein RAIDD. Proc Natl Acad Sci USA 102: 14314–14320.

Boatright KM, Renatus M, Scott FL, Sperandio S, Shin H, Pedersen IM et al. (2003). A unified model for apical caspase activation. Mol Cell 11: 529–541.

Borralho PM, Moreira da Silva IB, Aranha MM, Albuquerque C, Nobre Leitao C, Steer CJ et al. (2007). Inhibition of Fas expression by RNAi modulates 5-fluorouracil-induced apoptosis in HCT116 cells expressing wild-type p53. Biochim Biophys Acta 1772: 40–47.

Cuenin S, Tinel A, Janssens S, Tschopp J . (2008). p53-induced protein with a death domain (PIDD) isoforms differentially activate nuclear factor-kappaB and caspase-2 in response to genotoxic stress. Oncogene 27: 387–396.

Dirsch VM, Muller IM, Eichhorst ST, Pettit GR, Kamano Y, Inoue M et al. (2003). Cephalostatin 1 selectively triggers the release of Smac/DIABLO and subsequent apoptosis that is characterized by an increased density of the mitochondrial matrix. Cancer Res 63: 8869–8876.

Djerbi M, Darreh-Shori T, Zhivotovsky B, Grandien A . (2001). Characterization of the human FLICE-inhibitory protein locus and comparison of the anti-apoptotic activity of four different flip isoforms. Scand J Immunol 54: 180–189.

Droin N, Bichat F, Rebe C, Wotawa A, Sordet O, Hammann A et al. (2001). Involvement of caspase-2 long isoform in Fas-mediated cell death of human leukemic cells. Blood 97: 1835–1844.

Duan H, Dixit VM . (1997). RAIDD is a new 'death' adaptor molecule. Nature 385: 86–89.

Festjens N, Vanden Berghe T, Cornelis S, Vandenabeele P . (2007). RIP1, a kinase on the crossroads of a cell's decision to live or die. Cell Death Differ 14: 400–410.

Galligan L, Longley DB, McEwan M, Wilson TR, McLaughlin K, Johnston PG . (2005). Chemotherapy and TRAIL-mediated colon cancer cell death: the roles of p53, TRAIL receptors, and c-FLIP. Mol Cancer Ther 4: 2026–2036.

Gross A, Yin XM, Wang K, Wei MC, Jockel J, Milliman C et al. (1999). Caspase cleaved BID targets mitochondria and is required for cytochrome c release, while BCL-XL prevents this release but not tumor necrosis factor-R1/Fas death. J Biol Chem 274: 1156–1163.

Guerrero AD, Chen M, Wang J . (2008). Delineation of the caspase-9 signaling cascade. Apoptosis 13: 177–186.

Guo Y, Srinivasula SM, Druilhe A, Fernandes-Alnemri T, Alnemri ES . (2002). Caspase-2 induces apoptosis by releasing proapoptotic proteins from mitochondria. J Biol Chem 277: 13430–13437.

Harvey NL, Trapani JA, Fernandes-Alnemri T, Litwack G, Alnemri ES, Kumar S . (1996). Processing of the Nedd2 precursor by ICE-like proteases and granzyme B. Genes Cells 1: 673–685.

Janssens S, Tinel A, Lippens S, Tschopp J . (2005). PIDD mediates NF-kappaB activation in response to DNA damage. Cell 123: 1079–1092.

Lamkanfi M, D'Hondt K, Vande Walle L, van Gurp M, Denecker G, Demeulemeester J et al. (2005). A novel caspase-2 complex containing TRAF2 and RIP1. J Biol Chem 280: 6923–6932.

Lavrik IN, Golks A, Baumann S, Krammer PH . (2006). Caspase-2 is activated at the CD95 death-inducing signaling complex in the course of CD95-induced apoptosis. Blood 108: 559–565.

Lavrik IN, Golks A, Krammer PH . (2005). Caspases: pharmacological manipulation of cell death. J Clin Invest 115: 2665–2672.

Li H, Zhu H, Xu CJ, Yuan J . (1998). Cleavage of BID by caspase 8 mediates the mitochondrial damage in the Fas pathway of apoptosis. Cell 94: 491–501.

Muller M, Wilder S, Bannasch D, Israeli D, Lehlbach K, Li-Weber M et al. (1998). p53 activates the CD95 (APO-1/Fas) gene in response to DNA damage by anticancer drugs. J Exp Med 188: 2033–2045.

Munsch D, Watanabe-Fukunaga R, Bourdon JC, Nagata S, May E, Yonish-Rouach E et al. (2000). Human and mouse Fas (APO-1/CD95) death receptor genes each contain a p53-responsive element that is activated by p53 mutants unable to induce apoptosis. J Biol Chem 275: 3867–3872.

O'Reilly LA, Ekert P, Harvey N, Marsden V, Cullen L, Vaux DL et al. (2002). Caspase-2 is not required for thymocyte or neuronal apoptosis even though cleavage of caspase-2 is dependent on both Apaf-1 and caspase-9. Cell Death Differ 9: 832–841.

Park HH, Lo YC, Lin SC, Wang L, Yang JK, Wu H . (2007). The death domain superfamily in intracellular signaling of apoptosis and inflammation. Annu Rev Immunol 25: 561–586.

Paroni G, Henderson C, Schneider C, Brancolini C . (2001). Caspase-2-induced apoptosis is dependent on caspase-9, but its processing during UV- or tumor necrosis factor-dependent cell death requires caspase-3. J Biol Chem 276: 21907–21915.

Peter ME, Krammer PH . (2003). The CD95(APO-1/Fas) DISC and beyond. Cell Death Differ 10: 26–35.

Pop C, Fitzgerald P, Green DR, Salvesen GS . (2007). Role of proteolysis in caspase-8 activation and stabilization. Biochemistry 46: 4398–4407.

Pop C, Timmer J, Sperandio S, Salvesen GS . (2006). The apoptosome activates caspase-9 by dimerization. Mol Cell 22: 269–275.

Robertson JD, Enoksson M, Suomela M, Zhivotovsky B, Orrenius S . (2002). Caspase-2 acts upstream of mitochondria to promote cytochrome c release during etoposide-induced apoptosis. J Biol Chem 277: 29803–29809.

Samraj AK, Sohn D, Schulze-Osthoff K, Schmitz I . (2007). Loss of caspase-9 reveals its essential role for caspase-2 activation and mitochondrial membrane depolarization. Mol Biol Cell 18: 84–93.

Tinel A, Janssens S, Lippens S, Cuenin S, Logette E, Jaccard B et al. (2007). Autoproteolysis of PIDD marks the bifurcation between pro-death caspase-2 and pro-survival NF-kappaB pathway. EMBO J 26: 197–208.

Tinel A, Tschopp J . (2004). The PIDDosome, a protein complex implicated in activation of caspase-2 in response to genotoxic stress. Science 304: 843–846.

Troy CM, Rabacchi SA, Hohl JB, Angelastro JM, Greene LA, Shelanski ML . (2001). Death in the balance: alternative participation of the caspase-2 and -9 pathways in neuronal death induced by nerve growth factor deprivation. J Neurosci 21: 5007–5016.

Troy CM, Shelanski ML . (2003). Caspase-2 redux. Cell Death Differ 10: 101–107.

Vakifahmetoglu H, Olsson M, Orrenius S, Zhivotovsky B . (2006). Functional connection between p53 and caspase-2 is essential for apoptosis induced by DNA damage. Oncogene 25: 5683–5692.

Van de Craen M, Declercq W, Van den brande I, Fiers W, Vandenabeele P . (1999). The proteolytic procaspase activation network: an in vitro analysis. Cell Death Differ 6: 1117–1124.

Wagner KW, Engels IH, Deveraux QL . (2004). Caspase-2 can function upstream of bid cleavage in the TRAIL apoptosis pathway. J Biol Chem 279: 35047–35052.

Wang L, Du F, Wang X . (2008). TNF-alpha induces two distinct caspase-8 activation pathways. Cell 133: 693–703.

Yamaguchi H, Bhalla K, Wang HG . (2003). Bax plays a pivotal role in thapsigargin-induced apoptosis of human colon cancer HCT116 cells by controlling Smac/Diablo and Omi/HtrA2 release from mitochondria. Cancer Res 63: 1483–1489.

Yeh WC, Itie A, Elia AJ, Ng M, Shu HB, Wakeham A et al. (2000). Requirement for Casper (c-FLIP) in regulation of death receptor-induced apoptosis and embryonic development. Immunity 12: 633–642.

Zhivotovsky B, Orrenius S . (2005). Caspase-2 function in response to DNA damage. Biochem Biophys Res Commun 331: 859–867.
Acknowledgements
We thank Professor PH Krammer and Dr IN Lavrik (German Cancer Research Center, Heidelberg, Germany) for Abs and Dr GP Nolan (Stanford University, Stanford, CA, USA) for the Phoenix-Ampho packaging cell line. We also thank Professor Sten Orrenius for critical review of the paper and permanent support. This study was supported by grants from the Swedish Science Foundation, the Swedish and Stockholm Cancer Societies, the Swedish Childhood Cancer Foundation and the EC-FP-6 (Oncodeath and Chemores) and EC-FP-7 (APO-SYS). MO is a fellow of the Swedish Society of Medical Research.
About this article
Cite this article
Olsson, M., Vakifahmetoglu, H., Abruzzo, P. et al. DISC-mediated activation of caspase-2 in DNA damage-induced apoptosis. Oncogene 28, 1949–1959 (2009). https://doi.org/10.1038/onc.2009.36
Received:

Revised:

Accepted:

Published:

Issue Date:

DOI: https://doi.org/10.1038/onc.2009.36
Keywords
apoptosis

caspase-2

caspase-8

DISC

DNA damage