Abstract
Malignant peripheral nerve sheath tumors (MPNSTs) are aggressive sarcomas without effective therapeutics. Bioinformatics was used to identify potential therapeutic targets. Paired Box (PAX), Eyes Absent (EYA), Dachsund (DACH) and Sine Oculis (SIX) genes, which form a regulatory interactive network in Drosophila, were found to be dysregulated in human MPNST cell lines and solid tumors. We identified a decrease in DACH1 expression, and increases in the expressions of PAX6, EYA1, EYA2, EYA4, and SIX1–4 genes. Consistent with the observation that half of MPNSTs develop in neurofibromatosis type 1 (NF1) patients, subsequent to NF1 mutation, we found that exogenous expression of the NF1-GTPase activating protein-related domain normalized DACH1 expression. EYA4 mRNA was elevated more than 100-fold as estimated by quantitative real-time PCR in most MPNST cell lines. In vitro, suppression of EYA4 expression using short hairpin RNA reduced cell adhesion and migration and caused cellular necrosis without affecting cell proliferation or apoptotic cell death. MPNST cells expressing shEYA4 either failed to form tumors in nude mice or formed very small tumors, with extensive necrosis but similar levels of proliferation and apoptosis as control cells. Our findings identify a role of EYA4 and possibly interacting SIX and DACH proteins in MPNSTs and suggest the EYA4 pathway as a rational therapeutic target.
Your institute does not have access to this article
Relevant articles
Open Access articles citing this article.
Jody Fromm Longo

,

Stephanie N. Brosius

…

Steven L. Carroll

Scientific Reports Open Access 11 March 2021

Yuhua Wang

,

Ram Naresh Pandey

…

Rashmi S. Hegde

Nature Communications Open Access 12 September 2019

Jiarui Zhang

,

Xiuxia Ren

…

Ming Liu

Head & Face Medicine Open Access 27 September 2018
Access options
Subscribe to Journal
Get full journal access for 1 year
$119.00
only $2.38 per issue
All prices are NET prices.
VAT will be added later in the checkout.
Tax calculation will be finalised during checkout.
Buy article
Get time limited or full article access on ReadCube.
$32.00
All prices are NET prices.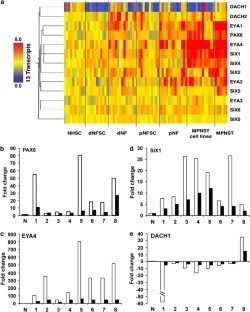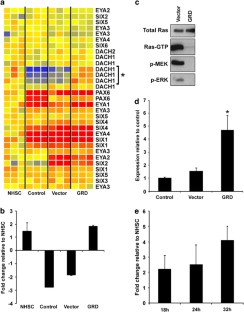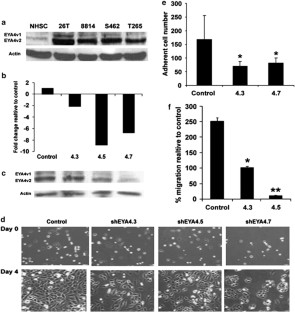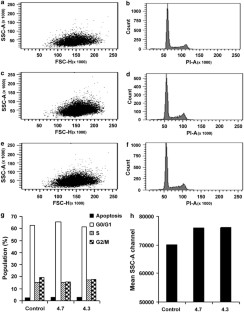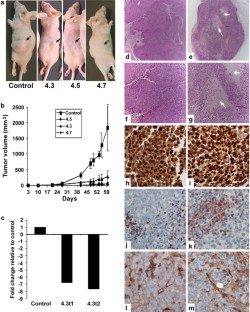 Accession codes
Accessions
GenBank/EMBL/DDBJ
References
Abdelhak S, Kalatzis V, Heilig R, Compain S, Samson D, Vincent C et al. (1997). A human homologue of the Drosophila eyes absent gene underlies branchio-oto-renal (BOR) syndrome and identifies a novel gene family. Nat Genet 15: 157–164.

Basu TN, Gutmann DH, Fletcher JA, Glover TW, Collins FS, Downward J . (1992). Aberrant regulation of ras proteins in malignant tumour cells from type 1 neurofibromatosis patients. Nature 356: 663–664.

Behbakht K, Qamar L, Aldridge CS, Coletta RD, Davidson SA, Thorburn A et al. (2007). Six1 overexpression in ovarian carcinoma causes resistance to TRAIL-mediated apoptosis and is associated with poor survival. Cancer Res 67: 3036–3042.

Borsani G, DeGrandi A, Ballabio A, Bulfone A, Bernard L, Banfi S et al. (1999). EYA4, a novel vertebrate gene related to Drosophila eyes absent. Hum Mol Genet 8: 11–23.

Carli M, Ferrari A, Mattke A, Zanetti I, Casanova M, Bisogno G et al. (2005). Pediatrics malignant peripheral nerve sheath tumor: the Italian and German soft tissue sarcoma cooperative group. J Clin Oncol 23: 8422–8430.

Carroll SL, Ratner N . (2008). How does the Schwann cell lineage form tumors in NF1? Glia 56: 1590–1605.

Casella GT, Bunge RP, Wood PM . (1996). Improved method for harvesting human Schwann cells from mature peripheral nerve and expansion in vitro. Glia 17: 327–338.

Christensen KL, Patrick AN, McCoy EL, Ford HL . (2008). The six family of homeobox genes in development and cancer. Adv Cancer Res 101: 93–126.

Coletta RD, Christensen KL, Micalizzi DS, Jedlicka P, Varella-Garcia M, Ford HL . (2008). Six1 overexpression in mammary cells induces genomic instability and is sufficient for malignant transformation. Cancer Res 68: 2204–2213.

Cook PJ, Ju BG, Telese F, Wang X, Glass CK, Rosenfeld MG . (2009). Tyrosine dephosphorylation of H2AX modulates apoptosis and survival decisions. Nature 458: 591–596.

Daimaru Y, Hashimoto H, Enjoji M . (1985). Malignant peripheral nerve-sheath tumors (malignant schwannomas). An immunohistochemical study of 29 cases. Am J Surg Pathol 9: 434–444.

DeClue JE, Papageorge AG, Fletcher JA, Diehl SR, Ratner N, Vass WC et al. (1992). Abnormal regulation of mammalian p21ras contributes to malignant tumor growth in von Recklinghausen (type 1) neurofibromatosis. Cell 69: 265–273.

Dive C, Gregory CD, Phipps DJ, Evans DL, Milner AE, Wyllie AH . (1992). Analysis and discrimination of necrosis and apoptosis (programmed cell death) by multiparameter flow cytometry. Biochim Biophys Acta 1133: 275–285.

Evans DG, Baser ME, McGaughran J, Sharif S, Howard E, Moran A . (2002). Malignant peripheral nerve sheath tumours in neurofibromatosis 1. J Med Genet 39: 311–314.

Ferner RE, Gutmann DH . (2002). International consensus statement on malignant peripheral nerve sheath tumors in neurofibromatosis. Cancer Res 62: 1573–1577.

Friedman JM, Birch PH . (1997). Type 1 neurofibromatosis: a descriptive analysis of the disorder in 1,728 patients. Am J Med Genet 70: 138–143.

Ha HC, Snyder SH . (1999). Poly(ADP-ribose) polymerase is a mediator of necrotic cell death by ATP depletion. Proc Natl Acad Sci USA 96: 13978–13982.

He TC, Zhou S, da Costa LT, Yu J, Kinzler KW, Vogelstein B . (1998). A simplified system for generating recombinant adenoviruses. Proc Natl Acad Sci USA 95: 2509–2514.

Holtkamp N, Reuss DE, Atallah I, Kuban RJ, Hartmann C, Mautner VF et al. (2004). Subclassification of nerve sheath tumors by gene expression profiling. Brain Pathol 14: 258–264.

Hsiao FC, Williams A, Davies EL, Rebay I . (2001). Eyes absent mediates cross-talk between retinal determination genes and the receptor tyrosine kinase signaling pathway. Dev Cell 1: 51–61.

Ikeda K, Watanabe Y, Ohto H, Kawakami K . (2002). Molecular interaction and synergistic activation of a promoter by Six, Eya, and Dach proteins mediated through CREB binding protein. Mol Cell Biol 22: 6759–6766.

Ismat FA, Xu J, Lu MM, Epstein JA . (2006). The neurofibromin GAP-related domain rescues endothelial but not neural crest development in Nf1 mice. J Clin Invest 116: 2378–2384.

Josephson R, Muller T, Pickel J, Okabe S, Reynolds K, Turner PA et al. (1998). POU transciption factors control expression of CNS stem cell-specific genes. Development 125: 3087–3100.

Kim HA, Rosenbaum T, Marchionni MA, Ratner N, DeClue JE . (1995). Schwann cells from neurofibromin deficient mice exhibit activation of p21ras, inhibition of cell proliferation and morphological changes. Oncogene 11: 325–335.

Klose A, Robinson N, Gewies A, Kluwe L, Kaufmann D, Buske A et al. (1998). Two novel mutations in exons 19a and 20 and a BsaBI [correction of BsaI] polymorphism in a newly characterized intron of the neurofibromatosis type 1 gene. Hum Genet 102: 367–371.

Klymkowsky MW, Savagner P . (2009). Epithelial-mesenchymal transition: a cancer researcher's conceptual friend and foe. Am J Pathol 174: 1588–1593.

Kobayashi M, Nishikawa K, Suzuki T, Yamamoto M . (2001). The homeobox protein Six3 interacts with the Groucho corepressor and acts as a transcriptional repressor in eye and forebrain formation. Dev Biol 232: 315–326.

Kroemer G, Galluzzi L, Vandenabeele P, Abrams J, Alnemri ES, Baehrecke EH et al. (2009). Classification of cell death: recommendations of the Nomenclature Committee on Cell Death 2009. Cell Death Differ 16: 3–11.

Krysko DV, Vanden Berghe T, Parthoens E, D'Herde K, Vandenabeele P . (2008). Methods for distinguishing apoptotic from necrotic cells and measuring their clearance. Methods Enzymol 442: 307–341.

Leroy K, Dumas V, Martin-Garcia N, Falzone M-C, Voisin M-C, Wechsler J et al. (2001). Malignant peripheral nerve sheath tumors associated with neurofibromatosis type 1. Arch Dermatol 137: 908–913.

Li X, Oghi KA, Zhang J, Krones A, Bush KT, Glass CK et al. (2003). Eya protein phosphatase activity regulates Six1-Dach-Eya transcriptional effects in mammalian organogenesis. Nature 426: 247–254.

Mahller YY, Rangwala F, Ratner N, Cripe TP . (2006). Malignant peripheral nerve sheath tumors with high and low Ras-GTP are permissive for oncolytic herpes simplex virus mutants. Pediatr Blood Cancer 46: 745–754.

Mahller YY, Vaikunth SS, Currier MA, Miller SJ, Ripberger MC, Hsu YH et al. (2007). Oncolytic HSV and erlotinib inhibit tumor growth and angiogenesis in a novel malignant peripheral nerve sheath tumor xenograft model. Mol Ther 15: 279–286.

Mahller YY, Vaikunth SS, Ripberger MC, Baird WH, Saeki Y, Cancelas JA et al. (2008). Tissue inhibitor of metalloproteinase-3 via oncolytic herpesvirus inhibits tumor growth and vascular progenitors. Cancer Res 68: 1170–1179.

Maris JM, Wiersma SR, Mahgoub N, Thompson P, Geyer RJ, Hurwitz CG et al. (1997). Monosomy 7 myelodysplastic syndrome and other second malignant neoplasms in children with neurofibromatosis type 1. Cancer 79: 1438–1446.

McCormick F . (1995). Ras signaling and NF1. Curr Opin Genet Dev 5: 51–55.

Miller SJ, Jessen WJ, Mehta T, Hardiman A, Sites E, Kaiser S et al. (2009). Integrative genomic analyses of neurofibromatosis tumors identify SOX9 as biomarker and survival gene. EMBO Mol Medicine 1: 236–248.

Miller SJ, Rangwala F, Williams J, Ackerman P, Kong S, Jegga AG et al. (2006). Large-scale molecular comparison of human schwann cells to malignant peripheral nerve sheath tumor cell lines and tissues. Cancer Res 66: 2584–2591.

Muratovska A, Zhou C, He S, Goodyer P, Eccles MR . (2003). Paired-Box genes are frequently expressed in cancer and often required for cancer cell survival. Oncogene 22: 7989–7997.

Ng KT, Man K, Sun CK, Lee TK, Poon RT, Lo CM et al. (2006). Clinicopathological significance of homeoprotein Six1 in hepatocellular carcinoma. Br J Cancer 95: 1050–1055.

O'Neill EM, Rebay I, Tjian R, Rubin G . (1994). The activities of two Ets related transcription factors required for Drosophila eye development are modulated by the Ras/MAPK pathway. Cell 78: 137–147.

Osborn NK, Zou H, Molina JR, Lesche R, Lewin J, Lofton-Day C et al. (2006). Aberrant methylation of the eyes absent 4 gene in ulcerative colitis-associated dysplasia. Clin Gastroenterol Hepatol 4: 212–218.

Ramdas L, Coombes KR, Baggerly K, Abruzzo L, Highsmith WE, Krogman T et al. (2001). Sources of nonlinearity in cDNA microarray expression measurements. Genome Biology 2: 1–7.

Rasmussen SA, Friedman JM . (2000). NF1 gene and neurofibromatosis 1. Am J Epidemiol 151: 33–40.

Rayapureddi JP, Kattamuri C, Steinmetz BD, Frankfort BJ, Ostrin EJ, Mardon G et al. (2003). Eyes absent represents a class of protein tyrosine phosphatases. Nature 426: 295–298.

Reichenberger KJ, Coletta RD, Schulte AP, Varella-Garcia M, Ford HL . (2005). Gene amplification is a mechanism of Six1 overexpression in breast cancer. Cancer Res 65: 2668–2675.

Serra E, Rosenbaum T, Winner U, Aledo R, Ars E, Estivill X et al. (2000). Schwann cells harbor the somatic NF1 mutation in neurofibromas: evidence of two different Schwann cell populations. Hum Mol Genet 9: 3055–3064.

Sherman LS, Atit R, Rosenbaum T, Cox AD, Ratner N . (2000). Single cell Ras-GTP analysis reveals altered Ras activity in a subpopulation of neurofibroma Schwann cells but not fibroblasts. J Biol Chem 275: 30740–30745.

Silver SJ, Davies EL, Doyon L, Rebay I . (2003). Functional dissection of eyes absent reveals new modes of regulation within the retinal determination gene network. Mol Cell Biol 23: 5989–5999.

Silver SJ, Rebay I . (2005). Signaling circuitries in development: insights from the retinal determination gene network. Development 132: 3–13.

Tootle TL, Silver SJ, Davies EL, Newman V, Latek RR, Mills IA et al. (2003). The transcription factor Eyes absent is a protein tyrosine phosphatase. Nature 426: 299–302.

Viskochil D, Carey JC . (1992). Nosological considerations of the neurofibromatoses. J Dermatol 19: 873–880.

Vogel KS, Klesse LJ, Velasco-Miguel S, Meyers K, Rushing EJ, Parada LF . (1999). Mouse tumor model for neurofibromatosis type 1. Science 286: 2176–2179.

Waring P, Lambert D, Sjaarda A, Hurne A, Beaver J . (1999). Increased cell surface exposure of phosphatidylserine on propidium iodide negative thymocytes undergoing death by necrosis. Cell Death Differ 6: 624–637.

Watson MA, Perry A, Tihan T, Prayson RA, Guha A, Bridge J et al. (2004). Gene expression profiling reveals unique molecular subtypes of neurofibromatosis type I-associated and sporadic malignant peripheral nerve sheath tumors. Brain Pathol 14: 297–303.

Weston KM, Alsalami M, Raison RL . (1994). Cell membrane changes induced by the cytolytic peptide, melittin, are detectable by 90 degrees laser scatter. Cytometry 15: 141–147.

Wu K, Katiyar S, Li A, Liu M, Ju X, Popov VM et al. (2008). Dachshund inhibits oncogene-induced breast cancer cellular migration and invasion through suppression of interleukin-8. Proc Natl Acad Sci USA 105: 6924–6929.

Wu K, Katiyar S, Witkiewicz A, Li A, McCue P, Song LN et al. (2009). The cell fate determination factor dachshund inhibits androgen receptor signaling and prostate cancer cellular growth. Cancer Res 69: 3347–3355.

Wu K, Li A, Rao M, Liu M, Dailey V, Yang Y et al. (2006). DACH1 is a cell fate determination factor that inhibits cyclin D1 and breast tumor growth. Mol Cell Biol 26: 7116–7129.

Xu LZ, Sanchez R, Sali A, Heintz N . (1996). Ligand specificty of brain lipid-binding protein. J Biol Chem 271: 24711–24719.

Zhu CC, Dyer MA, Uchikawa M, Kondoh H, Lagutin OV, Oliver G . (2002). Six3-mediated auto repression and eye development requires its interaction with members of the Groucho-related family of co-repressors. Development 129: 2835–2849.

Zou H, Osborn NK, Harrington JJ, Klatt KK, Molina JR, Burgart LJ et al. (2005). Frequent methylation of eyes absent 4 gene in Barrett's esophagus and esophageal adenocarcinoma. Cancer Epidemiol Biomarkers Prev 14: 830–834.
Acknowledgements
Viral vectors were produced by the Viral Vector Core at the Translational Core Laboratories, Cincinnati Children's Hospital Research Foundation, Cincinnati, OH, USA. We thank Yonatan Y Mahller for assistance with the xenograft experiments. This study was supported by an award from the DAMD (DOD W81XWH-04-1-0273) to NR and an NINDS Translational Neuroscience Award K01-NS049191-01A1 to SM.
About this article
Cite this article
Miller, S., Lan, Z., Hardiman, A. et al. Inhibition of Eyes Absent Homolog 4 expression induces malignant peripheral nerve sheath tumor necrosis. Oncogene 29, 368–379 (2010). https://doi.org/10.1038/onc.2009.360
Received:

Revised:

Accepted:

Published:

Issue Date:

DOI: https://doi.org/10.1038/onc.2009.360
Keywords
EYA4

MPNST

NF1

DACH1

SOX9

Ras