Abstract
Premature senescence is considered as a cellular defense mechanism to prevent tumorigenesis. Although recent evidences show that c-Jun N-terminal kinase (JNK) is involved in the senescence process, the mechanism for this regulation is not fully understood. Here, we examined the role of JNK in premature senescence of tumor cells. Treatment of cells with the JNK-specific inhibitor SP600125 caused phenotypical changes of senescence and triggered a rapid increase in mitochondrial reactive oxygen species (ROS) production and DNA-damage response (DDR) in MCF7 breast carcinoma cells. ROS generation was attributed to the suppression of B-cell lymphoma-2 (Bcl-2) phosphorylation, and resulted in DNA damage and p53 activation. Bax did not change their localization to the mitochondria, which is required for apoptosis. The essential roles of JNK and phosphorylated Bcl-2 in preventing premature senescence were confirmed using RNA interference and ectopic expression of mutants of Bcl-2, including phosphomimetic and nonphosphorylatable forms. These findings were evidenced in H460 lung carcinoma cells and primary human embryonic fibroblasts. Altogether, our results showed that loss of JNK activity triggers a Bcl-2/ROS/DDR signaling cascade that ultimately leads to premature senescence, indicating that basal JNK activity is essential in preventing premature senescence.
Relevant articles
Open Access articles citing this article.
Je-Jung Lee

,

So Young Kim

…

Jeon-Soo Shin

Cell Death & Disease Open Access 15 September 2022

Perry G Ridge

,

Taylor J Maxwell

…

John SK Kauwe

BMC Bioinformatics Open Access 28 May 2014

B Turner-Ivey

,

Y Manevich

…

C A Neumann

Oncogene Open Access 21 January 2013
Access options
Subscribe to this journal
Receive 50 print issues and online access
$259.00 per year
only $5.18 per issue
Rent or buy this article
Prices vary by article type
from$1.95
to$39.95
Prices may be subject to local taxes which are calculated during checkout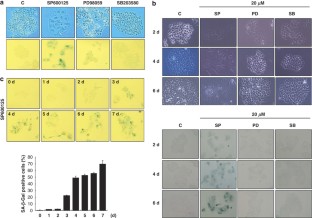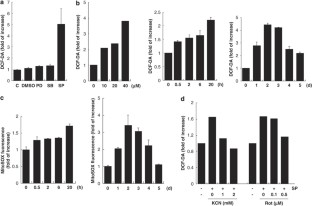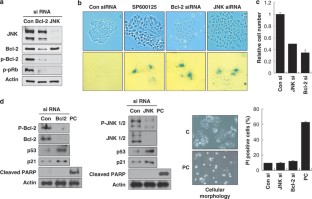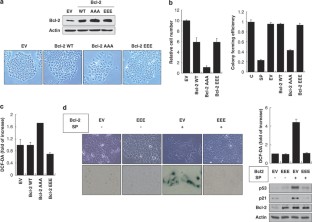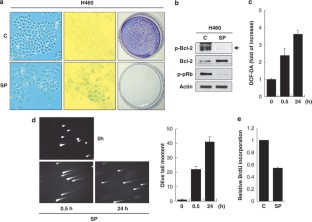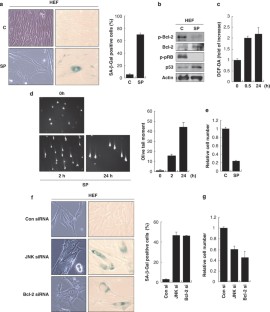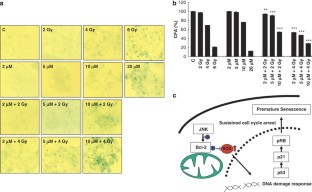 References
Autret A, Martin-Latil S, Mousson L, Wirotius A, Petit F, Arnoult D et al. (2007). Poliovirus induces Bas-dependent cell death mediated by c-jun NH2-termianl kinase. J Virol 81: 7504–7516.

Balaban RS, Nemoto S, Finkel T . (2005). Mitochondria, oxidants, and aging. Cell 120: 483–495.

Bartkova J, Rezaei N, Liontos M, Karakaidos P, Kletsas D, Issaeva N et al (2006). Oncogene-induced senescence is part of the tumorigenesis barrier imposed by DNA damage checkpoints. Nature 444: 633–637.

Bihani T, Chicas A, Lo CP, Lin AW . (2007). Dissecting the senescence-like program in tumor cells activated by Ras signaling. J Biol Chem 282: 2666–2675.

Bubici C, Papa S, Dean K, Franzoso G . (2006). Mutual cross-talk between reactive oxygen species and nuclear factor-kappa B: molecular basis and biological significance. Oncogene 25: 6731–6748.

Bulgin D, Podtcheko A, Takakura S, Mitsutake N, Namba H, Saenko V et al. (2006). Selective pharmacologic inhibition of c-Jun NH2-terminal kinase radiosensitizes thyroid anaplastic cancer cell lines via induction of terminal growth arrest. Thyroid 16: 217–224.

Byun HO, Han NK, Lee HJ, Kim KB, Ko YG, Yoon G et al. (2009). Cathepsin D and eukaryotic translation elongation factor 1 as promising markers of cellular senescence. Cancer Res 69: 4638–4637.

Campisi J . (2005). Suppressing cancer: the importance of being senescent. Science 309: 886–887.

Chan SH, Tai MH, Li CY, Chan JY . (2006). Reduction in molecular synthesis or enzyme activity of superoxide dismutases and catalase contributes to oxidative stress and neurogenic hypertension in spontaneously hypertensive rats. Free Radic Biol Med 40: 2028–2039.

Crescenzi E, Palumbo G, Brady HJM . (2003). Bcl-2 activates a programme of premature senescence in human carcinoma cells. Biochem J 375: 263–274.

Das M, Jiang F, Sluss HK, Zhang C, Shokat KM, Flavell RA et al. (2007). Suppression of p53-dependent senescence by the JNK signal transduction pathway. Proc Natl Acad Sci USA 104: 15759–15764.

Deng X, Gao F, Flagg T, Anderson J, May WS . (2006). Bcl2's flexible loop domain regulates p53 binding and survival. Mol Cell Biol 26: 4421–4434.

Deng X, Gao F, Flagg T, May Jr WS . (2004). Mono- and multisite phosphorylation enhances Bcl2's antiapoptotic function and inhibition of cell cycle entry functions. Proc Natl Acad Sci USA 101: 153–158.

Deng X, Gao F, May Jr WS . (2003). Bcl2 retards G1/S cell cycle transition by regulating intracellular ROS. Blood 102: 3179–3185.

Deng X, Xiao L, Lang W, Gao F, Ruvolo P, May Jr WS . (2001). Novel role for JNK as a stress-activated Bcl2 kinase. J Biol Chem 276: 23681–23688.

Dimri GP, Lee X, Basile G, Acosta M, Scott G, Roskelley C et al. (1995). A biomarker that identifies senescent human cells in culture and in aging skin in vivo. Proc Natl Acad Sci USA 92: 9363–9367.

Du L, Lyle CS, Chambers TC . (2005). Characterization of vinblastine-induced Bcl-xL and Bcl-2 phosphorylation: evidence for a novel protein kinase and a coordinated phosphorylation/dephosphorylation cycle associated with apoptosis induction. Oncogene 24: 107–117.

Du L, Lyle CS, Obey TB, Gaarde WA, Muir JA, Bennett BL et al. (2004). Inhibition of cell proliferation and cell cycle progression by specific inhibition of basal JNK activity. J Biol Chem 279: 11957–11966.

Furukawa Y, Iwase S, Kikuchi J, Terui Y, Nakamura M, Yamada H et al. (2000). Phosphorylation of bcl-2 protein by cdc2 kinase during G2/M phase and its role in cell cycle regulation. J Biol Chem 275: 21661–21667.

Gewirtz DA, Holt SE, Elmore LW . (2008). Accelerated senescence: an emerging role in tumor cell response to chemotherapy and radiation. Biochem Pharmacol 76: 957–957.

Goletz TJ, Smith JR, Pereira-Smith OM . (1994). Molecular genetic apptoaches to the study of cellular senescence. Cold Spring Harb Symp Quant Biol 59: 59–66.

Hagen TM, Yowe DL, Bartholomew JC, Wehr CM, Do KL, Park JY et al. (1997). Mitochondrial decay in hepatocytes from old rats: membrane potential declines, heterogeneity and oxidants increase. Proc Natl Acad Sci USA 94: 3064–3069.

Haldar S, Jena N, Croce CM . (1995). Inactivation of Bcl-2 by phosphorylation. Proc Natl Acad Sci USA 92: 4507–4511.

Hayflick L, Moorhead PS . (1961). The seial cultivation of human diploid cell strains. Exp Cell Res 25: 585–621.

Huang ST, Cidlowski JA . (2002). Phosphorylation status modulates Bcl-2 function during glucocorticoid-induced apoptosis in T lymphocytes. FASEB J 16: 825–832.

Jones KR, Elmore LW, Jackson-Cook C, Demasters G, Povirk LF, Holt SE et al. (2005). p53-dependent accelerated senescence induced by ionizing radiation in breast tumour cells. Int J Radiat Biol 81: 445–458.

Kerr LE, Birse-Archbold JL, Short DM, McGregor AL, Heron I, MacDonald DC et al. (2007). Nucleophosmin is a novel Bax chaperone that regulates apoptotic cell death. Oncogene 26: 2554–2562.

Kim HS, Yeo EJ, Park SH, Park JI, Park SC, Shin JY et al. (2005). p21WAF/CIP1/SDI1 is upregulated due to increased mRNA stability during hydroxyurea-induced senescence of human fibroblasts. Mech Ageing Dev 126: 1255–1261.

Kramer DL, Chang BD, Chen Y, Diegelman P, Alm K, Black AR et al. (2001). Polyamine depletion in human melanoma cells leads to G1 arrest associated with induction of p21WAF1/CIP1/SDI1, changes in the expression of p21-regulated genes, and a senescen-like phenotype. Cancer Res 61: 7754–7762.

Macip S, Igarashi M, Berggren P, Yu J, Lee SW, Aaronson SA . (2003). Influence of induced reactive oxygen species in p53-mediated cell fate decisions. Mol Cell Biol 23: 8576–8585.

Macip S, Igarashi M, Fang L, Chen A, Pan ZQ, Lee SW et al. (2002). Inhibition of p21-mediated ROS accumulation can rescue p21-induced senescence. EMBO J 21: 2180–2188.

MacLaren A, Black EJ, Clark W, Gillespie DA . (2004). c-Jun-deficient cells undergo premature senescence as a result of spontaneous DNA damage accumulation. Mol Cell Biol 24: 9006–9018.

Mallette FA, Gaumont-Leclerc MF, Ferbeyre G . (2007). The DNA damage signaling pathway is a critical mediator of oncogene-induced senescence. Genes Dev 21: 43–48.

Marchetti A, Cecchinelli B, D'Angelo M, D'Orazi G, Crescenzi M, Soddu S . (2005). p53 can inhibit cell proliferation through caspase-mediated cleavage of ERK2/MAPK. Cell Death Differ 11: 596–607.

Mates JM, Sanchez-Jimenez F . (1999). Antioxidant enzymes and their implications in pathophysiologic processes. Front Biosci 4: D339–D345.

Mingo-Sion AM, Marietta PM, Koller E, Wolf DM, Van Den Berg CL . (2004). Inhibition of JNK reduces G2/M transit independent of p53, leading to endoreduplication, decreased proliferation, and apoptosis in breast cancer cells. Oncogene 23: 596–604.

Muller IM, Dirsch VM, Rudy A, Lopez-Anton N, Pettit GR, Vollmar AM . (2005). Cephalostatin 1 inactivates Bcl-2 by hyperphosphorylation independent of M-phase arrest and DNA damage. Mol pharmacol 67: 1684–1689.

Nechushtan A, Smith CL, Hsu YT, Youle RJ . (1999). Conformation of the Bax C-terminus regulates subcellular location and cell death. EMBO J 18: 2330–2341.

Oliva JL, Caino MC, Senderowicz AM, Kazanietz MG . (2008). S-phase-specific activation of PKCα induces senescence in non-small cell lung cancer cells. J Biol Chem 283: 5466–5476.

Oruetxebarria I, Benturini F, Kekarainen T, Houweling A, Zuijderduijn LMP, Mohd-Sarip A et al. (2004). p16INK4a is required for hSNF5 chromatin remodeler-induced cellular senescence in malignant rhabdoid tumor cells. J Biol Chem 279: 3807–3816.

Papa S, Bubici C, Zazzeroni F, Pham CG, Kuntzen C, Knabb JR et al. (2006). The NF-kB -mediated control of the JNK cascade in the antagonism of programmed cell death in health and disease. Cell Death Differ 13: 712–729.

Park HS, Lee JS, Huh SH, Seo JS, Choi EJ . (2001). Hsp72 functions as a natural inhibitory protein of c-Jun N-terminal kinase. EMBO J 20: 446–456.

Qian Y, Zhang J, Yan B, Chen X . (2008). DEC1, a basic helix-loop-helix transcription factor and a novel target gene of the p53 family, mediates p53-dependent premature senescence. J Biol Chem 283: 2896–2905.

Raman M, Chen W, Cobb MH . (2007). Differential regulation and properties of MAPKs. Oncogene 26: 3100–3112.

Roninson IB . (2002). Oncogenic functions of tumour suppressor p21Waf1/Cip1/Sdi1: association with cell senescence and tumour-promoting activities of stromal fibroblasts. Cancer Lett 179: 1–14.

Roninson IB . (2003). Tumor cell senescence in cancer treatment. Cancer Res 63: 2705–2715.

Ruas MR, Gregory F, Jones R, Poolman R, Starborg M, Rowe J et al. (2006). CDK4 and CDK6 delay senescence by kinase-dependent and p16 INK4a-independent mechanisms. Mol Cell Biol 27: 4273–4282.

Ruvolo PP, Deng X, Carr BK, May WS . (1998). A functional role for mitochondrial protein kinase Cα in bcl2 phosphorylation and suppression of apoptosis. J Biol Chem 273: 25436–25442.

Schmitt E, Paquet C, Beauchemin M, Bertrand R . (2007). DNA-damage response network at the crossroads of cell-cycle checkpoints, cellular senescence and apoptosis. J Zhejiang Univ Sci B 8: 377–397.

Sharpless NE . (2004). Ink4a/Arf links senescence and aging. Exp Gerontol 39: 1751–1759.

Shaulian E, Karin M . (2002). AP-1 as a regulator of cell life and death. Nat Cell Biol 4: E131–E136.

Sumayama J, Tsuruta F, Masuyama N, Gotoh Y . (2005). JNK antagonizes Akt-mediated survival signals by phosphorylating 14—3-3. J Cell Biol 170: 295–304.

Susin SA, Zamzami N, Castedo M, Daugas E, Wang HG, Geley S et al. (1997). The central executionaer of apoptosis: multiple connections between protease activation and mitochondria in Fas/APO-1/CD95- and ceramide-induced apoptosis. J Exp Med 186: 25–37.

Tafani M, Cohn JA, Karpinich NO, Rothman RJ, Russo MA, Farber JL . (2002). Regulation of intracellular pH mediates Bax activation in HeLa cells treated with staurosporine or tumor necrosis factor-α. J Biol Chem 277: 49569–49576.

Takahashi A, Ohtani N, Yamakoshi K, Iida S, Tahara H, Nakayama K et al. (2006). Mitogenic signalling and the p16INK4a-Rb pathway cooperate to enforce irreversible cellular senescence. Nat Cell Biol 8: 1291–1297.

Tombor B, Rundell K, Oltvai ZN . (2003). Bcl-2 promotes premature senescence induced by oncogenic Ras. Biochem Biophys Res Commun 303: 800–807.

Tomita Y, Marchenko N, Erster S, Nemajerova A, Dehner A, Klein C et al. (2006). WT p53, but not tumor-derived mutants, bind to Bcl2 via DNA binding domain and induce mitochondrial permeabilization. J Biol Chem 281: 8600–8606.

Tournier C, Hess P, Yang DD, Xu J, Turner TK, Nimnual A et al. (2000). Requirement of JNK for stress induced activation of the cytochrome c-mediated death pathway. Science 288: 870–874.

Tsuruta F, Sunayama J, Mori Y, Hattori S, Shimizu S, Tsujimoto Y et al. (2003). JNK promotes Bax translocation to mitochondria through phosphorylation of 14—3-3 proteins. EMBO J 23: 1889–1899.

Turjanski AG, Vaque JP, Gutkind JS . (2007). MAP kinases and the control of nuclear events. Oncogene 26: 3240–3253.

Vigneron A, Roninson IB, Gamelin e, Coqueret O . (2005). Src inhibits adriamycin-induced senescence and G2 checkpoint arrest by blocking the induction of p21waf1. Cancer Res 65: 8927–8935.

Wada T, Joza N, Cheng HY, Sasaki T, Kozieradzki I, Bachmaier K et al. (2004). MKK7 couples stress signaling to G2/M cell cycle progression and cellular senescence. Nat Cell Biol 6: 215–226.

Xia HH, He H, De Wang J, Gu Q, Lin MC, Zou B et al. (2006). Induction of apoptosis and cell cycle arrest by a specific c-Jun NH2-terminal kinase (JNK) inhibitor, SP-600125, in gastrointestinal cancers. Cancer Lett 241: 268–274.

Yamamoto K, Ichijo H, Korsmeyer SJ . (1999). Bcl-2 is phosphorylated and inactivated by an ASK1/Jun N-terminal protein kinase pathway normally activated at G2/M. Mol Cell Biol 19: 8469–8478.

Zamzami N, Marzo I, Susin SA, Brenner C, Larochette N, Marchetti P et al. (1998). The thiol crosslinking agent diamide overcomes the apoptosis –inhibitory effect of Bcl-2 by enforcing mitochondrial permeability transition. Oncogene 16: 1055–1063.

Zhang P, Castedo M, Tao Y, Violot D, Metivier D, Deutsch E et al. (2006). Caspase independence of radio-induced cell death. Oncogene 25: 7758–7770.

Zimmermann AK, Loucks FA, Schroeder EK, Bouchard RJ, Tyler KL, Linseman DA . (2007). Glutathione binding to the Bcl-2 homology-3 domain groove: a molecular basis for Bcl-2 antioxidant function at mitochondria. J Biol Chem 282: 20296–20304.
Acknowledgements
We thank Professor WS May of the University of Florida, USA for the kind gift of Bcl-2 mutant constructs and Professor J-Y Lee of the Hallym University, Korea for the kind supply of HEF cells. This work was supported by the Nuclear Research & Development Program of the Korea Science and Engineering Foundation (KOSEF) grant funded by the Korean government (MEST).
Supplementary information
About this article
Cite this article
Lee, JJ., Lee, JH., Ko, YG. et al. Prevention of premature senescence requires JNK regulation of Bcl-2 and reactive oxygen species. Oncogene 29, 561–575 (2010). https://doi.org/10.1038/onc.2009.355
Received:

Revised:

Accepted:

Published:

Issue Date:

DOI: https://doi.org/10.1038/onc.2009.355
Keywords
premature senescence; JNK; Bcl-2; ROS; DNA damage