Abstract
Imatinib inhibits the kinase activity of Bcr-Abl and is currently the most effective drug for treatment of chronic myeloid leukemia (CML). Imatinib also blocks c-Abl, a physiological tyrosine kinase activated by a variety of stress signals including damaged DNA. We investigated the effect of pharmacological inhibition of c-Abl on the processing of irradiation-induced DNA damage in Bcr-Abl-negative cells. Cell lines and peripheral blood mononuclear cells (PBMCs) from healthy volunteers were treated with imatinib or dasatinib before γ-irradiation. Inhibition of c-Abl caused an enhanced irradiation-induced mutation frequency and slowdown of DNA repair, whereas imatinib was ineffective in cells expressing a T315I variant of c-Abl. Mutation frequency and repair kinetics were also studied in c-Abl−/− murine embryonic fibroblasts (MEFs) retransfected with wild-type c-Abl (wt-Abl) or a kinase-defect variant of Abl (KD-Abl). Enhanced mutation frequency as well as delayed DNA repair was observed in cells expressing KD-Abl. These data indicate that pharmacological inhibition of c-Abl compromises DNA-damage response.
Access options
Subscribe to this journal
Receive 50 print issues and online access
$259.00 per year
only $5.18 per issue
Rent or buy this article
Prices vary by article type
from$1.95
to$39.95
Prices may be subject to local taxes which are calculated during checkout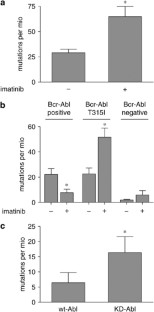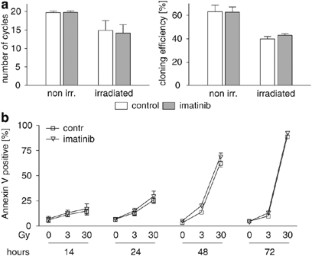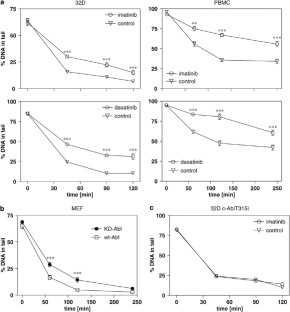 Similar content being viewed by others
References
Andersen MK, Pedersen-Bjergaard J, Kjeldsen L, Dufva IH, Brondum-Nielsen K . (2002). Clonal Ph-negative hematopoiesis in CML after therapy with imatinib mesylate is frequently characterized by trisomy 8. Leukemia 16: 1390–1393.

Buchdunger E, Zimmermann J, Mett H, Meyer T, Muller M, Druker BJ et al. (1996). Inhibition of the Abl protein-tyrosine kinase in vitro and in vivo by a 2-phenylaminopyrimidine derivative. Cancer Res 56: 100–104.

Canitrot Y, Lautier D, Laurent G, Frechet M, Ahmed A, Turhan AG et al. (1999). Mutator phenotype of BCR–ABL transfected Ba/F3 cell lines and its association with enhanced expression of DNA polymerase beta. Oncogene 18: 2676–2680.

Carroll M, Ohno-Jones S, Tamura S, Buchdunger E, Zimmermann J, Lydon NB et al. (1997). CGP 57148, a tyrosine kinase inhibitor, inhibits the growth of cells expressing BCR-ABL, TEL-ABL, and TEL-PDGFR fusion proteins. Blood 90: 4947–4952.

Cheng WH, von Kobbe C, Opresko PL, Fields KM, Ren J, Kufe D et al. (2003). Werner syndrome protein phosphorylation by abl tyrosine kinase regulates its activity and distribution. Mol Cell Biol 23: 6385–6395.

Druker BJ, Guilhot F, O'Brien SG, Gathmann I, Kantarjian H, Gattermann N et al. (2006). Five-year follow-up of patients receiving imatinib for chronic myeloid leukemia. N Engl J Med 355: 2408–2417.

Druker BJ, Tamura S, Buchdunger E, Ohno S, Segal GM, Fanning S et al. (1996). Effects of a selective inhibitor of the Abl tyrosine kinase on the growth of Bcr-Abl positive cells. Nat Med 2: 561–566.

Foray N, Marot D, Randrianarison V, Venezia ND, Picard D, Perricaudet M et al. (2002). Constitutive association of BRCA1 and c-Abl and its ATM-dependent disruption after irradiation. Mol Cell Biol 22: 4020–4032.

Goldberg Z, Vogt Sionov R, Berger M, Zwang Y, Perets R, Van Etten RA et al. (2002). Tyrosine phosphorylation of Mdm2 by c-Abl: implications for p53 regulation. EMBO J 21: 3715–3727.

Heinrich MC, Griffith DJ, Druker BJ, Wait CL, Ott KA, Zigler AJ . (2000). Inhibition of c-kit receptor tyrosine kinase activity by STI 571, a selective tyrosine kinase inhibitor. Blood 96: 925–932.

Imam SZ, Indig FE, Cheng WH, Saxena SP, Stevnsner T, Kufe D et al. (2007). Cockayne syndrome protein B interacts with and is phosphorylated by c-Abl tyrosine kinase. Nucleic Acids Res 35: 4941–4951.

Kerkelä R, Grazette L, Yacobi R, Iliescu C, Patten R, Beahm C et al. (2006). Cardiotoxicity of the cancer therapeutic agent imatinib mesylate. Nat Med 12: 908–916.

Kharbanda S, Pandey P, Jin S, Inoue S, Bharti A, Yuan ZM et al. (1997). Functional interaction between DNA-PK and c-Abl in response to DNA damage. Nature 386: 732–735.

Kharbanda S, Yuan ZM, Weichselbaum R, Kufe D . (1998). Determination of cell fate by c-Abl activation in the response to DNA damage. Oncogene 17: 3309–3318.

Michor F, Hughes TP, Iwasa Y, Branford S, Shah NP, Sawyers CL et al. (2005). Dynamics of chronic myeloid leukaemia. Nature 435: 1267–1270.

Moehring A, Wohlbold L, Aulitzky WE, van der Kuip H . (2005). Role of poly(ADP-ribose) polymerase activity in imatinib mesylate-induced cell death. Cell Death Differ 12: 627–636.

Picard S, Titier K, Etienne G, Teilhet E, Ducint D, Bernard MA et al. (2007). Trough imatinib plasma levels are associated with both cytogenetic and molecular responses to standard-dose imatinib in chronic myeloid leukemia. Blood 109: 3496–3499.

Salloukh HF, Laneuville P . (2000). Increase in mutant frequencies in mice expressing the BCR-ABL activated tyrosine kinase. Leukemia 14: 1401–1404.

Shaul Y, Ben-Yehoyada M . (2005). Role of c-Abl in the DNA damage stress response. Cell Res 15: 33–35.

Singh NP, McCoy MT, Tice RR, Schneider EL . (1988). A simple technique for quantitation of low levels of DNA damage in individual cells. Exp Cell Res 175: 184–191.

Terre C, Eclache V, Rousselot P, Imbert M, Charrin C, Gervais C et al. (2004). Report of 34 patients with clonal chromosomal abnormalities in Philadelphia-negative cells during imatinib treatment of Philadelphia-positive chronic myeloid leukemia. Leukemia 18: 1340–1346.

Uemura N, Griffin JD . (2000). The ABL kinase inhibitor STI571 does not affect survival of hematopoietic cells after ionizing radiation. Blood 96: 3294–3295.

van der Kuip H, Moehring A, Wohlbold L, Miething C, Duyster J, Aulitzky WE . (2004). Imatinib mesylate (STI571) prevents the mutator phenotype of Bcr-Abl in hematopoietic cell lines. Leuk Res 28: 405–408.

Wang JY . (2000). Regulation of cell death by the Abl tyrosine kinase. Oncogene 19: 5643–5650.

Wei G, Li AG, Liu X . (2005). Insights into selective activation of p53 DNA binding by c-Abl. J Biol Chem 280: 12271–12278.

Yuan ZM, Huang Y, Ishiko T, Nakada S, Utsugisawa T, Kharbanda S et al. (1998). Regulation of Rad51 function by c-Abl in response to DNA damage. J Biol Chem 273: 3799–3802.

Yuan ZM, Shioya H, Ishiko T, Sun X, Gu J, Huang YY et al. (1999). p73 is regulated by tyrosine kinase c-Abl in the apoptotic response to DNA damage. Nature 399: 814–817.
Acknowledgements
We are grateful to Tabea Peußer and Kerstin Willecke for technical assistance. The MEFs were a kind gift from Dr JY Wang (UCSD, San Diego, CA, USA).
Research Grants and other Financial Support: This work was financially supported by the Robert Bosch foundation project O2A and the Deutsche Forschungsgemeinschaft project KU 2338/1-1.
About this article
Cite this article
Fanta, S., Sonnenberg, M., Skorta, I. et al. Pharmacological inhibition of c-Abl compromises genetic stability and DNA repair in Bcr-Abl-negative cells. Oncogene 27, 4380–4384 (2008). https://doi.org/10.1038/onc.2008.68
Received:

Revised:

Accepted:

Published:

Issue Date:

DOI: https://doi.org/10.1038/onc.2008.68
Keywords