Abstract
Higher expression of human telomerase reverse transcriptase (hTERT) and subsequent activation of telomerase occur during cellular immortalization and are maintained in cancer cells. To understand the mode of hTERT expression in cancer cells, we identified cancer-specific trans-regulatory proteins that interact with the hTERT promoter, using the promoter magnetic precipitation assay coupled with mass spectrometry. The identified proteins include MutS homolog 2 (MSH2), heterogeneous nuclear ribonucleoprotein (hnRNP) D, hnRNP K and grainyhead-like 2 (GRHL2). We noticed a higher expression of these proteins in human oral squamous cell carcinoma (OSCC) cells than in normal cells, which do not exhibit telomerase activity. Knockdown of MSH2, hnRNP D and GRHL2 resulted in a notable reduction of the hTERT promoter activity in tested cancer cells. Silencing of the above genes resulted in a significant reduction of the telomerase activity in OSCC cells. Interestingly, among the four identified genes, silencing of GRHL2 was essential in reducing telomerase activity and viability of tested cancer cells. These results suggest a possible role of GRHL2 in telomerase activation during cellular immortalization.
Relevant articles
Open Access articles citing this article.
Hereditary Cancer in Clinical Practice Open Access 10 September 2022

Mariann Unhjem Wiik

,

Tiffany-Jane Evans

…

Bente A. Talseth-Palmer

Scientific Reports Open Access 31 May 2021

Wei Chen

,

Kyung L. Kang

…

Mo K. Kang

Oncogenesis Open Access 08 May 2018
Access options
Subscribe to Journal
Get full journal access for 1 year
$119.00
only $2.38 per issue
All prices are NET prices.
VAT will be added later in the checkout.
Tax calculation will be finalised during checkout.
Buy article
Get time limited or full article access on ReadCube.
$32.00
All prices are NET prices.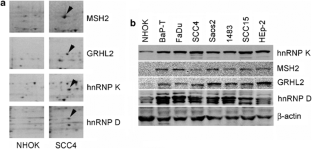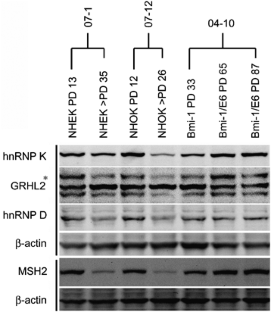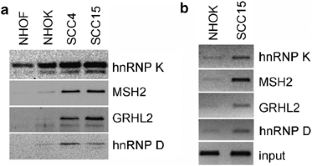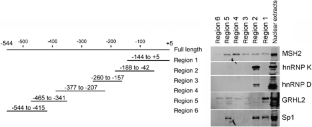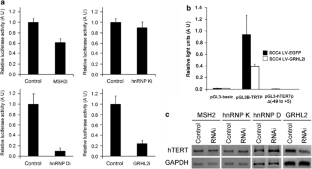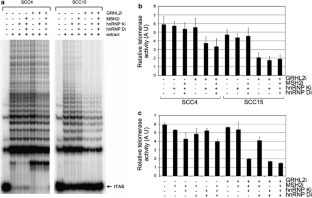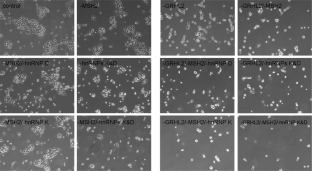 References
Cairney CJ, Keith WN . (2008). Integrated regulation of hTR and hTERT for telomere maintenance and telomerase activity. Biochimie 90: 13–23.

Campbell MR, Wang Y, Andrew SE, Liu Y . (2006). MSH2 deficiency leads to chromosomal abnormalities, centrosome amplification, and telomere capping defect. Oncogene 25: 2531–2536.

Cong YS, Wen J, Bacchetti S . (1999). The human telomerase catalytic subunit hTERT: organization of the gene and characterization of the promoter. Hum Mol Genet 8: 137–142.

Deng WG, Jayachandran G, Wu G, Xu K, Roth JA, Ji L . (2007). Tumor-specific activation of human telomerase reverses transcriptase promoter activity by activating enhancer-binding protein-2β in human lung cancer cells. J Biol Chem 282: 26460–26470.

Emili A, Greenblatt J, Ingles CJ . (1994). Species-specific interaction of the glutamine-rich activation domains of Sp1 with the TATA box-binding protein. Mol Cell Biol 14: 1582–1593.

Fujiki T, Miura T, Maura M, Shiraishi H, Nishimura S, Imada Y et al. (2007). TAK1 represses transcription of the human telomerase reverse transcriptase gene. Oncogene 26: 5258–5266.

He C, Schneider R . (2006). 14-3-3sigma is a p37 AUF1-binding protein that facilitates AUF1 transport and AU-rich mRNA decay. EMBO J 25: 3823–3831.

Isenmann S, Cakouros D, Zannettino A, Shi S, Gronthos S . (2007). hTERT transcription is repressed by Cbfa1 in human mesenchymal stem cell populations. J Bone Miner Res 22: 897–906.

Kang MK, Guo W, Park NH . (1998). Replicative senescence of normal human oral keratinocytes is associated with the loss of telomerase activity without shortening of telomeres. Cell Growth Differ 9: 85–95.

Kang MK, Kameta A, Shin KH, Baluda MA, Park NH . (2004). Senescence occurs with hTERT repression and limited telomere shortening in human oral keratinocytes cultured with feeder cells. J Cell Physiol 199: 364–370.

Kang MK, Kim RH, Kim SJ, Yip FK, Shin KH, Dimri GP et al. (2007). Elevated Bmi-1 expression is associated with dysplastic cell transformation during oral carcinogenesis and is required for cancer cell replication and survival. Br J Cancer 96: 126–133.

Kiledjian M, DeMaria CT, Brewer G, Novick K . (1997). Identification of AUF1 (heterogeneous nuclear ribonuceoprotein D) as a component of the α-globin mRNA stability complex. Mol Cell Biol 17: 4870–4876.

Kim NW, Piatyszek MA, Prowse KR, Harley CB, West MD, Ho PL et al. (1994). Specific association of human telomerase activity with immortal cells and cancer. Science 266: 2011–2015.

Kim RH, Kang MK, Shin KH, Oo ZM, Han T, Baluda MA et al. (2007). Bmi-1 cooperates with human papillomavirus type 16 E6 to immortalize normal human oral keratinocytes. Exp Cell Res 313: 462–472.

Kyo S, Takakura M, Taira T, Kanaya T, Itoh H, Yutsudo M et al. (2000). Sp1 cooperates with c-Myc to activate transcription of the human telomerase reverse transcriptase gene (hTERT). Nuc Acids Res 28: 669–677.

Lebel R, McDuff FO, Lavigne P, Grandbois M . (2007). Direct visualization of the binding of c-Myc/Max heterodimeric b-HLH-LZ to E-Box sequences on the hTERT promoter. Biochemistry 46: 10279–10286.

Lou F, Chen X, Jalink M, Zhu Q, Ge N, Zhao S et al. (2007). The opposing effect of hypoxia-inducible factor-2α on expression of telomerase reverse transcriptase. Mol Cancer Res 5: 793–800.

Lynch M, Chen L, Ravitz MJ, Mehtani S, Korenblat K, Pazin MJ et al. (2005). hnRNP K binds a core polypyrimidine element in the eukaryotic translation initiation factor 4E (eIF4E) promoter, and its regulation of eIF4E contributes to neoplastic transformation. Mol Cell Biol 25: 6436–6453.

Moumen A, Masterson P, O'Connor MJ, Jackson SP . (2005). hnRNP K: an HDM2 target and transcriptional coactivator of p53 in response to DNA damage. Cell 123: 1065–1078.

Ostareck-Lederer A, Ostareck DH . (2004). Control of mRNA translation and stability in haematopoietic cells: the function of hnRNPs K and E1/E2. Biol Cell 96: 407–411.

Ostrowski J, Klimek-Tomczak K, Wyrwicz LS, Mikula M, Schullery DS, Bomsztyk K . (2004). Heterogeneous nuclear ribonucleoprotein K enhances insulin-induced expression of mitochondrial UCP2 protein. J Biol Chem 279: 54599–545609.

Park NH, Min BM, Li SL, Huang MZ, Cherick HM, Doniger J . (1991). Immortalization of normal human oral keratinocytes with type 16 human papillomavirus. Carcinogenesis 12: 1627–1631.

Poole JC, Andrews LG, Tollefsbol TO . (2001). Activity, function, and gene regulation of the catalytic subunit of telomerase (hTERT). Gene 269: 1–12.

Rizki A, Lundblad V . (2001). Defects in mismatch repair promote telomerase-independent proliferation. Nature 411: 713–716.

Roychoudhury P, Chaudhuri K . (2007). Evidence for heterogeneous nuclear ribonucleoprotein K overexpression in oral squamous cell carcinoma. Br J Cancer 97: 574–575.

Shay JW, Keith WN . (2008). Targeting telomerase for cancer therapeutics. Br J Cancer 98: 677–683.

Stramer B, Martin P . (2005). Cell biology: master regulators of sealing and healing. Curr Biol 15: R425–R427.

Suzuki T, Muto S, Miyamoto S, Aizawa K, Horikoshi M, Nagai R . (2003). functional interaction of the DNA-binding transcription factor Sp1 through its DNA-binding domain with the histone chaperone TAF-I. J Biol Chem 278: 28758–28764.

Wagner BJ, DeMaria CT, Sun Y, Wilson GM, Brewer G . (1998). Structure and genomic organization of the human AUF1 gene: alternative pre-mRNA splicing generates four protein isoforms. Genomics 48: 195–202.

Wilanowski T, Tuckfield A, Cerruti L, O'Connell S, Saint R, Parekh V et al. (2002). A highly conserved novel family of mammalian developmental transcription factors related to Drosophila grainyhead. Mech Dev 114: 37–50.

Won J, Yim J, Kim TK . (2002). Sp1 and Sp3 recruit histone deacetylase to repress transcription of human telomerase reverse transcriptase (hTERT) promoter in normal human somatic cells. J Biol Chem 277: 38230–38238.

Yan P, Saraga EP, Bouzourene H, Bosman FT, Benhattar J . (2001). Expression of telomerase genes correlates with telomerase activity in human colorectal carcinogenesis. J Pathol 193: 21–26.

Zhu Q, Liu C, Ge Z, Fang X, Zhang X, Straat K et al. (2008). Lysine-specific demethylase 1 (LSD1) is required for the transcriptional repression of the telomerase reverse transcriptase (hTERT) gene. PLos ONE 3: e1446.
Acknowledgements
We thank Dr JC Barrett (NIEHS/NIH) for providing the pGL3B-TRTP vector. This study was supported in part by the Grants (K22DE15316, R01DE18295, and K02DE18959 to MKK and R01DE14147 to N-HP) from NIDCR/NIH.
About this article
Cite this article
Kang, X., Chen, W., Kim, R. et al. Regulation of the hTERT promoter activity by MSH2, the hnRNPs K and D, and GRHL2 in human oral squamous cell carcinoma cells. Oncogene 28, 565–574 (2009). https://doi.org/10.1038/onc.2008.404
Received:

Revised:

Accepted:

Published:

Issue Date:

DOI: https://doi.org/10.1038/onc.2008.404
Keywords
hTERT

telomerase

GRHL2

hnRNPs

MSH2

oral cancer