Abstract
In addition to their key roles in cellular survival, death, proliferation and metabolism, the Foxo subfamily of forkhead (Fox) transcription factors play critical roles in the homeostasis of immune-relevant cells, including T cells, B cells, neutrophils and other non-lymphoid lineages that modulate inflammation in disease states such as inflammatory arthritis and systemic lupus erythematosus. This review summarizes such current and expanding knowledge of the Foxo family members in immunity, and their potential as therapeutic targets in inflammatory disease.
Relevant articles
Open Access articles citing this article.
Lindsey M. Ludwig

,

Katrina M. Hawley

…

James L. LaBelle

Cell Death & Disease Open Access 27 October 2021

Thomas S. Buttrick

,

Wei Wang

…

Wassim Elyaman

Scientific Reports Open Access 16 January 2018

Si-Young Cho

,

Juewon Kim

…

Hang-Rae Kim

Scientific Reports Open Access 15 December 2016
Access options
Subscribe to this journal
Receive 50 print issues and online access
$259.00 per year
only $5.18 per issue
Rent or buy this article
Get just this article for as long as you need it
$39.95
Prices may be subject to local taxes which are calculated during checkout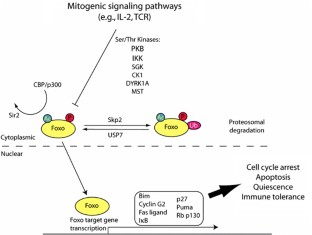 References
Asada S, Daitoku H, Matsuzaki H, Saito T, Sudo T, Mukai H et al. (2007). Mitogen-activated protein kinases, Erk and p38, phosphorylate and regulate Foxo1. Cell Signal 19: 519–527.

Asselin-Labat ML, David M, Biola-Vidamment A, Lecoeuche D, Zennaro MC, Bertoglio J et al. (2004). GILZ, a new target for the transcription factor FoxO3, protects T lymphocytes from interleukin-2 withdrawal-induced apoptosis. Blood 104: 215–223.

Aud D, Peng SL . (2006). Mechanisms of disease: transcription factors in inflammatory arthritis. Nat Clin Prac Rheum 2: 434–442.

Behzad H, Jamil S, Denny TA, Duronio V . (2007). Cytokine-mediated FOXO3a phosphorylation suppresses FasL expression in hemopoietic cell lines: investigations of the role of Fas in apoptosis due to cytokine starvation. Cytokine 38: 74–83.

Birkenkamp KU, Essafi A, van der Vos KE, da Costa M, Hui RC, Holstege F et al. (2007). FOXO3a induces differentiation of Bcr-Abl-transformed cells through transcriptional downregulation of Id1. J Biol Chem 282: 2211–2220.

Bosque A, Aguilo JI, Alava MA, Paz-Artal E, Naval J, Allende LM et al. (2007). The induction of Bim expression in human T-cell blasts is dependent on nonapoptotic Fas/CD95 signaling. Blood 109: 1627–1635.

Brunet A, Bonni A, Zigmond MJ, Lin MZ, Juo P, Hu LS et al. (1999). Akt promotes cell survival by phosphorylating and inhibiting a forkhead transcription factor. Cell 96: 857–868.

Brunet A, Park J, Tran H, Hu LS, Hemmings BA, Greenberg ME . (2001). Protein kinase SGK mediates survival signals by phosphorylating the forkhead transcription factor FKHRL1 (FOXO3a). Mol Cell Biol 21: 952–965.

Brunet A, Sweeney LB, Sturgill JF, Chua KF, Greer PL, Lin Y et al. (2004). Stress-dependent regulation of FOXO transcription factors by the SIRT1 deacetylase. Science 303: 2011–2015.

Charvet C, Canonigo AJ, Becart S, Maurer U, Miletic AV, Swat W et al. (2006). Vav1 promotes T cell cycle progression by linking TCR/CD28 costimulation to 26 and p27kip1 expression. J Immunol 177: 5024–5031.

Chen J, Yusuf I, Andersen HM, Fruman DA . (2006). FOXO transcription factors cooperate with dEF1 to activate growth suppressive genes in B lymphocytes. J Immunol 176: 2711–2721.

Coffer PJ, Burgering BM . (2004). Forkhead-box transcription factors and their role in the immune system. Nature Rev Immunol 4: 889–899.

Crellin NK, Garcia RV, Levings MK . (2007). Altered activation of AKT is required for the suppressive function of human CD4+CD25+ T regulatory cells. Blood 109: 2014–2022.

Crossley LJ . (2003). Neutrophil activation by fMLP regulates FOXO (forkhead) transcription factors by multiple pathways, one of which includes the binding of FOXO to the survival factor Mcl-1. J Leuk Biol 74: 583–592.

Daitoku H, Hatta M, Matsuzaki H, Aratani S, Ohshima T, Miyagishi M et al. (2004). Silent information regulator 2 potentiates Foxo1-mediated transcription through its deacetylase activity. Proc Natl Acad Sci USA 101: 10042–10047.

De Ruiter ND, Burgering BM, Bos JL . (2001). Regulation of the forkhead transcription factor AFX by Ral-dependent phosphorylation of threonines 447 and 451. Mol Cell Biol 21: 8225–8235.

Dijkers PF, Birkenkamp KU, Lam EW, Thomas NS, Lammers JW, Koenderman L et al. (2002). FKHR-L1 can act as a critical effector of cell death induced by cytokine withdrawal: protein kinase B-enhanced cell survival through maintenance of mitochondrial integrity. J Cell Biol 156: 531–542.

Essers MA, Weijzen S, de Vries-Smits AM, Saarloos I, de Ruiter ND, Bos JL et al. (2004). FOXO transcription factor activation by oxidative stress mediated by the small GTPase Ral and JNK. EMBO J 23: 4802–4812.

Fabre S, Lang V, Bismuth G . (2006). PI3-kinase and the control of T cell growth and proliferation by Foxos. Bull Cancer 93: E36–E38.

Fabre S, Lang V, Harriague J, Jobart A, Unterman TG, Trautmann A et al. (2005). Stable activation of phosphatidylinositol 3-kinase in the T cell immunological synapse stimulates Akt signaling to FoxO1 nuclear exclusion and cell growth control. J Immunol 174: 4161–4171.

Fallarino F, Bianchi R, Orabona C, Vacca C, Belladonna ML, Fioretti MC et al. (2004). CTLA-4-Ig activates forkhead transcription factors and protects dendritic cells from oxidative stress in nonobese diabetic mice. J Exp Med 200: 1051–1062.

Fosbrink M, Niculescu F, Rus V, Shin ML, Rus H . (2006). C5b-9-induced endothelial cell proliferation and migration are dependent on Akt inactivation of forkhead transcription factor 26. J Biol Chem 281: 19009–19018.

Georgiades SN, Clardy J . (2005). Total synthesis of psammaplysenes A and B, naturally occurring inhibitors of 26a nuclear export. Org Lett 7: 4091–4094.

Hinman RM, Bushanam JN, Nichols WA, Satterthwaite AB . (2007). B cell receptor signaling down-regulates forkhead box transcription factor class O 1 mRNA expression via phosphatidylinositol 3-kinase and Bruton's tyrosine kinase. J Immunol 178: 740–747.

Hu MC, Lee DF, Xia W, Golfman LS, Ou-Yang F, Yang JY et al. (2004). IkB kinase promotes tumorigenesis through inhibition of forkhead FOXO3a. Cell 117: 225–237.

Huang H, Regan KM, Lou Z, Chen J, Tindall DJ . (2006). CDK2-dependent phosphorylation of 26 as an apoptotic response to DNA damage. Science 314: 294–297.

Huang H, Regan KM, Wang F, Wang D, Smith DI, van Deursen JM et al. (2005). Skp2 inhibits 26 in tumor suppression through ubiquitin-mediated degradation. Proc Natl Acad Sci USA 102: 1649–1654.

Hughes LB, Morrison D, Westfall AO, Tiwari HK, Alarcon GS, Conn DL et al. (2006). Genetic and Non-genetic Factors Associated with Baseline Radiographic Erosions in African-Americans with Early Rheumatoid Arthritis: Results from the CLEAR Registry (70th Annual Meeting of the American College of Rheumatology, Washington, DC). John Wiley & Sons, Hoboken, NJ, USA.

Jacobsen EA, Ananieva O, Brown ML, Chang Y . (2006). Growth, differentiation, and malignant transformation of pre-B cells mediated by inducible activation of v-Abl oncogene. J Immunol 176: 6831–6838.

Jonsson H, Peng SL . (2005). Forkhead transcription factors in immunology. Cell Molec Life Sci 62: 397–409.

Jonsson H, Allen P, Peng SL . (2005). Inflammatory arthritis requires Foxo3a to prevent Fas ligand-induced neutrophil apoptosis. Nature Med 11: 666–671.

Kau TR, Schroeder F, Ramaswamy S, Wojciechowski CL, Zhao JJ, Roberts TM et al. (2003). A chemical genetic screen identifies inhibitors of regulated nuclear export of a forkhead transcription factor in PTEN-deficient tumor cells. Cancer Cell 4: 463–476.

Kops GJ, Dansen TB, Polderman PE, Saarloos I, Wirtz KW, Coffer PJ et al. (2002). Forkhead transcription factor FOXO3a protects quiescent cells from oxidative stress. Nature 419: 316–321.

Lam EW, Francis RE, Petkovic M . (2006). FOXO transcription factors: key regulators of cell fate. Biochem Soc Trans 34: 722–726.

Lehtinen MK, Yuan Z, Boag PR, Yang Y, Villen J, Becker EB et al. (2006). A conserved MST-FOXO signaling pathway mediates oxidative-stress responses and extends life span. Cell 125: 987–1001.

Lin L, Hron JD, Peng SL . (2004). Regulation of NF-kB, Th activation, and autoinflammation by the forkhead transcription factor Foxo3a. Immunity 21: 203–213.

Ludikhuize J, de Launay D, Groot D, Smeets TJ, Vinkenoog M, Sanders ME et al. (2007). Inhibition of forkhead box class O family member transcription factors in rheumatoid synovial tissue. Arthritis Rheum 56: 2180–2191.

Matsuzaki H, Daitoku H, Hatta M, Aoyama H, Yoshimochi K, Fukamizu A . (2005). Acetylation of Foxo1 alters its DNA-binding ability and sensitivity to phosphorylation. Proc Natl Acad Sci USA 102: 11278–11283.

Matsuzaki H, Daitoku H, Hatta M, Tanaka K, Fukamizu A . (2003). Insulin-induced phosphorylation of FKHR (Foxo1) targets to proteasomal degradation. Proc Natl Acad Sci USA 100: 11285–11290.

Medema RH, Kops GJ, Bos JL, Burgering BM . (2000). AFX-like forkhead transcription factors mediate cell-cycle regulation by Ras and PKB through p27kip1. Nature 404: 782–787.

Motta MC, Divecha N, Lemieux M, Kamel C, Chen D, Gu W et al. (2004). Mammalian SIRT1 represses forkhead transcription factors. Cell 116: 551–563.

Nakae J, Cao Y, Daitoku H, Fukamizu A, Ogawa W, Yano Y et al. (2006). The LXXLL motif of murine forkhead transcription factor FoxO1 mediates Sirt1-dependent transcriptional activity. J Clin Invest 116: 2473–2483.

Nemoto S, Finkel T . (2002). Redox regulation of forkhead proteins through a p66shc-dependent signaling pathway. Science 295: 2450–2452.

Pandiyan P, Gartner D, Soezeri O, Radbruch A, Schulze-Osthoff K, Brunner-Weinzierl MC . (2004). CD152 (CTLA-4) determines the unequal resistance of Th1 and Th2 cells against activation-induced cell death by a mechanism requiring PI3 kinase function. J Exp Med 199: 831–842.

Peng SL . (2007). Immune regulation by Foxo transcription factors. Autoimmunity 40: 462–469.

Plas DR, Thompson CB . (2003). Akt activation promotes degradation of tuberin and FOXO3a via the proteasome. J Biol Chem 278: 12361–12366.

Ramaswamy S, Nakamura N, Sansal I, Bergeron L, Sellers WR . (2002). A novel mechanism of gene regulation and tumor suppression by the transcription factor FKHR. Cancer Cell 2: 81–91.

Reedquist KA, Ludikhuize J, Tak PP . (2006). Phosphoinositide 3-kinase signalling and Foxo transcription factors in rheumatoid arthritis. Biochem Soc Trans 34: 727–730.

Rena G, Bain J, Elliott M, Cohen P . (2004). D4476, a cell-permeant inhibitor of CK1, suppresses the site-specific phosphorylation and nuclear exclusion of 26a. EMBO Rep 5: 60–65.

Rena G, Woods YL, Prescott AR, Peggie M, Unterman TG, Williams MR et al. (2002). Two novel phosphorylation sites on FKHR that are critical for its nuclear exclusion. EMBO J 21: 2263–2271.

Riou C, Yassine-Diab B, Van Grevenynghe J, Somogyi R, Greller LD, Gagnon D et al. (2007). Convergence of TCR and cytokine signaling leads to FOXO3a phosphorylation and drives the survival of CD4+ central memory T cells. J Exp Med 204: 79–91.

Schroeder FC, Kau TR, Silver PA, Clardy J . (2005). The psammaplysenes, specific inhibitors of 26a nuclear export. J Nat Prod 68: 574–576.

Sela U, Dayan M, Hershkoviz R, Cahalon L, Lider O, Mozes E . (2006). The negative regulators Foxj1 and Foxo3a are upregulated by a peptide that inhibits systemic lupus erythematosus-associated T cell responses. Eur J Immunol 36: 2971–2980.

So CW, Cleary ML . (2003). Common mechanism for oncogenic activation of MLL by forkhead family proteins. Blood 101: 633–639.

Stahl M, Dijkers PF, Kops GJ, Lens SM, Coffer PJ, Burgering BM et al. (2002). The forkhead transcription factor Foxo regulates transcription of p27Kip1 and Bim in response to IL-2. J Immunol 168: 5024–5031.

Tothova Z, Kollipara R, Huntly BJ, Lee BH, Castrillon DH, Cullen DE et al. (2007). Foxos are critical mediators of hematopoietic stem cell resistance to physiologic oxidative stress. Cell 128: 325–339.

Tsuchida K, Chaki H, Takakura T, Kotsubo H, Tanaka T, Aikawa Y et al. (2006). Discovery of nonpeptidic small-molecule AP-1 inhibitors: lead hopping based on a three-dimensional pharmacophore model. J Med Chem 49: 80–91.

van der Heide LP, Smidt MP . (2005). Regulation of Foxo activity by CBP/p300-mediated acetylation. Trends Biochem Sci 30: 81–86.

van der Horst A, de Vries-Smits AM, Brenkman AB, van Triest MH, van den Broek N, Colland F et al. (2006). FOXO4 transcriptional activity is regulated by monoubiquitination and USP7/HAUSP. Nature Cell Biol 8: 1064–1073.

van der Horst A, Tertoolen LG, de Vries-Smits LM, Frye RA, Medema RH, Burgering BM . (2004). FOXO4 is acetylated upon peroxide stress and deacetylated by the longevity protein hSir2(SIRT1). J Biol Chem 279: 28873–28879.

Wijchers PJ, Burbach JP, Smidt MP . (2006). In control of biology: of mice, men and Foxes. Biochem J 397: 233–246.

Woods YL, Rena G, Morrice N, Barthel A, Becker W, Guo S et al. (2001). The kinase DYRK1A phosphorylates the transcription factor FKHR at Ser329 in vitro, a novel in vivo phosphorylation site. Biochem J 355: 597–607.

Yamamura Y, Lee WL, Inoue K, Ida H, Ito Y . (2006). RUNX3 cooperates with Foxo3a to induce apoptosis in gastric cancer cells. J Biol Chem 281: 5267–5276.

Yang KY, Arcaroli J, Kupfner J, Pitts TM, Park JS, Strasshiem D et al. (2003). Involvement of phosphatidylinositol 3-kinase gamma in neutrophil apoptosis. Cell Signal 15: 225–233.

Yau CY, Wheeler JJ, Sutton KL, Hedley DW . (2005). Inhibition of integrin-linked kinase by a selective small molecule inhibitor, QLT0254, inhibits the PI3K/PKB/mTOR, Stat3, and FKHR pathways and tumor growth, and enhances gemcitabine-induced apoptosis in human orthotopic primary pancreatic cancer xenografts. Cancer Res 65: 1497–1504.

You H, Jang Y, You-Ten AI, Okada H, Liepa J, Wakeham A et al. (2004). p53-dependent inhibition of FKHRL1 in response to DNA damage through protein kinase SGK1. Proc Natl Acad Sci USA 101: 14057–14062.

You H, Pellegrini M, Tsuchihara K, Yamamoto K, Hacker G, Erlacher M et al. (2006a). FOXO3a-dependent regulation of Puma in response to cytokine/growth factor withdrawal. J Exp Med 203: 1657–1663.

You H, Yamamoto K, Mak TW . (2006b). Regulation of transactivation-independent proapoptotic activity of p53 by FOXO3a. Proc Natl Acad Sci USA 103: 9051–9056.

Yusuf I, Zhu X, Kharas MG, Chen J, Fruman DA . (2004). Optimal B-cell proliferation requires phosphoinositide 3-kinase-dependent inactivation of FOXO transcription factors. Blood 104: 784–787.

Zhuang Y, Li S, Li Y . (2006). dbNEI: a specific database for neuro-endocrine-immune interactions. Neuro Endocrinol Lett 27: 53–59.
About this article
Cite this article
Peng, S. Foxo in the immune system. Oncogene 27, 2337–2344 (2008). https://doi.org/10.1038/onc.2008.26
Published:

Issue Date:

DOI: https://doi.org/10.1038/onc.2008.26
Keywords
transcription factors

autoimmunity

T cells

B cells

arthritis

lupus