Abstract
Translocations of the retinoic acid receptor-α (RARα) locus with the promyelocytic leukemia zinc-finger (PLZF) or PML genes lead to expression of oncogenic PLZF–RARα or PML–RARα fusion proteins, respectively. These fusion oncoproteins constitutively repress RARα target genes, in large part through aberrant recruitment of multiprotein co-repressor complexes. PML and PML–RARα have previously been shown to associate with the retinoblastoma (Rb) tumour suppressor protein in its hypophosphorylated state. Here, we demonstrate that PLZF also interacts with Rb in vitro and in vivo. The interaction between PLZF and Rb is mediated through the Rb pocket and the region of PLZF that lies between its transcriptional repression (poxvirus and zinc-finger, POZ) and DNA-binding (zinc-finger) domains. In addition, Rb can simultaneously interact with PLZF and the E2F1 S phase-inducing transcription factor, suggesting that these proteins can exist in the same multiprotein complex. In contrast to the interaction of Rb with PML or E2F1, the PLZF–Rb interaction is not dependent on hypophosphorylation of Rb. These data are supported by chromatin immunoprecipitation analysis, which indicates that PLZF associates with the promoter region of CDC6, a known E2F/Rb target gene. Co-expression of PLZF and Rb results in enhancement of transcriptional repression of PLZF and E2F/Rb target genes, indicating functional co-operation between the two proteins. Both PLZF and Rb have been shown to function in stem cells and taken together these data suggest that interactions between PLZF and Rb could be important in stem cell biology.
Access options
Subscribe to this journal
Receive 50 print issues and online access
$259.00 per year
only $5.18 per issue
Rent or buy this article
Prices vary by article type
from$1.95
to$39.95
Prices may be subject to local taxes which are calculated during checkout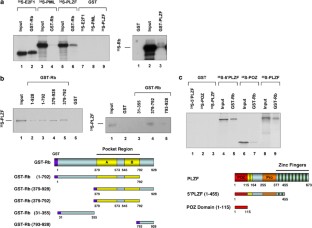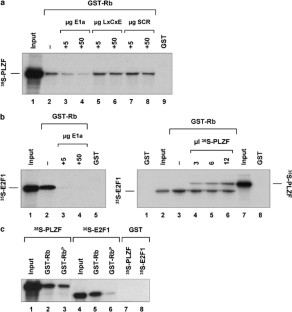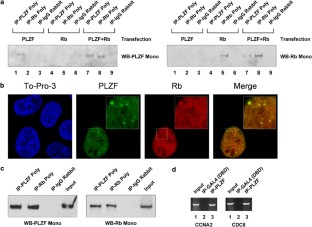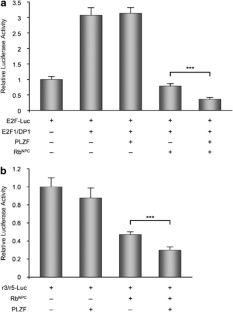 References
Alcalay M, Tomassoni L, Colombo E, Stoldt S, Grignani F, Fagioli M et al. (1998). The promyelocytic leukemia gene product (PML) forms stable complexes with the retinoblastoma protein. Mol Cell Biol 18: 1084–1093.

Barna M, Hawe N, Niswander L, Pandolfi PP . (2000). Plzf regulates limb and axial skeletal patterning. Nat Genet 25: 166–172.

Barna M, Merghoub T, Costoya JA, Ruggero D, Branford M, Bergia A et al. (2002). Plzf mediates transcriptional repression of HoxD gene expression through chromatin remodeling. Dev Cell 3: 499–510.

Bergh G, Ehinger M, Olsson I, Jacobsen SE, Gullberg U . (1999). Involvement of the retinoblastoma protein in monocytic and neutrophilic lineage commitment of human bone marrow progenitor cells. Blood 94: 1971–1978.

Buaas FW, Kirsh AL, Sharma M, McLean DJ, Morris JL, Griswold MD et al. (2004). Plzf is required in adult male germ cells for stem cell self-renewal. Nat Genet 36: 647–652.

Chen Z, Guidez F, Rousselot P, Agadir A, Chen SJ, Wang ZY et al. (1994). PLZF–RAR alpha fusion proteins generated from the variant t(11;17)(q23;q21) translocation in acute promyelocytic leukemia inhibit ligand-dependent transactivation of wild-type retinoic acid receptors. Proc Natl Acad Sci USA 91: 1178–1182.

Chew YP, Ellis M, Wilkie S, Mittnacht S . (1998). pRB phosphorylation mutants reveal role of pRB in regulating S phase completion by a mechanism independent of E2F. Oncogene 17: 2177–2186.

Costoya JA, Hobbs RM, Barna M, Cattoretti G, Manova K, Sukhwani M et al. (2004). Essential role of Plzf in maintenance of spermatogonial stem cells. Nat Genet 36: 653–659.

Crook T, Wrede D, Vousden KH . (1991). p53 point mutation in HPV negative human cervical carcinoma cell lines. Oncogene 6: 873–875.

Dai MS, Chevallier N, Stone S, Heinrich MC, McConnell M, Reuter T et al. (2002). The effects of the Fanconi anemia zinc finger (FAZF) on cell cycle, apoptosis, and proliferation are differentiation stage-specific. J Biol Chem 277: 26327–26334.

Dong S, Zhu J, Reid A, Strutt P, Guidez F, Zhong HJ et al. (1996). Amino-terminal protein-protein interaction motif (POZ-domain) is responsible for activities of the promyelocytic leukemia zinc finger-retinoic acid receptor-alpha fusion protein. Proc Natl Acad Sci USA 93: 3624–3629.

Felsani A, Mileo AM, Paggi MG . (2006). Retinoblastoma family proteins as key targets of the small DNA virus oncoproteins. Oncogene 25: 5277–5285.

Galderisi U, Cipollaro M, Giordano A . (2006). The retinoblastoma gene is involved in multiple aspects of stem cell biology. Oncogene 25: 5250–5256.

Giacinti C, Giordano A . (2006). RB and cell cycle progression. Oncogene 25: 5220–5227.

Giangrande PH, Zhu W, Rempel RE, Laakso N, Nevins JR . (2004). Combinatorial gene control involving E2F and E Box family members. EMBO J 23: 1336–1347.

Grignani F, De Matteis S, Nervi C, Tomassoni L, Gelmetti V, Cioce M et al. (1998). Fusion proteins of the retinoic acid receptor-alpha recruit histone deacetylase in promyelocytic leukaemia. Nature 391: 815–818.

Guidez F, Howell L, Isalan M, Cebrat M, Alani RM, Ivins S et al. (2005). Histone acetyltransferase activity of p300 is required for transcriptional repression by the promyelocytic leukemia zinc finger protein. Mol Cell Biol 25: 5552–5566.

Guidez F, Ivins S, Zhu J, Soderstrom M, Waxman S, Zelent A . (1998). Reduced retinoic acid-sensitivities of nuclear receptor corepressor binding to PML– and PLZF–RARalpha underlie molecular pathogenesis and treatment of acute promyelocytic leukemia. Blood 91: 2634–2642.

He LZ, Guidez F, Tribioli C, Peruzzi D, Ruthardt M, Zelent A et al. (1998). Distinct interactions of PML–RARalpha and PLZF–RARalpha with co-repressors determine differential responses to RA in APL. Nat Genet 18: 126–135.

Hong SH, David G, Wong CW, Dejean A, Privalsky ML . (1997). SMRT corepressor interacts with PLZF and with the PML-retinoic acid receptor alpha (RARalpha) and PLZF–RARalpha oncoproteins associated with acute promyelocytic leukemia. Proc Natl Acad Sci USA 94: 9028–9033.

Hsieh JK, Fredersdorf S, Kouzarides T, Martin K, Lu X . (1997). E2F1-induced apoptosis requires DNA binding but not transactivation and is inhibited by the retinoblastoma protein through direct interaction. Genes Dev 11: 1840–1852.

Ivins S, Pemberton K, Guidez F, Howell L, Krumlauf R, Zelent A . (2003). Regulation of Hoxb2 by APL-associated PLZF protein. Oncogene 22: 3685–3697.

Kelly KF, Daniel JM . (2006). POZ for effect—POZ-ZF transcription factors in cancer and development. Trends Cell Biol 16: 578–587.

Khan MM, Nomura T, Kim H, Kaul SC, Wadhwa R, Zhong S et al. (2001). PML–RARalpha alleviates the transcriptional repression mediated by tumor suppressor Rb. J Biol Chem 276: 43491–43494.

Koken MH, Reid A, Quignon F, Chelbi-Alix MK, Davies JM, Kabarowski JH et al. (1997). Leukemia-associated retinoic acid receptor alpha fusion partners, PML and PLZF, heterodimerize and colocalize to nuclear bodies. Proc Natl Acad Sci USA 94: 10255–10260.

Korenjak M, Taylor-Harding B, Binne UK, Satterlee JS, Stevaux O, Aasland R et al. (2004). Native E2F/RBF complexes contain Myb-interacting proteins and repress transcription of developmentally controlled E2F target genes. Cell 119: 181–193.

Labbaye C, Valtieri M, Grignani F, Puglisi R, Luchetti L, Masella B et al. (1999). Expression and role of PML gene in normal adult hematopoiesis: functional interaction between PML and Rb proteins in erythropoiesis. Oncogene 18: 3529–3540.

Licht JD, Shaknovich R, English MA, Melnick A, Li JY, Reddy JC et al. (1996). Reduced and altered DNA-binding and transcriptional properties of the PLZF-retinoic acid receptor-alpha chimera generated in t(11;17)-associated acute promyelocytic leukemia. Oncogene 12: 323–336.

Lin RJ, Nagy L, Inoue S, Shao W, Miller Jr WH, Evans RM . (1998). Role of the histone deacetylase complex in acute promyelocytic leukaemia. Nature 391: 811–814.

Macaluso M, Montanari M, Giordano A . (2006). Rb family proteins as modulators of gene expression and new aspects regarding the interaction with chromatin remodeling enzymes. Oncogene 25: 5263–5267.

McConnell MJ, Chevallier N, Berkofsky-Fessler W, Giltnane JM, Malani RB, Staudt LM et al. (2003). Growth suppression by acute promyelocytic leukemia-associated protein PLZF is mediated by repression of c-myc expression. Mol Cell Biol 23: 9375–9388.

Morris EJ, Dyson NJ . (2001). Retinoblastoma protein partners. Adv Cancer Res 82: 1–54.

Mudryj M, Hiebert SW, Nevins JR . (1990). A role for the adenovirus inducible E2F transcription factor in a proliferation dependent signal transduction pathway. EMBO J 9: 2179–2184.

Petrie K, Guidez F, Howell L, Healy L, Waxman S, Greaves M et al. (2003). The histone deacetylase 9 gene encodes multiple protein isoforms. J Biol Chem 278: 16059–16072.

Piazza F, Costoya JA, Merghoub T, Hobbs RM, Pandolfi PP . (2004). Disruption of PLZP in mice leads to increased T-lymphocyte proliferation, cytokine production, and altered hematopoietic stem cell homeostasis. Mol Cell Biol 24: 10456–10469.

Reid A, Gould A, Brand N, Cook M, Strutt P, Li J et al. (1995). Leukemia translocation gene, PLZF, is expressed with a speckled nuclear pattern in early hematopoietic progenitors. Blood 86: 4544–4552.

Schlisio S, Halperin T, Vidal M, Nevins JR . (2002). Interaction of YY1 with E2Fs, mediated by RYBP, provides a mechanism for specificity of E2F function. EMBO J 21: 5775–5786.

Shaknovich R, Yeyati PL, Ivins S, Melnick A, Lempert C, Waxman S et al. (1998). The promyelocytic leukemia zinc finger protein affects myeloid cell growth, differentiation, and apoptosis. Mol Cell Biol 18: 5533–5545.

Sivertsen EA, Hystad ME, Gutzkow KB, Dosen G, Smeland EB, Blomhoff HK et al. (2006). PI3K/Akt-dependent Epo-induced signalling and target genes in human early erythroid progenitor cells. Br J Haematol 135: 117–128.

Walkley CR, Orkin SH . (2006). Rb is dispensable for self-renewal and multilineage differentiation of adult hematopoietic stem cells. Proc Natl Acad Sci USA 103: 9057–9062.

Warrell Jr RP . (1997). Clinical and molecular aspects of retinoid therapy for acute promyelocytic leukemia. Int J Cancer 70: 496–497.

Yan Z, DeGregori J, Shohet R, Leone G, Stillman B, Nevins JR et al. (1998). Cdc6 is regulated by E2F and is essential for DNA replication in mammalian cells. Proc Natl Acad Sci USA 95: 3603–3608.

Yavuzer U, Keenan E, Lowings P, Vachtenheim J, Currie G, Goding CR . (1995). The Microphthalmia gene product interacts with the retinoblastoma protein in vitro and is a target for deregulation of melanocyte-specific transcription. Oncogene 10: 123–134.

Yeyati PL, Shaknovich R, Boterashvili S, Li J, Ball HJ, Waxman S et al. (1999). Leukemia translocation protein PLZF inhibits cell growth and expression of cyclin A. Oncogene 18: 925–934.

Yoshimoto T, Boehm M, Olive M, Crook MF, San H, Langenickel T et al. (2006). The arginine methyltransferase PRMT2 binds RB and regulates E2F function. Exp Cell Res 312: 2040–2053.

Zarkowska T, Mittnacht S . (1997). Differential phosphorylation of the retinoblastoma protein by G1/S cyclin-dependent kinases. J Biol Chem 272: 12738–12746.

Zelent A, Guidez F, Melnick A, Waxman S, Licht JD . (2001). Translocations of the RARalpha gene in acute promyelocytic leukemia. Oncogene 20: 7186–7203.
Acknowledgements
We acknowledge support from the Leukaemia Research Fund of Great Britain (AZ and FG), the Samuel Waxman Cancer Research Foundation, the Kay Kendall Leukaemia Fund (KP), Cancer Research UK (SM) and the National Institute of Health (CA59936, AZ, JL and SW). We also thank Drs Angela Barrett and Manuel Boix-Chornet for critical reading of the article.
About this article
Cite this article
Petrie, K., Guidez, F., Zhu, J. et al. Retinoblastoma protein and the leukemia-associated PLZF transcription factor interact to repress target gene promoters. Oncogene 27, 5260–5266 (2008). https://doi.org/10.1038/onc.2008.159
Received:

Accepted:

Published:

Issue Date:

DOI: https://doi.org/10.1038/onc.2008.159
Keywords
This article is cited by
William Puszyk
Thomas Down
Fabien Guidez

The EMBO Journal (2013)