Abstract
Most viruses enter cells via receptor-mediated endocytosis. However, the entry mechanisms used by many of them remain unclear. Also largely unknown is the way in which viruses are targeted to cellular endocytic machinery. We have studied the entry mechanisms of influenza viruses by tracking the interaction of single viruses with cellular endocytic structures in real time using fluorescence microscopy. Our results show that influenza can exploit clathrin-mediated and clathrin- and caveolin-independent endocytic pathways in parallel, both pathways leading to viral fusion with similar efficiency. Remarkably, viruses taking the clathrin-mediated pathway enter cells via the de novo formation of clathrin-coated pits (CCPs) at viral-binding sites. CCP formation at these sites is much faster than elsewhere on the cell surface, suggesting a virus-induced CCP formation mechanism that may be commonly exploited by many other types of viruses.
Your institute does not have access to this article
Relevant articles
Open Access articles citing this article.
Mengying Liu

,

Liane Z. X. Huang

…

Erik de Vries

Nature Communications Open Access 13 July 2022

Fiorella Tonello

,

Maria Lina Massimino

&

Caterina Peggion

Cellular and Molecular Life Sciences Open Access 03 May 2022

Selina Traxler

,

Gina Barkowsky

…

Wolfram Miekisch

Scientific Reports Open Access 11 December 2019
Access options
Subscribe to Journal
Get full journal access for 1 year
$99.00
only $8.25 per issue
All prices are NET prices.
VAT will be added later in the checkout.
Tax calculation will be finalised during checkout.
Buy article
Get time limited or full article access on ReadCube.
$32.00
All prices are NET prices.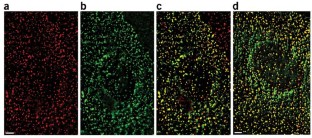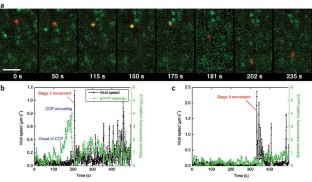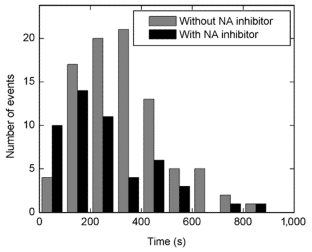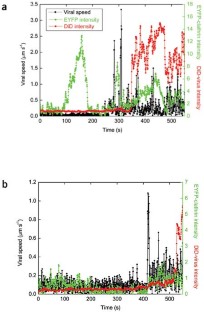 References
Matlin, K.S., Reggio, H., Helenius, A. & Simons, K. Infectious entry pathway of influenza-virus in a canine kidney-cell line. J. Cell Biol. 91, 601–613 (1981).

Doxsey, S.J., Brodsky, F.M., Blank, G.S. & Helenius, A. Inhibition of endocytosis by anti-clathrin antibody. Cell 50, 453–463 (1987).

Anderson, H.A., Chen, Y.Z. & Norkin, L.C. Bound simian virus 40 translocates to caveolin-enriched membrane domains, and its entry is inhibited by drugs that selectively disrupt caveolae. Mol. Biol. Cell 7, 1825–1834 (1996).

Carbone, R. et al. Eps15 and eps15R are essential components of the endocytic pathway. Cancer Res. 57, 5498–5504 (1997).

Stang, E., Kartenbeck, J. & Parton, R.G. Major histocompatibility complex class I molecules mediate association of SV40 with caveolae. Mol. Biol. Cell 8, 47–57 (1997).

De Tulleo, L. & Kirchhausen, T. The clathrin endocytic pathway in viral infection. EMBO J. 17, 4585–4593 (1998).

Pelkmans, L., Kartenbeck, J. & Helenius, A. Caveolar endocytosis of simian virus 40 reveals a new two-step vesicular-transport pathway to the ER. Nat. Cell Biol. 3, 473–483 (2001).

Sieczkarski, S.B. & Whittaker, G.R. Influenza virus can enter and infect cells in the absence of clathrin-mediated endocytosis. J. Virol. 76, 10455–10464 (2002).

Pelkmans, L. & Helenius, A. Insider information: what viruses tell us about endocytosis. Curr. Opin. Cell Biol. 15, 414–422 (2003).

Nichols, B.J. & Lippincott-Schwartz, J. Endocytosis without clathrin coats. Trends Cell Biol. 11, 406–412 (2001).

Conner, S.D. & Schmid, S.L. Regulated portals of entry into cells. Nature 422, 37–44 (2003).

Brodsky, F.M., Chen, C.-Y., Knuehl, C., Towler, M.C. & Wakeham, D.E. Biological basket weaving: formation and function of clathrin-coated vesicles. Annu. Rev. Cell Dev. Biol. 17, 517–568 (2001).

Kirchhausen, T.Clathrin. Annu. Rev. Biochem. 69, 699–727 (2000).

Nabi, I.R. & Le, P.U. Caveolae/raft-dependent endocytosis. J. Cell Biol. 161, 673–677 (2003).

Scott, M.G.H., Benmerah, A., Muntaner, O. & Marullo, S. Recruitment of activated G protein–coupled receptors to pre-existing clathrin coated pits in living cells. J. Biol. Chem. 277, 3552–3559 (2002).

Santini, F., Gaidarov, I. & Keen, J.H. G protein–couple dreceptor/arrestin3 modulation of the endocytic machinery. J. Cell Biol. 156, 665–676 (2002).

Gaidarov, I., Santini, F., Warren, R.A. & Keen, J.H. Spatial control of coated-pits dynamics in living cells. Nat. Cell Biol. 1, 1–7 (1999).

Skehel, J.J. & Wiley, D.C. Receptor binding and membrane fusion in viral entry: the influenza hemagglutinin. Annu. Rev. Biochem. 69, 531–569 (2000).

White, J., Helenius, A. & Gething, M.-J. Haemagglutinin of influenza virus expressed from a cloned gene promote membrane fusion. Nature 300, 658–659 (1982).

Yoshimura, A. & Ohnishi, S. Uncoating of influenza-virus in endosomes. J. Virol. 51, 497–504 (1984).

Martin, K. & Helenius, A. Transport of incoming influenza-virus nucleocapsids into the nucleus. J. Virol. 65, 232–244 (1990).

Lamb, R.A. & Krug, R.M. Orthomyxoviridae: the viruses and their replication. in Fields Virology (eds. Knipe, D.M. & Howley, P.M.) 1487–1531 (Lippincott Williams and Wilkins, Philadelphia, 2001).

Klasse, P.J., Bron, R. & Marsh, M. Mechanisms of enveloped virus entry into animal cells. Adv. Drug. Deliv. Rev. 34, 65–91 (1998).

Helenius, A., Kartenbeck, J., Simons, K. & Fries, E. On the entry of Semliki Forest viruses into BHK-21 cells. J. Cell Biol. 84, 404–420 (1980).

Marrifield, C.J., Feldman, M.E., Wan, L. & Almers, W. Imaging actin and dynamin recruitment during invagination of single clathrin-coated pits. Nat. Cell Biol. 4, 691–698 (2002).

Volonte, D., Galbiati, F. & Lisanti, M.P. Visualization of caveolin-1, a caveolar marker protein, in living cells using green fluorescent protein (GFP) chimeras: the subcellular distribution of caveolin-1 is modulated by cell-cell contact. FEBS Lett. 445, 431–439 (1999).

Wu, X. et al. Clathrin exchange during clathrin-mediated endocytosis. J. Cell Biol. 155, 291–300 (2001).

Rappoport, J.Z. & Simon, S.M. Clathrin-mediated endocytosis during cell migration. J. Cell Sci. 116, 847–855 (2003).

Pelkmans, L., Punterner, D. & Helenius, A. Local actin polymerization and dynamin recruitment in SV-40–induced internalization of caveolae. Science 296, 535–539 (2002).

Thomsen, P., Roepstorff, K., Stahlhut, M. & Deurs, B.V. Caveolar are highly immobile plasma membrane microdomains, which are not involved in constitutive endocytic trafficking. Mol. Biol. Cell 13, 238–250 (2002).

Schnitzer, J.E., Oh, P., Pinney, E. & Allard, J. Filipin-sensitive caveolae-mediated transport in endothelium-reduced transcytosis, scavenger endocytosis, and capillary-permeability of select macromolecules. J. Cell Biol. 127, 1217–1232 (1994).

Georgi, A., Mottola-Hartshorn, C., Warner, W., Fields, B. & Chen, L.B. Detection of individual fluorescently labelled reovirions in living cells. Proc. Natl. Acad. Sci. USA 87, 6579–6583 (1990).

Suomalainen, M. et al. Microtubule-dependent plus- and minus end–directed motilities are competing processes for nuclear targeting of adenovirus. J. Cell Biol. 144, 657–672 (1999).

Seisenberger, G. et al. Real-time single-molecule imaging of the infection pathway of an adeno-associated virus. Science 294, 1929–1932 (2001).

McDonald, D. et al. Visualization of the intracellular behavior of HIV in living cells. J. Cell Biol. 159, 441–452 (2002).

Lakadamyali, M., Rust, M.J., Babcock, H.P. & Zhuang, X. Visualizing infection of individual influenza viruses. Proc. Natl. Acad. Sci. USA 100, 9280–9285 (2003).

Wagner, R., Matrosovich, M. & Klenk, H.-D. Functional balance between haemagglutinin and neuraminidase in influenza virus infections. Rev. Med. Virol. 12, 159–166 (2002).

Babu, Y.S. et al. BCX-1812 (RWJ-270201): discovery of a novel, highly potent, orally active, and selective influenza neuraminidase inhibitor through structure-based drug design. J. Med. Chem. 43, 3482–3486 (2000).

Sidwell, R.W. et al. In vivo influenza virus–inhibitory effects of the cyclopentane neuraminidase inhibitor RWJ-270201. Antimicrob. Agents Chemother. 45, 749–757 (2001).

Rothberg, K.G., Ying, Y.S., Kamen, B.A. & Anderson, R.G. Cholesterol controls the clustering of the glycophospholipid-anchored membrane-receptor for 5-methyltetrahydrofolate. J. Cell Biol. 111, 2931–2938 (1990).

Naslavsky, N., Weigert, R. & Donaldson, J.G. Convergence of non-clathrin-and clathrin-derived endosomes involves Arf6 inactivation and changes in phosphoinositides. Mol. Biol. Cell 14, 417–431 (2003).

Sieczkarski, S.B. & Whittaker, G.R. Differential requirements of Rab5 and Rab7 for endocytosis of influenza and other enveloped viruses. Traffic 4, 333–343 (2003).

Connolly, J.L., Green, S.A. & Greene, L.A. Pit formation and rapid changes in surface morphology of sympathetic neurons in response to nerve growth factors. J. Cell Biol. 90, 176–180 (1981).

Wilde, A. et al. EGF receptor signaling stimulates SRC kinase phosphorylation of clathrin, influencing clathrin redistribution and EGF uptake. Cell 96, 677–687 (1999).

Grimes, M.L. et al. Endocytosis of activated TrkA: evidence that nerve growth factor induces formation of signaling endosomes. J. Neurosci. 16, 7950–7964 (1996).

Beattie, E.C., Howe, C.L., Wilde, A., Brodsky, F.M. & Mobley, W.C. NGF signals through TrkA to increase clathrin at the plasma membrane and enhance clathrin-mediated membrane trafficking. J. Neurosci. 20, 7325–7333 (2000).

Peter, B.J. et al. BAR domains as sensors of membrane curvature: the amphiphysin BAR structure. Science 303, 495–499 (2004).
Acknowledgements
We thank J.H. Keen (Thomas Jefferson University) and A. Helenius (Swiss Federal Institute of Technology) for their gifts of GFP-clathrin-LCa and Caveolin-1-EGFP plasmids, respectively. This work is supported in part by a Searle Scholarship, a Beckman Young Investigator award, the US Office of Naval Research and the US National Science Foundation (to X.Z.). M.J.R. is a US National Science Foundation pre-doctoral fellow.
Ethics declarations
Competing interests
The authors declare no competing financial interests.
Supplementary information
About this article
Cite this article
Rust, M., Lakadamyali, M., Zhang, F. et al. Assembly of endocytic machinery around individual influenza viruses during viral entry. Nat Struct Mol Biol 11, 567–573 (2004). https://doi.org/10.1038/nsmb769
Received:

Accepted:

Published:

Issue Date:

DOI: https://doi.org/10.1038/nsmb769