Abstract
OprD proteins form a large family of substrate-specific outer-membrane channels in Gram-negative bacteria. We report here the X-ray crystal structure of OprD from Pseudomonas aeruginosa, which reveals a monomeric 18-stranded β-barrel characterized by a very narrow pore constriction, with a positively charged basic ladder on one side and an electronegative pocket on the other side. The location of highly conserved residues in OprD suggests that the structure represents the general architecture of OprD channels.
Access options
Subscribe to Journal
Get full journal access for 1 year
$99.00
only $8.25 per issue
All prices are NET prices.
VAT will be added later in the checkout.
Tax calculation will be finalised during checkout.
Buy article
Get time limited or full article access on ReadCube.
$32.00
All prices are NET prices.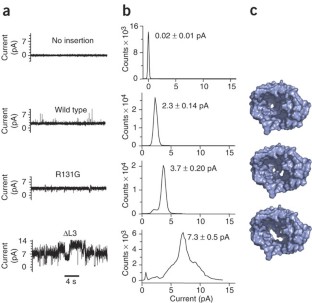 Accession codes
Primary accessions
Protein Data Bank
References
Hancock, R.E. & Brinkman, F.S. Annu. Rev. Microbiol. 56, 17–38 (2002).

Tamber, S., Ochs, M.M. & Hancock, R.E. J. Bacteriol. 188, 45–54 (2006).

Yoshimura, F. & Nikaido, H. J. Bacteriol. 152, 636–642 (1982).

Trias, J. & Nikaido, H. J. Biol. Chem. 265, 15680–15684 (1990).

Wolter, D.J., Hanson, N.D. & Lister, P.D. FEMS Microbiol. Lett. 236, 137–143 (2004).

Bagos, P.G., Liakopoulos, T.D., Spyropoulos, I.C. & Hamodrakas, S.J. Nucleic Acids Res. 32 (Web Server issue), W400–4 (2004).

Huang, H., Jeanteur, D., Pattus, F. & Hancock, R.E. Mol. Microbiol. 16, 931–941 (1995).

Yoshihara, E., Gotoh, N., Nishino, T. & Nakae, T. FEBS Lett. 394, 179–182 (1996).

Yoshihara, E., Yoneyama, H., Ono, T. & Nakae, T. Biochem. Biophys. Res. Commun. 247, 142–145 (1998).

Moraes, T.F., Bains, M., Hancock, R.E. & Strynadka, N.C. Nat. Struct. Mol. Biol. 14, 85–87 (2007).

Huang, H. & Hancock, R.E. J. Bacteriol. 178, 3085–3090 (1996).
Acknowledgements
This work was supported by a Pew Scholar award and University of Massachusetts Medical School start-up funds (B.v.d.B.), and by Syracuse University start-up funds and US National Science Foundation grant DMR-0706517 (L.M.). We thank E. Hearn for critical reading of the manuscript, K. Akpalu for purification of OprD mutants, and A.J. Wolfe, C.P. Goodrich and K.R. Howard for their help with single-channel experiments. We also thank the staff members of beamlines X6A and X25 at the National Synchrotron Light Source for beamtime and assistance.
Supplementary information
Supplementary Figures 1–3, Supplementary Table 1, Supplementary Methods (PDF 381 kb)
About this article
Cite this article
Biswas, S., Mohammad, M., Patel, D. et al. Structural insight into OprD substrate specificity. Nat Struct Mol Biol 14, 1108–1109 (2007). https://doi.org/10.1038/nsmb1304
Received:

Accepted:

Published:

Issue Date:

DOI: https://doi.org/10.1038/nsmb1304
This article is cited by
Kamolrat Somboon
Jitti Niramitranon
Prapasiri Pongprayoon

Journal of Molecular Modeling (2017)

Ruben Tommasi
Dean G. Brown
Alita A. Miller

Nature Reviews Drug Discovery (2015)

Jean-Marie Pagès
Chloë E. James
Mathias Winterhalter

Nature Reviews Microbiology (2008)