Abstract
Kapβ2 (also called transportin) recognizes PY nuclear localization signal (NLS), a new class of NLS with a R/H/Kx(2–5)PY motif. Here we show that Kapβ2 complexes containing hydrophobic and basic PY-NLSs, as classified by the composition of an additional N-terminal motif, converge in structure only at consensus motifs, which explains ligand diversity. On the basis of these data and complementary biochemical analyses, we designed a Kapβ2-specific nuclear import inhibitor, M9M.
Access options
Subscribe to Journal
Get full journal access for 1 year
$225.00
only $18.75 per issue
All prices are NET prices.
VAT will be added later in the checkout.
Rent or Buy article
Get time limited or full article access on ReadCube.
from$8.99
All prices are NET prices.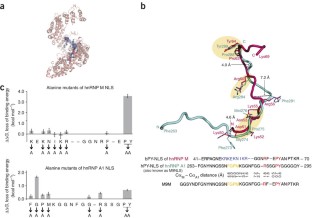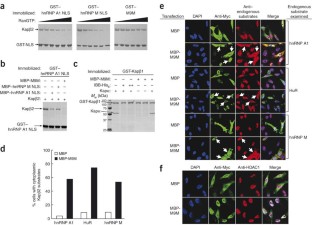 Accession codes
Primary accessions
Protein Data Bank
References
1

Mosammaparast, N. & Pemberton, L.F. Trends Cell Biol. 14, 547–556 (2004).

2

Lee, B.J. et al. Cell 126, 543–558 (2006).

3

Hamamoto, T., Gunji, S., Tsuji, H. & Beppu, T. J. Antibiot. (Tokyo) 36, 639–645 (1983).

4

Yashiroda, Y. & Yoshida, M. Curr. Med. Chem. 10, 741–748 (2003).

5

Dingwall, C. & Laskey, R.A. Trends Biochem. Sci. 16, 478–481 (1991).

6

Datar, K.V., Dreyfuss, G. & Swanson, M.S. Nucleic Acids Res. 21, 439–446 (1993).

7

Guttinger, S., Mulhausser, P., Koller-Eichhorn, R., Brennecke, J. & Kutay, U. Proc. Natl. Acad. Sci. USA 101, 2918–2923 (2004).

8

Gattoni, R. et al. Nucleic Acids Res. 24, 2535–2542 (1996).

9

Fridell, R.A., Truant, R., Thorne, L., Benson, R.E. & Cullen, B.R. J. Cell Sci. 110, 1325–1331 (1997).

10

Nakielny, S. et al. Exp. Cell Res. 229, 261–266 (1996).

11

Bogerd, H.P. et al. J. Biol. Chem. 274, 9771–9777 (1999).

12

Iijima, M., Suzuki, M., Tanabe, A., Nishimura, A. & Yamada, M. FEBS Lett. 580, 1365–1370 (2006).

13

Chook, Y.M., Jung, A., Rosen, M.K. & Blobel, G. Biochemistry 41, 6955–6966 (2002).

14

Smillie, D.A., Llinas, A.J., Ryan, J.T., Kemp, G.D. & Sommerville, J. J. Cell Sci. 117, 1857–1866 (2004).
Acknowledgements
We thank the University of Texas Southwestern's Structural Biology Laboratory, C. Thomas, N. Satterly, M. Matunis, M. Swanson, H. Yu, E. Seto and R. Bassel-Duby. The US Department of Energy, Offices of Science and Basic Energy Sciences (contract W-31-109-ENG-38) supported Advanced Photon Source use. Y.M.C. is funded by US National Institutes of Health grant R01-GM069909, Welch Foundation grant I-1532 and the University of Texas Southwestern Endowed Scholars Program, B.M.A.F. by US National Institutes of Health grant R01-GM067159-01.
Ethics declarations
Competing interests
The authors declare no competing financial interests.
Supplementary information
About this article
Cite this article
Cansizoglu, A., Lee, B., Zhang, Z. et al. Structure-based design of a pathway-specific nuclear import inhibitor. Nat Struct Mol Biol 14, 452–454 (2007). https://doi.org/10.1038/nsmb1229
Received:

Accepted:

Published:

Issue Date: