Abstract
Plant hormones play a major role in plant growth and development. They affect similar processes but, paradoxically, their signaling pathways act nonredundantly. Hormone signals are integrated at the gene-network level rather than by cross-talk during signal transduction. In contrast to hormone-hormone integration, recent data suggest that light and plant hormone pathways share common signaling components, which allows photoreceptors to influence the growth program. We propose a role for the plant hormone auxin as an integrator of the activities of multiple plant hormones to control plant growth in response to the environment.
This is a preview of subscription content
Access options
Subscribe to Journal
Get full journal access for 1 year
$99.00
only $8.25 per issue
All prices are NET prices.
VAT will be added later in the checkout.
Tax calculation will be finalised during checkout.
Buy article
Get time limited or full article access on ReadCube.
$32.00
All prices are NET prices.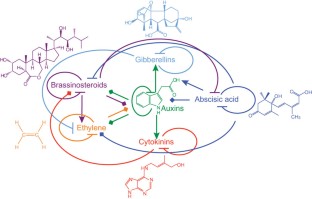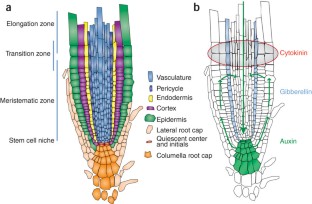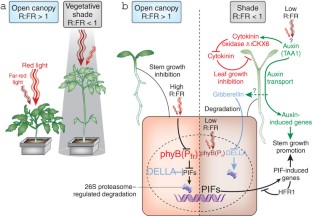 References
Santner, A. & Estelle, M. Recent advances and emerging trends in plant hormone signalling. Nature 459, 1071–1078 (2009).

Mundy, J., Nielsen, H.B. & Brodersen, P. Crosstalk. Trends Plant Sci. 11, 63–64 (2006).

Nemhauser, J.L., Hong, F. & Chory, J. Different plant hormones regulate similar processes through largely nonoverlapping transcriptional responses. Cell 126, 467–475 (2006).

Vert, G., Walcher, C.L., Chory, J. & Nemhauser, J.L. Integration of auxin and brassinosteroid pathways by Auxin Response Factor 2. Proc. Natl. Acad. Sci. USA 105, 9829–9834 (2008).

Nemhauser, J.L., Mockler, T.C. & Chory, J. Interdependency of brassinosteroid and auxin signaling in Arabidopsis. PLoS Biol. 2, E258 (2004).

Ubeda-Tomás, S. et al. Root growth in Arabidopsis requires gibberellin/DELLA signalling in the endovdermis. Nat. Cell Biol. 10, 625–628 (2008).

Ubeda-Tomás, S. et al. Gibberellin signaling in the endodermis controls Arabidopsis root meristem size. Curr. Biol. 19, 1194–1199 (2009).

Dello Ioio, R. et al. Cytokinins determine Arabidopsis root-meristem size by controlling cell differentiation. Curr. Biol. 17, 678–682 (2007).

Savaldi-Goldstein, S., Peto, C. & Chory, J. The epidermis both drives and restricts plant shoot growth. Nature 446, 199–202 (2007).

Dello Ioio, R. et al. A genetic framework for the control of cell division and differentiation in the root meristem. Science 322, 1380–1384 (2008).

Swarup, R. et al. Ethylene upregulates auxin biosynthesis in Arabidopsis seedlings to enhance inhibition of root cell elongation. Plant Cell 19, 2186–2196 (2007).

Růzicka, K. et al. Ethylene regulates root growth through effects on auxin biosynthesis and transport-dependent auxin distribution. Plant Cell 19, 2197–2212 (2007).

Stepanova, A.N. et al. TAA1-mediated auxin biosynthesis is essential for hormone crosstalk and plant development. Cell 133, 177–191 (2008).

Stepanova, A.N., Yun, J., Likhacheva, A.V. & Alonso, J.M. Multilevel interactions between ethylene and auxin in Arabidopsis roots. Plant Cell 19, 2169–2185 (2007).

Tsuchisaka, A. & Theologis, A. Unique and overlapping expression patterns among the Arabidopsis 1-amino-cyclopropane-1-carboxylate synthase gene family members. Plant Physiol. 136, 2982–3000 (2004).

Ballaré, C.L. Illuminated behaviour: phytochrome as a key regulator of light foraging and plant anti-herbivore defence. Plant Cell Environ. 32, 713–725 (2009).

Lorrain, S., Allen, T., Duek, P.D., Whitelam, G.C. & Fankhauser, C. Phytochrome-mediated inhibition of shade avoidance involves degradation of growth-promoting bHLH transcription factors. Plant J. 53, 312–323 (2008).

Tao, Y. et al. Rapid synthesis of auxin via a new tryptophan-dependent pathway is required for shade avoidance in plants. Cell 133, 164–176 (2008).

Carabelli, M. et al. Canopy shade causes a rapid and transient arrest in leaf development through auxin-induced cytokinin oxidase activity. Genes Dev. 21, 1863–1868 (2007).

Frigerio, M. et al. Transcriptional regulation of gibberellin metabolism genes by auxin signaling in Arabidopsis. Plant Physiol. 142, 553–563 (2006).

Sessa, G. et al. A dynamic balance between gene activation and repression regulates the shade avoidance response in Arabidopsis. Genes Dev. 19, 2811–2815 (2005).

Hornitschek, P., Lorrain, S., Zoete, V., Michielin, O. & Fankhauser, C. Inhibition of the shade avoidance response by formation of non-DNA binding bHLH heterodimers. EMBO J. 28, 3893–3902 (2009).

Achard, P. et al. DELLAs contribute to plant photomorphogenesis. Plant Physiol. 143, 1163–1172 (2007).

de Lucas, M. et al. A molecular framework for light and gibberellin control of cell elongation. Nature 451, 480–484 (2008).

Djakovic-Petrovic, T., de Wit, M., Voesenek, L.A.C.J. & Pierik, R. DELLA protein function in growth responses to canopy signals. Plant J. 51, 117–126 (2007).

Koini, M.A. et al. High temperature-mediated adaptations in plant architecture require the bHLH transcription factor PIF4. Curr. Biol. 19, 408–413 (2009).

Nozue, K. et al. Rhythmic growth explained by coincidence between internal and external cues. Nature 448, 358–361 (2007).

Michael, T.P. et al. A morning-specific phytohormone gene expression program underlying rhythmic plant growth. PLoS Biol. 6, e225 (2008).

Ulmasov, T., Murfett, J., Hagen, G. & Guilfoyle, T.J. Aux/IAA proteins repress expression of reporter genes containing natural and highly active synthetic auxin response elements. Plant Cell 9, 1963–1971 (1997).

Chaudhuri, B. et al. Protonophore- and pH-insensitive glucose and sucrose accumulation detected by FRET nanosensors in Arabidopsis root tips. Plant J. 56, 948–962 (2008).
Acknowledgements
We thank E. Kaiserli, M. Dreux, U. Pedmale, B. Cole and G. Vert for discussion and comments on this review. Y.J. is supported by a long-term fellowship from the European Molecular Biology Organization and from the Marc and Eva Stern Foundation. J.C. is an investigator of the Howard Hughes Medical Institute. Our work on plant hormones is also supported by grants from the US National Institutes of Health and the US National Science Foundation.
Ethics declarations
Competing interests
The authors declare no competing financial interests.
About this article
Cite this article
Jaillais, Y., Chory, J. Unraveling the paradoxes of plant hormone signaling integration. Nat Struct Mol Biol 17, 642–645 (2010). https://doi.org/10.1038/nsmb0610-642
Issue Date:

DOI: https://doi.org/10.1038/nsmb0610-642