Abstract
We recently described a new class of long noncoding RNAs (lncRNAs) that are distinguished by especially tight chromatin association and whose presence is strongly correlated to expression of nearby genes. Here, we examine the cis-enhancer mechanism of this class of chromatin-enriched RNA (cheRNA) across multiple human cell lines. cheRNAs are largely cell type specific and provide the most reliable chromatin signature to predict cis-gene transcription in every human cell type examined. Targeted depletion of three cheRNAs decreases expression of their neighboring genes, indicating potential co-activator function, and single-molecule fluorescence in situ hybridization (smFISH) of one cheRNA-distal target gene pair suggests a spatial overlap consistent with a role in chromosome looping. Additionally, the cheRNA HIDALGO stimulates the fetal hemoglobin subunit gamma 1 (HBG1) gene during erythroid differentiation by promoting contacts to a downstream enhancer. Our results suggest that multiple cheRNAs activate proximal lineage-specific gene transcription.
Relevant articles
Open Access articles citing this article.
Yu-Chan Zhang

,

Yan-Fei Zhou

…

Yue-Qin Chen

Genome Biology Open Access 19 January 2022

Jinglei Li

,

Hanxing Tong

…

Ruyi Xue

Molecular Medicine Open Access 28 August 2021

Fatemeh Kazeminasab

,

Sayed Mohammad Marandi

…

Kamran Ghaedi

Nutrition & Metabolism Open Access 20 July 2021
Access options
Access Nature and 54 other Nature Portfolio journals
Get Nature+, our best-value online-access subscription
$29.99 / 30 days
cancel any time
Subscribe to this journal
Receive 12 print issues and online access
$209.00 per year
only $17.42 per issue
Rent or buy this article
Get just this article for as long as you need it
$39.95
Prices may be subject to local taxes which are calculated during checkout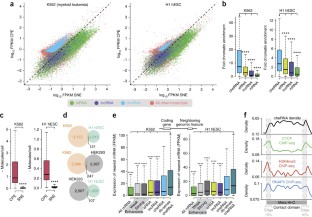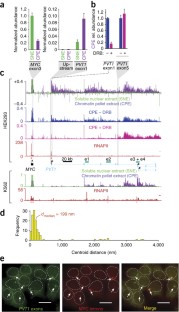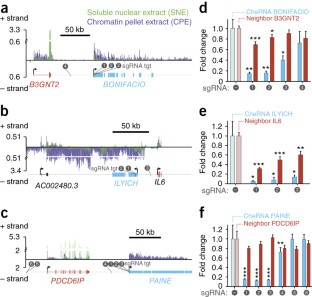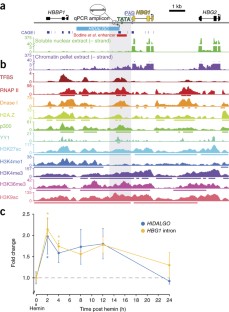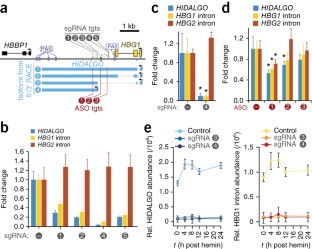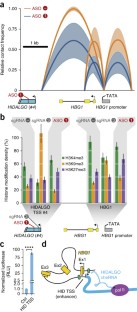 Accession codes
Primary accessions
Gene Expression Omnibus
References
Wang, K.C. et al. A long noncoding RNA maintains active chromatin to coordinate homeotic gene expression. Nature 472, 120–124 (2011).

Yang, L. et al. lncRNA-dependent mechanisms of androgen-receptor-regulated gene activation programs. Nature 500, 598–602 (2013).

Dinger, M.E. et al. Long noncoding RNAs in mouse embryonic stem cell pluripotency and differentiation. Genome Res. 18, 1433–1445 (2008).

Rinn, J.L. et al. Functional demarcation of active and silent chromatin domains in human HOX loci by noncoding RNAs. Cell 129, 1311–1323 (2007).

Lai, F. et al. Activating RNAs associate with Mediator to enhance chromatin architecture and transcription. Nature 494, 497–501 (2013).

Trimarchi, T. et al. Genome-wide mapping and characterization of Notch-regulated long noncoding RNAs in acute leukemia. Cell 158, 593–606 (2014).

Feng, J. et al. The Evf-2 noncoding RNA is transcribed from the Dlx-5/6 ultraconserved region and functions as a Dlx-2 transcriptional coactivator. Genes Dev. 20, 1470–1484 (2006).

Xiang, J.-F. et al. Human colorectal cancer-specific CCAT1-L lncRNA regulates long-range chromatin interactions at the MYC locus. Cell Res. 24, 513–531 (2014).

Li, W. et al. Functional roles of enhancer RNAs for oestrogen-dependent transcriptional activation. Nature 498, 516–520 (2013).

Lai, F., Gardini, A., Zhang, A. & Shiekhattar, R. Integrator mediates the biogenesis of enhancer RNAs. Nature 525, 399–403 (2015).

Davidovich, C. et al. Toward a consensus on the binding specificity and promiscuity of PRC2 for RNA. Mol. Cell 57, 552–558 (2015).

Mao, Y.S., Sunwoo, H., Zhang, B. & Spector, D.L. Direct visualization of the co-transcriptional assembly of a nuclear body by noncoding RNAs. Nat. Cell Biol. 13, 95–101 (2011).

Engreitz, J.M. et al. Local regulation of gene expression by lncRNA promoters, transcription and splicing. Nature 539, 452–455 (2016).

Werner, M.S. & Ruthenburg, A.J. Nuclear fractionation reveals thousands of chromatin-tethered noncoding RNAs adjacent to active genes. Cell Rep. 12, 1089–1098 (2015).

Petruk, S. et al. Transcription of bxd noncoding RNAs promoted by trithorax represses Ubx in cis by transcriptional interference. Cell 127, 1209–1221 (2006).

Schmitt, S., Prestel, M. & Paro, R. Intergenic transcription through a polycomb group response element counteracts silencing. Genes Dev. 19, 697–708 (2005).

Melé, M. & Rinn, J.L. "Cat's cradling" the 3D genome by the act of lncRNA transcription. Mol. Cell 62, 657–664 (2016).

Paralkar, V.R. et al. Unlinking an lncRNA from its associated cis element. Mol. Cell 62, 104–110 (2016).

Bhatt, D.M. et al. Transcript dynamics of proinflammatory genes revealed by sequence analysis of subcellular RNA fractions. Cell 150, 279–290 (2012).

Wuarin, J. & Schibler, U. Physical isolation of nascent RNA chains transcribed by RNA polymerase II: evidence for cotranscriptional splicing. Mol. Cell. Biol. 14, 7219–7225 (1994).

ENCODE Project Consortium. An integrated encyclopedia of DNA elements in the human genome. Nature 489, 57–74 (2012).

Postepska-Igielska, A. et al. LncRNA Khps1 regulates expression of the proto-oncogene SPHK1 via triplex-mediated changes in chromatin structure. Mol. Cell 60, 626–636 (2015).

Sunwoo, H., Wu, J.Y. & Lee, J.T. The Xist RNA-PRC2 complex at 20-nm resolution reveals a low Xist stoichiometry and suggests a hit-and-run mechanism in mouse cells. Proc. Natl. Acad. Sci. USA 112, E4216–E4225 (2015).

Cabili, M.N. et al. Localization and abundance analysis of human lncRNAs at single-cell and single-molecule resolution. Genome Biol. 16, 20 (2015).

Ørom, U.A. et al. Long noncoding RNAs with enhancer-like function in human cells. Cell 143, 46–58 (2010).

Ernst, J. et al. Mapping and analysis of chromatin state dynamics in nine human cell types. Nature 473, 43–49 (2011).

Rada-Iglesias, A. et al. A unique chromatin signature uncovers early developmental enhancers in humans. Nature 470, 279–283 (2011).

Heintzman, N.D. et al. Histone modifications at human enhancers reflect global cell-type-specific gene expression. Nature 459, 108–112 (2009).

Andersson, R. et al. An atlas of active enhancers across human cell types and tissues. Nature 507, 455–461 (2014).

Vilborg, A., Passarelli, M.C., Yario, T.A., Tycowski, K.T. & Steitz, J.A. Widespread inducible transcription downstream of human genes. Mol. Cell 59, 449–461 (2015).

Na, J., Furue, M.K. & Andrews, P.W. Inhibition of ERK1/2 prevents neural and mesendodermal differentiation and promotes human embryonic stem cell self-renewal. Stem Cell Res. 5, 157–169 (2010).

de Groot, R.P., Raaijmakers, J.A., Lammers, J.W., Jove, R. & Koenderman, L. STAT5 activation by BCR-Abl contributes to transformation of K562 leukemia cells. Blood 94, 1108–1112 (1999).

Rao, S.S.P. et al. A 3D map of the human genome at kilobase resolution reveals principles of chromatin looping. Cell 159, 1665–1680 (2014).

Tseng, Y.-Y. et al. PVT1 dependence in cancer with MYC copy-number increase. Nature 512, 82–86 (2014).

Fulco, C.P. et al. Systematic mapping of functional enhancer-promoter connections with CRISPR interference. Science 354, 769–773 (2016).

Robinson, P.J. & Rhodes, D. Structure of the '30 nm' chromatin fibre: a key role for the linker histone. Curr. Opin. Struct. Biol. 16, 336–343 (2006).

Li, G. et al. Extensive promoter-centered chromatin interactions provide a topological basis for transcription regulation. Cell 148, 84–98 (2012).

Gilbert, L.A. et al. Genome-scale CRISPR-mediated control of gene repression and activation. Cell 159, 647–661 (2014).

Addya, S. et al. Erythroid-induced commitment of K562 cells results in clusters of differentially expressed genes enriched for specific transcription regulatory elements. Physiol. Genomics 19, 117–130 (2004).

Bodine, D.M. & Ley, T.J. An enhancer element lies 3′ to the human A gamma globin gene. EMBO J. 6, 2997–3004 (1987).

Purucker, M., Bodine, D., Lin, H., McDonagh, K. & Nienhuis, A.W. Structure and function of the enhancer 3′ to the human A γ globin gene. Nucleic Acids Res. 18, 7407–7415 (1990).

Maamar, H., Cabili, M.N., Rinn, J. & Raj, A. linc-HOXA1 is a noncoding RNA that represses Hoxa1 transcription in cis. Genes Dev. 27, 1260–1271 (2013).

Dekker, J., Rippe, K., Dekker, M. & Kleckner, N. Capturing chromosome conformation. Science 295, 1306–1311 (2002).

Schultz, D.C., Ayyanathan, K., Negorev, D., Maul, G.G. & Rauscher, F.J. III. SETDB1: a novel KAP-1-associated histone H3, lysine 9-specific methyltransferase that contributes to HP1-mediated silencing of euchromatic genes by KRAB zinc-finger proteins. Genes Dev. 16, 919–932 (2002).

Grzybowski, A.T., Chen, Z. & Ruthenburg, A.J. Calibrating ChIP-Seq with nucleosomal internal standards to measure histone modification density genome wide. Mol. Cell 58, 886–899 (2015).

Hansen, K.H. et al. A model for transmission of the H3K27me3 epigenetic mark. Nat. Cell Biol. 10, 1291–1300 (2008).

Andersson, R., Sandelin, A. & Danko, C.G. A unified architecture of transcriptional regulatory elements. Trends Genet. 31, 426–433 (2015).

Kim, T.K. et al. Widespread transcription at neuronal activity-regulated enhancers. Nature 465, 182–187 (2010).

Lam, M.T.Y. et al. Rev-Erbs repress macrophage gene expression by inhibiting enhancer-directed transcription. Nature 498, 511–515 (2013).

Arner, E. et al. Transcribed enhancers lead waves of coordinated transcription in transitioning mammalian cells. Science 347, 1010–1014 (2015).

O'Sullivan, J.M. et al. Gene loops juxtapose promoters and terminators in yeast. Nat. Genet. 36, 1014–1018 (2004).

Guttman, M. et al. lincRNAs act in the circuitry controlling pluripotency and differentiation. Nature 477, 295–300 (2011).

Pandey, R.R. et al. Kcnq1ot1 antisense noncoding RNA mediates lineage-specific transcriptional silencing through chromatin-level regulation. Mol. Cell 32, 232–246 (2008).

Penny, G.D., Kay, G.F., Sheardown, S.A., Rastan, S. & Brockdorff, N. Requirement for Xist in X chromosome inactivation. Nature 379, 131–137 (1996).

Kapusta, A. et al. Transposable elements are major contributors to the origin, diversification, and regulation of vertebrate long noncoding RNAs. PLoS Genet. 9, e1003470 (2013).

Lynch, V.J. et al. Ancient transposable elements transformed the uterine regulatory landscape and transcriptome during the evolution of mammalian pregnancy. Cell Rep. 10, 551–561 (2015).

Johnson, R.M. et al. Fetal globin expression in New World monkeys. J. Biol. Chem. 271, 14684–14691 (1996).

Chuong, E.B., Elde, N.C. & Feschotte, C. Regulatory evolution of innate immunity through co-option of endogenous retroviruses. Science 351, 1083–1087 (2016).

Harrow, J. et al. GENCODE: the reference human genome annotation for The ENCODE Project. Genome Res. 22, 1760–1774 (2012).

Forrest, A.R. et al. A promoter-level mammalian expression atlas. Nature 507, 462–470 (2014).

Ichetovkin, I.E., Abramochkin, G. & Shrader, T.E. Substrate recognition by the leucyl/phenylalanyl-tRNA-protein transferase. Conservation within the enzyme family and localization to the trypsin-resistant domain. J. Biol. Chem. 272, 33009–33014 (1997).

Vandesompele, J. et al. Accurate normalization of real-time quantitative RT-PCR data by geometric averaging of multiple internal control genes. Genome Biol. 3 research0034.1–research0034.11 (2002).

Lenhard, B., Sandelin, A. & Carninci, P. Metazoan promoters: emerging characteristics and insights into transcriptional regulation. Nat. Rev. Genet. 13, 233–245 (2012).

Siebert, M. & Söding, J. Universality of core promoter elements? Nature 511, E11–E12 (2014).

Guenther, M.G., Levine, S.S., Boyer, L.A., Jaenisch, R. & Young, R.A. A chromatin landmark and transcription initiation at most promoters in human cells. Cell 130, 77–88 (2007).

Gilbert, L.A. et al. CRISPR-mediated modular RNA-guided regulation of transcription in eukaryotes. Cell 154, 442–451 (2013).

Cong, L. et al. Multiplex genome engineering using CRISPR/Cas systems. Science 339, 819–823 (2013).

Chen, B. et al. Dynamic imaging of genomic loci in living human cells by an optimized CRISPR/Cas system. Cell 155, 1479–1491 (2013).

Hagège, H. et al. Quantitative analysis of chromosome conformation capture assays (3C-qPCR). Nat. Protoc. 2, 1722–1733 (2007).

Cordelieres, F.P. & Bolte, S. JACoP v2.0: improving the user experience with co-localization studies. in Proceedings of the 2nd ImageJ User and Developer Conference 174–181 (2008).

Nadadur, R.D. et al. Pitx2 modulates a Tbx5-dependent gene regulatory network to maintain atrial rhythm. Science Translational Medicine 8, 354ra115 (2016).

Hattori, T. et al. Antigen clasping by two antigen-binding sites of an exceptionally specific antibody for histone methylation. Proc. Natl. Acad. Sci. USA 113, 2092–2097 (2016).

Rohland, N. & Reich, D. Cost-effective, high-throughput DNA sequencing libraries for multiplexed target capture. Genome Res. 22, 939–946 (2012).
Acknowledgements
We are grateful for ChIP-seq data from ENCODE, in particular that deposited by the Snyder and Bernstein labs. We thank the following University of Chicago Core Facility personnel: P. Faber and H. Whitehurst in Functional Genomics for Illumina sequencing and D. Leclerc in Flow Cytometry for FACs training. K562 cells with dCas9-KRAB stably integrated into the genome were generously provided by L. Gilbert and J. Weissman. We would also like to thank V. Lynch for helpful discussions regarding cheRNAs and transposable elements. These studies were supported by Stanley Manne Children's Research Institute's Grant to V.G. We thank Y. Galat for technical help in ESC culture. M.S.W. is supported by the Chicago Biotechnology Consortium with support from The Searle Funds at The Chicago Community Trust; A.J.R. is supported by the Ellison Medical Foundation (AG-NS-1118-13), NIH (R01-GM115945), and American Cancer Society (130230-RSG-16-248-01-DMC).
Ethics declarations
Competing interests
The authors declare no competing financial interests.
Integrated supplementary information
Supplementary information
Supplementary Figures 1–8 and Supplementary Note 1 (PDF 2175 kb)
About this article
Cite this article
Werner, M., Sullivan, M., Shah, R. et al. Chromatin-enriched lncRNAs can act as cell-type specific activators of proximal gene transcription. Nat Struct Mol Biol 24, 596–603 (2017). https://doi.org/10.1038/nsmb.3424
Received:

Accepted:

Published:

Issue Date:

DOI: https://doi.org/10.1038/nsmb.3424