Abstract
Long interspersed nuclear elements (LINEs) are ubiquitous transposable elements in higher eukaryotes that have a significant role in shaping genomes, owing to their abundance. Here we report that guanine-rich sequences in the 3′ untranslated regions (UTRs) of hominoid-specific LINE-1 elements are coupled with retrotransposon speciation and contribute to retrotransposition through the formation of G-quadruplex (G4) structures. We demonstrate that stabilization of the G4 motif of a human-specific LINE-1 element by small-molecule ligands stimulates retrotransposition.
This is a preview of subscription content
Access options
Subscribe to Journal
Get full journal access for 1 year
$99.00
only $8.25 per issue
All prices are NET prices.
VAT will be added later in the checkout.
Tax calculation will be finalised during checkout.
Rent or Buy article
Get time limited or full article access on ReadCube.
from$8.99
All prices are NET prices.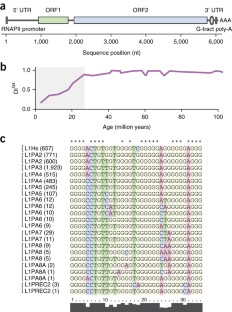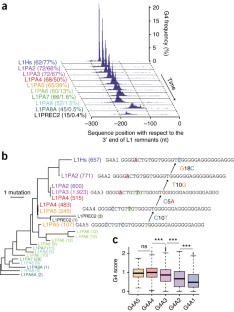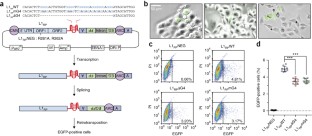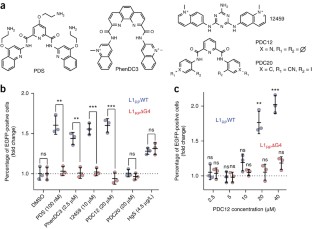 Accession codes
Accessions
Gene Expression Omnibus
References
1

Cordaux, R. & Batzer, M.A. The impact of retrotransposons on human genome evolution. Nat. Rev. Genet. 10, 691–703 (2009).

2

Kazazian, H.H. Jr. Mobile DNA: Finding Treasure in Junk (Pearson Education, 2011).

3

Levin, H.L. & Moran, J.V. Dynamic interactions between transposable elements and their hosts. Nat. Rev. Genet. 12, 615–627 (2011).

4

Erwin, J.A., Marchetto, M.C. & Gage, F.H. Mobile DNA elements in the generation of diversity and complexity in the brain. Nat. Rev. Neurosci. 15, 497–506 (2014).

5

Ohshima, K. RNA-mediated gene duplication and retroposons: retrogenes, LINEs, SINEs, and sequence specificity. Int. J. Evol. Biol. 2013, 424726 (2013).

6

Kajikawa, M. & Okada, N. LINEs mobilize SINEs in the eel through a shared 3′ sequence. Cell 111, 433–444 (2002).

7

Takahashi, H. & Fujiwara, H. Transplantation of target site specificity by swapping the endonuclease domains of two LINEs. EMBO J. 21, 408–417 (2002).

8

Hayashi, Y., Kajikawa, M., Matsumoto, T. & Okada, N. Mechanism by which a LINE protein recognizes its 3′ tail RNA. Nucleic Acids Res. 42, 10605–10617 (2014).

9

Moran, J.V. et al. High frequency retrotransposition in cultured mammalian cells. Cell 87, 917–927 (1996).

10

Howell, R. & Usdin, K. The ability to form intrastrand tetraplexes is an evolutionarily conserved feature of the 3′ end of L1 retrotransposons. Mol. Biol. Evol. 14, 144–155 (1997).

11

Lexa, M. et al. Guanine quadruplexes are formed by specific regions of human transposable elements. BMC Genomics 15, 1032 (2014).

12

Bochman, M.L., Paeschke, K. & Zakian, V.A. DNA secondary structures: stability and function of G-quadruplex structures. Nat. Rev. Genet. 13, 770–780 (2012).

13

Kejnovsky, E. & Lexa, M. Quadruplex-forming DNA sequences spread by retrotransposons may serve as genome regulators. Mob. Genet. Elements 4, e28084 (2014).

14

Kejnovsky, E., Tokan, V. & Lexa, M. Transposable elements and G-quadruplexes. Chromosome Res. 23, 615–623 (2015).

15

Huppert, J.L. & Balasubramanian, S. Prevalence of quadruplexes in the human genome. Nucleic Acids Res. 33, 2908–2916 (2005).

16

Chambers, V.S. et al. High-throughput sequencing of DNA G-quadruplex structures in the human genome. Nat. Biotechnol. 33, 877–881 (2015).

17

Boissinot, S., Davis, J., Entezam, A., Petrov, D. & Furano, A.V. Fitness cost of LINE-1 (L1) activity in humans. Proc. Natl. Acad. Sci. USA 103, 9590–9594 (2006).

18

Ostertag, E.M., Prak, E.T., DeBerardinis, R.J., Moran, J.V. & Kazazian, H.H. Jr. Determination of L1 retrotransposition kinetics in cultured cells. Nucleic Acids Res. 28, 1418–1423 (2000).

19

Farkash, E.A., Kao, G.D., Horman, S.R. & Prak, E.T. Gamma radiation increases endonuclease-dependent L1 retrotransposition in a cultured cell assay. Nucleic Acids Res. 34, 1196–1204 (2006).

20

Rodriguez, R. et al. Small-molecule-induced DNA damage identifies alternative DNA structures in human genes. Nat. Chem. Biol. 8, 301–310 (2012).

21

Piazza, A. et al. Genetic instability triggered by G-quadruplex interacting Phen-DC compounds in Saccharomyces cerevisiae. Nucleic Acids Res. 38, 4337–4348 (2010).

22

Riou, J.F. et al. Cell senescence and telomere shortening induced by a new series of specific G-quadruplex DNA ligands. Proc. Natl. Acad. Sci. USA 99, 2672–2677 (2002).

23

Kale, S.P., Moore, L., Deininger, P.L. & Roy-Engel, A.M. Heavy metals stimulate human LINE-1 retrotransposition. Int. J. Environ. Res. Public Health 2, 14–23 (2005).

24

Ostertag, E.M. & Kazazian, H.H. Jr. Biology of mammalian L1 retrotransposons. Annu. Rev. Genet. 35, 501–538 (2001).

25

Khan, H., Smit, A. & Boissinot, S. Molecular evolution and tempo of amplification of human LINE-1 retrotransposons since the origin of primates. Genome Res. 16, 78–87 (2006).

26

Métifiot, M., Amrane, S., Litvak, S. & Andreola, M.L. G-quadruplexes in viruses: function and potential therapeutic applications. Nucleic Acids Res. 42, 12352–12366 (2014).

27

Smit, A.F.A., Hubley, R. & Green, P. RepeatMasker Open-4.0 (Institute for Systems Biology, 2015).

28

Schneider, T.D. & Stephens, R.M. Sequence logos: a new way to display consensus sequences. Nucleic Acids Res. 18, 6097–6100 (1990).

29

R Core Team. R: A Language and Environment for Statistical Computing (R Foundation for Statistical Computing, 2015).

30

Larkin, M.A. et al. Clustal W and Clustal X version 2.0. Bioinformatics 23, 2947–2948 (2007).

31

Hamming, R.W. Error detecting and error correcting codes. Bell Syst. Tech. J. 29, 147–160 (1950).

32

Huson, D.H. & Scornavacca, C. Dendroscope 3: an interactive tool for rooted phylogenetic trees and networks. Syst. Biol. 61, 1061–1067 (2012).

33

Rodriguez, R. et al. A novel small molecule that alters shelterin integrity and triggers a DNA-damage response at telomeres. J. Am. Chem. Soc. 130, 15758–15759 (2008).

34

De Cian, A., Delemos, E., Mergny, J.-L., Teulade-Fichou, M.-P. & Monchaud, D. Highly efficient G-quadruplex recognition by bisquinolinium compounds. J. Am. Chem. Soc. 129, 1856–1857 (2007).

35

Mailliet, P., Riou, J.-F., Mergny, J.-L., Laoui, A., Lavelle, F. & Petitgenet, O. Dérivés arylamines et leur application comme agent antitélomerase [Arylamine derivatives and their use as anti-telomerase agents]. Patent application WO 2001040218 (2001).
Acknowledgements
S.B. is a Wellcome Trust Senior Investigator (grant 099232/z/12/z). The Balasubramanian group is supported by European Research Council Advanced Grant 339778, and receives core (C14303/A17197) and program (C9681/A18618) funding from Cancer Research UK.
Ethics declarations
Competing interests
The authors declare no competing financial interests.
Integrated supplementary information
Supplementary information
Supplementary Figures 1–5, Supplementary Tables 1–3 and Supplementary Notes 1–2 (PDF 1981 kb)
About this article
Cite this article
Sahakyan, A., Murat, P., Mayer, C. et al. G-quadruplex structures within the 3′ UTR of LINE-1 elements stimulate retrotransposition. Nat Struct Mol Biol 24, 243–247 (2017). https://doi.org/10.1038/nsmb.3367
Received:

Accepted:

Published:

Issue Date: