Abstract
Peptidoglycan (PG) protects bacteria from osmotic lysis, and its biogenesis is a key antibiotic target. A central step in PG biosynthesis is flipping of the lipid-linked PG precursor lipid II across the cytoplasmic membrane for subsequent incorporation into PG. MurJ, part of the multidrug/oligosaccharidyl-lipid/polysaccharide (MOP) transporter superfamily, was recently shown to carry out this process. However, understanding of how MurJ flips lipid II, and of how MOP transporters operate in general, remains limited due to a lack of structural information. Here we present a crystal structure of MurJ from Thermosipho africanus in an inward-facing conformation at 2.0-Å resolution. A hydrophobic groove is formed by two C-terminal transmembrane helices, which leads into a large central cavity that is mostly cationic. Our studies not only provide the first structural glimpse of MurJ but also suggest that alternating access is important for MurJ function, which may be applicable to other MOP superfamily transporters.
Relevant articles
Open Access articles citing this article.
Susan A. Leonhardt

,

Michael D. Purdy

…

Mark Yeager

Nature Communications Open Access 20 July 2023

Benjamin A. Adler

,

Karthik Chamakura

…

Adam P. Arkin

Nature Chemical Biology Open Access 20 February 2023

R. Dustin Schaeffer

,

Lisa Kinch

…

Nick Grishin

BMC Molecular and Cell Biology Open Access 21 June 2019
Access options
Subscribe to this journal
Receive 12 print issues and online access
$189.00 per year
only $15.75 per issue
Rent or buy this article
Prices vary by article type
from$1.95
to$39.95
Prices may be subject to local taxes which are calculated during checkout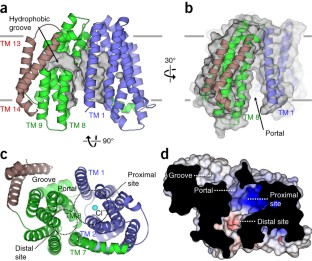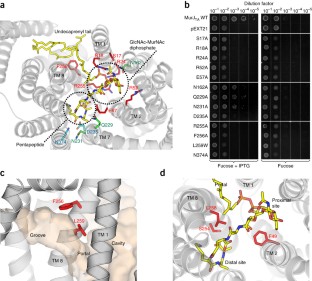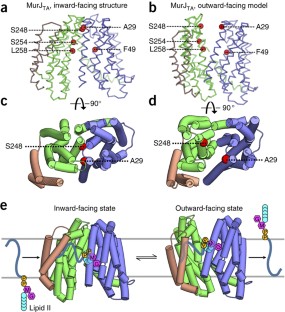 References
Bugg, T.D., Braddick, D., Dowson, C.G. & Roper, D.I. Bacterial cell wall assembly: still an attractive antibacterial target. Trends Biotechnol. 29, 167–173 (2011).

de Kruijff, B., van Dam, V. & Breukink, E. Lipid II: a central component in bacterial cell wall synthesis and a target for antibiotics. Prostaglandins Leukot. Essent. Fatty Acids 79, 117–121 (2008).

Ruiz, N. Lipid flippases for bacterial peptidoglycan biosynthesis. Lipid Insights 8, 21–31 (2016).

Ruiz, N. Filling holes in peptidoglycan biogenesis of Escherichia coli. Curr. Opin. Microbiol. 34, 1–6 (2016).

Mohammadi, T. et al. Identification of FtsW as a transporter of lipid-linked cell wall precursors across the membrane. EMBO J. 30, 1425–1432 (2011).

Mohammadi, T. et al. Specificity of the transport of lipid II by FtsW in Escherichia coli. J. Biol. Chem. 289, 14707–14718 (2014).

Ruiz, N. Bioinformatics identification of MurJ (MviN) as the peptidoglycan lipid II flippase in Escherichia coli. Proc. Natl. Acad. Sci. USA 105, 15553–15557 (2008).

Meeske, A.J. et al. MurJ and a novel lipid II flippase are required for cell wall biogenesis in Bacillus subtilis. Proc. Natl. Acad. Sci. USA 112, 6437–6442 (2015).

Inoue, A. et al. Involvement of an essential gene, mviN, in murein synthesis in Escherichia coli. J. Bacteriol. 190, 7298–7301 (2008).

Sham, L.-T. Bacterial cell wall. MurJ is the flippase of lipid-linked precursors for peptidoglycan biogenesis. Science 345, 220–222 (2014).

Mohamed, Y.F. & Valvano, M.A. A Burkholderia cenocepacia MurJ (MviN) homolog is essential for cell wall peptidoglycan synthesis and bacterial viability. Glycobiology 24, 564–576 (2014).

Meeske, A.J. et al. SEDS proteins are a widespread family of bacterial cell wall polymerases. Nature 537, 634–638 (2016).

Hvorup, R.N. et al. The multidrug/oligosaccharidyl-lipid/polysaccharide (MOP) exporter superfamily. Eur. J. Biochem. 270, 799–813 (2003).

Butler, E.K., Davis, R.M., Bari, V., Nicholson, P.A. & Ruiz, N. Structure-function analysis of MurJ reveals a solvent-exposed cavity containing residues essential for peptidoglycan biogenesis in Escherichia coli. J. Bacteriol. 195, 4639–4649 (2013).

Butler, E.K., Tan, W.B., Joseph, H. & Ruiz, N. Charge requirements of lipid II flippase activity in Escherichia coli. J. Bacteriol. 196, 4111–4119 (2014).

Perez, C. et al. Structure and mechanism of an active lipid-linked oligosaccharide flippase. Nature 524, 433–438 (2015).

He, X. et al. Structure of a cation-bound multidrug and toxic compound extrusion transporter. Nature 467, 991–994 (2010).

Lu, M., Radchenko, M., Symersky, J., Nie, R. & Guo, Y. Structural insights into H+-coupled multidrug extrusion by a MATE transporter. Nat. Struct. Mol. Biol. 20, 1310–1317 (2013).

Lu, M. et al. Structures of a Na+-coupled, substrate-bound MATE multidrug transporter. Proc. Natl. Acad. Sci. USA 110, 2099–2104 (2013).

Tanaka, Y. et al. Structural basis for the drug extrusion mechanism by a MATE multidrug transporter. Nature 496, 247–251 (2013).

Mousa, J.J. et al. MATE transport of the E. coli–derived genotoxin colibactin. Nat. Microbiol. 1, 15009 (2016).

Fox, B.G. & Blommel, P.G. Autoinduction of protein expression. Curr. Protoc. Protein Sci. Chapter 5, Unit 5.23 (2009).

Caffrey, M. & Cherezov, V. Crystallizing membrane proteins using lipidic mesophases. Nat. Protoc. 4, 706–731 (2009).

Sheldrick, G.M. A short history of SHELX. Acta Crystallogr. A 64, 112–122 (2008).

Adams, P.D. et al. PHENIX: a comprehensive Python-based system for macromolecular structure solution. Acta Crystallogr. D Biol. Crystallogr. 66, 213–221 (2010).

McCoy, A.J. et al. Phaser crystallographic software. J. Appl. Crystallogr. 40, 658–674 (2007).

Trott, O. & Olson, A.J. AutoDock Vina: improving the speed and accuracy of docking with a new scoring function, efficient optimization, and multithreading. J. Comput. Chem. 31, 455–461 (2010).

Huber, R. et al. Thermotoga maritima sp. nov. represents a new genus of unique extremely thermophilic eubacteria growing up to 90 °C. Arch. Microbiol. 144, 324–333 (1986).

Boniface, A., Bouhss, A., Mengin-Lecreulx, D. & Blanot, D. The MurE synthetase from Thermotoga maritima is endowed with an unusual D-lysine adding activity. J. Biol. Chem. 281, 15680–15686 (2006).

Hsu, S.T. et al. The nisin–lipid II complex reveals a pyrophosphate cage that provides a blueprint for novel antibiotics. Nat. Struct. Mol. Biol. 11, 963–967 (2004).

Baker, N.A., Sept, D., Joseph, S., Holst, M.J. & McCammon, J.A. Electrostatics of nanosystems: application to microtubules and the ribosome. Proc. Natl. Acad. Sci. USA 98, 10037–10041 (2001).

Delano, W.L. The PyMOL Molecular Graphics System (DeLano Scientific, 2002).

Pei, J., Kim, B.H. & Grishin, N.V. PROMALS3D: a tool for multiple protein sequence and structure alignments. Nucleic Acids Res. 36, 2295–2300 (2008).

Pettersen, E.F. et al. UCSF Chimera—a visualization system for exploratory research and analysis. J. Comput. Chem. 25, 1605–1612 (2004).
Acknowledgements
We thank N. Ruiz (The Ohio State University, Columbus, Ohio, USA) for sharing E. coli strains NR1154 and NR1157. We thank Z. Guan for mass spectrometry analysis of MurJ and lipid II. Data for this study were collected at beamlines NECAT 24-ID-C and 24-ID-E at the Advanced Photon Source, which are funded by grants P41GM103403 and S10 RR029205. This work was supported by Duke startup funds (S.-Y.L.).
Ethics declarations
Competing interests
The authors declare no competing financial interests.
Integrated supplementary information
Supplementary information
Supplementary Figures 1–5, Supplementary Table 1 and Supplementary Note 1 (PDF 2925 kb)
Outward-facing model coordinates of MurJTA (TXT 603 kb)
About this article
Cite this article
Kuk, A., Mashalidis, E. & Lee, SY. Crystal structure of the MOP flippase MurJ in an inward-facing conformation. Nat Struct Mol Biol 24, 171–176 (2017). https://doi.org/10.1038/nsmb.3346
Received:

Accepted:

Published:

Issue Date:

DOI: https://doi.org/10.1038/nsmb.3346