Abstract
Challenges in determining the structures of heterogeneous and dynamic protein complexes have greatly hampered past efforts to obtain a mechanistic understanding of many important biological processes. One such process is chaperone-assisted protein folding. Obtaining structural ensembles of chaperone–substrate complexes would ultimately reveal how chaperones help proteins fold into their native state. To address this problem, we devised a new structural biology approach based on X-ray crystallography, termed residual electron and anomalous density (READ). READ enabled us to visualize even sparsely populated conformations of the substrate protein immunity protein 7 (Im7) in complex with the Escherichia coli chaperone Spy, and to capture a series of snapshots depicting the various folding states of Im7 bound to Spy. The ensemble shows that Spy-associated Im7 samples conformations ranging from unfolded to partially folded to native-like states and reveals how a substrate can explore its folding landscape while being bound to a chaperone.
Access options
Subscribe to Journal
Get full journal access for 1 year
$59.00
only $4.92 per issue
All prices are NET prices.
VAT will be added later in the checkout.
Tax calculation will be finalised during checkout.
Rent or Buy article
Get time limited or full article access on ReadCube.
from$8.99
All prices are NET prices.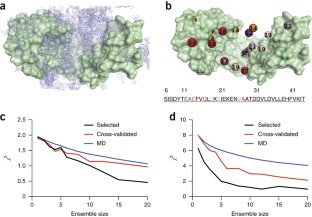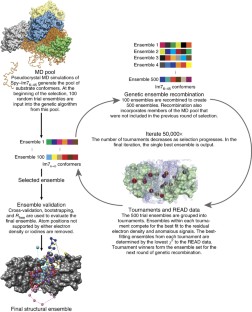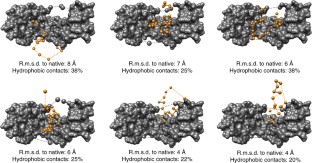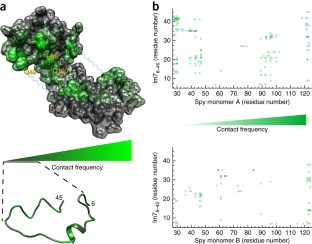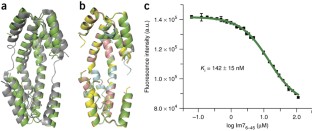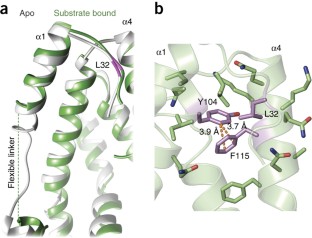 References
1

Keskin, O., Gursoy, A., Ma, B. & Nussinov, R. Principles of protein-protein interactions: what are the preferred ways for proteins to interact? Chem. Rev. 108, 1225–1244 (2008).

2

Fraser, J.S. et al. Accessing protein conformational ensembles using room-temperature X-ray crystallography. Proc. Natl. Acad. Sci. USA 108, 16247–16252 (2011).

3

Kay, L.E. New views of functionally dynamic proteins by solution NMR spectroscopy. J. Mol. Biol. 428 2 Pt A, 323–331 (2016).

4

Salmon, L. & Blackledge, M. Investigating protein conformational energy landscapes and atomic resolution dynamics from NMR dipolar couplings: a review. Rep. Prog. Phys. 78, 126601 (2015).

5

Blackledge, M.J. et al. Conformational backbone dynamics of the cyclic decapeptide antamanide: application of a new multiconformational search algorithm based on NMR data. Biochemistry 32, 10960–10974 (1993).

6

Guerry, P. et al. Mapping the population of protein conformational energy sub-states from NMR dipolar couplings. Angew. Chem. Int. Ed. Engl. 52, 3181–3185 (2013).

7

Jewett, A.I. & Shea, J.E. Reconciling theories of chaperonin accelerated folding with experimental evidence. Cell. Mol. Life Sci. 67, 255–276 (2010).

8

Mashaghi, A. et al. Reshaping of the conformational search of a protein by the chaperone trigger factor. Nature 500, 98–101 (2013).

9

Buckle, A.M., Zahn, R. & Fersht, A.R. A structural model for GroEL-polypeptide recognition. Proc. Natl. Acad. Sci. USA 94, 3571–3575 (1997).

10

Martinez-Hackert, E. & Hendrickson, W.A. Promiscuous substrate recognition in folding and assembly activities of the trigger factor chaperone. Cell 138, 923–934 (2009).

11

Saio, T., Guan, X., Rossi, P., Economou, A. & Kalodimos, C.G. Structural basis for protein antiaggregation activity of the trigger factor chaperone. Science 344, 1250494 (2014).

12

Joachimiak, L.A., Walzthoeni, T., Liu, C.W., Aebersold, R. & Frydman, J. The structural basis of substrate recognition by the eukaryotic chaperonin TRiC/CCT. Cell 159, 1042–1055 (2014).

13

Chen, D.H. et al. Visualizing GroEL/ES in the act of encapsulating a folding protein. Cell 153, 1354–1365 (2013).

14

Karagöz, G.E. et al. Hsp90-Tau complex reveals molecular basis for specificity in chaperone action. Cell 156, 963–974 (2014).

15

Dekker, C. et al. The crystal structure of yeast CCT reveals intrinsic asymmetry of eukaryotic cytosolic chaperonins. EMBO J. 30, 3078–3090 (2011).

16

Muñoz, I.G. et al. Crystal structure of the open conformation of the mammalian chaperonin CCT in complex with tubulin. Nat. Struct. Mol. Biol. 18, 14–19 (2011).

17

Elad, N. et al. Topologies of a substrate protein bound to the chaperonin GroEL. Mol. Cell 26, 415–426 (2007).

18

Albert, A. et al. Structure of GroEL in complex with an early folding intermediate of alanine glyoxylate aminotransferase. J. Biol. Chem. 285, 6371–6376 (2010).

19

Quan, S. et al. Genetic selection designed to stabilize proteins uncovers a chaperone called Spy. Nat. Struct. Mol. Biol. 18, 262–269 (2011).

20

Friel, C.T., Smith, D.A., Vendruscolo, M., Gsponer, J. & Radford, S.E. The mechanism of folding of Im7 reveals competition between functional and kinetic evolutionary constraints. Nat. Struct. Mol. Biol. 16, 318–324 (2009).

21

Figueiredo, A.M., Whittaker, S.B., Knowling, S.E., Radford, S.E. & Moore, G.R. Conformational dynamics is more important than helical propensity for the folding of the all α-helical protein Im7. Protein Sci. 22, 1722–1738 (2013).

22

Stull, F., Koldewey, P., Humes, J.R., Radford, S.E. & Bardwell, J.C. Substrate protein folds while it is bound to the ATP-independent chaperone Spy. Nat. Struct. Mol. Biol. 23, 53–58 (2016).

23

Kwon, E., Kim, D.Y., Gross, C.A., Gross, J.D. & Kim, K.K. The crystal structure Escherichia coli Spy. Protein Sci. 19, 2252–2259 (2010).

24

Quan, S. et al. Super Spy variants implicate flexibility in chaperone action. eLife 3, e01584 (2014).

25

Creamer, L.K., Richardson, T. & Parry, D.A. Secondary structure of bovine alpha s1- and beta-casein in solution. Arch. Biochem. Biophys. 211, 689–696 (1981).

26

Chak, K.F., Safo, M.K., Ku, W.Y., Hsieh, S.Y. & Yuan, H.S. The crystal structure of the immunity protein of colicin E7 suggests a possible colicin-interacting surface. Proc. Natl. Acad. Sci. USA 93, 6437–6442 (1996).

27

Pashley, C.L. et al. Conformational properties of the unfolded state of Im7 in nondenaturing conditions. J. Mol. Biol. 416, 300–318 (2012).

28

Burling, F.T., Weis, W.I., Flaherty, K.M. & Brünger, A.T. Direct observation of protein solvation and discrete disorder with experimental crystallographic phases. Science 271, 72–77 (1996).

29

van den Bedem, H., Dhanik, A., Latombe, J.C. & Deacon, A.M. Modeling discrete heterogeneity in X-ray diffraction data by fitting multi-conformers. Acta Crystallogr. D Biol. Crystallogr. 65, 1107–1117 (2009).

30

Brennan, S. & Cowan, P.L. A suite of programs for calculating X-ray absorption, reflection, and diffraction performance for a variety of materials at arbitrary wavelengths. Rev. Sci. Instrum. 63, 850–853 (1992).

31

Karanicolas, J. & Brooks, C.L. III. The origins of asymmetry in the folding transition states of protein L and protein G. Protein Sci. 11, 2351–2361 (2002).

32

Jewett, A.I. & Shea, J.E. Folding on the chaperone: yield enhancement through loose binding. J. Mol. Biol. 363, 945–957 (2006).

33

Bardwell, J.C. & Jakob, U. Conditional disorder in chaperone action. Trends Biochem. Sci. 37, 517–525 (2012).

34

Quan, S., Hiniker, A., Collet, J.F. & Bardwell, J.C. Isolation of bacteria envelope proteins. Methods Mol. Biol. 966, 359–366 (2013).

35

Fischer, M., Shoichet, B.K. & Fraser, J.S. One crystal, two temperatures: cryocooling penalties alter ligand binding to transient protein sites. ChemBioChem 16, 1560–1564 (2015).

36

Battye, T.G., Kontogiannis, L., Johnson, O., Powell, H.R. & Leslie, A.G. iMOSFLM: a new graphical interface for diffraction-image processing with MOSFLM. Acta Crystallogr. D Biol. Crystallogr. 67, 271–281 (2011).

37

Winn, M.D. et al. Overview of the CCP4 suite and current developments. Acta Crystallogr. D Biol. Crystallogr. 67, 235–242 (2011).

38

Adams, P.D. et al. PHENIX: a comprehensive Python-based system for macromolecular structure solution. Acta Crystallogr. D Biol. Crystallogr. 66, 213–221 (2010).

39

Emsley, P., Lohkamp, B., Scott, W.G. & Cowtan, K. Features and development of Coot. Acta Crystallogr. D Biol. Crystallogr. 66, 486–501 (2010).

40

Chen, V.B. et al. MolProbity: all-atom structure validation for macromolecular crystallography. Acta Crystallogr. D Biol. Crystallogr. 66, 12–21 (2010).

41

Pettersen, E.F. et al. UCSF Chimera: a visualization system for exploratory research and analysis. J. Comput. Chem. 25, 1605–1612 (2004).

42

Afonine, P.V. et al. Towards automated crystallographic structure refinement with phenix.refine. Acta Crystallogr. D Biol. Crystallogr. 68, 352–367 (2012).

43

Schuck, P. Size-distribution analysis of macromolecules by sedimentation velocity ultracentrifugation and lamm equation modeling. Biophys. J. 78, 1606–1619 (2000).
Acknowledgements
The authors would like to thank J. Smith, D. Akey, U. Jakob, D. Smith, Z. Wawrzak, and F. Stull for critical comments and suggestions. Use of the Advanced Photon Source, an Office of Science User Facility operated for the US Department of Energy (DOE) Office of Science by Argonne National Laboratory, was supported by the US DOE under contract no. DE-AC02-06CH11357. Use of the LS-CAT Sector 21 was supported by the Michigan Economic Development Corporation and the Michigan Technology Tri-Corridor (grant 085P1000817). This work was funded by an NRSA National Institutes of Health (NIH) grant GM108298 (L.S.A.), a Boehringer Ingelheim Fonds fellowship (P.K.), a National Natural Science Foundation of China (NSFC) grant 31400664 (S.Q.), the Shanghai Pujiang Program (S.Q.), NIH grant GM102829 (J.C.A.B.), NIH grant GM107233 (C.L.B.), NIH grant 1P01 GM063210 (P.V.), the Phenix Industrial Consortium and the US Department of Energy Contract No. DE-AC02-05CH11231 (P.V.) and NSF grant CHE1506273 (C.L.B.). J.C.A.B. is supported as a Howard Hughes Medical Institute Investigator.
Ethics declarations
Competing interests
The authors declare no competing financial interests.
Integrated supplementary information
Supplementary information
About this article
Cite this article
Horowitz, S., Salmon, L., Koldewey, P. et al. Visualizing chaperone-assisted protein folding. Nat Struct Mol Biol 23, 691–697 (2016). https://doi.org/10.1038/nsmb.3237
Received:

Accepted:

Published:

Issue Date: