Abstract
The exocyst is a hetero-octameric complex that has been proposed to serve as the tethering complex for exocytosis, although it remains poorly understood at the molecular level. Here, we purified endogenous exocyst complexes from Saccharomyces cerevisiae and showed that they are stable and consist of all eight subunits with equal stoichiometry. Using a combination of biochemical and auxin induced–degradation experiments in yeast, we mapped the subunit connectivity, identified two stable four-subunit modules within the octamer and demonstrated that several known exocyst-binding partners are not necessary for exocyst assembly and stability. Furthermore, we visualized the structure of the yeast complex by using negative-stain electron microscopy; our results indicate that the exocyst exists predominantly as a stable, octameric complex with an elongated architecture that suggests that the subunits are contiguous helical bundles packed together into a bundle of long rods.
Relevant articles
Open Access articles citing this article.
Seong J. An

,

Felix Rivera-Molina

…

Derek Toomre

Nature Communications Open Access 14 September 2021

Syed Mukhtar Ahmed

,

Hisayo Nishida-Fukuda

…

Ian G. Macara

Nature Communications Open Access 03 December 2018

Seung-Wook Shin

,

Edgar John Vogt

…

Jurrien Dean

Nature Communications Open Access 21 November 2017
Access options
Subscribe to this journal
Receive 12 print issues and online access
$189.00 per year
only $15.75 per issue
Rent or buy this article
Prices vary by article type
from$1.95
to$39.95
Prices may be subject to local taxes which are calculated during checkout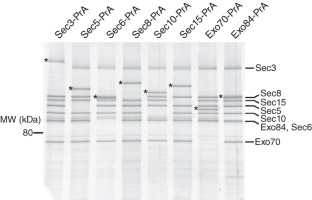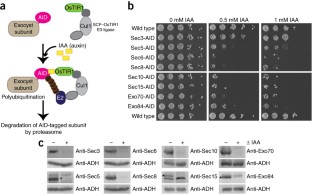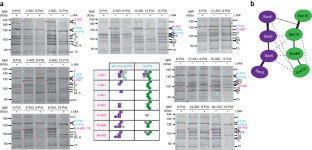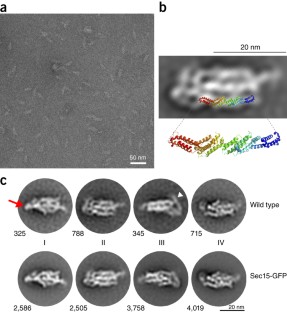 Accession codes
Accessions
Protein Data Bank
References
Heider, M.R. & Munson, M. Exorcising the exocyst complex. Traffic 13, 898–907 (2012).

Wickner, W. & Schekman, R. Membrane fusion. Nat. Struct. Mol. Biol. 15, 658–664 (2008).

Yu, I.M. & Hughson, F.M. Tethering factors as organizers of intracellular vesicular traffic. Annu. Rev. Cell Dev. Biol. 26, 137–156 (2010).

Chia, P.Z. & Gleeson, P.A. Membrane tethering. F1000Prime Rep. 6, 74 (2014).

Brunet, S. & Sacher, M. Are MTCs tethering complexes or trafficking complexes that may act as tethers? Traffic 15, 1282–1287 (2014).

Sivaram, M.V., Saporita, J.A., Furgason, M.L.M., Boettcher, A.J. & Munson, M. Dimerization of the exocyst protein Sec6p and its interaction with the t-SNARE Sec9p. Biochemistry 44, 6302–6311 (2005).

Morgera, F. et al. Regulation of exocytosis by the exocyst subunit Sec6 and the SM protein Sec1. Mol. Biol. Cell 23, 337–346 (2012).

Laufman, O., Hong, W. & Lev, S. The COG complex interacts with multiple Golgi SNAREs and enhances fusogenic assembly of SNARE complexes. J. Cell Sci. 126, 1506–1516 (2013).

TerBush, D.R., Maurice, T., Roth, D. & Novick, P. The Exocyst is a multiprotein complex required for exocytosis in Saccharomyces cerevisiae. EMBO J. 15, 6483–6494 (1996).

TerBush, D.R. & Novick, P. Sec6, Sec8, and Sec15 are components of a multisubunit complex which localizes to small bud tips in Saccharomyces cerevisiae. J. Cell Biol. 130, 299–312 (1995).

Guo, W., Grant, A. & Novick, P. Exo84p is an exocyst protein essential for secretion. J. Biol. Chem. 274, 23558–23564 (1999).

Hsu, S.C. et al. The mammalian brain rsec6/8 complex. Neuron 17, 1209–1219 (1996).

Koumandou, V.L., Dacks, J.B., Coulson, R.M. & Field, M.C. Control systems for membrane fusion in the ancestral eukaryote; evolution of tethering complexes and SM proteins. BMC Evol. Biol. 7, 29 (2007).

Riquelme, M. et al. The Neurospora crassa exocyst complex tethers Spitzenkörper vesicles to the apical plasma membrane during polarized growth. Mol. Biol. Cell 25, 1312–1326 (2014).

Novick, P., Field, C. & Schekman, R. Identification of 23 complementation groups required for post-translational events in the yeast secretory pathway. Cell 21, 205–215 (1980).

Guo, W., Roth, D., Walch-Solimena, C. & Novick, P. The exocyst is an effector for Sec4p, targeting secretory vesicles to sites of exocytosis. EMBO J. 18, 1071–1080 (1999).

Friedrich, G.A., Hildebrand, J.D. & Soriano, P. The secretory protein Sec8 is required for paraxial mesoderm formation in the mouse. Dev. Biol. 192, 364–374 (1997).

Murthy, M., Garza, D., Scheller, R.H. & Schwarz, T.L. Mutations in the exocyst component Sec5 disrupt neuronal membrane traffic, but neurotransmitter release persists. Neuron 37, 433–447 (2003).

Jin, Y. et al. Myosin V transports secretory vesicles via a Rab GTPase cascade and interaction with the exocyst complex. Dev. Cell 21, 1156–1170 (2011).

Munson, M. & Novick, P. The exocyst defrocked, a framework of rods revealed. Nat. Struct. Mol. Biol. 13, 577–581 (2006).

Shen, D. et al. The synaptobrevin homologue Snc2p recruits the exocyst to secretory vesicles by binding to Sec6p. J. Cell Biol. 202, 509–526 (2013).

Wu, H., Rossi, G. & Brennwald, P. The ghost in the machine: small GTPases as spatial regulators of exocytosis. Trends Cell Biol. 18, 397–404 (2008).

Wu, H., Turner, C., Gardner, J., Temple, B. & Brennwald, P. The Exo70 subunit of the exocyst is an effector for both Cdc42 and Rho3 function in polarized exocytosis. Mol. Biol. Cell 21, 430–442 (2010).

He, B., Xi, F., Zhang, X., Zhang, J. & Guo, W. Exo70 interacts with phospholipids and mediates the targeting of the exocyst to the plasma membrane. EMBO J. 26, 4053–4065 (2007).

Zhang, X. et al. Membrane association and functional regulation of Sec3 by phospholipids and Cdc42. J. Cell Biol. 180, 145–158 (2008).

Baek, K. et al. Structure-function study of the N-terminal domain of exocyst subunit Sec3. J. Biol. Chem. 285, 10424–10433 (2010).

Songer, J.A. & Munson, M. Sec6p anchors the assembled exocyst complex at sites of secretion. Mol. Biol. Cell 20, 973–982 (2009).

Boyd, C., Hughes, T., Pypaert, M. & Novick, P. Vesicles carry most exocyst subunits to exocytic sites marked by the remaining two subunits, Sec3p and Exo70p. J. Cell Biol. 167, 889–901 (2004).

Katoh, Y., Nozaki, S., Hartanto, D., Miyano, R. & Nakayama, K. Architectures of multisubunit complexes revealed by a visible immunoprecipitation assay using fluorescent fusion proteins. J. Cell Sci. 128, 2351–2362 (2015).

Terbush, D.R., Guo, W., Dunkelbarger, S. & Novick, P. Purification and characterization of yeast exocyst complex. Methods Enzymol. 329, 100–110 (2001).

De Craene, J.O. et al. Rtn1p is involved in structuring the cortical endoplasmic reticulum. Mol. Biol. Cell 17, 3009–3020 (2006).

Hsu, S.C. et al. Subunit composition, protein interactions, and structures of the mammalian brain sec6/8 complex and septin filaments. Neuron 20, 1111–1122 (1998).

Oeffinger, M. et al. Rrp17p is a eukaryotic exonuclease required for 5′ end processing of Pre-60S ribosomal RNA. Mol. Cell 36, 768–781 (2009).

Hakhverdyan, Z. et al. Rapid, optimized interactomic screening. Nat. Methods 12, 553–560 (2015).

Richman, D.D., Cleveland, P.H., Oxman, M.N. & Johnson, K.M. The binding of staphylococcal protein A by the sera of different animal species. J. Immunol. 128, 2300–2305 (1982).

Oeffinger, M. et al. Comprehensive analysis of diverse ribonucleoprotein complexes. Nat. Methods 4, 951–956 (2007).

Bowser, R., Müller, H., Govindan, B. & Novick, P. Sec8p and Sec15p are components of a plasma membrane-associated 19.5S particle that may function downstream of Sec4p to control exocytosis. J. Cell Biol. 118, 1041–1056 (1992).

Roth, D., Guo, W. & Novick, P. Dominant negative alleles of SEC10 reveal distinct domains involved in secretion and morphogenesis in yeast. Mol. Biol. Cell 9, 1725–1739 (1998).

Wiederkehr, A., De Craene, J.O., Ferro-Novick, S. & Novick, P. Functional specialization within a vesicle tethering complex: bypass of a subset of exocyst deletion mutants by Sec1p or Sec4p. J. Cell Biol. 167, 875–887 (2004).

Haarer, B.K. et al. SEC3 mutations are synthetically lethal with profilin mutations and cause defects in diploid-specific bud-site selection. Genetics 144, 495–510 (1996).

Nishimura, K., Fukagawa, T., Takisawa, H., Kakimoto, T. & Kanemaki, M. An auxin-based degron system for the rapid depletion of proteins in nonplant cells. Nat. Methods 6, 917–922 (2009).

Nishimura, K. & Kanemaki, M.T. Rapid depletion of budding yeast proteins via the fusion of an auxin-inducible degron (AID). Curr. Protoc. Cell Biol. 64, 20.9 (2014).

Adamo, J.E. et al. Yeast Cdc42 functions at a late step in exocytosis, specifically during polarized growth of the emerging bud. J. Cell Biol. 155, 581–592 (2001).

Hashizume, K., Cheng, Y.S., Hutton, J.L., Chiu, C.H. & Carr, C.M. Yeast Sec1p functions before and after vesicle docking. Mol. Biol. Cell 20, 4673–4685 (2009).

Zhang, X. et al. Cdc42 interacts with the exocyst and regulates polarized secretion. J. Biol. Chem. 276, 46745–46750 (2001).

Donovan, K.W. & Bretscher, A. Myosin-V is activated by binding secretory cargo and released in coordination with Rab/exocyst function. Dev. Cell 23, 769–781 (2012).

Novick, P. & Schekman, R. Secretion and cell-surface growth are blocked in a temperature-sensitive mutant of Saccharomyces cerevisiae. Proc. Natl. Acad. Sci. USA 76, 1858–1862 (1979).

Govindan, B., Bowser, R. & Novick, P. The role of Myo2, a yeast class V myosin, in vesicular transport. J. Cell Biol. 128, 1055–1068 (1995).

Croteau, N.J., Furgason, M.L., Devos, D. & Munson, M. Conservation of helical bundle structure between the exocyst subunits. PLoS One 4, e4443 (2009).

Wu, S., Mehta, S.Q., Pichaud, F., Bellen, H.J. & Quiocho, F.A. Sec15 interacts with Rab11 via a novel domain and affects Rab11 localization in vivo. Nat. Struct. Mol. Biol. 12, 879–885 (2005).

Dong, G., Hutagalung, A.H., Fu, C., Novick, P. & Reinisch, K.M. The structures of exocyst subunit Exo70p and the Exo84p C-terminal domains reveal a common motif. Nat. Struct. Mol. Biol. 12, 1094–1100 (2005).

Yamashita, M. et al. Structural basis for the Rho- and phosphoinositide-dependent localization of the exocyst subunit Sec3. Nat. Struct. Mol. Biol. 17, 180–186 (2010).

Hamburger, Z.A., Hamburger, A.E., West, A.P. Jr. & Weis, W.I. Crystal structure of the S.cerevisiae exocyst component Exo70p. J. Mol. Biol. 356, 9–21 (2006).

Sivaram, M.V., Furgason, M.L.M., Brewer, D.N. & Munson, M. The structure of the exocyst subunit Sec6p defines a conserved architecture with diverse roles. Nat. Struct. Mol. Biol. 13, 555–556 (2006).

Moskalenko, S. et al. Ral GTPases regulate exocyst assembly through dual subunit interactions. J. Biol. Chem. 278, 51743–51748 (2003).

Bodemann, B.O. et al. RalB and the exocyst mediate the cellular starvation response by direct activation of autophagosome assembly. Cell 144, 253–267 (2011).

Fendrych, M. et al. Visualization of the exocyst complex dynamics at the plasma membrane of Arabidopsis thaliana. Mol. Biol. Cell 24, 510–520 (2013).

Murthy, M. et al. Sec6 mutations and the Drosophila exocyst complex. J. Cell Sci. 118, 1139–1150 (2005).

Lees, J.A., Yip, C.K., Walz, T. & Hughson, F.M. Molecular organization of the COG vesicle tethering complex. Nat. Struct. Mol. Biol. 17, 1292–1297 (2010).

Ren, Y. et al. A structure-based mechanism for vesicle capture by the multisubunit tethering complex Dsl1. Cell 139, 1119–1129 (2009).

Sikorski, R.S. & Hieter, P. A system of shuttle vectors and yeast host strains designed for efficient manipulation of DNA in Saccharomyces cerevisiae. Genetics 122, 19–27 (1989).

Adamo, J.E., Rossi, G. & Brennwald, P. The Rho GTPase Rho3 has a direct role in exocytosis that is distinct from its role in actin polarity. Mol. Biol. Cell 10, 4121–4133 (1999).

Perkins, E.M. & McCaffery, J.M. in Mitochondria 467–483 (Springer, 2007).

Scheres, S.H. RELION: implementation of a Bayesian approach to cryo-EM structure determination. J. Struct. Biol. 180, 519–530 (2012).

Ludtke, S.J., Baldwin, P.R. & Chiu, W. EMAN: semiautomated software for high-resolution single-particle reconstructions. J. Struct. Biol. 128, 82–97 (1999).

Mindell, J.A. & Grigorieff, N. Accurate determination of local defocus and specimen tilt in electron microscopy. J. Struct. Biol. 142, 334–347 (2003).
Acknowledgements
We thank P. Brennwald (University of North Carolina, Chapel Hill), C. Carr (Texas A&M University) and L. Weisman (University of Michigan) for antibodies, P. Novick (University of California, San Diego) for gifts of yeast strains, the Yeast Genome Resource Center in Japan for the AID-system reagents and the Wendland laboratory (Johns Hopkins University) for technical advice. Thanks to W. Holmes, M. Jacques, R. Kalia, L. Hassinger and members of the University of Massachusetts Medical School Core EM Facility for technical assistance. Thanks to R. Gilmore, S. Ryder, P. Pryciak, C. Carr and members of M.M.'s laboratory for critical reading of this manuscript and advice. Work in our laboratories is supported by US National Institutes of Health grants GM068803 (M.M. and A.F.), 1DP2GM110772 (A.F.), U54 GM103511 and P41 GM109824 (M.P.R.), and a Searle Scholars Award (A.F.).
Ethics declarations
Competing interests
The authors declare no competing financial interests.
Integrated supplementary information
Supplementary information
Supplementary Figures 1–6 and Supplementary Table 1 (PDF 1561 kb)
Full-size gels and western blots (PDF 18031 kb)
About this article
Cite this article
Heider, M., Gu, M., Duffy, C. et al. Subunit connectivity, assembly determinants and architecture of the yeast exocyst complex. Nat Struct Mol Biol 23, 59–66 (2016). https://doi.org/10.1038/nsmb.3146
Received:

Accepted:

Published:

Issue Date:

DOI: https://doi.org/10.1038/nsmb.3146