Abstract
Recently, the first known light-driven sodium pumps, from the microbial rhodopsin family, were discovered. We have solved the structure of one of them, Krokinobacter eikastus rhodopsin 2 (KR2), in the monomeric blue state and in two pentameric red states, at resolutions of 1.45 Å and 2.2 and 2.8 Å, respectively. The structures reveal the ion-translocation pathway and show that the sodium ion is bound outside the protein at the oligomerization interface, that the ion-release cavity is capped by a unique N-terminal α-helix and that the ion-uptake cavity is unexpectedly large and open to the surface. Obstruction of the cavity with the mutation G263F imparts KR2 with the ability to pump potassium. These results pave the way for the understanding and rational design of cation pumps with new specific properties valuable for optogenetics.
Access options
Subscribe to Journal
Get full journal access for 1 year
$225.00
only $18.75 per issue
All prices are NET prices.
VAT will be added later in the checkout.
Rent or Buy article
Get time limited or full article access on ReadCube.
from$8.99
All prices are NET prices.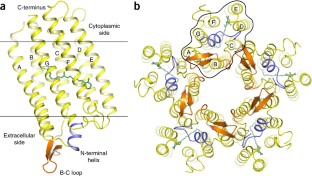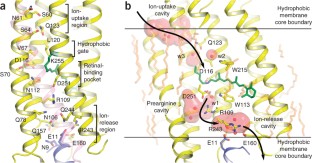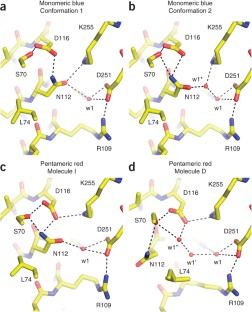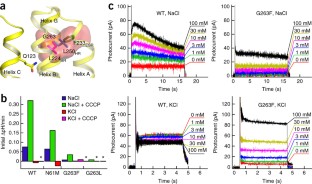 References
1

Alberts, B. et al. Molecular Biology of the Cell (Garland Science, 2002).

2

Oesterhelt, D. & Stoeckenius, W. Rhodopsin-like protein from the purple membrane of Halobacterium halobium. Nat. New Biol. 233, 149–152 (1971).

3

Schobert, B. & Lanyi, J.K. Halorhodopsin is a light-driven chloride pump. J. Biol. Chem. 257, 10306–10313 (1982).

4

Ernst, O.P. et al. Microbial and animal rhodopsins: structures, functions, and molecular mechanisms. Chem. Rev. 114, 126–163 (2014).

5

Grote, M., Engelhard, M. & Hegemann, P. Of ion pumps, sensors and channels: perspectives on microbial rhodopsins between science and history. Biochim. Biophys. Acta 1837, 533–545 (2014).

6

Kwon, S.-K. Genomic makeup of the marine flavobacterium Nonlabens (Donghaeana) dokdonensis and identification of a novel class of rhodopsins. Genome Biol. Evol. 5, 187–199 (2013).

7

Inoue, K. et al. A light-driven sodium ion pump in marine bacteria. Nat. Commun. 4, 1678 (2013).

8

Landau, E.M. & Rosenbusch, J.P. Lipidic cubic phases: a novel concept for the crystallization of membrane proteins. Proc. Natl. Acad. Sci. USA 93, 14532–14535 (1996).

9

Caffrey, M. & Cherezov, V. Crystallizing membrane proteins using lipidic mesophases. Nat. Protoc. 4, 706–731 (2009).

10

Gordeliy, V.I. et al. Molecular basis of transmembrane signalling by sensory rhodopsin II–transducer complex. Nature 419, 484–487 (2002).

11

Lanyi, J.K. Bacteriorhodopsin. Annu. Rev. Physiol. 66, 665–688 (2004).

12

Bamann, C., Bamberg, E., Wachtveitl, J. & Glaubitz, C. Proteorhodopsin. Biochim. Biophys. Acta 1837, 614–625 (2014).

13

Kolbe, M., Besir, H., Essen, L.-O. & Oesterhelt, D. Structure of the light-driven chloride pump halorhodopsin at 1.8 Å resolution. Science 288, 1390–1396 (2000).

14

Kouyama, T. et al. Crystal structure of the light-driven chloride pump halorhodopsin from Natronomonas pharaonis. J. Mol. Biol. 396, 564–579 (2010).

15

Luecke, H., Schobert, B., Richter, H.-T., Cartailler, J.-P. & Lanyi, J.K. Structure of bacteriorhodopsin at 1.55 Å resolution. J. Mol. Biol. 291, 899–911 (1999).

16

Luecke, H. et al. Crystallographic structure of xanthorhodopsin, the light-driven proton pump with a dual chromophore. Proc. Natl. Acad. Sci. USA 105, 16561–16565 (2008).

17

Gushchin, I. et al. Structural insights into the proton pumping by unusual proteorhodopsin from nonmarine bacteria. Proc. Natl. Acad. Sci. USA 110, 12631–12636 (2013).

18

Kuppuraj, G., Dudev, M. & Lim, C. Factors governing metal-ligand distances and coordination geometries of metal complexes. J. Phys. Chem. B 113, 2952–2960 (2009).

19

Balashov, S.P. et al. Light-driven Na+ pump from Gillisia limnaea: a high-affinity Na+ binding site is formed transiently in the photocycle. Biochemistry 53, 7549–7561 (2014).

20

Ran, T. et al. Cross-protomer interaction with the photoactive site in oligomeric proteorhodopsin complexes. Acta Crystallogr. D Biol. Crystallogr. 69, 1965–1980 (2013).

21

Kouyama, T., Nishikawa, T., Tokuhisa, T. & Okumura, H. Crystal structure of the L intermediate of bacteriorhodopsin: evidence for vertical translocation of a water molecule during the proton pumping cycle. J. Mol. Biol. 335, 531–546 (2004).

22

Lomize, M.A., Pogozheva, I.D., Joo, H., Mosberg, H.I. & Lomize, A.L. OPM database and PPM web server: resources for positioning of proteins in membranes. Nucleic Acids Res. 40, D370–D376 (2012).

23

Ho, B.K. & Gruswitz, F. HOLLOW: generating accurate representations of channel and interior surfaces in molecular structures. BMC Struct. Biol. 8, 49 (2008).

24

Studier, F.W. Protein production by auto-induction in high-density shaking cultures. Protein Expr. Purif. 41, 207–234 (2005).

25

Royant, A. et al. Advances in spectroscopic methods for biological crystals. 1. Fluorescence lifetime measurements. J. Appl. Crystallogr. 40, 1105–1112 (2007).

26

Birge, R.R. Nature of the primary photochemical events in rhodopsin and bacteriorhodopsin. Biochim. Biophys. Acta 1016, 293–327 (1990).

27

Metzler, D.E. & Harris, C.M. Shapes of spectral bands of visual pigments. Vision Res. 18, 1417–1420 (1978).

28

Leslie, A.G.W. & Powell, H.R. in Evolving Methods for Macromolecular Crystallography (eds. Read, R.J. & Sussman, J.L.) 41–51 (Springer Netherlands, 2007).

29

Winn, M.D. et al. Overview of the CCP4 suite and current developments. Acta Crystallogr. D Biol. Crystallogr. 67, 235–242 (2011).

30

Vagin, A. & Teplyakov, A. Molecular replacement with MOLREP. Acta Crystallogr. D Biol. Crystallogr. 66, 22–25 (2010).

31

Kiefer, F., Arnold, K., Kunzli, M., Bordoli, L. & Schwede, T. The SWISS-MODEL Repository and associated resources. Nucleic Acids Res. 37, D387–D392 (2009).

32

Murshudov, G.N. et al. REFMAC5 for the refinement of macromolecular crystal structures. Acta Crystallogr. D Biol. Crystallogr. 67, 355–367 (2011).

33

Adams, P.D. et al. PHENIX: a comprehensive Python-based system for macromolecular structure solution. Acta Crystallogr. D Biol. Crystallogr. 66, 213–221 (2010).

34

Emsley, P. & Cowtan, K. Coot: model-building tools for molecular graphics. Acta Crystallogr. D Biol. Crystallogr. 60, 2126–2132 (2004).

35

Bamberg, E. et al. Photocurrents generated by bacteriorhodopsin on planar bilayer membranes. Biophys. Struct. Mech. 5, 277–292 (1979).
Acknowledgements
The work was supported by the CEA (Institut de Biologie Structurale)–Helmholtz-Gemeinschaft (Research Center Jülich) Special Topic of the Cooperation 5.1 Specific Agreement (I.G., V.S., V.P., K.K., A.A., E.R., V.B., T.B. and V.G.). Part of this work was supported by the German Ministry of Education and Research (PhoNa–Photonic Nanomaterials, 03152101F; T.B. and V.G.). This work was supported by the Russian Foundation for Basic Research (research project 13-04-91320; V.B., A.A. and K.K.) and the Helmholtz Association of German Research Centers (project HRJRG-401; V.G., I.G., V.S., V.P., E.R. and T.B.), the Russian Federal Target Program 'Research and Development' (contract 14.587.21.0004, RFMEFI58714X0004; V.B. and G.B.) and the 5top100 program of the Ministry for Science and Education of Russia and Governmental Task 120/2014 (K.K., A.A., E.R., V.B., G.B. and V.G.). Crystallization, X-ray data collection and treatment were supported by the Russian Scientific Foundation (research project 14-14-00995; I.G., V.P., K.K., A.A., V.B. and V.G.). The work used the platforms of the Grenoble Instruct Center (Integrated Structural Biology Grenoble (ISBG); UMS 3518 CNRS–CEA–Université Joseph Fourier–European Molecular Biology Laboratory) with support from the French Infrastructure for Integrated Structural Biology (FRISBI) (ANR-10-INSB-05-02) and the Grenoble Alliance for Integrated Structural and Cell Biology (GRAL) (ANR-10-LABX-49-01) within the Grenoble Partnership for Structural Biology. V.P. is deeply thankful to the Fondation Nanosciences for financial support. The diffraction experiments were performed on beamlines ID23-1 and ID29 at the European Synchrotron Radiation Facility (ESRF), Grenoble, France. We are grateful to local contacts at ESRF for providing assistance with using these beamlines. We are also deeply thankful to G. Gotthard, A. Royant and D. von Stetten (ESRF Cryobench laboratory) for help with collection of the KR2 crystals' optical absorption spectra.
Ethics declarations
Competing interests
The authors declare no competing financial interests.
Integrated supplementary information
Supplementary information
About this article
Cite this article
Gushchin, I., Shevchenko, V., Polovinkin, V. et al. Crystal structure of a light-driven sodium pump. Nat Struct Mol Biol 22, 390–395 (2015). https://doi.org/10.1038/nsmb.3002
Received:

Accepted:

Published:

Issue Date: