Abstract
The circadian clock controls the transcription of hundreds of genes through specific chromatin-remodeling events. The histone methyltransferase mixed-lineage leukemia 1 (MLL1) coordinates recruitment of CLOCK–BMAL1 activator complexes to chromatin, an event associated with cyclic trimethylation of histone H3 Lys4 (H3K4) at circadian promoters. Remarkably, in mouse liver circadian H3K4 trimethylation is modulated by SIRT1, an NAD+-dependent deacetylase involved in clock control. We show that mammalian MLL1 is acetylated at two conserved residues, K1130 and K1133. Notably, MLL1 acetylation is cyclic, controlled by the clock and by SIRT1, and it affects the methyltransferase activity of MLL1. Moreover, H3K4 methylation at clock-controlled-gene promoters is influenced by pharmacological or genetic inactivation of SIRT1. Finally, levels of MLL1 acetylation and H3K4 trimethylation at circadian gene promoters depend on NAD+ circadian levels. These findings reveal a previously unappreciated regulatory pathway between energy metabolism and histone methylation.
Access options
Subscribe to Journal
Get full journal access for 1 year
$209.00
only $17.42 per issue
All prices are NET prices.
VAT will be added later in the checkout.
Rent or Buy article
Get time limited or full article access on ReadCube.
from$8.99
All prices are NET prices.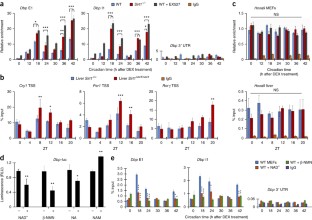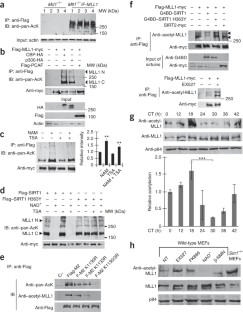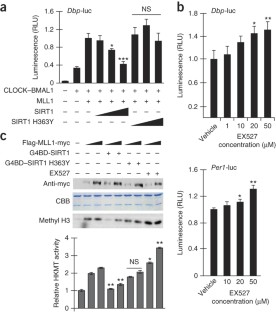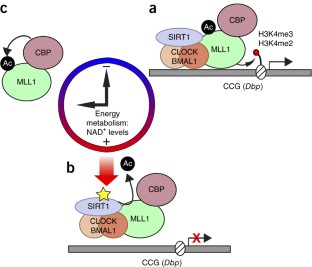 References
1

Feng, D. & Lazar, M.A. Clocks, metabolism, and the epigenome. Mol. Cell 47, 158–167 (2012).

2

Aguilar-Arnal, L. & Sassone-Corsi, P. Chromatin landscape and circadian dynamics: spatial and temporal organization of clock transcription. Proc. Natl. Acad. Sci. USA 10.1073/pnas.1411264111 (5 November 2014).

3

Koike, N. et al. Transcriptional architecture and chromatin landscape of the core circadian clock in mammals. Science 338, 349–354 (2012).

4

Ripperger, J.A. & Schibler, U. Rhythmic CLOCK–BMAL1 binding to multiple E-box motifs drives circadian Dbp transcription and chromatin transitions. Nat. Genet. 38, 369–374 (2006).

5

Katada, S. & Sassone-Corsi, P. The histone methyltransferase MLL1 permits the oscillation of circadian gene expression. Nat. Struct. Mol. Biol. 17, 1414–1421 (2010).

6

Gut, P. & Verdin, E. The nexus of chromatin regulation and intermediary metabolism. Nature 502, 489–498 (2013).

7

Masri, S. & Sassone-Corsi, P. Sirtuins and the circadian clock: bridging chromatin and metabolism. Sci. Signal. 7, re6 (2014).

8

Katada, S., Imhof, A. & Sassone-Corsi, P. Connecting threads: epigenetics and metabolism. Cell 148, 24–28 (2012).

9

Lu, C. & Thompson, C.B. Metabolic regulation of epigenetics. Cell Metab. 16, 9–17 (2012).

10

Nakahata, Y. et al. The NAD+-dependent deacetylase SIRT1 modulates CLOCK-mediated chromatin remodeling and circadian control. Cell 134, 329–340 (2008).

11

Nakahata, Y., Sahar, S., Astarita, G., Kaluzova, M. & Sassone-Corsi, P. Circadian control of the NAD+ salvage pathway by CLOCK-SIRT1. Science 324, 654–657 (2009).

12

Ramsey, K.M. et al. Circadian clock feedback cycle through NAMPT-mediated NAD+ biosynthesis. Science 324, 651–654 (2009).

13

Asher, G. et al. SIRT1 regulates circadian clock gene expression through PER2 deacetylation. Cell 134, 317–328 (2008).

14

Chang, H.C. & Guarente, L. SIRT1 mediates central circadian control in the SCN by a mechanism that decays with aging. Cell 153, 1448–1460 (2013).

15

Masri, S. et al. Partitioning circadian transcription by SIRT6 leads to segregated control of cellular metabolism. Cell 158, 659–672 (2014).

16

Bellet, M.M. et al. Pharmacological modulation of circadian rhythms by synthetic activators of the deacetylase SIRT1. Proc. Natl. Acad. Sci. USA 110, 3333–3338 (2013).

17

Gomes, A.P. et al. Declining NAD+ induces a pseudohypoxic state disrupting nuclear-mitochondrial communication during aging. Cell 155, 1624–1638 (2013).

18

Imai, S. & Guarente, L. NAD+ and sirtuins in aging and disease. Trends Cell Biol. 24, 464–471 (2014).

19

Mouchiroud, L. et al. The NAD+/sirtuin pathway modulates longevity through activation of mitochondrial UPR and FOXO signaling. Cell 154, 430–441 (2013).

20

Berger, S.L. The complex language of chromatin regulation during transcription. Nature 447, 407–412 (2007).

21

Cheng, H.L. et al. Developmental defects and p53 hyperacetylation in Sir2 homolog (SIRT1)-deficient mice. Proc. Natl. Acad. Sci. USA 100, 10794–10799 (2003).

22

Milne, T.A. et al. MLL targets SET domain methyltransferase activity to Hox gene promoters. Mol. Cell 10, 1107–1117 (2002).

23

Yu, B.D., Hess, J.L., Horning, S.E., Brown, G.A. & Korsmeyer, S.J. Altered Hox expression and segmental identity in Mll-mutant mice. Nature 378, 505–508 (1995).

24

Wang, P. et al. Global analysis of H3K4 methylation defines MLL family member targets and points to a role for MLL1-mediated H3K4 methylation in the regulation of transcriptional initiation by RNA polymerase II. Mol. Cell. Biol. 29, 6074–6085 (2009).

25

Lee, C., Etchegaray, J.P., Cagampang, F.R., Loudon, A.S. & Reppert, S.M. Posttranslational mechanisms regulate the mammalian circadian clock. Cell 107, 855–867 (2001).

26

Tamaru, T. et al. CK2α phosphorylates BMAL1 to regulate the mammalian clock. Nat. Struct. Mol. Biol. 16, 446–448 (2009).

27

Milne, T.A. et al. Multiple interactions recruit MLL1 and MLL1 fusion proteins to the HOXA9 locus in leukemogenesis. Mol. Cell 38, 853–863 (2010).

28

Xia, Z.B., Anderson, M., Diaz, M.O. & Zeleznik-Le, N.J. MLL repression domain interacts with histone deacetylases, the polycomb group proteins HPC2 and BMI-1, and the corepressor C-terminal-binding protein. Proc. Natl. Acad. Sci. USA 100, 8342–8347 (2003).

29

Ernst, P., Wang, J., Huang, M., Goodman, R.H. & Korsmeyer, S.J. MLL and CREB bind cooperatively to the nuclear coactivator CREB-binding protein. Mol. Cell. Biol. 21, 2249–2258 (2001).

30

Goto, N.K., Zor, T., Martinez-Yamout, M., Dyson, H.J. & Wright, P.E. Cooperativity in transcription factor binding to the coactivator CREB-binding protein (CBP): the mixed lineage leukemia protein (MLL) activation domain binds to an allosteric site on the KIX domain. J. Biol. Chem. 277, 43168–43174 (2002).

31

Dou, Y. et al. Physical association and coordinate function of the H3 K4 methyltransferase MLL1 and the H4 K16 acetyltransferase MOF. Cell 121, 873–885 (2005).

32

Liszt, G., Ford, E., Kurtev, M. & Guarente, L. Mouse Sir2 homolog SIRT6 is a nuclear ADP-ribosyltransferase. J. Biol. Chem. 280, 21313–21320 (2005).

33

Michishita, E., Park, J.Y., Burneskis, J.M., Barrett, J.C. & Horikawa, I. Evolutionarily conserved and nonconserved cellular localizations and functions of human SIRT proteins. Mol. Biol. Cell 16, 4623–4635 (2005).

34

Scher, M.B., Vaquero, A. & Reinberg, D. SirT3 is a nuclear NAD+-dependent histone deacetylase that translocates to the mitochondria upon cellular stress. Genes Dev. 21, 920–928 (2007).

35

Choudhary, C. et al. Lysine acetylation targets protein complexes and co-regulates major cellular functions. Science 325, 834–840 (2009).

36

Bouras, T. et al. SIRT1 deacetylation and repression of p300 involves lysine residues 1020/1024 within the cell cycle regulatory domain 1. J. Biol. Chem. 280, 10264–10276 (2005).

37

Peng, L. et al. SIRT1 negatively regulates the activities, functions, and protein levels of hMOF and TIP60. Mol. Cell. Biol. 32, 2823–2836 (2012).

38

Vaquero, A. et al. SIRT1 regulates the histone methyl-transferase SUV39H1 during heterochromatin formation. Nature 450, 440–444 (2007).

39

Aguilar–Arnal, L. et al. Cycles in spatial and temporal chromosomal organization driven by the circadian clock. Nat. Struct. Mol. Biol. 20, 1206–1213 (2013).

40

Doi, M., Hirayama, J. & Sassone-Corsi, P. Circadian regulator CLOCK is a histone acetyltransferase. Cell 125, 497–508 (2006).

41

Menet, J.S., Pescatore, S. & Rosbash, M. CLOCK:BMAL1 is a pioneer-like transcription factor. Genes Dev. 28, 8–13 (2014).

42

Lauberth, S.M. et al. H3K4me3 interactions with TAF3 regulate preinitiation complex assembly and selective gene activation. Cell 152, 1021–1036 (2013).

43

Ruthenburg, A.J., Allis, C.D. & Wysocka, J. Methylation of lysine 4 on histone H3: intricacy of writing and reading a single epigenetic mark. Mol. Cell 25, 15–30 (2007).

44

Benayoun, B.A. et al. H3K4me3 breadth is linked to cell identity and transcriptional consistency. Cell 158, 673–688 (2014).

45

Bahar, R. et al. Increased cell-to-cell variation in gene expression in ageing mouse heart. Nature 441, 1011–1014 (2006).

46

Dollé, M.E. & Vijg, J. Genome dynamics in aging mice. Genome Res. 12, 1732–1738 (2002).

47

Oberdoerffer, P. et al. SIRT1 redistribution on chromatin promotes genomic stability but alters gene expression during aging. Cell 135, 907–918 (2008).

48

Libert, S., Bonkowski, M.S., Pointer, K., Pletcher, S.D. & Guarente, L. Deviation of innate circadian period from 24 h reduces longevity in mice. Aging Cell 11, 794–800 (2012).

49

Wyse, C.A. & Coogan, A.N. Impact of aging on diurnal expression patterns of CLOCK and BMAL1 in the mouse brain. Brain Res. 1337, 21–31 (2010).

50

Chang, H.C. & Guarente, L. SIRT1 and other sirtuins in metabolism. Trends Endocrinol. Metab. 25, 138–145 (2014).

51

Orozco-Solis, R. & Sassone-Corsi, P. Circadian clock: linking epigenetics to aging. Curr. Opin. Genet. Dev. 26, 66–72 (2014).

52

Yang, X.J., Ogryzko, V.V., Nishikawa, J., Howard, B.H. & Nakatani, Y. A p300/CBP-associated factor that competes with the adenoviral oncoprotein E1A. Nature 382, 319–324 (1996).

53

Nagamori, I., Cruickshank, V.A. & Sassone-Corsi, P. Regulation of an RNA granule during spermatogenesis: acetylation of MVH in the chromatoid body of germ cells. J. Cell Sci. 124, 4346–4355 (2011).

54

Balsalobre, A. et al. Resetting of circadian time in peripheral tissues by glucocorticoid signaling. Science 289, 2344–2347 (2000).

55

Hirayama, J. et al. CLOCK-mediated acetylation of BMAL1 controls circadian function. Nature 450, 1086–1090 (2007).

56

Fingerman, I.M., Du, H.N. & Briggs, S.D. In vitro histone methyltransferase assay. CSH Protoc. 2008, pdb prot4939 (2008).
Acknowledgements
We thank all the members of Sassone-Corsi laboratory for helpful discussion and technical support. We also thank C.D. Allis (Rockefeller University), P. Ernst (Geisel School of Medicine at Dartmouth), J. Hess (Indiana University School of Medicine), E. Verdin (University of California, San Francisco), J. Hsieh (Memorial Sloan Kettering), P. Puigserver (Harvard Medical School), M. Oshimura (Tottori University), Y. Murakami (National Institute of Infectious Diseases Japan), J. Hirayama (Tokyo Dental and Medical University), N.J. Zeleznik-Le (Loyola University Chicago), J. Auwerx (École Polytechnique Fédérale de Lausanne) and K. Yagita (Kyoto Prefectural University of Medicine) for sharing reagents and T. Chuang and K. Harvey (Millipore) for their contribution to generate the anti–acetyl-MLL1 antibody. This work was supported in part by European Molecular Biology Organization (EMBO; long-term fellowship ALTF 411-2009 to L.A.-A.), Japan Society for the Promotion of Science (JSPS; Postdoctoral Fellowship for Research Abroad to S.K.), Government of Mexico (postdoctoral fellowship to R.O.-S.), INSERM (France) and the US National Institutes of Health (grants AG041504, GM082634 and DA036408 to P.S.-C.).
Ethics declarations
Competing interests
The authors declare no competing financial interests.
Integrated supplementary information
Supplementary information
Supplementary Figures 1–6 and Supplementary Table 1 (PDF 10465 kb)
Supplementary Data Set 1 (PDF 2036 kb)
About this article
Cite this article
Aguilar-Arnal, L., Katada, S., Orozco-Solis, R. et al. NAD+-SIRT1 control of H3K4 trimethylation through circadian deacetylation of MLL1. Nat Struct Mol Biol 22, 312–318 (2015). https://doi.org/10.1038/nsmb.2990
Received:

Accepted:

Published:

Issue Date: