Abstract
Promoter-proximal pausing of RNA polymerase II (Pol II) is a major checkpoint in transcription. An unbiased search for new human proteins that could regulate paused Pol II at the HSPA1B gene identified TRIM28. In vitro analyses indicated HSF1-dependent attenuation of Pol II pausing upon TRIM28 depletion, whereas in vivo data revealed de novo expression of HSPA1B and other known genes regulated by paused Pol II upon TRIM28 knockdown. These results were supported by genome-wide ChIP-sequencing analyses of Pol II occupancy that revealed a global role for TRIM28 in regulating Pol II pausing and pause release. Furthermore, in vivo and in vitro mechanistic studies suggest that transcription-coupled phosphorylation regulates Pol II pause release by TRIM28. Collectively, our findings identify TRIM28 as a new factor that modulates Pol II pausing and transcriptional elongation at a large number of mammalian genes.
Relevant articles
Open Access articles citing this article.
Yuka Okusha

,

Martin E. Guerrero-Gimenez

…

Stuart K. Calderwood

Scientific Reports Open Access 16 September 2022

Moïra Rossitto

,

Stephanie Déjardin

…

Francis Poulat

Nature Communications Open Access 29 July 2022

Mitsuaki Fujimoto

,

Ryosuke Takii

…

Akira Nakai

Nature Communications Open Access 29 July 2022
Access options
Subscribe to this journal
Receive 12 print issues and online access
$189.00 per year
only $15.75 per issue
Rent or buy this article
Prices vary by article type
from$1.95
to$39.95
Prices may be subject to local taxes which are calculated during checkout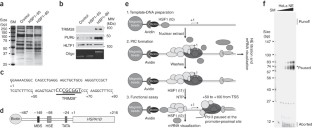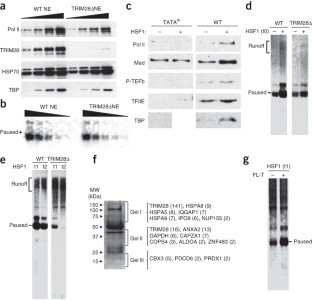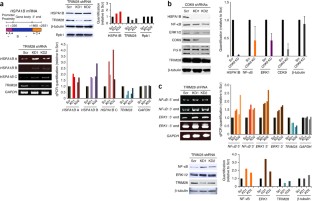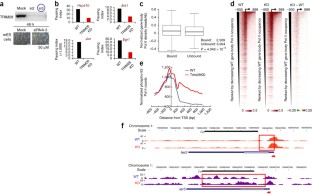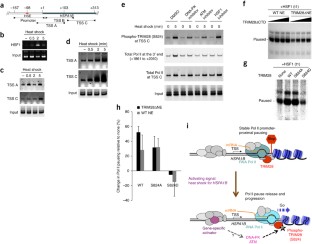 Accession codes
Primary accessions
Gene Expression Omnibus
References
Rahl, P.B. et al. c-Myc regulates transcriptional pause release. Cell 141, 432–445 (2010).

Rasmussen, E.B. & Lis, J.T. In vivo transcriptional pausing and cap formation on three Drosophila heat shock genes. Proc. Natl. Acad. Sci. USA 90, 7923–7927 (1993).

Nechaev, S. et al. Global analysis of short RNAs reveals widespread promoter-proximal stalling and arrest of Pol II in Drosophila. Science 327, 335–338 (2010).

Muse, G.W. et al. RNA polymerase is poised for activation across the genome. Nat. Genet. 39, 1507–1511 (2007).

Core, L.J., Waterfall, J.J. & Lis, J.T. Nascent RNA sequencing reveals widespread pausing and divergent initiation at human promoters. Science 322, 1845–1848 (2008).

Zeitlinger, J. et al. Whole-genome ChIP-chip analysis of Dorsal, Twist, and Snail suggests integration of diverse patterning processes in the Drosophila embryo. Genes Dev. 21, 385–390 (2007).

Seila, A.C. et al. Divergent transcription from active promoters. Science 322, 1849–1851 (2008).

Adelman, K. & Lis, J.T. Promoter-proximal pausing of RNA polymerase II: emerging roles in metazoans. Nat. Rev. Genet. 13, 720–731 (2012).

Gaertner, B. et al. Poised RNA polymerase II changes over developmental time and prepares genes for future expression. Cell Reports 2, 1670–1683 (2012).

Wu, C.H. et al. NELF and DSIF cause promoter proximal pausing on the hsp70 promoter in Drosophila. Genes Dev. 17, 1402–1414 (2003).

Peterlin, B.M. & Price, D.H. Controlling the elongation phase of transcription with P-TEFb. Mol. Cell 23, 297–305 (2006).

Gilchrist, D.A. et al. NELF-mediated stalling of Pol II can enhance gene expression by blocking promoter-proximal nucleosome assembly. Genes Dev. 22, 1921–1933 (2008).

Rabindran, S.K., Giorgi, G., Clos, J. & Wu, C. Molecular cloning and expression of a human heat shock factor, HSF1. Proc. Natl. Acad. Sci. USA 88, 6906–6910 (1991).

Sun, J. & Li, R. Human negative elongation factor activates transcription and regulates alternative transcription initiation. J. Biol. Chem. 285, 6443–6452 (2010).

Cheng, B. et al. Functional association of Gdown1 with RNA polymerase II poised on human genes. Mol. Cell 45, 38–50 (2012).

Byun, J.S. et al. ELL facilitates RNA polymerase II pause site entry and release. Nat. Commun. 3, 633 (2012).

Ulrich, H. DNA and RNA aptamers as modulators of protein function. Med. Chem. 1, 199–208 (2005).

Hendrix, D.A., Hong, J.W., Zeitlinger, J., Rokhsar, D.S. & Levine, M.S. Promoter elements associated with RNA Pol II stalling in the Drosophila embryo. Proc. Natl. Acad. Sci. USA 105, 7762–7767 (2008).

Lee, C. et al. NELF and GAGA factor are linked to promoter-proximal pausing at many genes in Drosophila. Mol. Cell. Biol. 28, 3290–3300 (2008).

Iyengar, S., Ivanov, A.V., Jin, V.X., Rauscher, F.J. III & Farnham, P.J. Functional analysis of KAP1 genomic recruitment. Mol. Cell. Biol. 31, 1833–1847 (2011).

Chen, L. et al. Tripartite motif containing 28 (Trim28) can regulate cell proliferation by bridging HDAC1/E2F interactions. J. Biol. Chem. 287, 40106–40118 (2012).

Messerschmidt, D.M. et al. Trim28 is required for epigenetic stability during mouse oocyte to embryo transition. Science 335, 1499–1502 (2012).

Hu, G. et al. A genome-wide RNAi screen identifies a new transcriptional module required for self-renewal. Genes Dev. 23, 837–848 (2009).

Chikuma, S., Suita, N., Okazaki, I.M., Shibayama, S. & Honjo, T. TRIM28 prevents autoinflammatory T cell development in vivo. Nat. Immunol. 13, 596–603 (2012).

Vassylyev, D.G. et al. Structural basis for substrate loading in bacterial RNA polymerase. Nature 448, 163–168 (2007).

Kininis, M., Isaacs, G.D., Core, L.J., Hah, N. & Kraus, W.L. Postrecruitment regulation of RNA polymerase II directs rapid signaling responses at the promoters of estrogen target genes. Mol. Cell. Biol. 29, 1123–1133 (2009).

Zobeck, K.L., Buckley, M.S., Zipfel, W.R. & Lis, J.T. Recruitment timing and dynamics of transcription factors at the Hsp70 loci in living cells. Mol. Cell 40, 965–975 (2010).

Gilchrist, D.A. et al. Regulating the regulators: the pervasive effects of Pol II pausing on stimulus-responsive gene networks. Genes Dev. 26, 933–944 (2012).

Makalowski, W. & Boguski, M.S. Evolutionary parameters of the transcribed mammalian genome: an analysis of 2,820 orthologous rodent and human sequences. Proc. Natl. Acad. Sci. USA 95, 9407–9412 (1998).

Ziv, Y. et al. Chromatin relaxation in response to DNA double-strand breaks is modulated by a novel ATM- and KAP-1 dependent pathway. Nat. Cell Biol. 8, 870–876 (2006).

White, D. et al. The ATM substrate KAP1 controls DNA repair in heterochromatin: regulation by HP1 proteins and serine 473/824 phosphorylation. Mol. Cancer Res. 10, 401–414 (2012).

Lee, D.H. et al. Phosphoproteomic analysis reveals that PP4 dephosphorylates KAP-1 impacting the DNA damage response. EMBO J. 31, 2403–2415 (2012).

Li, X. et al. Role for KAP1 serine 824 phosphorylation and sumoylation/desumoylation switch in regulating KAP1-mediated transcriptional repression. J. Biol. Chem. 282, 36177–36189 (2007).

Chen, B.P. et al. Ataxia telangiectasia mutated (ATM) is essential for DNA-PKcs phosphorylations at the Thr-2609 cluster upon DNA double strand break. J. Biol. Chem. 282, 6582–6587 (2007).

Yoon, Y.J. et al. KRIBB11 inhibits HSP70 synthesis through inhibition of heat shock factor 1 function by impairing the recruitment of positive transcription elongation factor b to the hsp70 promoter. J. Biol. Chem. 286, 1737–1747 (2011).

Wolf, D. & Goff, S.P. TRIM28 mediates primer binding site-targeted silencing of murine leukemia virus in embryonic cells. Cell 131, 46–57 (2007).

Ivanov, A.V. et al. PHD domain-mediated E3 ligase activity directs intramolecular sumoylation of an adjacent bromodomain required for gene silencing. Mol. Cell 28, 823–837 (2007).

Lee, W. et al. A high-resolution atlas of nucleosome occupancy in yeast. Nat. Genet. 39, 1235–1244 (2007).

Herquel, B. et al. Transcription cofactors TRIM24, TRIM28, and TRIM33 associate to form regulatory complexes that suppress murine hepatocellular carcinoma. Proc. Natl. Acad. Sci. USA 108, 8212–8217 (2011).
Acknowledgements
We appreciate S. Elledge at the Harvard Medical School for mediating collaborations and R. Young and D. Orlando at Massachusetts Institute of Technology (MIT) for providing with helpful comments and perspectives for the manuscript. We thank A. York, A. Schubert, M. Knuesel, T. Westerling and J. Stinchfield for technical support and thank C. Wu (US National Cancer Institute (NCI)) for the HSF1 vector, R. Kelm Jr. (University of Vermont) for the PURb antibody and F. Zhu (Florida State University) for the GST-TRIM28 vectors. We thank the laboratories of S. Alper, M. Pollak and M. Brown at Beth Israel Deaconess Medical Center (BIDMC) for technical assistance, equipment and discussions. H.B. thanks M. Cross and M.A. Stevenson at BIDMC for administrative support and J. Park and D. Bunch for loving encouragement throughout the work. This study was supported by grants from the US National Institutes of Health (NIH) (RO-1CA047407) and the Harvard Joint Center for Radiation Therapy to S.K.C. and H.B., from the Koch Institute for Integrative Cancer Research at MIT (P30-CA14051) and the MIT Center for Environmental Health Sciences (P30-ES002109) to S.M. and S.L. and also from the NCI (R01CA127364) and the American Cancer Society (RSG 0927401DMC) to D.J.T. This research was supported in part by the Intramural Research Program of the NIH NIEHS (1ZIAES102745-02) to G.H. and X.Z. and to A.B. and D.F.
Ethics declarations
Competing interests
The authors declare no competing financial interests.
Integrated supplementary information
Supplementary information
About this article
Cite this article
Bunch, H., Zheng, X., Burkholder, A. et al. TRIM28 regulates RNA polymerase II promoter-proximal pausing and pause release. Nat Struct Mol Biol 21, 876–883 (2014). https://doi.org/10.1038/nsmb.2878
Received:

Accepted:

Published:

Issue Date:

DOI: https://doi.org/10.1038/nsmb.2878