Abstract
Mitogen-activated protein kinases (MAPKs) are essential to intracellular signal transduction. MAPKs anchor their pathway-specific substrates through so-called 'docking interactions' at locations distal from the active site. Docking interactions ensure efficient substrate recognition, but their contribution to the kinase reaction itself remains unclear. Herein, we use solution NMR to analyze the interaction between dually phosphorylated, active human p38α and the C-terminal fragments of its substrate MK2. p38α phosphorylation and ATP loading collaboratively induce the active conformation; subsequently, p38α accommodates MK2 phosphoacceptor residues in its active site. The docking interaction enhances binding of ATP and the phosphoacceptor to p38α, accelerating the phosphotransfer reaction. Thus, the docking interaction enhances p38α's enzymatic activity toward pathway-specific substrates allosterically as well as by the anchor effect. These findings clarify how MAPK cascades are organized in cells, even under ATP-depleted conditions often associated with environmental stress.
Relevant articles
Open Access articles citing this article.
Phillip C. Aoto

,

Bryan T. Martin

&

Peter E. Wright

Scientific Reports Open Access 29 June 2016

Encarna Pucheta-Martínez

,

Giorgio Saladino

…

Francesco Luigi Gervasio

Scientific Reports Open Access 11 April 2016

Krishnadev Oruganty

,

Eric E. Talevich

…

Natarajan Kannan

BMC Evolutionary Biology Open Access 06 January 2016
Access options
Subscribe to Journal
Get full journal access for 1 year
$99.00
only $8.25 per issue
All prices are NET prices.
VAT will be added later in the checkout.
Tax calculation will be finalised during checkout.
Buy article
Get time limited or full article access on ReadCube.
$32.00
All prices are NET prices.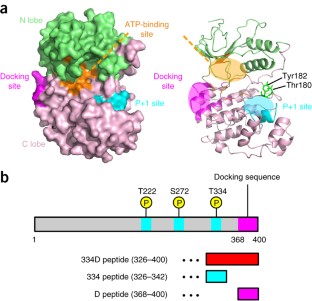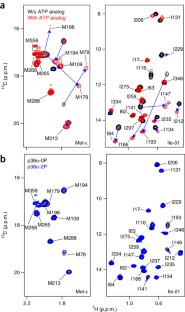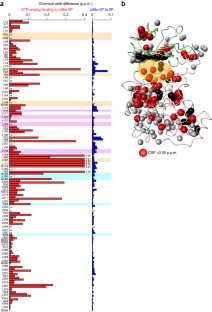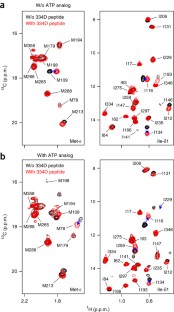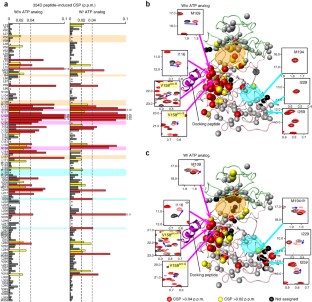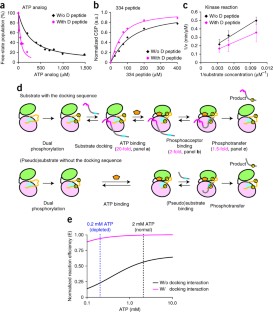 References
Raman, M., Chen, W. & Cobb, M.H. Differential regulation and properties of MAPKs. Oncogene 26, 3100–3112 (2007).

Avruch, J. MAP kinase pathways: the first twenty years. Biochim. Biophys. Acta 1773, 1150–1160 (2007).

Cargnello, M. & Roux, P.P. Activation and function of the MAPKs and their substrates, the MAPK-activated protein kinases. Microbiol. Mol. Biol. Rev. 75, 50–83 (2011).

Plotnikov, A., Zehorai, E., Procaccia, S. & Seger, R. The MAPK cascades: signaling components, nuclear roles and mechanisms of nuclear translocation. Biochim. Biophys. Acta 1813, 1619–1633 (2011).

Marshall, C.J. Specificity of receptor tyrosine kinase signaling: transient versus sustained extracellular signal-regulated kinase activation. Cell 80, 179–185 (1995).

Cuadrado, A. & Nebreda, A.R. Mechanisms and functions of p38 MAPK signalling. Biochem. J. 429, 403–417 (2010).

Schindler, J.F., Monahan, J.B. & Smith, W.G. p38 pathway kinases as anti-inflammatory drug targets. J. Dent. Res. 86, 800–811 (2007).

Dodeller, F. & Schulze-Koops, H. The p38 mitogen-activated protein kinase signaling cascade in CD4 T cells. Arthritis Res. Ther. 8, 205 (2006).

Johnson, G.L. & Lapadat, R. Mitogen-activated protein kinase pathways mediated by ERK, JNK, and p38 protein kinases. Science 298, 1911–1912 (2002).

Anderson, N.G., Maller, J.L., Tonks, N.K. & Sturgill, T.W. Requirement for integration of signals from two distinct phosphorylation pathways for activation of MAP kinase. Nature 343, 651–653 (1990).

Zhang, Y.Y., Mei, Z.Q., Wu, J.W. & Wang, Z.X. Enzymatic activity and substrate specificity of mitogen-activated protein kinase p38α in different phosphorylation states. J. Biol. Chem. 283, 26591–26601 (2008).

Keyse, S.M. Protein phosphatases and the regulation of mitogen-activated protein kinase signalling. Curr. Opin. Cell Biol. 12, 186–192 (2000).

Goldsmith, E.J., Cobb, M.H. & Chang, C.I. Structure of MAPKs. Methods Mol. Biol. 250, 127–144 (2004).

Wang, Z. et al. The structure of mitogen-activated protein kinase p38 at 2.1-A resolution. Proc. Natl. Acad. Sci. USA 94, 2327–2332 (1997).

Wilson, K.P. et al. Crystal structure of p38 mitogen-activated protein kinase. J. Biol. Chem. 271, 27696–27700 (1996).

Zhang, F., Strand, A., Robbins, D., Cobb, M. & Goldsmith, E. Atomic structure of the MAP kinase ERK2 at 2.3 A resolution. Nature 367, 704–711 (1994).

Bellon, S., Fitzgibbon, M.J., Fox, T., Hsiao, H.M. & Wilson, K.P. The structure of phosphorylated p38γ is monomeric and reveals a conserved activation-loop conformation. Structure 7, 1057–1065 (1999).

Canagarajah, B.J., Khokhlatchev, A., Cobb, M.H. & Goldsmith, E.J. Activation mechanism of the MAP kinase ERK2 by dual phosphorylation. Cell 90, 859–869 (1997).

Zhang, Y.Y., Wu, J.W. & Wang, Z.X. Mitogen-activated protein kinase (MAPK) phosphatase 3-mediated cross-talk between MAPKs ERK2 and p38α. J. Biol. Chem. 286, 16150–16162 (2011).

Weston, C.R., Lambright, D.G. & Davis, R.J. Signal transduction. MAP kinase signaling specificity. Science 296, 2345–2347 (2002).

Ubersax, J.A. & Ferrell, J.E. Mechanisms of specificity in protein phosphorylation. Nat. Rev. Mol. Cell Biol. 8, 530–541 (2007).

Tanoue, T. & Nishida, E. Docking interactions in the mitogen-activated protein kinase cascades. Pharmacol. Ther. 93, 193–202 (2002).

Tanoue, T., Adachi, M., Moriguchi, T. & Nishida, E. A conserved docking motif in MAP kinases common to substrates, activators and regulators. Nat. Cell Biol. 2, 110–116 (2000).

Gupta, S., Campbell, D., Derijard, B. & Davis, R.J. Transcription factor ATF2 regulation by the JNK signal transduction pathway. Science 267, 389–393 (1995).

Kallunki, T. et al. JNK2 contains a specificity-determining region responsible for efficient c-Jun binding and phosphorylation. Genes Dev. 8, 2996–3007 (1994).

Yang, S.-H., Galanis, A. & Sharrocks, A.D. Targeting of p38 mitogen-activated protein kinases to MEF2 transcription factors. Mol. Cell. Biol. 19, 4028–4038 (1999).

Lukas, S.M. et al. Catalysis and function of the p38αMK2a signaling complex. Biochemistry 43, 9950–9960 (2004).

Chang, C.I., Xu, B.E., Akella, R., Cobb, M.H. & Goldsmith, E.J. Crystal structures of MAP kinase p38 complexed to the docking sites on its nuclear substrate MEF2A and activator MKK3b. Mol. Cell 9, 1241–1249 (2002).

ter Haar, E., Prabhakar, P., Prabakhar, P., Liu, X. & Lepre, C. Crystal structure of the p38α-MAPKAP kinase 2 heterodimer. J. Biol. Chem. 282, 9733–9739 (2007).

Tanoue, T., Maeda, R., Adachi, M. & Nishida, E. Identification of a docking groove on ERK and p38 MAP kinases that regulates the specificity of docking interactions. EMBO J. 20, 466–479 (2001).

Reményi, A., Good, M.C., Bhattacharyya, R.P. & Lim, W.A. The role of docking interactions in mediating signaling input, output, and discrimination in the yeast MAPK network. Mol. Cell 20, 951–962 (2005).

Songyang, Z. et al. A structural basis for substrate specificities of protein Ser/Thr kinases: primary sequence preference of casein kinases I and II, NIMA, phosphorylase kinase, calmodulin-dependent kinase II, CDK5, and Erk1. Mol. Cell. Biol. 16, 6486–6493 (1996).

White, A., Pargellis, C.A., Studts, J.M., Werneburg, B.G. & Farmer, B.T. Molecular basis of MAPK-activated protein kinase 2:p38 assembly. Proc. Natl. Acad. Sci. USA 104, 6353–6358 (2007).

Szafranska, A.E. & Dalby, K.N. Kinetic mechanism for p38 MAP kinase α. FEBS J. 272, 4631–4645 (2005).

Akella, R., Min, X., Wu, Q., Gardner, K.H. & Goldsmith, E.J. The third conformation of p38α MAP kinase observed in phosphorylated p38α and in solution. Structure 18, 1571–1578 (2010).

Jacobs, D., Glossip, D., Xing, H., Muslin, A.J. & Kornfeld, K. Multiple docking sites on substrate proteins form a modular system that mediates recognition by ERK MAP kinase. Genes Dev. 13, 163–175 (1999).

Lee, S. et al. A model of a MAPKsubstrate complex in an active conformation: a computational and experimental approach. PLoS ONE 6, e18594 (2011).

Masterson, L.R., Mascioni, A., Traaseth, N.J., Taylor, S.S. & Veglia, G. Allosteric cooperativity in protein kinase A. Proc. Natl. Acad. Sci. USA 105, 506–511 (2008).

Zimmerman, S.B. & Trach, S.O. Estimation of macromolecule concentrations and excluded volume effects for the cytoplasm of Escherichia coli. J. Mol. Biol. 222, 599–620 (1991).

Lugo, T.G., Pendergast, A.M., Muller, A.J. & Witte, O.N. Tyrosine kinase activity and transformation potency of bcr-abl oncogene products. Science 247, 1079–1082 (1990).

Heisterkamp, N. et al. Acute leukaemia in bcr/abl transgenic mice. Nature 344, 251–253 (1990).

Dennis, P.B. et al. Mammalian TOR: a homeostatic ATP sensor. Science 294, 1102–1105 (2001).

Knight, Z.A. & Shokat, K.M. Features of selective kinase inhibitors. Chem. Biol. 12, 621–637 (2005).

Steenbergen, C., Murphy, E., Watts, J.A. & London, R.E. Correlation between cytosolic free calcium, contracture, ATP, and irreversible ischemic injury in perfused rat heart. Circ. Res. 66, 135–146 (1990).

Schütt, F., Aretz, S., Auffarth, G.U. & Kopitz, J. Moderately reduced ATP levels promote oxidative stress and debilitate autophagic and phagocytic capacities in human RPE cells. Invest. Ophthalmol. Vis. Sci. 53, 5354–5361 (2012).

Kumphune, S., Chattipakorn, S. & Chattipakorn, N. Role of p38 inhibition in cardiac ischemia/reperfusion injury. Eur. J. Clin. Pharmacol. 68, 513–524 (2012).

Nielsen, G. & Schwalbe, H. NMR spectroscopic investigations of the activated p38α mitogen-activated protein kinase. ChemBioChem 12, 2599–2607 (2011).

Francis, D.M. et al. Structural basis of p38α regulation by hematopoietic tyrosine phosphatase. Nat. Chem. Biol. 7, 916–924 (2011).

Piserchio, A. et al. Docking interactions of hematopoietic tyrosine phosphatase with MAP kinases ERK2 and p38α. Biochemistry 51, 8047–8049 (2012).

Arnold, K., Bordoli, L., Kopp, J. & Schwede, T. The SWISS-MODEL workspace: a web-based environment for protein structure homology modelling. Bioinformatics 22, 195–201 (2006).

Wang, Z. et al. Structural basis of inhibitor selectivity in MAP kinases. Structure 6, 1117–1128 (1998).

Gardner, K.H., Rosen, M.K. & Kay, L.E. Global folds of highly deuterated, methyl-protonated proteins by multidimensional NMR. Biochemistry 36, 1389–1401 (1997).

Rosen, M.K. et al. Selective methyl group protonation of perdeuterated proteins. J. Mol. Biol. 263, 627–636 (1996).

Underwood, K.W. et al. Catalytically active MAP KAP kinase 2 structures in complex with staurosporine and ADP reveal differences with the autoinhibited enzyme. Structure 11, 627–636 (2003).

Kinoshita, E., Takahashi, M., Takeda, H., Shiro, M. & Koike, T. Recognition of phosphate monoester dianion by an alkoxide-bridged dinuclear zinc(II) complex. Dalton Trans. 21, 1189–1193 (2004).

Vogtherr, M. et al. NMR backbone assignment of the mitogen-activated protein (MAP) kinase p38. J. Biomol. NMR 32, 175 (2005).

Tugarinov, V., Hwang, P.M., Ollerenshaw, J.E. & Kay, L.E. Cross-correlated relaxation enhanced 1H-13C NMR spectroscopy of methyl groups in very high molecular weight proteins and protein complexes. J. Am. Chem. Soc. 125, 10420–10428 (2003).

Goto, N.K., Gardner, K.H., Mueller, G.A., Willis, R.C. & Kay, L.E. A robust and cost-effective method for the production of Val, Leu, Ile (δ1) methyl-protonated 15N-, 13C-, 2H-labeled proteins. J. Biomol. NMR 13, 369–374 (1999).

Amero, C. et al. Fast two-dimensional NMR spectroscopy of high molecular weight protein assemblies. J. Am. Chem. Soc. 131, 3448–3449 (2009).

Maruyama, Y. et al. Human Gene and Protein Database (HGPD): a novel database presenting a large quantity of experiment-based results in human proteomics. Nucleic Acids Res. 37, D762–D766 (2009).

Maruyama, Y. et al. HGPD: Human Gene and Protein Database, 2012 update. Nucleic Acids Res. 40, D924–D929 (2012).

Schanda, P., Kupce, E. & Brutscher, B. SOFAST-HMQC experiments for recording two-dimensional heteronuclear correlation spectra of proteins within a few seconds. J. Biomol. NMR 33, 199–211 (2005).

Selenko, P. et al. In situ observation of protein phosphorylation by high-resolution NMR spectroscopy. Nat. Struct. Mol. Biol. 15, 321–329 (2008).
Acknowledgements
We would like to thank H. Hanzawa (Daiichi Sankyo Co.) for providing the expression plasmid for p38α. We are also indebted to N. Goshima (Japanese National Institute of Advanced Industrial Science and Technology) for providing cDNA clones for the phosphatases PPM1A and HePTP. This work was funded by grants from the Japan New Energy and Industrial Technology Development Organization (NEDO). Funding was also provided by Grants-in-Aid for Scientific Research on Innovative Areas (25121743 to K.T.) from the Japanese Ministry of Education, Culture, Sports, Science and Technology (MEXT) and Japan Society for the Promotion of Science (JSPS).
Ethics declarations
Competing interests
The authors declare no competing financial interests.
Integrated supplementary information
Supplementary information
About this article
Cite this article
Tokunaga, Y., Takeuchi, K., Takahashi, H. et al. Allosteric enhancement of MAP kinase p38α's activity and substrate selectivity by docking interactions. Nat Struct Mol Biol 21, 704–711 (2014). https://doi.org/10.1038/nsmb.2861
Received:

Accepted:

Published:

Issue Date:

DOI: https://doi.org/10.1038/nsmb.2861