Abstract
Roquin function in T cells is essential for the prevention of autoimmune disease. Roquin interacts with the 3′ untranslated regions (UTRs) of co-stimulatory receptors and controls T-cell activation and differentiation. Here we show that the N-terminal ROQ domain from mouse roquin adopts an extended winged-helix (WH) fold, which is sufficient for binding to the constitutive decay element (CDE) in the Tnf 3′ UTR. The crystal structure of the ROQ domain in complex with a prototypical CDE RNA stem-loop reveals tight recognition of the RNA stem and its triloop. Surprisingly, roquin uses mainly non-sequence-specific contacts to the RNA, thus suggesting a relaxed CDE consensus and implicating a broader spectrum of target mRNAs than previously anticipated. Consistently with this, NMR and binding experiments with CDE-like stem-loops together with cell-based assays confirm roquin-dependent regulation of relaxed CDE consensus motifs in natural 3′ UTRs.
Relevant articles
Open Access articles citing this article.
Hyeong Jin Kim

,

Mazzen Black

…

J. N. Mark Glover

Nature Communications Open Access 18 November 2022

Chiara Lichtenthaeler

,

Lasse Oberstrass

&

Julia E. Weigand

BIOspektrum Open Access 26 June 2021

Wenbao Lu

,

Meicen Zhou

…

Bingwei Li

Journal of Experimental & Clinical Cancer Research Open Access 23 November 2020
Access options
Subscribe to Journal
Get full journal access for 1 year
$99.00
only $8.25 per issue
All prices are NET prices.
VAT will be added later in the checkout.
Tax calculation will be finalised during checkout.
Buy article
Get time limited or full article access on ReadCube.
$32.00
All prices are NET prices.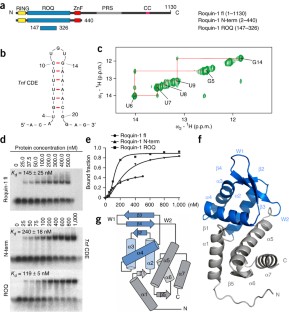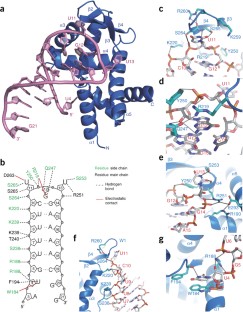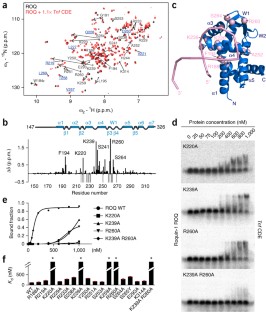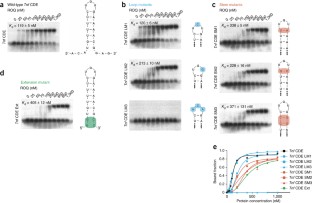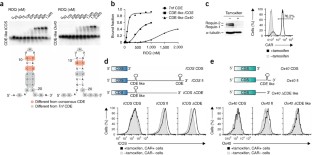 References
Garneau, N.L., Wilusz, J. & Wilusz, C.J. The highways and byways of mRNA decay. Nat. Rev. Mol. Cell Biol. 8, 113–126 (2007).

Houseley, J. & Tollervey, D. The many pathways of RNA degradation. Cell 136, 763–776 (2009).

Vinuesa, C.G. et al. A RING-type ubiquitin ligase family member required to repress follicular helper T cells and autoimmunity. Nature 435, 452–458 (2005).

Linterman, M.A. et al. Follicular helper T cells are required for systemic autoimmunity. J. Exp. Med. 206, 561–576 (2009).

Silva, D.G. et al. Anti-islet autoantibodies trigger autoimmune diabetes in the presence of an increased frequency of islet-reactive CD4 T cells. Diabetes 60, 2102–2111 (2011).

Pratama, A. et al. Roquin-2 shares functions with its paralog Roquin-1 in the repression of mRNAs controlling T follicular helper cells and systemic inflammation. Immunity 38, 669–680 (2013).

Ellyard, J.I. et al. Heterozygosity for Roquinsan leads to angioimmunoblastic T-cell lymphoma-like tumors in mice. Blood 120, 812–821 (2012).

Bertossi, A. et al. Loss of Roquin induces early death and immune deregulation but not autoimmunity. J. Exp. Med. 208, 1749–1756 (2011).

Vogel, K.U. et al. Roquin paralogs 1 and 2 redundantly repress the Icos and Ox40 costimulator mRNAs and control follicular helper T cell differentiation. Immunity 38, 655–668 (2013).

Athanasopoulos, V. et al. The ROQUIN family of proteins localizes to stress granules via the ROQ domain and binds target mRNAs. FEBS J. 277, 2109–2127 (2010).

Glasmacher, E. et al. Roquin binds inducible costimulator mRNA and effectors of mRNA decay to induce microRNA-independent post-transcriptional repression. Nat. Immunol. 11, 725–733 (2010).

Yu, D. et al. Roquin represses autoimmunity by limiting inducible T-cell co-stimulator messenger RNA. Nature 450, 299–303 (2007).

Maruyama, T. et al. Roquin-2 promotes ubiquitin-mediated degradation of ASK1 to regulate stress responses. Sci. Signal. 7, ra8 (2014).

Leppek, K. et al. Roquin promotes constitutive mRNA decay via a conserved class of stem-loop recognition motifs. Cell 153, 869–881 (2013).

Clark, K.L., Halay, E.D., Lai, E. & Burley, S.K. Co-crystal structure of the HNF-3/fork head DNA-recognition motif resembles histone H5. Nature 364, 412–420 (1993).

Ramakrishnan, V., Finch, J.T., Graziano, V., Lee, P.L. & Sweet, R.M. Crystal structure of globular domain of histone H5 and its implications for nucleosome binding. Nature 362, 219–223 (1993).

Conte, M.R., Conn, G.L., Brown, T. & Lane, A.N. Conformational properties and thermodynamics of the RNA duplex r(CGCAAAUUUGCG)2: comparison with the DNA analogue d(CGCAAATTTGCG)2 . Nucleic Acids Res. 25, 2627–2634 (1997).

Huang, Y., Weng, X. & Russu, I.M. Enhanced base-pair opening in the adenine tract of a RNA double helix. Biochemistry 50, 1857–1863 (2011).

Günther, S. et al. Bidirectional binding of invariant chain peptides to an MHC class II molecule. Proc. Natl. Acad. Sci. USA 107, 22219–22224 (2010).

Studier, F.W. Protein production by auto-induction in high density shaking cultures. Protein Expr. Purif. 41, 207–234 (2005).

Schlundt, A. et al. Proline-rich sequence recognition: II. Proteomics analysis of Tsg101 ubiquitin-E2-like variant (UEV) interactions. Mol. Cell. Proteomics 8, 2474–2486 (2009).

Strohalm, M., Hassman, M., Kosata, B. & Kodicek, M. mMass data miner: an open source alternative for mass spectrometric data analysis. Rapid Commun. Mass Spectrom. 22, 905–908 (2008).

Kabsch, W. Xds. Acta Crystallogr. D Biol. Crystallogr. 66, 125–132 (2010).

Evans, P. Scaling and assessment of data quality. Acta Crystallogr. D Biol. Crystallogr. 62, 72–82 (2006).

Winn, M.D. et al. Overview of the CCP4 suite and current developments. Acta Crystallogr. D Biol. Crystallogr. 67, 235–242 (2011).

French, S. & Wilson, K. On the treatment of negative intensity observations. Acta Crystallogr. A 34, 517–525 (1978).

Panjikar, S., Parthasarathy, V., Lamzin, V.S., Weiss, M.S. & Tucker, P.A. Auto-rickshaw: an automated crystal structure determination platform as an efficient tool for the validation of an X-ray diffraction experiment. Acta Crystallogr. D Biol. Crystallogr. 61, 449–457 (2005).

Panjikar, S., Parthasarathy, V., Lamzin, V.S., Weiss, M.S. & Tucker, P.A. On the combination of molecular replacement and single-wavelength anomalous diffraction phasing for automated structure determination. Acta Crystallogr. D Biol. Crystallogr. 65, 1089–1097 (2009).

Sheldrick, G.M. Experimental phasing with SHELXC/D/E: combining chain tracing with density modification. Acta Crystallogr. D Biol. Crystallogr. 66, 479–485 (2010).

Hao, Q. ABS: a program to determine absolute configuration and evaluate anomalous scatterer substructure. J. Appl. Crystallogr. 37, 498–499 (2004).

Cowtan, K.D. & Zhang, K.Y. Density modification for macromolecular phase improvement. Prog. Biophys. Mol. Biol. 72, 245–270 (1999).

Morris, R.J. et al. Breaking good resolutions with ARP/wARP. J. Synchrotron Radiat. 11, 56–59 (2004).

Perrakis, A., Harkiolaki, M., Wilson, K.S. & Lamzin, V.S. ARP/wARP and molecular replacement. Acta Crystallogr. D Biol. Crystallogr. 57, 1445–1450 (2001).

Emsley, P., Lohkamp, B., Scott, W.G. & Cowtan, K. Features and development of Coot. Acta Crystallogr. D Biol. Crystallogr. 66, 486–501 (2010).

Murshudov, G.N., Vagin, A.A. & Dodson, E.J. Refinement of macromolecular structures by the maximum-likelihood method. Acta Crystallogr. D Biol. Crystallogr. 53, 240–255 (1997).

Winn, M.D., Isupov, M.N. & Murshudov, G.N. Use of TLS parameters to model anisotropic displacements in macromolecular refinement. Acta Crystallogr. D Biol. Crystallogr. 57, 122–133 (2001).

Laskowski, R., MacArthur, M.W., Moss, D.S. & Thornton, J.M. PROCHECK: a program to check the stereochemical quality of protein structures. J. Appl. Crystallogr. 26, 283–291 (1993).

Sattler, M., Schleucher, J. & Griesinger, C. Heteronuclear multidimensional NMR experiments for the structure determination of proteins in solution employing pulsed field gradients. Prog. Nucl. Magn. Reson. Spectrosc. 34, 93–158 (1999).

Farrow, N.A. et al. Backbone dynamics of a free and phosphopeptide-complexed Src homology 2 domain studied by 15N NMR relaxation. Biochemistry 33, 5984–6003 (1994).

Vranken, W.F. et al. The CCPN data model for NMR spectroscopy: development of a software pipeline. Proteins 59, 687–696 (2005).

Grzesiek, S. & Bax, A. The importance of not saturating H2O in protein NMR: application to sensitivity enhancement and NOE measurements. J. Am. Chem. Soc. 115, 12593–12594 (1993).

Piotto, M., Saudek, V. & Sklenář, V. Gradient-tailored excitation for single-quantum NMR spectroscopy of aqueous solutions. J. Biomol. NMR 2, 661–665 (1992).

Zuker, M. Mfold web server for nucleic acid folding and hybridization prediction. Nucleic Acids Res. 31, 3406–3415 (2003).

Petoukhov, M.V. et al. New developments in the ATSAS program package for small-angle scattering data analysis. J. Appl. Crystallogr. 45, 342–350 (2012).

Hameyer, D. et al. Toxicity of ligand-dependent Cre recombinases and generation of a conditional Cre deleter mouse allowing mosaic recombination in peripheral tissues. Physiol. Genomics 31, 32–41 (2007).
Acknowledgements
We acknowledge the use of the X-ray crystallography platform and the protein expression and purification facility of the Helmholtz Zentrum München, the Bavarian NMR Center, and SAXS measurements at the facility of the SFB1035, Technische Universität München. We thank S. Hauck (Helmholtz Zentrum München) and J. Winter (Technische Universität München) for MS analysis and A. Berns (The Netherlands Cancer Institute) for providing the Cre-ERT2 mouse line. G.A.H. acknowledges the Boehringer Ingelheim Fonds for a PhD fellowship. This work was supported by the Deutsche Forschungsgemeinschaft through grants SCHL2062/1-1 (to A.S.), SFB1035 and GRK1721 (to M.S.), NI-1110/4-1 (to D.N.), SFB646 and FOR855 (to D.N.) and SFB1054 TP-A03 (to V.H.) and by the European Commission through a European Research Council grant to V.H.
Ethics declarations
Competing interests
The authors declare no competing financial interests.
Integrated supplementary information
Supplementary information
Supplementary Figures 1–9, Supplementary Note and Supplementary Tables 1 and 2 (PDF 31388 kb)
About this article
Cite this article
Schlundt, A., Heinz, G., Janowski, R. et al. Structural basis for RNA recognition in roquin-mediated post-transcriptional gene regulation. Nat Struct Mol Biol 21, 671–678 (2014). https://doi.org/10.1038/nsmb.2855
Received:

Accepted:

Published:

Issue Date:

DOI: https://doi.org/10.1038/nsmb.2855