Abstract
Janus kinase-2 (JAK2) mediates signaling by various cytokines, including erythropoietin and growth hormone. JAK2 possesses tandem pseudokinase and tyrosine-kinase domains. Mutations in the pseudokinase domain are causally linked to myeloproliferative neoplasms (MPNs) in humans. The structure of the JAK2 tandem kinase domains is unknown, and therefore the molecular bases for pseudokinase-mediated autoinhibition and pathogenic activation remain obscure. Using molecular dynamics simulations of protein-protein docking, we produced a structural model for the autoinhibitory interaction between the JAK2 pseudokinase and kinase domains. A striking feature of our model, which is supported by mutagenesis experiments, is that nearly all of the disease mutations map to the domain interface. The simulations indicate that the kinase domain is stabilized in an inactive state by the pseudokinase domain, and they offer a molecular rationale for the hyperactivity of V617F, the predominant JAK2 MPN mutation.
Relevant articles
Open Access articles citing this article.
Christopher Agnew

,

Pelin Ayaz

…

Natalia Jura

Nature Communications Open Access 16 August 2021

Christian M. Smolko

&

Kevin A. Janes

Scientific Reports Open Access 19 December 2019

Mónika Bálint

,

Norbert Jeszenői

…

Csaba Hetényi

Journal of Cheminformatics Open Access 28 December 2017
Access options
Subscribe to this journal
Receive 12 print issues and online access
$189.00 per year
only $15.75 per issue
Rent or buy this article
Prices vary by article type
from$1.95
to$39.95
Prices may be subject to local taxes which are calculated during checkout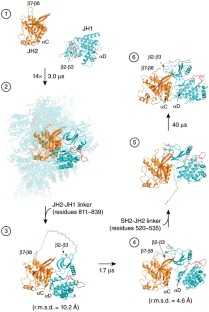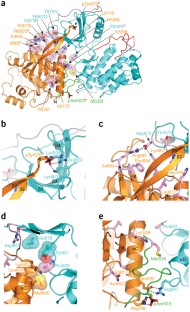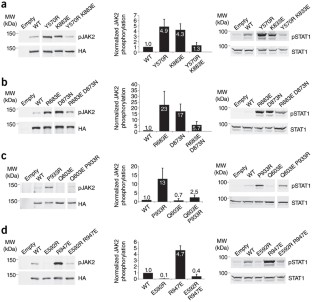 References
O'Shea, J.J., Holland, S.M. & Staudt, L.M. JAKs and STATs in immunity, immunodeficiency, and cancer. N. Engl. J. Med. 368, 161–170 (2013).

Wallweber, H.J., Tam, C., Franke, Y., Starovasnik, M.A. & Lupardus, P.J. Structural basis of recognition of interferon-α receptor by tyrosine kinase 2. Nat. Struct. Mol. Biol. 21, 443–448 (2014).

Vainchenker, W., Delhommeau, F., Constantinescu, S.N. & Bernard, O.A. New mutations and pathogenesis of myeloproliferative neoplasms. Blood 118, 1723–1735 (2011).

Haan, C., Behrmann, I. & Haan, S. Perspectives for the use of structural information and chemical genetics to develop inhibitors of Janus kinases. J. Cell. Mol. Med. 14, 504–527 (2010).

Kralovics, R. et al. A gain-of-function mutation of JAK2 in myeloproliferative disorders. N. Engl. J. Med. 352, 1779–1790 (2005).

Baxter, E.J. et al. Acquired mutation of the tyrosine kinase JAK2 in human myeloproliferative disorders. Lancet 365, 1054–1061 (2005).

Levine, R.L. et al. Activating mutation in the tyrosine kinase JAK2 in polycythemia vera, essential thrombocythemia, and myeloid metaplasia with myelofibrosis. Cancer Cell 7, 387–397 (2005).

Lipson, D. et al. Identification of new ALK and RET gene fusions from colorectal and lung cancer biopsies. Nat. Med. 18, 382–384 (2012).

Saharinen, P. & Silvennoinen, O. The pseudokinase domain is required for suppression of basal activity of Jak2 and Jak3 tyrosine kinases and for cytokine-inducible activation of signal transduction. J. Biol. Chem. 277, 47954–47963 (2002).

Saharinen, P., Takaluoma, K. & Silvennoinen, O. Regulation of the Jak2 tyrosine kinase by its pseudokinase domain. Mol. Cell. Biol. 20, 3387–3395 (2000).

Ungureanu, D. et al. The pseudokinase domain of JAK2 is a dual-specificity protein kinase that negatively regulates cytokine signaling. Nat. Struct. Mol. Biol. 18, 971–976 (2011).

Bandaranayake, R.M. et al. Crystal structures of the JAK2 pseudokinase domain and the pathogenic mutant V617F. Nat. Struct. Mol. Biol. 19, 754–759 (2012).

Shan, Y. et al. How does a drug molecule find its target binding site? J. Am. Chem. Soc. 133, 9181–9183 (2011).

Dusa, A., Mouton, C., Pecquet, C., Herman, M. & Constantinescu, S.N. JAK2 V617F constitutive activation requires JH2 residue F595: a pseudokinase domain target for specific inhibitors. PLoS ONE 5, e11157 (2010).

Liang, S., Liu, S., Zhang, C. & Zhou, Y. A simple reference state makes a significant improvement in near-native selections from structurally refined docking decoys. Proteins 69, 244–253 (2007).

Liang, S., Zhang, C., Sarmiento, J. & Standley, D.M. Protein loop modeling with optimized backbone potential functions. J. Chem. Theory Comput. 8, 1820–1827 (2012).

Argetsinger, L.S. et al. Autophosphorylation of JAK2 on tyrosines 221 and 570 regulates its activity. Mol. Cell. Biol. 24, 4955–4967 (2004).

Feener, E.P., Rosario, F., Dunn, S.L., Stancheva, Z. & Myers, M.G. Tyrosine phosphorylation of Jak2 in the JH2 domain inhibits cytokine signaling. Mol. Cell. Biol. 24, 4968–4978 (2004).

Zhao, L. et al. A JAK2 interdomain linker relays Epo receptor engagement signals to kinase activation. J. Biol. Chem. 284, 26988–26998 (2009).

Ishida-Takahashi, R. et al. Phosphorylation of Jak2 on Ser523 inhibits Jak2-dependent leptin receptor signaling. Mol. Cell. Biol. 26, 4063–4073 (2006).

Mazurkiewicz-Munoz, A.M. et al. Phosphorylation of JAK2 at serine 523: a negative regulator of JAK2 that is stimulated by growth hormone and epidermal growth factor. Mol. Cell. Biol. 26, 4052–4062 (2006).

Mullighan, C.G. et al. JAK mutations in high-risk childhood acute lymphoblastic leukemia. Proc. Natl. Acad. Sci. USA 106, 9414–9418 (2009).

Wan, X., Ma, Y., McClendon, C.L., Huang, L.J. & Huang, N. Ab initio modeling and experimental assessment of Janus Kinase 2 (JAK2) kinase-pseudokinase complex structure. PLoS Comput. Biol. 9, e1003022 (2013).

Miyazawa, S. & Jernigan, R.L. Residue-residue potentials with a favorable contact pair term and an unfavorable high packing density term, for simulation and threading. J. Mol. Biol. 256, 623–644 (1996).

Nagar, B. et al. Structural basis for the autoinhibition of c-Abl tyrosine kinase. Cell 112, 859–871 (2003).

Huse, M. & Kuriyan, J. The conformational plasticity of protein kinases. Cell 109, 275–282 (2002).

Shan, Y. et al. A conserved protonation-dependent switch controls drug binding in the Abl kinase. Proc. Natl. Acad. Sci. USA 106, 139–144 (2009).

Gnanasambandan, K., Magis, A. & Sayeski, P.P. The constitutive activation of Jak2–V617F is mediated by a π stacking mechanism involving phenylalanines 595 and 617. Biochemistry 49, 9972–9984 (2010).

Lindauer, K., Loerting, T., Liedl, K.R. & Kroemer, R.T. Prediction of the structure of human Janus kinase 2 (JAK2) comprising the two carboxy-terminal domains reveals a mechanism for autoregulation. Protein Eng. 14, 27–37 (2001).

Wan, S. & Coveney, P.V. Regulation of JAK2 activation by Janus homology 2: evidence from molecular dynamics simulations. J. Chem. Inf. Model. 52, 2992–3000 (2012).

Toms, A.V. et al. Structure of a pseudokinase-domain switch that controls oncogenic activation of Jak kinases. Nat. Struct. Mol. Biol. 20, 1221–1223 (2013).

Lupardus, P.J., et al. Structure of the pseudokinase-kinase domains from protein kinase TYK2 reveals a mechanism for Janus kinase (JAK) autoinhibition. Proc. Natl. Acad. Sci. USA 111, 8025–8030 (2014).

LaFave, L.M. & Levine, R.L. JAK2 the future: therapeutic strategies for JAK-dependent malignancies. Trends Pharmacol. Sci. 33, 574–582 (2012).

Baffert, F. et al. Potent and selective inhibition of polycythemia by the quinoxaline JAK2 inhibitor NVP-BSK805. Mol. Cancer Ther. 9, 1945–1955 (2010).

Best, R.B. et al. Optimization of the additive CHARMM all-atom protein force field targeting improved sampling of the backbone Φ, Ψ and side-chain χ1 and χ2 dihedral angles. J. Chem. Theory Comput. 8, 3257–3273 (2012).

Mackerell, A.D. Jr. et al. All-atom empirical potential for molecular modeling and dynamics studies of proteins. J. Phys. Chem. B 102, 3586–3616 (1998).

Jorgensen, W.L., Chandrasekhar, J., Madura, J.D., Impey, R.W. & Klein, M.L. Comparison of simple potential functions for simulating liquid water. J. Chem. Phys. 79, 926–935 (1983).

Shaw, D.E. et al. in Proc. of the ACAM/IEEE Conference on Supercomputing Vol. 51, 91–97 (ACM Press, New York, 2008).

Hoover, W.G. Canonical dynamics: equilibrium phase-space distributions. Phys. Rev. A 31, 1695–1697 (1985).

Lippert, R.A. et al. A common, avoidable source of error in molecular dynamics integrators. J. Chem. Phys. 126, 046101 (2007).

Krautler, V., Van Gunsteren, W.F. & Hunenberger, P.H. A fast SHAKE algorithm to solve distance constraint equations for small molecules in molecular dynamics simulations. J. Comput. Chem. 22, 501–508 (2001).

Fennell, C.J. & Gezelter, J.D. Is the Ewald summation still necessary? Pairwise alternatives to the accepted standard for long-range electrostatics. J. Chem. Phys. 124, 234104 (2006).
Acknowledgements
This work was supported in part by the US National Institutes of Health (grant R21 AI095808; S.R.H.) and the Medical Research Council of Academy of Finland, Sigrid Juselius Foundation, Medical Research Fund of Tampere University Hospital, Finnish Cancer Foundation and Tampere Tuberculosis Foundation (O.S.). The APRE-Rluc and pRG-TK plasmids were gifts from D. Levy and J. Belasco (both at New York University School of Medicine), respectively. We thank R. Bandaranayake for crystallographic support, A. Philippsen for animation support and W.T. Miller, M. Mohammadi and M.P. Eastwood for critical reading of the manuscript.
Ethics declarations
Competing interests
The authors declare no competing financial interests.
Integrated supplementary information
Supplementary information
About this article
Cite this article
Shan, Y., Gnanasambandan, K., Ungureanu, D. et al. Molecular basis for pseudokinase-dependent autoinhibition of JAK2 tyrosine kinase. Nat Struct Mol Biol 21, 579–584 (2014). https://doi.org/10.1038/nsmb.2849
Received:

Accepted:

Published:

Issue Date:

DOI: https://doi.org/10.1038/nsmb.2849