Abstract
Packaging of DNA into nucleosomes not only helps to store genetic information but also creates diverse means for regulating DNA-templated processes. Attempts to reveal additional functions of the nucleosome have been unsuccessful, owing to cell lethality caused by nucleosome deletion. Taking advantage of the mammalian fertilization process, in which sperm DNA assembles into nucleosomes de novo, we generated nucleosome-depleted (ND) paternal pronuclei by depleting maternal histone H3.3 or its chaperone HIRA in mouse zygotes. We found that the ND pronucleus forms a nuclear envelope devoid of nuclear pore complexes (NPCs). Loss of NPCs is accompanied by defective localization of ELYS, a nucleoporin essential for NPC assembly, to the nuclear rim. Interestingly, tethering ELYS to the nuclear rim of the ND nucleus rescues NPC assembly. Our study thus demonstrates that nucleosome assembly is a prerequisite for NPC assembly during paternal pronuclear formation.
Access options
Subscribe to Journal
Get full journal access for 1 year
$59.00
only $4.92 per issue
All prices are NET prices.
VAT will be added later in the checkout.
Tax calculation will be finalised during checkout.
Rent or Buy article
Get time limited or full article access on ReadCube.
from$8.99
All prices are NET prices.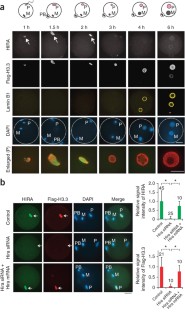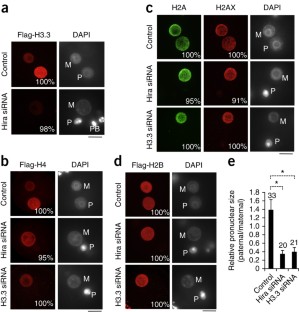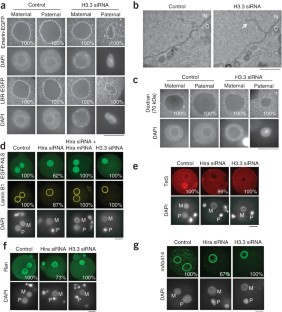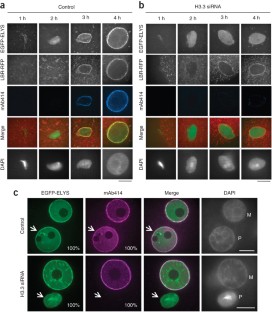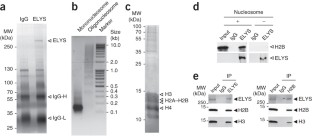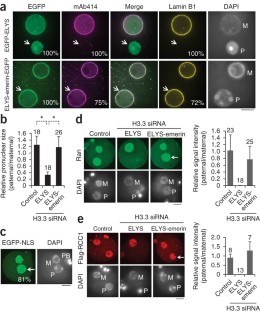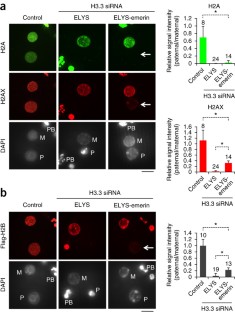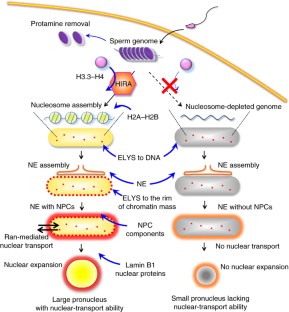 References
1

Kornberg, R.D. & Lorch, Y. Twenty-five years of the nucleosome, fundamental particle of the eukaryote chromosome. Cell 98, 285–294 (1999).

2

Luger, K., Dechassa, M. & Tremethick, D. New insights into nucleosome and chromatin structure: an ordered state or a disordered affair? Nat. Rev. Mol. Cell Biol. 13, 436–447 (2012).

3

Burgess, R.J. & Zhang, Z. Histone chaperones in nucleosome assembly and human disease. Nat. Struct. Mol. Biol. 20, 14–22 (2013).

4

Margueron, R. & Reinberg, D. Chromatin structure and the inheritance of epigenetic information. Nat. Rev. Genet. 11, 285–296 (2010).

5

Marzluff, W.F., Gongidi, P., Woods, K., Jin, J. & Maltais, L. The human and mouse replication-dependent histone genes. Genomics 80, 487–498 (2002).

6

Rykowski, M.C., Wallis, J., Choe, J. & Grunstein, M. Histone H2B subtypes are dispensable during the yeast cell cycle. Cell 25, 477–487 (1981).

7

Drané, P., Ouararhni, K., Depaux, A., Shuaib, M. & Hamiche, A. The death-associated protein DAXX is a novel histone chaperone involved in the replication-independent deposition of H3.3. Genes Dev. 24, 1253–1265 (2010).

8

Goldberg, A.D. et al. Distinct factors control histone variant H3.3 localization at specific genomic regions. Cell 140, 678–691 (2010).

9

Ray-Gallet, D. et al. Dynamics of histone H3 deposition in vivo reveal a nucleosome gap-filling mechanism for H3.3 to maintain chromatin integrity. Mol. Cell 44, 928–941 (2011).

10

Jenkins, T.G. & Carrell, D. Dynamic alterations in the paternal epigenetic landscape following fertilization. Front. Genet. 3, 143 (2012).

11

Nonchev, S. & Tsanev, R. Protamine-histone replacement and DNA replication in the male mouse pronucleus. Mol. Reprod. Dev. 25, 72–76 (1990).

12

van der Heijden, G.W. et al. Asymmetry in histone H3 variants and lysine methylation between paternal and maternal chromatin of the early mouse zygote. Mech. Dev. 122, 1008–1022 (2005).

13

Elsaesser, S.J., Goldberg, A.D. & Allis, C.D. New functions for an old variant: no substitute for histone H3.3. Curr. Opin. Genet. Dev. 20, 110–117 (2010).

14

Talbert, P.B. & Henikoff, S. Histone variants: ancient wrap artists of the epigenome. Nat. Rev. Mol. Cell Biol. 11, 264–275 (2010).

15

Akiyama, T., Suzuki, O., Matsuda, J. & Aoki, F. Dynamic replacement of histone h3 variants reprograms epigenetic marks in early mouse embryos. PLoS Genet. 7, e1002279 (2011).

16

Torres-Padilla, M.E., Bannister, A., Hurd, P., Kouzarides, T. & Zernicka-Goetz, M. Dynamic distribution of the replacement histone variant H3.3 in the mouse oocyte and preimplantation embryos. Int. J. Dev. Biol. 50, 455–461 (2006).

17

Loppin, B. et al. The histone H3.3 chaperone HIRA is essential for chromatin assembly in the male pronucleus. Nature 437, 1386–1390 (2005).

18

Inoue, A. & Aoki, F. Role of the nucleoplasmin 2 C-terminal domain in the formation of nucleolus-like bodies in mouse oocytes. FASEB J. 24, 485–494 (2010).

19

Smith, S. & Stillman, B. Stepwise assembly of chromatin during DNA replication in vitro. EMBO J. 10, 971–980 (1991).

20

Nashun, B., Yukawa, M., Liu, H., Akiyama, T. & Aoki, F. Changes in the nuclear deposition of histone H2A variants during pre-implantation development in mice. Development 137, 3785–3794 (2010).

21

D'Angelo, M.A., Anderson, D., Richard, E. & Hetzer, M. Nuclear pores form de novo from both sides of the nuclear envelope. Science 312, 440–443 (2006).

22

Webster, M., Witkin, K. & Cohen-Fix, O. Sizing up the nucleus: nuclear shape, size and nuclear-envelope assembly. J. Cell Sci. 122, 1477–1486 (2009).

23

Güttinger, S., Laurell, E. & Kutay, U. Orchestrating nuclear envelope disassembly and reassembly during mitosis. Nat. Rev. Mol. Cell Biol. 10, 178–191 (2009).

24

Newport, J.W., Wilson, K. & Dunphy, W. A lamin-independent pathway for nuclear envelope assembly. J. Cell Biol. 111, 2247–2259 (1990).

25

Gu, T.P. et al. The role of Tet3 DNA dioxygenase in epigenetic reprogramming by oocytes. Nature 477, 606–610 (2011).

26

Clarke, P.R. & Zhang, C. Ran GTPase: a master regulator of nuclear structure and function during the eukaryotic cell division cycle? Trends Cell Biol. 11, 366–371 (2001).

27

Quimby, B.B. & Dasso, M. The small GTPase Ran: interpreting the signs. Curr. Opin. Cell Biol. 15, 338–344 (2003).

28

Doucet, C.M., Talamas, J. & Hetzer, M. Cell cycle-dependent differences in nuclear pore complex assembly in metazoa. Cell 141, 1030–1041 (2010).

29

Franz, C. et al. MEL-28/ELYS is required for the recruitment of nucleoporins to chromatin and postmitotic nuclear pore complex assembly. EMBO Rep. 8, 165–172 (2007).

30

Gillespie, P.J., Khoudoli, G., Stewart, G., Swedlow, J. & Blow, J. ELYS/MEL-28 chromatin association coordinates nuclear pore complex assembly and replication licensing. Curr. Biol. 17, 1657–1662 (2007).

31

Galy, V., Askjaer, P., Franz, C., López-Iglesias, C. & Mattaj, I. MEL-28, a novel nuclear-envelope and kinetochore protein essential for zygotic nuclear-envelope assembly in C. elegans. Curr. Biol. 16, 1748–1756 (2006).

32

Bilokapic, S. & Schwartz, T. Structural and functional studies of the 252 kDa nucleoporin ELYS reveal distinct roles for its three tethered domains. Structure 21, 572–580 (2013).

33

Rasala, B.A., Ramos, C., Harel, A. & Forbes, D. Capture of AT-rich chromatin by ELYS recruits POM121 and NDC1 to initiate nuclear pore assembly. Mol. Biol. Cell 19, 3982–3996 (2008).

34

Lau, C.K. et al. Transportin regulates major mitotic assembly events: from spindle to nuclear pore assembly. Mol. Biol. Cell 20, 4043–4058 (2009).

35

Fernandez, A.G. & Piano, F. MEL-28 is downstream of the Ran cycle and is required for nuclear-envelope function and chromatin maintenance. Curr. Biol. 16, 1757–1763 (2006).

36

Dumont, J. et al. A centriole- and RanGTP-independent spindle assembly pathway in meiosis I of vertebrate oocytes. J. Cell Biol. 176, 295–305 (2007).

37

Hughes, M., Zhang, C., Avis, J., Hutchison, C. & Clarke, P. The role of the ran GTPase in nuclear assembly and DNA replication: characterisation of the effects of Ran mutants. J. Cell Sci. 111, 3017–3026 (1998).

38

Inoue, A., Ogushi, S., Saitou, M., Suzuki, M. & Aoki, F. Involvement of mouse nucleoplasmin 2 in the decondensation of sperm chromatin after fertilization. Biol. Reprod. 85, 70–77 (2011).

39

Bonnefoy, E., Orsi, G., Couble, P. & Loppin, B. The essential role of Drosophila HIRA for de novo assembly of paternal chromatin at fertilization. PLoS Genet. 3, 1991–2006 (2007).

40

Philpott, A. & Leno, G.H. Nucleoplasmin remodels sperm chromatin in Xenopus egg extracts. Cell 69, 759–767 (1992).

41

Forbes, D.J., Kirschner, M. & Newport, J. Spontaneous formation of nucleus-like structures around bacteriophage DNA microinjected into Xenopus eggs. Cell 34, 13–23 (1983).

42

Newport, J. Nuclear reconstitution in vitro: stages of assembly around protein-free DNA. Cell 48, 205–217 (1987).

43

Ulbert, S., Platani, M., Boue, S. & Mattaj, I. Direct membrane protein-DNA interactions required early in nuclear envelope assembly. J. Cell Biol. 173, 469–476 (2006).

44

Anderson, D.J. & Hetzer, M. Nuclear envelope formation by chromatin-mediated reorganization of the endoplasmic reticulum. Nat. Cell Biol. 9, 1160–1166 (2007).

45

Szymborska, A. et al. Nuclear pore scaffold structure analyzed by super-resolution microscopy and particle averaging. Science 341, 655–658 (2013).

46

D'Angelo, M.A. & Hetzer, M.W. Structure, dynamics and function of nuclear pore complexes. Trends Cell Biol. 18, 456–466 (2008).

47

Rotem, A. et al. Importin β regulates the seeding of chromatin with initiation sites for nuclear pore assembly. Mol. Biol. Cell 20, 4031–4042 (2009).

48

Imamoto, N. & Funakoshi, T. Nuclear pore dynamics during the cell cycle. Curr. Opin. Cell Biol. 24, 453–459 (2012).

49

Malik, H.S. & Henikoff, S. Phylogenomics of the nucleosome. Nat. Struct. Biol. 10, 882–891 (2003).

50

Pesty, A., Miyara, F., Debey, P., Lefevre, B. & Poirot, C. Multiparameter assessment of mouse oogenesis during follicular growth in vitro. Mol. Hum. Reprod. 13, 3–9 (2007).

51

Hirao, Y. Isolation of ovarian components essential for growth and development of mammalian oocytes in vitro. J. Reprod. Dev. 58, 167–174 (2012).

52

Yamaguchi, S. et al. Dynamics of 5-methylcytosine and 5-hydroxymethylcytosine during germ cell reprogramming. Cell Res. 23, 329–339 (2013).

53

Ooga, M. et al. Changes in H3K79 methylation during preimplantation development in mice. Biol. Reprod. 78, 413–424 (2008).

54

Okada, Y., Yamagata, K., Hong, K., Wakayama, T. & Zhang, Y. A role for the elongator complex in zygotic paternal genome demethylation. Nature 463, 554–558 (2010).

55

Ellenberg, J. et al. Nuclear membrane dynamics and reassembly in living cells: targeting of an inner nuclear membrane protein in interphase and mitosis. J. Cell Biol. 138, 1193–1206 (1997).

56

Clever, M., Funakoshi, T., Mimura, Y., Takagi, M. & Imamoto, N. The nucleoporin ELYS/Mel28 regulates nuclear envelope subdomain formation in HeLa cells. Nucleus 3, 187–199 (2012).

57

Fang, J., Wang, H. & Zhang, Y. Purification of histone methyltransferases from HeLa cells. Methods Enzymol. 377, 213–226 (2004).
Acknowledgements
We thank T. Haraguchi (Osaka University) and T. Kirchhausen (Harvard Medical School) for helpful discussion, F. Aoki (University of Tokyo) for the EGFP-NLS, Flag-H2B and Flag-H4 constructs, and I. Mattaj (European Molecular Biology Laboratory) and G.L. Xu (Chinese Academy of Sciences) for antibodies. We thank T. Haraguchi, G. German, S. Yamaguchi, S. Matoba and D. Cai for critical reading of the manuscript. This work was supported by US National Institutes of Health (U01DK089565 to Y.Z.). A.I. is supported as a research fellow for Research Abroad of the Japan Society for the Promotion of Science. Y.Z. is supported as an Investigator of the Howard Hughes Medical Institute.
Ethics declarations
Competing interests
The authors declare no competing financial interests.
Integrated supplementary information
Supplementary information
About this article
Cite this article
Inoue, A., Zhang, Y. Nucleosome assembly is required for nuclear pore complex assembly in mouse zygotes. Nat Struct Mol Biol 21, 609–616 (2014). https://doi.org/10.1038/nsmb.2839
Received:

Accepted:

Published:

Issue Date: