Abstract
In budding yeast, a single double-strand break (DSB) triggers extensive Tel1 (ATM)- and Mec1 (ATR)-dependent phosphorylation of histone H2A around the DSB, to form γ-H2AX. We describe Mec1- and Tel1-dependent phosphorylation of histone H2B at T129. γ-H2B formation is impaired by γ-H2AX and its binding partner Rad9. High-density microarray analyses show similar γ-H2AX and γ-H2B distributions, but γ-H2B is absent near telomeres. Both γ-H2AX and γ-H2B are strongly diminished over highly transcribed regions. When transcription of GAL7, GAL10 and GAL1 genes is turned off, γ-H2AX is restored within 5 min, in a Mec1-dependent manner; after reinduction of these genes, γ-H2AX is rapidly lost. Moreover, when a DSB is induced near CEN2, γ-H2AX spreads to all other pericentromeric regions, again depending on Mec1. Our data provide new insights in the function and establishment of phosphorylation events occurring on chromatin after DSB induction.
Access options
Subscribe to Journal
Get full journal access for 1 year
$209.00
only $17.42 per issue
All prices are NET prices.
VAT will be added later in the checkout.
Rent or Buy article
Get time limited or full article access on ReadCube.
from$8.99
All prices are NET prices.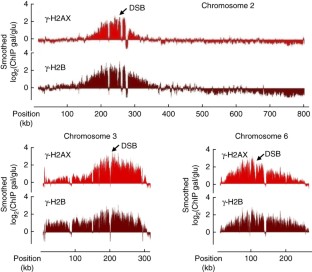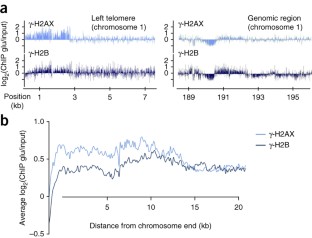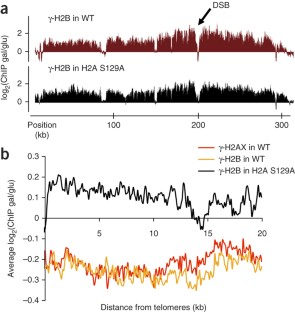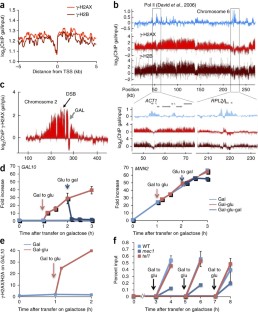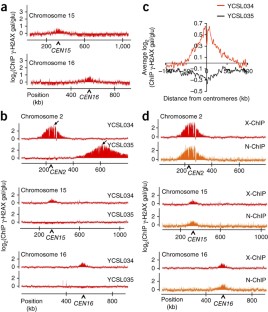 Accession codes
Primary accessions
ArrayExpress
References
1

Shroff, R. et al. Distribution and dynamics of chromatin modification induced by a defined DNA double-strand break. Curr. Biol. 14, 1703–1711 (2004).

2

Rogakou, E.P., Boon, C., Redon, C. & Bonner, W.M. Megabase chromatin domains involved in DNA double-strand breaks in vivo. J. Cell Biol. 146, 905–916 (1999).

3

Harrison, J.C. & Haber, J.E. Surviving the breakup: the DNA damage checkpoint. Annu. Rev. Genet. 40, 209–235 (2006).

4

Kim, J.A., Kruhlak, M., Dotiwala, F., Nussenzweig, A. & Haber, J.E. Heterochromatin is refractory to γ-H2AX modification in yeast and mammals. J. Cell Biol. 178, 209–218 (2007).

5

Szilard, R.K. et al. Systematic identification of fragile sites via genome-wide location analysis of γ-H2AX. Nat. Struct. Mol. Biol. 17, 299–305 (2010).

6

Kitada, T. et al. γH2A is a component of yeast heterochromatin required for telomere elongation. Cell Cycle 10, 293–300 (2011).

7

Iacovoni, J.S. et al. High-resolution profiling of γH2AX around DNA double strand breaks in the mammalian genome. EMBO J. 29, 1446–1457 (2010).

8

Caron, P. et al. Cohesin protects genes against γH2AX induced by DNA double-strand breaks. PLoS Genet. 8, e1002460 (2012).

9

Melo, J.A., Cohen, J. & Toczyski, D.P. Two checkpoint complexes are independently recruited to sites of DNA damage in vivo. Genes Dev. 15, 2809–2821 (2001).

10

Zou, L. & Elledge, S.J. Sensing DNA damage through ATRIP recognition of RPA-ssDNA complexes. Science 300, 1542–1548 (2003).

11

Nakada, D., Matsumoto, K. & Sugimoto, K. ATM-related Tel1 associates with double-strand breaks through an Xrs2-dependent mechanism. Genes Dev. 17, 1957–1962 (2003).

12

Hammet, A., Magill, C., Heierhorst, J. & Jackson, S.P. Rad9 BRCT domain interaction with phosphorylated H2AX regulates the G1 checkpoint in budding yeast. EMBO Rep. 8, 851–857 (2007).

13

Chen, X. et al. The Fun30 nucleosome remodeler promotes resection of DNA double-strand break ends. Nature 489, 576–580 (2012).

14

Eapen, V.V., Sugawara, N., Tsabar, M., Wu, W.H. & Haber, J.E. The Saccharomyces cerevisiae chromatin remodeler Fun30 regulates DNA end resection and checkpoint deactivation. Mol. Cell Biol. 32, 4727–4740 (2012).

15

Martin, S.G., Laroche, T., Suka, N., Grunstein, M. & Gasser, S.M. Relocalization of telomeric Ku and SIR proteins in response to DNA strand breaks in yeast. Cell 97, 621–633 (1999).

16

Mills, K.D., Sinclair, D. & Guarente, L. MEC1-dependent redistribution of the Sir3 silencing protein from telomeres to DNA double-strand breaks. Cell 97, 609–620 (1999).

17

David, L. et al. A high-resolution map of transcription in the yeast genome. Proc. Natl. Acad. Sci. USA 103, 5320–5325 (2006).

18

Jamai, A., Imoberdorf, R.M. & Strubin, M. Continuous histone H2B and transcription-dependent histone H3 exchange in yeast cells outside of replication. Mol. Cell 25, 345–355 (2007).

19

Moore, J.K. & Haber, J.E. Cell cycle and genetic requirements of two pathways of nonhomologous end-joining repair of double-strand breaks in Saccharomyces cerevisiae. Mol. Cell Biol. 16, 2164–2173 (1996).

20

Ng, H.H., Robert, F., Young, R.A. & Struhl, K. Targeted recruitment of Set1 histone methylase by elongating Pol II provides a localized mark and memory of recent transcriptional activity. Mol. Cell 11, 709–719 (2003).

21

Zhou, B.O. & Zhou, J.Q. Recent transcription-induced histone H3 lysine 4 (H3K4) methylation inhibits gene reactivation. J. Biol. Chem. 286, 34770–34776 (2011).

22

Keogh, M.C. et al. A phosphatase complex that dephosphorylates γH2AX regulates DNA damage checkpoint recovery. Nature 439, 497–501 (2006).

23

Kim, J.A., Hicks, W.M., Li, J., Tay, S.Y. & Haber, J.E. Protein phosphatases pph3, ptc2, and ptc3 play redundant roles in DNA double-strand break repair by homologous recombination. Mol. Cell Biol. 31, 507–516 (2011).

24

Leroy, C. et al. PP2C phosphatases Ptc2 and Ptc3 are required for DNA checkpoint inactivation after a double-strand break. Mol. Cell 11, 827–835 (2003).

25

Morillo-Huesca, M., Clemente-Ruiz, M., Andujar, E. & Prado, F. The SWR1 histone replacement complex causes genetic instability and genome-wide transcription misregulation in the absence of H2A.Z. PLoS ONE 5, e12143 (2010).

26

Papamichos-Chronakis, M., Krebs, J.E. & Peterson, C.L. Interplay between Ino80 and Swr1 chromatin remodeling enzymes regulates cell cycle checkpoint adaptation in response to DNA damage. Genes Dev. 20, 2437–2449 (2006).

27

Halley, J.E., Kaplan, T., Wang, A.Y., Kobor, M.S. & Rine, J. Roles for H2A.Z and its acetylation in GAL1 transcription and gene induction, but not GAL1-transcriptional memory. PLoS Biol. 8, e1000401 (2010).

28

Lisby, M., Barlow, J.H., Burgess, R.C. & Rothstein, R. Choreography of the DNA damage response: spatiotemporal relationships among checkpoint and repair proteins. Cell 118, 699–713 (2004).

29

Ira, G. et al. DNA end resection, homologous recombination and DNA damage checkpoint activation require CDK1. Nature 431, 1011–1017 (2004).

30

Duan, Z. et al. A three-dimensional model of the yeast genome. Nature 465, 363–367 (2010).

31

Renkawitz, J., Lademann, C.A., Kalocsay, M. & Jentsch, S. Monitoring homology search during DNA double-strand break repair in vivo. Mol. Cell 50, 261–272 (2013).

32

Myers, J.S. & Cortez, D. Rapid activation of ATR by ionizing radiation requires ATM and Mre11. J. Biol. Chem. 281, 9346–9350 (2006).

33

Pellicioli, A., Lee, S.E., Lucca, C., Foiani, M. & Haber, J.E. Regulation of Saccharomyces Rad53 checkpoint kinase during adaptation from DNA damage-induced G2/M arrest. Mol. Cell 7, 293–300 (2001).

34

Lee, S.E. et al. Saccharomyces Ku70, mre11/rad50 and RPA proteins regulate adaptation to G2/M arrest after DNA damage. Cell 94, 399–409 (1998).

35

Bash, R. & Lohr, D. Yeast chromatin structure and regulation of GAL gene expression. Prog. Nucleic Acid Res. Mol. Biol. 65, 197–259 (2001).

36

Cavalli, G. & Thoma, F. Chromatin transitions during activation and repression of galactose-regulated genes in yeast. EMBO J. 12, 4603–4613 (1993).

37

Radman-Livaja, M. et al. Patterns and mechanisms of ancestral histone protein inheritance in budding yeast. PLoS Biol. 9, e1001075 (2011).

38

Li, J. et al. Regulation of budding yeast mating-type switching donor preference by the FHA domain of Fkh1. PLoS Genet. 8, e1002630 (2012).

39

Unal, E. et al. DNA damage response pathway uses histone modification to assemble a double-strand break-specific cohesin domain. Mol. Cell 16, 991–1002 (2004).

40

Ström, L., Lindroos, H.B., Shirahige, K. & Sjogren, C. Postreplicative recruitment of cohesin to double-strand breaks is required for DNA repair. Mol. Cell 16, 1003–1015 (2004).

41

Bakkenist, C.J. & Kastan, M.B. DNA damage activates ATM through intermolecular autophosphorylation and dimer dissociation. Nature 421, 499–506 (2003).

42

Lee, S.E. et al. Saccharomyces Ku70, Mre11/Rad50 and RPA proteins regulate adaptation to G2/M arrest after DNA damage. Cell 94, 399–409 (1998).

43

Sandell, L.L. & Zakian, V.A. Loss of a yeast telomere: arrest, recovery, and chromosome loss. Cell 75, 729–739 (1993).

44

Kim, J.A., Kruhlak, M., Dotiwala, F., Nussenzweig, A. & Haber, J.E. Heterochromatin is refractory to γ-H2AX modification in yeast and mammals. J. Cell Biol. 178, 209–218 (2007).

45

Sun, K., Coic, E., Zhou, Z., Durrens, P. & Haber, J.E. Saccharomyces forkhead protein Fkh1 regulates donor preference during mating-type switching through the recombination enhancer. Genes Dev. 16, 2085–2096 (2002).

46

Foster, E.R. & Downs, J.A. Methylation of H3 K4 and K79 is not strictly dependent on H2B K123 ubiquitylation. J. Cell Biol. 184, 631–638 (2009).

47

Wagschal, A., Delaval, K., Pannetier, M., Arnaud, P. & Feil, R. Chromatin immunoprecipitation (ChIP) on unfixed chromatin from cells and tissues to analyze histone modifications. CSH Protoc. 2007 pdb prot4767 (2007).
Acknowledgements
We thanks V. Benes and T. Ivacevic from the European Molecular Biology Laboratory Genomic Core facility for hybridization with Affymetrix arrays. Funding in the Legube laboratory was provided by grants from the Association Contre le Cancer (ARC), Agence Nationale pour la Recherche (ANR-09-JCJC-0138), Canceropole Grand Sud-Ouest and Research Innovation Therapeutic Cancerologie (RITC). Research in the Haber lab was supported by US National Institutes of Health grants GM61766, GM20056 and GM76020.
Ethics declarations
Competing interests
The authors declare no competing financial interests.
Integrated supplementary information
Supplementary information
Supplementary Figures 1–6 and Supplementary Tables 1 and 2 (PDF 3709 kb)
About this article
Cite this article
Lee, CS., Lee, K., Legube, G. et al. Dynamics of yeast histone H2A and H2B phosphorylation in response to a double-strand break. Nat Struct Mol Biol 21, 103–109 (2014). https://doi.org/10.1038/nsmb.2737
Received:

Accepted:

Published:

Issue Date: