Abstract
The spatiotemporal organization of genomes in the nucleus is an emerging key player to regulate genome function. Live imaging of nuclear organization dynamics would be a breakthrough toward uncovering the functional relevance and mechanisms regulating genome architecture. Here, we used transcription activator–like effector (TALE) technology to visualize endogenous repetitive genomic sequences. We established TALE-mediated genome visualization (TGV) to label genomic sequences and follow nuclear positioning and chromatin dynamics in cultured mouse cells and in the living organism. TGV is highly specific, thus allowing differential labeling of parental chromosomes by distinguishing between single-nucleotide polymorphisms (SNPs). Our findings provide a framework to address the function of genome architecture through visualization of nuclear dynamics in vivo.
Relevant articles
Open Access articles citing this article.
Jente van Staalduinen

,

Thomas van Staveren

…

Kerstin S. Wendt

Epigenetics & Chromatin Open Access 23 June 2023

Clara Lopes Novo

,

Emily V. Wong

…

Peter J. Rugg-Gunn

Nature Communications Open Access 20 June 2022

Yuki Sakamoto

,

Anna Ishimoto

…

Sachihiro Matsunaga

Communications Biology Open Access 10 January 2022
Access options
Subscribe to this journal
Receive 12 print issues and online access
$189.00 per year
only $15.75 per issue
Rent or buy this article
Prices vary by article type
from$1.95
to$39.95
Prices may be subject to local taxes which are calculated during checkout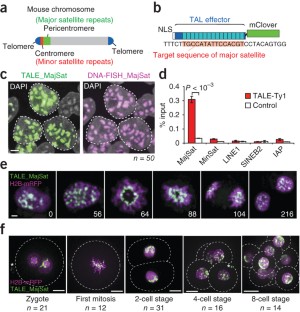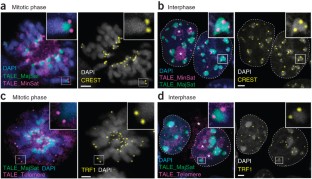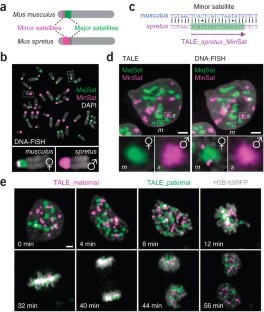 Accession codes
Accessions
GenBank/EMBL/DDBJ
References
Dixon, J.R. et al. Topological domains in mammalian genomes identified by analysis of chromatin interactions. Nature 485, 376–380 (2012).

Misteli, T. Higher-order genome organization in human disease. Cold Spring Harb. Perspect. Biol. 2, a000794 (2010).

Kumaran, R.I., Thakar, R. & Spector, D.L. Chromatin dynamics and gene positioning. Cell 132, 929–934 (2008).

Janicki, S.M. et al. From silencing to gene expression: real-time analysis in single cells. Cell 116, 683–698 (2004).

Archer, T.K., Lefebvre, P., Wolford, R.G. & Hager, G.L. Transcription factor loading on the MMTV promoter: a bimodal mechanism for promoter activation. Science 255, 1573–1576 (1992).

Meister, P., Towbin, B.D., Pike, B.L., Ponti, A. & Gasser, S.M. The spatial dynamics of tissue-specific promoters during C. elegans development. Genes Dev. 24, 766–782 (2010).

Robinett, C.C. et al. In vivo localization of DNA sequences and visualization of large-scale chromatin organization using lac operator/repressor recognition. J. Cell Biol. 135, 1685–1700 (1996).

Boch, J. et al. Breaking the code of DNA binding specificity of TAL-type III effectors. Science 326, 1509–1512 (2009).

Moscou, M.J. & Bogdanove, A.J. A simple cipher governs DNA recognition by TAL effectors. Science 326, 1501 (2009).

Sun, N. & Zhao, H. Transcription activator-like effector nucleases (TALENs): a highly efficient and versatile tool for genome editing. Biotechnol. Bioeng. 110, 1811–1821 (2013).

Zhang, F. et al. Efficient construction of sequence-specific TAL effectors for modulating mammalian transcription. Nat. Biotechnol. 29, 149–153 (2011).

Perez-Pinera, P. et al. Synergistic and tunable human gene activation by combinations of synthetic transcription factors. Nat. Methods 10, 239–242 (2013).

Maeder, M.L. et al. Robust, synergistic regulation of human gene expression using TALE activators. Nat. Methods 10, 243–245 (2013).

Mercer, A.C., Gaj, T., Fuller, R.P. & Barbas, C.F. III. Chimeric TALE recombinases with programmable DNA sequence specificity. Nucleic Acids Res. 40, 11163–11172 (2012).

Santenard, A. et al. Heterochromatin formation in the mouse embryo requires critical residues of the histone variant H3.3. Nat. Cell Biol. 12, 853–862 (2010).

Probst, A.V. et al. A strand-specific burst in transcription of pericentric satellites is required for chromocenter formation and early mouse development. Dev. Cell 19, 625–638 (2010).

Puschendorf, M. et al. PRC1 and Suv39h specify parental asymmetry at constitutive heterochromatin in early mouse embryos. Nat. Genet. 40, 411–420 (2008).

Lam, A.J. et al. Improving FRET dynamic range with bright green and red fluorescent proteins. Nat. Methods 9, 1005–1012 (2012).

Dean, W. et al. Altered imprinted gene methylation and expression in completely ES cell-derived mouse fetuses: association with aberrant phenotypes. Development 125, 2273–2282 (1998).

Keane, T.M. et al. Mouse genomic variation and its effect on phenotypes and gene regulation. Nature 477, 289–294 (2011).

Wong, A.K., Biddle, F.G. & Rattner, J.B. The chromosomal distribution of the major and minor satellite is not conserved in the genus Mus. Chromosoma 99, 190–195 (1990).

Narayanswami, S. et al. Cytological and molecular characterization of centromeres in Mus domesticus and Mus spretus. Mamm. Genome 2, 186–194 (1992).

Matsuda, Y., Manly, K.F. & Chapman, V.M. In situ analysis of centromere segregation in C57BL/6 x Mus spretus interspecific backcrosses. Mamm. Genome 4, 475–480 (1993).

Lindhout, B.I. et al. Live cell imaging of repetitive DNA sequences via GFP-tagged polydactyl zinc finger proteins. Nucleic Acids Res. 35, e107 (2007).

Cermak, T. et al. Efficient design and assembly of custom TALEN and other TAL effector-based constructs for DNA targeting. Nucleic Acids Res. 39, e82 (2011).

Boyer, L.A. et al. Core transcriptional regulatory circuitry in human embryonic stem cells. Cell 122, 947–956 (2005).

Kimura, H., Hayashi-Takanaka, Y., Goto, Y., Takizawa, N. & Nozaki, N. The organization of histone H3 modifications as revealed by a panel of specific monoclonal antibodies. Cell Struct. Funct. 33, 61–73 (2008).

Bolzer, A. et al. Three-dimensional maps of all chromosomes in human male fibroblast nuclei and prometaphase rosettes. PLoS Biol. 3, e157 (2005).

Okamoto, K., Iwano, T., Tachibana, M. & Shinkai, Y. Distinct roles of TRF1 in the regulation of telomere structure and lengthening. J. Biol. Chem. 283, 23981–23988 (2008).

Larkin, M.A. et al. Clustal W and Clustal X version 2.0. Bioinformatics 23, 2947–2948 (2007).

Benson, G. Tandem repeats finder: a program to analyze DNA sequences. Nucleic Acids Res. 27, 573–580 (1999).
Acknowledgements
We thank R. Feil (Institute of Molecular Genetics, University of Montpellier, Montpellier, France) for providing hybrid SF1 ES cells, I. Jackson (Medical Research Council, Edinburgh, UK) and Y. Matsuda (Nagoya University, Nagoya, Japan) for M. spretus genomic DNA, H. Kimura (Osaka University, Osaka, Japan) for anti-H3K9me3 antibody, K. Okamoto (Cancer Chemotherapy Center, Japanese Foundation for Cancer Research, Tokyo, Japan) for anti-TRF1 antibody, A. Sakakibara (Nagoya University School of Medicine, Nagoya, Japan) for the H2B-iRFP construct, K. Yamagata (Osaka University) for pcDNA3.1 H2B-mRFPpA83, C. Ebel (IGBMC, Strasbourg, France) for advice on fluorescence-activated cell sorting, M. Koch (IGBMC) for technical advice on imaging, I. Sumara (IGBMC) and T. Yamamoto (Hiroshima University, Hiroshima, Japan) for helpful discussions, P. Lansdorp (Terry Fox Laboratory, BC Cancer Agency, Vancouver, Canada) for advice on telomere analysis and A. Burton (IGBMC) and A. Boskovic (IGBMC) for critical reading of the manuscript. Y.M. was supported by an European Molecular Biology Organization (EMBO) long-term fellowship (ALTF864-2008, 2009) and a Japan Society for the Promotion of Science postdoctoral fellowship (2010–2011). Work in M.-E.T-P.'s laboratory is funded by Agence Nationale de la Recherche (ANR-09-Blanc-0114), EpiGeneSys Network of Excellence, EMBO Yong Investigator Programme and an European Research Council Starting Grant (ERC-Stg 'NuclearPotency').
Ethics declarations
Competing interests
The authors declare no competing financial interests.
Integrated supplementary information
Supplementary information
About this article
Cite this article
Miyanari, Y., Ziegler-Birling, C. & Torres-Padilla, ME. Live visualization of chromatin dynamics with fluorescent TALEs. Nat Struct Mol Biol 20, 1321–1324 (2013). https://doi.org/10.1038/nsmb.2680
Received:

Accepted:

Published:

Issue Date:

DOI: https://doi.org/10.1038/nsmb.2680