Abstract
Nucleosomes with histone H3 replaced by CENP-A direct kinetochore assembly. CENP-A nucleosomes from human and Drosophila have been reported to have reduced heights as compared to canonical octameric H3 nucleosomes, thus suggesting a unique tetrameric hemisomal composition. We demonstrate that octameric CENP-A nucleosomes assembled in vitro exhibit reduced heights, indicating that they are physically distinct from H3 nucleosomes and negating the need to invoke the presence of hemisomes.
Relevant articles
Open Access articles citing this article.
David Winogradoff

,

Haiqing Zhao

…

Garegin A. Papoian

Scientific Reports Open Access 25 November 2015
Access options
Subscribe to Journal
Get full journal access for 1 year
$99.00
only $8.25 per issue
All prices are NET prices.
VAT will be added later in the checkout.
Tax calculation will be finalised during checkout.
Buy article
Get time limited or full article access on ReadCube.
$32.00
All prices are NET prices.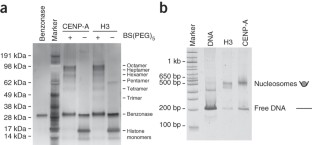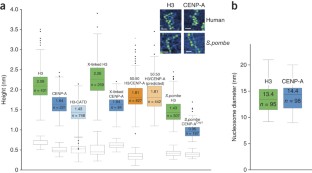 References
Luger, K., Mäder, A.W., Richmond, R.K., Sargent, D.F. & Richmond, T.J. Nature 389, 251–260 (1997).

Voullaire, L.E., Slater, H.R., Petrovic, V. & Choo, K.H. Am. J. Hum. Genet. 52, 1153–1163 (1993).

Dimitriadis, E.K., Weber, C., Gill, R.K., Diekmann, S. & Dalal, Y. Proc. Natl. Acad. Sci. USA 107, 20317–20322 (2010).

Dalal, Y., Wang, H., Lindsay, S. & Henikoff, S. PLoS Biol. 5, e218 (2007).

Bui, M. et al. Cell 150, 317–326 (2012).

Luger, K., Rechsteiner, T.J. & Richmond, T.J. Methods Mol. Biol. 119, 1–16 (1999).

Huynh, V.A.T., Robinson, P.J.J. & Rhodes, D. J. Mol. Biol. 345, 957–968 (2005).

Camahort, R. et al. Mol. Cell 35, 794–805 (2009).

Tachiwana, H. et al. Nature 476, 232–235 (2011).

Panchenko, T. et al. Proc. Natl. Acad. Sci. USA 108, 16588–16593 (2011).

Hasson et al. advance online publication, doi:10.1038/nsmb.2562 (5 May 2013).10.1038/nsmb.2562

Bussiek, M., Müller, G., Waldeck, W., Diekmann, S. & Langowski, J. Eur. Biophys. J. 37, 81–93 (2007).

Black, B.E. et al. Nature 430, 578–582 (2004).

Conde e Silva, N. et al. J. Mol. Biol. 370, 555–573 (2007).

Leuba, S.H., Bustamante, C., Zlatanova, J. & van Holde, K. Biophys. J. 74, 2823–2829 (1998).

Black, B.E., Brock, M.A., Bédard, S., Woods, V.L. & Cleveland, D.W. Proc. Natl. Acad. Sci. USA 104, 5008–5013 (2007).

Zhang, W., Colmenares, S.U. & Karpen, G.H. Mol. Cell 45, 263–269 (2012).

Shevchenko, A., Tomas, H., Havlis, J., Olsen, J.V. & Mann, M. Nat. Protoc. 1, 2856–2860 (2006).

Rappsilber, J., Ishihama, Y. & Mann, M. Anal. Chem. 75, 663–670 (2003).

Lyubchenko, Y.L. & Shlyakhtenko, L.S. Methods 47, 206–213 (2009).
Acknowledgements
The authors acknowledge A. Kerr for performing statistical analysis on AFM data and M. Barrios-Llerena for performing MS analyses. The authors thank B.E. Black (University of Pennsylvania, Philadelphia, Pennsylvania, USA) for sharing results prior to publication. AFM was enabled by the Bioimaging Small Research Facility, School of Engineering, University of Edinburgh. The Wellcome Trust supported the work of R.C.A. (095021 and 065061), J.R. (084229) and T.O.-H. (095062) and the Edinburgh Protein Production Facility (081287). Work in the Wellcome Trust Centre for Cell Biology is supported by the Wellcome Trust core funding (092076). M.D.D.M. was supported by a Scottish University Life Sciences Alliance Prize studentship. A.F.S. was supported by the US National Institutes of Health (R01 GM074728), C.J.F. by the Stanford Lieberman Fellowship and A.G. by the German Research Foundation. R.C.A. was supported as a Wellcome Trust Principal Fellow.
Ethics declarations
Competing interests
The authors declare no competing financial interests.
Supplementary information
About this article
Cite this article
Miell, M., Fuller, C., Guse, A. et al. CENP-A confers a reduction in height on octameric nucleosomes. Nat Struct Mol Biol 20, 763–765 (2013). https://doi.org/10.1038/nsmb.2574
Received:

Accepted:

Published:

Issue Date:

DOI: https://doi.org/10.1038/nsmb.2574