Abstract
The evolutionarily conserved shelterin complex has been shown to play both positive and negative roles in telomerase regulation in mammals and fission yeast. Although shelterin prevents the checkpoint kinases ATM and ATR from fully activating DNA damage responses at telomeres in mammalian cells, those kinases also promote telomere maintenance. In fission yeast, cells lacking both Tel1 (ATM ortholog) and Rad3 (ATR ortholog) fail to recruit telomerase to telomeres and survive by circularizing chromosomes. However, the critical telomere substrate(s) of Tel1ATM and Rad3ATR was unknown. Here we show that phosphorylation of the shelterin subunit Ccq1 on Thr93, redundantly mediated by Tel1ATM and/or Rad3ATR, is essential for telomerase association with telomeres. In addition, we show that the telomerase subunit Est1 interacts directly with the phosphorylated Thr93 of Ccq1 to ensure telomere maintenance. The shelterin subunits Taz1, Rap1 and Poz1 (previously established inhibitors of telomerase) were also found to negatively regulate Ccq1 phosphorylation. These findings establish Tel1ATM/Rad3ATR-dependent Ccq1 Thr93 phosphorylation as a critical regulator of telomere maintenance in fission yeast.
Access options
Subscribe to this journal
Receive 12 print issues and online access
$189.00 per year
only $15.75 per issue
Rent or buy this article
Prices vary by article type
from$1.95
to$39.95
Prices may be subject to local taxes which are calculated during checkout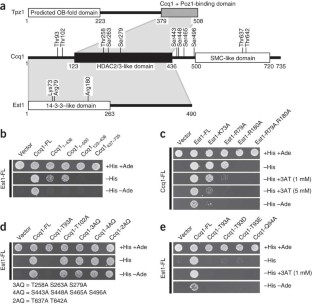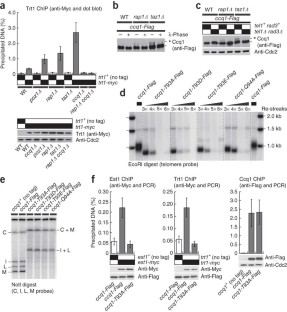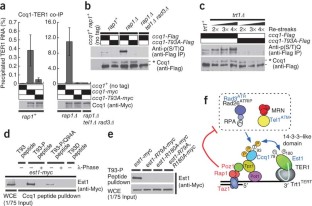 Similar content being viewed by others
References
Lansdorp, P.M. Telomeres and disease. EMBO J. 28, 2532–2540 (2009).

Palm, W. & de Lange, T. How shelterin protects mammalian telomeres. Annu. Rev. Genet. 42, 301–334 (2008).

Miyoshi, T., Kanoh, J., Saito, M. & Ishikawa, F. Fission yeast Pot1-Tpp1 protects telomeres and regulates telomere length. Science 320, 1341–1344 (2008).

Flory, M.R., Carson, A.R., Muller, E.G. & Aebersold, R. An SMC-domain protein in fission yeast links telomeres to the meiotic centrosome. Mol. Cell 16, 619–630 (2004).

Tomita, K. & Cooper, J.P. Fission yeast Ccq1 is telomerase recruiter and local checkpoint controller. Genes Dev. 22, 3461–3474 (2008).

Denchi, E.L. & de Lange, T. Protection of telomeres through independent control of ATM and ATR by TRF2 and POT1. Nature 448, 1068–1071 (2007).

Verdun, R.E. & Karlseder, J. The DNA damage machinery and homologous recombination pathway act consecutively to protect human telomeres. Cell 127, 709–720 (2006).

Moser, B.A. et al. Differential arrival of leading and lagging strand DNA polymerases at fission yeast telomeres. EMBO J. 28, 810–820 (2009).

Sabourin, M. & Zakian, V.A. ATM-like kinases and regulation of telomerase: lessons from yeast and mammals. Trends Cell Biol. 18, 337–346 (2008).

Naito, T., Matsuura, A. & Ishikawa, F. Circular chromosome formation in a fission yeast mutant defective in two ATM homologues. Nat. Genet. 20, 203–206 (1998).

Moser, B.A., Subramanian, L., Khair, L., Chang, Y.T. & Nakamura, T.M. Fission yeast Tel1ATM and Rad3ATR promote telomere protection and telomerase recruitment. PLoS Genet. 5, e1000622 (2009).

Beernink, H.T., Miller, K., Deshpande, A., Bucher, P. & Cooper, J.P. Telomere maintenance in fission yeast requires an Est1 ortholog. Curr. Biol. 13, 575–580 (2003).

Fukuhara, N. et al. SMG7 is a 14-3-3-like adaptor in the nonsense-mediated mRNA decay pathway. Mol. Cell 17, 537–547 (2005).

Cooper, J.P., Nimmo, E.R., Allshire, R.C. & Cech, T.R. Regulation of telomere length and function by a Myb-domain protein in fission yeast. Nature 385, 744–747 (1997).

Kanoh, J. & Ishikawa, F. spRap1 and spRif1, recruited to telomeres by Taz1, are essential for telomere function in fission yeast. Curr. Biol. 11, 1624–1630 (2001).

Chikashige, Y. & Hiraoka, Y. Telomere binding of the Rap1 protein is required for meiosis in fission yeast. Curr. Biol. 11, 1618–1623 (2001).

Snow, B.E. et al. Functional conservation of the telomerase protein Est1p in humans. Curr. Biol. 13, 698–704 (2003).

Reichenbach, P. et al. A human homolog of yeast Est1 associates with telomerase and uncaps chromosome ends when overexpressed. Curr. Biol. 13, 568–574 (2003).

Redon, S., Reichenbach, P. & Lingner, J. Protein RNA and protein protein interactions mediate association of human EST1A/SMG6 with telomerase. Nucleic Acids Res. 35, 7011–7022 (2007).

Nakamura, T.M., Cooper, J.P. & Cech, T.R. Two modes of survival of fission yeast without telomerase. Science 282, 493–496 (1998).

Matsuoka, S. et al. ATM and ATR substrate analysis reveals extensive protein networks responsive to DNA damage. Science 316, 1160–1166 (2007).

Sugiyama, T. et al. SHREC, an effector complex for heterochromatic transcriptional silencing. Cell 128, 491–504 (2007).

Tomaska, L., Willcox, S., Slezakova, J., Nosek, J. & Griffith, J.D. Taz1 binding to a fission yeast model telomere: formation of telomeric loops and higher order structures. J. Biol. Chem. 279, 50764–50772 (2004).

Miller, K.M., Rog, O. & Cooper, J.P. Semi-conservative DNA replication through telomeres requires Taz1. Nature 440, 824–828 (2006).

Carneiro, T. et al. Telomeres avoid end detection by severing the checkpoint signal transduction pathway. Nature 467, 228–232 (2010).

Bianchi, A. & Shore, D. Increased association of telomerase with short telomeres in yeast. Genes Dev. 21, 1726–1730 (2007).

Hector, R.E. et al. Tel1p preferentially associates with short telomeres to stimulate their elongation. Mol. Cell 27, 851–858 (2007).

Sabourin, M., Tuzon, C.T. & Zakian, V.A. Telomerase and Tel1p preferentially associate with short telomeres in S. cerevisiae. Mol. Cell 27, 550–561 (2007).

Nakamura, T.M., Moser, B.A. & Russell, P. Telomere binding of checkpoint sensor and DNA repair proteins contributes to maintenance of functional fission yeast telomeres. Genetics 161, 1437–1452 (2002).

Tseng, S.F., Lin, J.J. & Teng, S.C. The telomerase-recruitment domain of the telomere binding protein Cdc13 is regulated by Mec1p/Tel1p-dependent phosphorylation. Nucleic Acids Res. 34, 6327–6336 (2006).

Gao, H. et al. Telomerase recruitment in Saccharomyces cerevisiae is not dependent on Tel1-mediated phosphorylation of Cdc13. Genetics 186, 1147–1159 (2010).

Sfeir, A. et al. Mammalian telomeres resemble fragile sites and require TRF1 for efficient replication. Cell 138, 90–103 (2009).

Martinez, P. et al. Increased telomere fragility and fusions resulting from TRF1 deficiency lead to degenerative pathologies and increased cancer in mice. Genes Dev. 23, 2060–2075 (2009).

Xin, H. et al. TPP1 is a homologue of ciliate TEBP-β and interacts with POT1 to recruit telomerase. Nature 445, 559–562 (2007).

Abreu, E. et al. TIN2-tethered TPP1 recruits human telomerase to telomeres in vivo. Mol. Cell. Biol. 30, 2971–2982 (2010).

Tejera, A.M. et al. TPP1 is required for TERT recruitment, telomere elongation during nuclear reprogramming, and normal skin development in mice. Dev. Cell 18, 775–789 (2010).

Alfa, C., Fantes, P., Hyams, J., McLoed, M. & Warbrick, E. Experiments with Fission Yeast: A Laboratory Course Manual (Cold Spring Harbor Laboratory Press, Cold Spring Harbor, New York, USA, 1993).

Amberg, D.C., Burke, D.J. & Strathern, J.N. Methods in Yeast Genetics: A Cold Spring Harbor Laboratory Course Manual (Cold Spring Harbor Laboratory Press, Cold Spring Harbor, New York, USA, 2005).

Bähler, J. et al. Heterologous modules for efficient and versatile PCR-based gene targeting in Schizosaccharomyces pombe. Yeast 14, 943–951 (1998).

Krawchuk, M.D. & Wahls, W.P. High-efficiency gene targeting in Schizosaccharomyces pombe using a modular, PCR-based approach with long tracts of flanking homology. Yeast 15, 1419–1427 (1999).

Khair, L., Subramanian, L., Moser, B.A. & Nakamura, T.M. Roles of heterochromatin and telomere proteins in regulation of fission yeast telomere recombination and telomerase recruitment. J. Biol. Chem. 285, 5327–5337 (2009).

Nimmo, E.R., Pidoux, A.L., Perry, P.E. & Allshire, R.C. Defective meiosis in telomere-silencing mutants of Schizosaccharomyces pombe. Nature 392, 825–828 (1998).

Lopez-Girona, A. et al. Serine-345 is required for Rad3-dependent phosphorylation and function of checkpoint kinase Chk1 in fission yeast. Proc. Natl. Acad. Sci. USA 98, 11289–11294 (2001).
Acknowledgements
We thank F. Ishikawa (Kyoto University), J.P. Cooper (Cancer Research UK), M.R. Flory (Mendel Biotechnology, Inc.), V.A. Zakian (Princeton University), A.M. Carr (University of Sussex) and P. Russell (The Scripps Research Institute) for sharing published strains and plasmids, L. Khair for her initial efforts to generate yeast strains and reagents used in this study, and P. Baumann (Stowers Institute) for generously sharing his unpublished anti-Ccq1 antibody. We also thank F. Ishikawa for communicating unpublished results. J.K. was supported in part by the Federal Work-Study program. This work was supported by US National Institutes of Health grant GM078253 (T.M.N.).
Ethics declarations
Competing interests
The authors declare no competing financial interests.
Supplementary information
About this article
Cite this article
Moser, B., Chang, YT., Kosti, J. et al. Tel1ATM and Rad3ATR kinases promote Ccq1-Est1 interaction to maintain telomeres in fission yeast. Nat Struct Mol Biol 18, 1408–1413 (2011). https://doi.org/10.1038/nsmb.2187
Received:

Accepted:

Published:

Issue Date:

DOI: https://doi.org/10.1038/nsmb.2187