Abstract
We developed a general approach that combines chromosome conformation capture carbon copy (5C) with the Integrated Modeling Platform (IMP) to generate high-resolution three-dimensional models of chromatin at the megabase scale. We applied this approach to the ENm008 domain on human chromosome 16, containing the α-globin locus, which is expressed in K562 cells and silenced in lymphoblastoid cells (GM12878). The models accurately reproduce the known looping interactions between the α-globin genes and their distal regulatory elements. Further, we find using our approach that the domain folds into a single globular conformation in GM12878 cells, whereas two globules are formed in K562 cells. The central cores of these globules are enriched for transcribed genes, whereas nontranscribed chromatin is more peripheral. We propose that globule formation represents a higher-order folding state related to clustering of transcribed genes around shared transcription machineries, as previously observed by microscopy.
Access options
Subscribe to Journal
Get full journal access for 1 year
$99.00
only $8.25 per issue
All prices are NET prices.
VAT will be added later in the checkout.
Tax calculation will be finalised during checkout.
Rent or Buy article
Get time limited or full article access on ReadCube.
from$8.99
All prices are NET prices.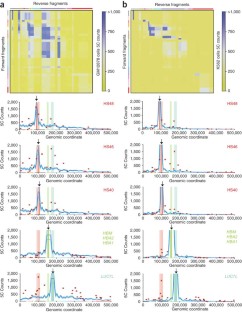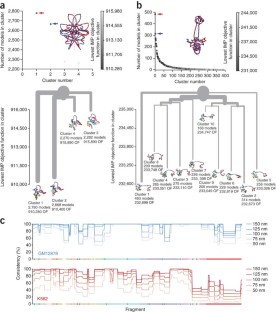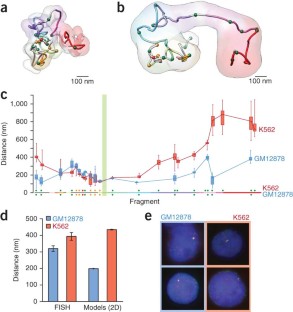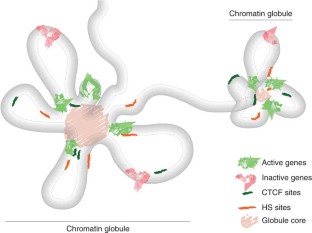 References
1

Birney, E. et al. Identification and analysis of functional elements in 1% of the human genome by the ENCODE pilot project. Nature 447, 799–816 (2007).

2

Lamond, A.I. & Spector, D.L. Nuclear speckles: a model for nuclear organelles. Nat. Rev. Mol. Cell Biol. 4, 605–612 (2003).

3

Misteli, T. Beyond the sequence: cellular organization of genome function. Cell 128, 787–800 (2007).

4

Fraser, P. Transcriptional control thrown for a loop. Curr. Opin. Genet. Dev. 16, 490–495 (2006).

5

de Laat, W. & Grosveld, F. Spatial organization of gene expression: the active chromatin hub. Chromosome Res. 11, 447–459 (2003).

6

Fraser, P. & Bickmore, W. Nuclear organization of the genome and the potential for gene regulation. Nature 447, 413–417 (2007).

7

Dekker, J. Gene regulation in the third dimension. Science 319, 1793–1794 (2008).

8

Dekker, J., Rippe, K., Dekker, M. & Kleckner, N. Capturing chromosome conformation. Science 295, 1306–1311 (2002).

9

Dostie, J. et al. Chromosome Conformation Capture Carbon Copy (5C): a massively parallel solution for mapping interactions between genomic elements. Genome Res. 16, 1299–1309 (2006).

10

Simonis, M. et al. Nuclear organization of active and inactive chromatin domains uncovered by chromosome conformation capture-on-chip (4C). Nat. Genet. 38, 1348–1354 (2006).

11

Zhao, Z. et al. Circular chromosome conformation capture (4C) uncovers extensive networks of epigenetically regulated intra- and interchromosomal interactions. Nat. Genet. 38, 1341–1347 (2006).

12

Lieberman-Aiden, E. et al. Comprehensive mapping of long-range interactions reveals folding principles of the human genome. Science 326, 289–293 (2009).

13

Phillips, J.E. & Corces, V.G. CTCF: master weaver of the genome. Cell 137, 1194–1211 (2009).

14

Tolhuis, B., Palstra, R.J., Splinter, E., Grosveld, F. & de Laat, W. Looping and interaction between hypersensitive sites in the active beta-globin locus. Mol. Cell 10, 1453–1465 (2002).

15

Zhou, G.L. et al. Active chromatin hub of the mouse alpha-globin locus forms in a transcription factory of clustered housekeeping genes. Mol. Cell. Biol. 26, 5096–5105 (2006).

16

Murrell, A., Heeson, S. & Reik, W. Interaction between differentially methylated regions partitions the imprinted genes Igf2 and H19 into parent-specific chromatin loops. Nat. Genet. 36, 889–893 (2004).

17

Ohlsson, R. & Gondor, A. The 4C technique: the ′Rosetta stone′ for genome biology in 3D? Curr. Opin. Cell Biol. 19, 321–325 (2007).

18

Mateos-Langerak, J. et al. Spatially confined folding of chromatin in the interphase nucleus. Proc. Natl. Acad. Sci. USA 106, 3812–3817 (2009).

19

Wedemann, G. & Langowski, J. Computer simulation of the 30-nanometer chromatin fiber. Biophys. J. 82, 2847–2859 (2002).

20

Dekker, J. Mapping in vivo chromatin interactions in yeast suggests an extended chromatin fiber with regional variation in compaction. J. Biol. Chem. 283, 34532–34540 (2008).

21

Wachsmuth, M., Caudron-Herger, M. & Rippe, K. Genome organization: balancing stability and plasticity. Biochim. Biophys. Acta 1783, 2061–2079 (2008).

22

Jhunjhunwala, S. et al. The 3D structure of the immunoglobulin heavy-chain locus: implications for long-range genomic interactions. Cell 133, 265–279 (2008).

23

Fraser, J. et al. Chromatin conformation signatures of cellular differentiation. Genome Biol. 10, R37 (2009).

24

Duan, Z. et al. A three-dimensional model of the yeast genome. Nature 465, 363–367 (2010).

25

Alber, F. et al. Determining the architectures of macromolecular assemblies. Nature 450, 683–694 (2007).

26

Hughes, J.R. et al. Annotation of cis-regulatory elements by identification, subclassification, and functional assessment of multispecies conserved sequences. Proc. Natl. Acad. Sci. USA 102, 9830–9835 (2005).

27

Higgs, D.R., Vernimmen, D., Hughes, J. & Gibbons, R. Using genomics to study how chromatin influences gene expression. Annu. Rev. Genomics Hum. Genet. 8, 299–325 (2007).

28

Higgs, D.R. & Wood, W.G. Long-range regulation of alpha globin gene expression during erythropoiesis. Curr. Opin. Hematol. 15, 176–183 (2008).

29

Lower, K.M. et al. Adventitious changes in long-range gene expression caused by polymorphic structural variation and promoter competition. Proc. Natl. Acad. Sci. USA 106, 21771–21776 (2009).

30

Vernimmen, D., De Gobbi, M., Sloane-Stanley, J.A., Wood, W.G. & Higgs, D.R. Long-range chromosomal interactions regulate the timing of the transition between poised and active gene expression. EMBO J. 26, 2041–2051 (2007).

31

Higgs, D.R. et al. A major positive regulatory region located far upstream of the human alpha-globin gene locus. Genes Dev. 4, 1588–1601 (1990).

32

Chen, H., Lowrey, C.H. & Stamatoyannopoulos, G. Analysis of enhancer function of the HS-40 core sequence of the human alpha-globin cluster. Nucleic Acids Res. 25, 2917–2922 (1997).

33

Bernet, A. et al. Targeted inactivation of the major positive regulatory element (HS-40) of the human alpha-globin gene locus. Blood 86, 1202–1211 (1995).

34

De Gobbi, M. et al. Tissue-specific histone modification and transcription factor binding in alpha globin gene expression. Blood 110, 4503–4510 (2007).

35

Dostie, J. & Dekker, J. Mapping networks of physical interactions between genomic elements using 5C technology. Nat. Protoc. 2, 988–1002 (2007).

36

Lajoie, B.R., van Berkum, N.L., Sanyal, A. & Dekker, J. My5C: web tools for chromosome conformation capture studies. Nat. Methods 6, 690–691 (2009).

37

Dekker, J. The three 'C' s of chromosome conformation capture: controls, controls, controls. Nat. Methods 3, 17–21 (2006).

38

Gerchman, S.E. & Ramakrishnan, V. Chromatin higher-order structure studied by neutron scattering and scanning transmission electron microscopy. Proc. Natl. Acad. Sci. USA 84, 7802–7806 (1987).

39

Rosa, A., Becker, N.B. & Everaers, R. Looping probabilities in model interphase chromosomes. Biophys. J. 98, 2410–2419 (2010).

40

Voss, T.C. & Hager, G.L. Visualizing chromatin dynamics in intact cells. Biochim. Biophys. Acta 1783, 2044–2051 (2008).

41

Lawrence, J.B., Singer, R.H. & McNeil, J.A. Interphase and metaphase resolution of different distances within the human dystrophin gene. Science 249, 928–932 (1990).

42

Kuhn, R.M. et al. The UCSC Genome Browser Database: update 2009. Nucleic Acids Res. 37, D755–D761 (2009).

43

Osborne, C.S. et al. Myc dynamically and preferentially relocates to a transcription factory occupied by Igh. PLoS Biol. 5, e192 (2007).

44

Münkel, C. et al. Compartmentalization of interphase chromosomes observed in simulation and experiment. J. Mol. Biol. 285, 1053–1065 (1999).

45

Müller, W.G. et al. Generic features of tertiary chromatin structure as detected in natural chromosomes. Mol. Cell. Biol. 24, 9359–9370 (2004).

46

Martin, S. & Pombo, A. Transcription factories: quantitative studies of nanostructures in the mammalian nucleus. Chromosome Res. 11, 461–470 (2003).

47

Sutherland, H. & Bickmore, W.A. Transcription factories: gene expression in unions? Nat. Rev. Genet. 10, 457–466 (2009).

48

Iborra, F.J., Pombo, A., Jackson, D.A. & Cook, P.R. Active RNA polymerases are localized within discrete transcription 'factories' in human nuclei. J. Cell Sci. 109, 1427–1436 (1996).

49

Pombo, A. et al. Regional specialization in human nuclei: visualization of discrete sites of transcription by RNA polymerase III. EMBO J. 18, 2241–2253 (1999).

50

Eskiw, C.H., Rapp, A., Carter, D.R. & Cook, P.R. RNA polymerase II activity is located on the surface of protein-rich transcription factories. J. Cell Sci. 121, 1999–2007 (2008).

51

Carter, D.R., Eskiw, C. & Cook, P.R. Transcription factories. Biochem. Soc. Trans. 36, 585–589 (2008).

52

Goetze, S. et al. The 3D structure of human interphase chromosomes is related to the transcriptome map. Mol. Cell. Biol. 27, 4475–4487 (2007).

53

Hu, Y., Kireev, I., Plutz, M., Ashourian, N. & Belmont, A.S. Large-scale chromatin structure of inducible genes: transcription on a condensed, linear template. J. Cell Biol. 185, 87–100 (2009).

54

Boeger, H., Griesenbeck, J. & Kornberg, R.D. Nucleosome retention and the stochastic nature of promoter chromatin remodeling for transcription. Cell 133, 716–726 (2008).

55

Gheldof, N., Tabuchi, T.M. & Dekker, J. The active FMR1 promoter is associated with a large domain of altered chromatin conformation with embedded local histone modifications. Proc. Natl. Acad. Sci. USA 103, 12463–12468 (2006).

56

Xi, H. et al. Identification and characterization of cell type-specific and ubiquitous chromatin regulatory structures in the human genome. PLoS Genet. 3, e136 (2007).

57

Crawford, G.E. et al. DNase-chip: a high-resolution method to identify DNase I hypersensitive sites using tiled microarrays. Nat. Methods 3, 503–509 (2006).

58

Harrow, J. et al. GENCODE: producing a reference annotation for ENCODE. Genome Biol 7 (Suppl. 1), S4 (2006).

59

Tam, R., Shopland, L.S., Johnson, C.V., McNeil, J. & Lawrence, J.B. Applications of RNA FISH for visualizing gene expression and nuclear architecture in FISH: A Practical Approach (eds. Beatty, B.G., Mai, S. & Squire, J.) 93–118 (Oxford University Press, New York, 2002).

60

Pettersen, E.F. et al. UCSF Chimera—a visualization system for exploratory research and analysis. J. Comput. Chem. 25, 1605–1612 (2004).
Acknowledgements
We thank the IMP community (http://www.integrativemodeling.org), especially D. Russell, B. Webb and A. Sali, as well as the Chimera developers (http://www.cgl.ucsf.edu/chimera/), especially T. Goddard and T. Ferrin. We also thank M. Umbarger, M. Wright, G. Church, M.S. Madhusudhan, M. Walhout and Dekker laboratory members for fruitful discussions. We acknowledge support from the Spanish Ministerio de Ciencia e Innovación (BIO2007/66670 and BFU2010/19310 to M.A.M.-R.), the US National Institutes of Health (NIH; HG003143 to J.D. and GM053234 to J.B.L.) and the Keck Foundation (J.D.). Finally, we are grateful to the ENCODE project (funded by the NIH and the US National Human Genome Research Institute) for providing annotations of the ENm008 region. In particular, we thank the ENCODE groups led by T. Gingeras (expression data, Cold Spring Harbor Laboratory), G. Crawford (DNase I data, Duke University) and B. Bernstein (CTCF data, H3K4me3 data, Broad Institute of Harvard and MIT). ENCODE data are publicly available through the ENCODE Data Coordination Center at the University of California, Santa Cruz (http://genome.ucsc.edu/ENCODE/).
Ethics declarations
Competing interests
The authors declare no competing financial interests.
Supplementary information
About this article
Cite this article
Baù, D., Sanyal, A., Lajoie, B. et al. The three-dimensional folding of the α-globin gene domain reveals formation of chromatin globules. Nat Struct Mol Biol 18, 107–114 (2011). https://doi.org/10.1038/nsmb.1936
Received:

Accepted:

Published:

Issue Date: