Abstract
The regulation of mitochondrial DNA (mtDNA) processes is slowly being characterized at a structural level. We present here crystal structures of human mitochondrial regulator mTERF, a transcription termination factor also implicated in replication pausing, in complex with double-stranded DNA oligonucleotides containing the tRNALeuUUR gene sequence. mTERF comprises nine left-handed helical tandem repeats that form a left-handed superhelix, the Zurdo domain.
Relevant articles
Open Access articles citing this article.
Man Wang

,

Feng Zhou

…

Qun Yu Zhang

BMC Plant Biology Open Access 06 September 2021
Access options
Subscribe to Journal
Get full journal access for 1 year
$99.00
only $8.25 per issue
All prices are NET prices.
VAT will be added later in the checkout.
Tax calculation will be finalised during checkout.
Buy article
Get time limited or full article access on ReadCube.
$32.00
All prices are NET prices.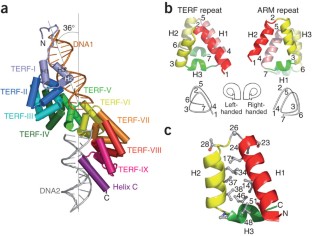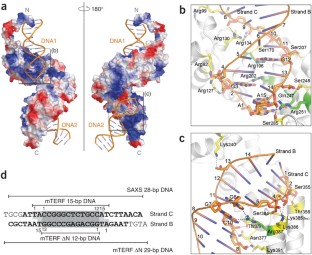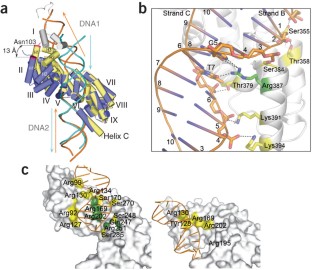 References
Martin, M., Cho, J., Cesare, A.J., Griffith, J.D. & Attardi, G. Cell 123, 1227–1240 (2005).

Hyvarinen, A.K. et al. Nucleic Acids Res. 35, 6458–6474 (2007).

Fernandez-Silva, P., Martinez-Azorin, F., Micol, V. & Attardi, G. EMBO J. 16, 1066–1079 (1997).

Linder, T. et al. Curr. Genet. 48, 265–269 (2005).

Roberti, M., Bruni, F., Polosa, P.L., Gadaleta, M.N. & Cantatore, P. Nucleic Acids Res. 34, 2109–2116 (2006).

Roberti, M. et al. Biochim. Biophys. Acta 1787, 303–311 (2009).

Conti, E., Uy, M., Leighton, L., Blobel, G. & Kuriyan, J. Cell 94, 193–204 (1998).

Huber, A.H. & Weis, W.I. Cell 105, 391–402 (2001).

Wang, X., McLachlan, J., Zamore, P.D. & Hall, T.M. Cell 110, 501–512 (2002).

Sibanda, B.L., Chirgadze, D.Y. & Blundell, T.L. Nature 463, 118–121 (2010).

Bailey, S. et al. J. Biol. Chem. 278, 15304–15312 (2003).

Kazmirski, S.L., Podobnik, M., Weitze, T.F., O'Donnell, M. & Kuriyan, J. Proc. Natl. Acad. Sci. USA 101, 16750–16755 (2004).

Kruse, B., Narasimhan, N. & Attardi, G. Cell 58, 391–397 (1989).

Shang, J. & Clayton, D.A. J. Biol. Chem. 269, 29112–29120 (1994).

Wu, H.M. & Crothers, D.M. Nature 308, 509–513 (1984).

Smid, A., Finsterer, M. & Grummt, I. J. Mol. Biol. 227, 635–647 (1992).
Acknowledgements
We acknowledge J. Colom for help during protein purification, G.M. Sheldrick for in-house data collection and S. Brockhauser for help with minikappa. This study was supported by the Spanish Ministerio de Ciencia e Innovación (grants BFU2006-09593, BFU2009-07134, BIO2009-10576, BFU2008-02372, FIS-PI070045), Generalitat de Catalunya (SGR2009-1366 and SGR2009-1309) and the European Community (LSHG-2006-031220). A.R.-C. and P.F.-M. hold fellowships from CSIC and the Ministerio de Ciencia e Innovación. P.B. holds a Ramon y Cajal contract. We acknowledge the Academy of Finland, Tampere University Hospital Medical Research Fund and Sigrid Juselius Foundation. We are grateful to European Molecular Biology Laboratory—Grenoble Outstation, the European Synchrotron Radiation Facility and the Automated Crystallography Platform (Barcelona Science Park) for their support.
Ethics declarations
Competing interests
The authors declare no competing financial interests.
Supplementary information
Supplementary Figures 1–3, Supplementary Table 1 and Supplementary Methods (PDF 1161 kb)
About this article
Cite this article
Jiménez-Menéndez, N., Fernández-Millán, P., Rubio-Cosials, A. et al. Human mitochondrial mTERF wraps around DNA through a left-handed superhelical tandem repeat. Nat Struct Mol Biol 17, 891–893 (2010). https://doi.org/10.1038/nsmb.1859
Received:

Accepted:

Published:

Issue Date:

DOI: https://doi.org/10.1038/nsmb.1859