Abstract
Abscisic acid (ABA) is an important phytohormone that regulates plant stress responses. Proteins from the PYR-PYL-RCAR family were recently identified as ABA receptors. Upon binding to ABA, a PYL protein associates with type 2C protein phosphatases (PP2Cs) such as ABI1 and ABI2, inhibiting their activity; the molecular mechanisms by which PYLs mediate ABA signaling remain unknown, however. Here we report three crystal structures: apo-PYL2, (+)-ABA-bound PYL2 and (+)-ABA-bound PYL1 in complex with phosphatase ABI1. Apo-PYL2 contains a pocket surrounded by four highly conserved surface loops. In response to ABA binding, loop CL2 closes onto the pocket, creating a surface that recognizes ABI1. In the ternary complex, the CL2 loop is located near the active site of ABI1, blocking the entry of substrate proteins. Together, our data reveal the mechanisms by which ABA regulates PYL-mediated inhibition of PP2Cs.
Relevant articles
Open Access articles citing this article.
Guojie Nai

,

Guoping Liang

…

Juan Mao

BMC Plant Biology Open Access 15 July 2022

Jesús Beltrán

,

Paul J. Steiner

…

Timothy A. Whitehead

Nature Biotechnology Open Access 20 June 2022

Jia Zhou

,

Qinli Hu

…

Weiman Xing

Nature Communications Open Access 02 December 2021
Access options
Subscribe to Journal
Get full journal access for 1 year
$99.00
only $8.25 per issue
All prices are NET prices.
VAT will be added later in the checkout.
Tax calculation will be finalised during checkout.
Buy article
Get time limited or full article access on ReadCube.
$32.00
All prices are NET prices.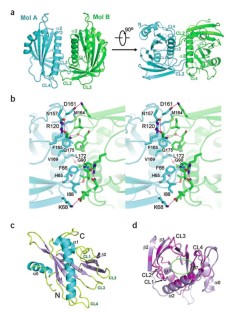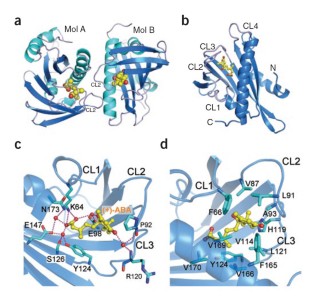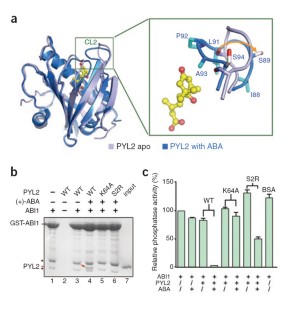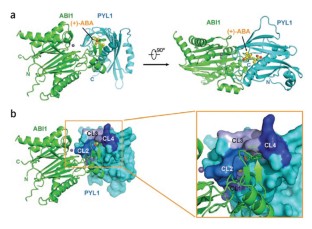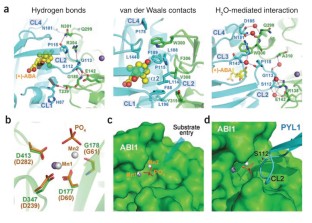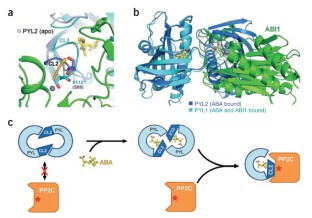 References
Fedoroff, N.V. Cross-talk in abscisic acid signaling. Sci. STKE 2002, RE10 (2002).

Finkelstein, R., Reeves, W., Ariizumi, T. & Steber, C. Molecular aspects of seed dormancy. Annu. Rev. Plant Biol. 59, 387–415 (2008).

Schroeder, J.I. & Nambara, E. A quick release mechanism for abscisic acid. Cell 126, 1023–1025 (2006).

Shen, Y.Y. et al. The Mg-chelatase H subunit is an abscisic acid receptor. Nature 443, 823–826 (2006).

Liu, X. et al. A G protein–coupled receptor is a plasma membrane receptor for the plant hormone abscisic acid. Science 315, 1712–1716 (2007).

Pandey, S., Nelson, D.C. & Assmann, S.M. Two novel GPCR-type G proteins are abscisic acid receptors in Arabidopsis. Cell 136, 136–148 (2009).

McCourt, P. & Creelman, R. The ABA receptors—we report you decide. Curr. Opin. Plant Biol. 11, 474–478 (2008).

Pennisi, E. Plant biology. Stressed out over a stress hormone. Science 324, 1012–1013 (2009).

Ma, Y. et al. Regulators of PP2C phosphatase activity function as abscisic acid sensors. Science 324, 1064–1068 (2009).

Park, S.Y. et al. Abscisic acid inhibits type 2C protein phosphatases via the PYR/PYL family of START proteins. Science 324, 1068–1071 (2009).

van Loon, L.C., Rep, M. & Pieterse, C.M. Significance of inducible defense-related proteins in infected plants. Annu. Rev. Phytopathol. 44, 135–162 (2006).

Iyer, L.M., Koonin, E.V. & Aravind, L. Adaptations of the helix-grip fold for ligand binding and catalysis in the START domain superfamily. Proteins 43, 134–144 (2001).

Allen, G.J., Kuchitsu, K., Chu, S.P., Murata, Y. & Schroeder, J.I. Arabidopsis abi1–1 and abi2–1 phosphatase mutations reduce abscisic acid-induced cytoplasmic calcium rises in guard cells. Plant Cell 11, 1785–1798 (1999).

Yoshida, T. et al. ABA-hypersensitive germination3 encodes a protein phosphatase 2C (AtPP2CA) that strongly regulates abscisic acid signaling during germination among Arabidopsis protein phosphatase 2Cs. Plant Physiol. 140, 115–126 (2006).

Rodriguez, P.L. Protein phosphatase 2C (PP2C) function in higher plants. Plant Mol. Biol. 38, 919–927 (1998).

Nishimura, N. et al. Structural mechanism of abscisic acid binding and signaling by dimeric PYR1. Science published online, 10.1126/science.1181829 (22 October 2009).

Fernandes, H. et al. Lupinus luteus pathogenesis-related protein as a reservoir for cytokinin. J. Mol. Biol. 378, 1040–1051 (2008).

Fernandes, H. et al. Cytokinin-induced structural adaptability of a Lupinus luteus PR-10 protein. FEBS J. 276, 1596–1609 (2009).

Markovic-Housley, Z. et al. Crystal structure of a hypoallergenic isoform of the major birch pollen allergen Bet v 1 and its likely biological function as a plant steroid carrier. J. Mol. Biol. 325, 123–133 (2003).

Pasternak, O. et al. Crystal structure of Vigna radiata cytokinin-specific binding protein in complex with zeatin. Plant Cell 18, 2622–2634 (2006).

Santiago, J. et al. Modulation of drought resistance by the abscisic acid receptor PYL5 through inhibition of clade A PP2Cs. Plant J. published online, 10.1111/j.1365-313X.2009.03981.x (16 July 2009).

Leube, M.P., Grill, E. & Amrhein, N. ABI1 of Arabidopsis is a protein serine/threonine phosphatase highly regulated by the proton and magnesium ion concentration. FEBS Lett. 424, 100–104 (1998).

Shi, Y. Serine/threonine phosphatases: mechanism through structure. Cell 139, 468–484 (2009).

Das, A.K., Helps, N.R., Cohen, P.T. & Barford, D. Crystal structure of the protein serine/threonine phosphatase 2C at 2.0 Å resolution. EMBO J. 15, 6798–6809 (1996).

Schlicker, C. et al. Structural analysis of the PP2C phosphatase tPphA from Thermosynechococcus elongatus: a flexible flap subdomain controls access to the catalytic site. J. Mol. Biol. 376, 570–581 (2008).

Barford, D., Das, A.K. & Egloff, M.P. The structure and mechanism of protein phosphatases: insights into catalysis and regulation. Annu. Rev. Biophys. Biomol. Struct. 27, 133–164 (1998).

Miyazono, K. et al. Structural basis of abscisic acid signalling. Nature advance online publication, 10.1038/nature08583 (23 October 2009).

Kabsch, W. Evaluation of single-crystal X-ray diffraction data from a position-sensitive detector. J. Appl. Crystallogr. 21, 916–924 (1988).

Otwinowski, Z. & Minor, W. Processing of X-ray diffraction data collected in oscillation mode. Methods Enzymol. 276, 307–326 (1997).

Collaborative Computational Project. The CCP4 suite: programs for protein crystallography. Acta Crystallogr. D50, 760–763 (1994).

Schneider, T.R. & Sheldrick, G.M. Substructure solution with SHELXD. Acta Crystallogr. D Biol. Crystallogr. 58, 1772–1779 (2002).

McCoy, A.J. et al. Phaser crystallographic software. J. Appl. Crystallogr. 40, 658–674 (2007).

Cowtan, K. DM: An automated procedure for phase improvement by density modification. Joint CCP4 ESF-EACBM Newslett. Protein Crystallography 31, 34–38 (1994).

Cowtan, K. The Buccaneer software for automated model building. Acta Crystallogr. D 62, 1002–1011 (2006).

Emsley, P. & Cowtan, K. Coot: model-building tools for molecular graphics. Acta Crystallogr. D Biol. Crystallogr. 60, 2126–2132 (2004).

Adams, P.D. et al. PHENIX: building new software for automated crystallographic structure determination. Acta Crystallogr. D Biol. Crystallogr. 58, 1948–1954 (2002).
Acknowledgements
We thank D. Zhang for providing the A. thaliana cDNA library; N. Shimizu, S. Baba and T. Kumasaka at the Spring-8 beamline BL41XU for on-site assistance; J. He and S. Huang for crystal screening at Shanghai Synchrotron Radiation Facility (SSRF); and Y. Shi for critical reading of the manuscript. This work was supported by funds from the China Ministry of Science and Technology (grant 2009CB918802), Tsinghua University 985 Phase II funds, Yuyuan Foundation and Li's Foundation.
Supplementary information
About this article
Cite this article
Yin, P., Fan, H., Hao, Q. et al. Structural insights into the mechanism of abscisic acid signaling by PYL proteins. Nat Struct Mol Biol 16, 1230–1236 (2009). https://doi.org/10.1038/nsmb.1730
Received:

Accepted:

Published:

Issue Date:

DOI: https://doi.org/10.1038/nsmb.1730