Abstract
To locate key RNA features in the structure of the spliceosome by EM, we fused a sequence-specific RNA binding protein to a protein with a distinct donut-shaped structure. We used this fusion to label spliceosomes assembled on a pre-mRNA that contained the target sequence in the exons. The label is clearly visible in EM images of the spliceosome, and subsequent image processing with averaging shows that the exons sit close to each other in the complex. This labeling strategy will serve as a general tool for analyzing the structures of RNA-containing macromolecular complexes.
Access options
Subscribe to Journal
Get full journal access for 1 year
$99.00
only $8.25 per issue
All prices are NET prices.
VAT will be added later in the checkout.
Tax calculation will be finalised during checkout.
Rent or Buy article
Get time limited or full article access on ReadCube.
from$8.99
All prices are NET prices.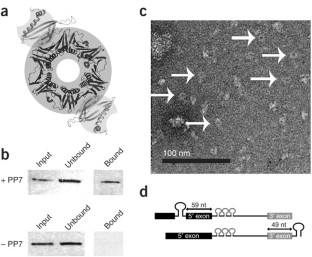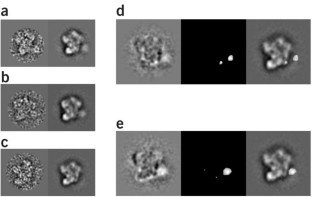 References
1

Boehringer, D. et al. Three-dimensional structure of a pre-catalytic human spliceosomal complex B. Nat. Struct. Mol. Biol. 11, 463–468 (2004).

2

Jurica, M.S., Sousa, D., Moore, M.J. & Grigorieff, N. Three-dimensional structure of C complex spliceosomes by electron microscopy. Nat. Struct. Mol. Biol. 11, 265–269 (2004).

3

Deckert, J. et al. Protein composition and electron microscopy structure of affinity-purified human spliceosomal B complexes isolated under physiological conditions. Mol. Cell. Biol. 26, 5528–5543 (2006).

4

Sander, B. et al. Organization of core spliceosomal components U5 snRNA loop I and U4/U6 Di-snRNP within U4/U6.U5 Tri-snRNP as revealed by electron cryomicroscopy. Mol. Cell 24, 267–278 (2006).

5

Behzadnia, N. et al. Composition and three-dimensional EM structure of double affinity-purified, human prespliceosomal A complexes. EMBO J. 26, 1737–1748 (2007).

6

Ohi, M.D., Ren, L., Wall, J.S., Gould, K.L. & Walz, T. Structural characterization of the fission yeast U5.U2/U6 spliceosome complex. Proc. Natl. Acad. Sci. USA 104, 3195–3200 (2007).

7

Lim, F. & Peabody, D.S. RNA recognition site of PP7 coat protein. Nucleic Acids Res. 30, 4138–4144 (2002).

8

Kong, X.P., Onrust, R., O'Donnell, M. & Kuriyan, J. Three-dimensional structure of the beta subunit of E. coli DNA polymerase III holoenzyme: a sliding DNA clamp. Cell 69, 425–437 (1992).

9

Jurica, M.S., Licklider, L.J., Gygi, S.R., Grigorieff, N. & Moore, M.J. Purification and characterization of native spliceosomes suitable for three-dimensional structural analysis. RNA 8, 426–439 (2002).

10

Chiara, M.D. et al. Identification of proteins that interact with exon sequences, splice sites, and the branchpoint sequence during each stage of spliceosome assembly. Mol. Cell. Biol. 16, 3317–3326 (1996).

11

Chiara, M.D., Palandjian, L., Feld Kramer, R. & Reed, R. Evidence that U5 snRNP recognizes the 3′ splice site for catalytic step II in mammals. EMBO J. 16, 4746–4759 (1997).

12

Reichert, V.L., Le Hir, H., Jurica, M.S. & Moore, M.J. 5′ exon interactions within the human spliceosome establish a framework for exon junction complex structure and assembly. Genes Dev. 16, 2778–2791 (2002).

13

Ludtke, S.J., Baldwin, P.R. & Chiu, W. EMAN: semiautomated software for high-resolution single-particle reconstructions. J. Struct. Biol. 128, 82–97 (1999).

14

Frank, J. et al. SPIDER and WEB: processing and visualization of images in 3D electron microscopy and related fields. J. Struct. Biol. 116, 190–199 (1996).

15

van Heel, M., Harauz, G., Orlova, E.V., Schmidt, R. & Schatz, M. A new generation of IMAGIC image processing system. J. Struct. Biol. 116, 17–24 (1996).

16

Tars, K., Fridborg, K., Bundule, M. & Liljas, L. The three-dimensional structure of bacteriophage PP7 from Pseudomonas aeruginosa at 3.7- Å resolution. Virology 272, 331–337 (2000).

17

Frank, J. Three-Dimensional Electron Microscopy of Macromolecular Assemblies (Academic, New York, 1996).
Acknowledgements
J. Ilagan provided support for EM data collection and image processing. M. O' Donnell (Rockefeller University, New York, USA) provided a plasmid encoding full-length DnaN and K. Collins (University of California, Berkeley, USA) gave us pET28ZZTPP7H including the PP7 sequence. We thank N. Grigorieff (Brandeis University, Waltham, Massachusetts, USA) and members of the Jurica laboratory for advice and discussion. This work was funded by US National Institutes of Health grant 5R01GM72649 to M.S.J., which included a Diversity Supplement for E.A.A.
About this article
Cite this article
Alcid, E., Jurica, M. A protein-based EM label for RNA identifies the location of exons in spliceosomes. Nat Struct Mol Biol 15, 213–215 (2008). https://doi.org/10.1038/nsmb.1378
Received:

Accepted:

Published:

Issue Date:
Further reading
Kevin M Dean

&

Amy E Palmer

Nature Chemical Biology (2014)

Elmar Wolf

,

Berthold Kastner

,

Jochen Deckert

,

Christian Merz

,

Holger Stark

&

Reinhard Lührmann

The EMBO Journal (2009)

Nature Reviews Molecular Cell Biology (2008)