Abstract
The translationally controlled tumor-associated proteins (TCTPs) are a highly conserved and abundantly expressed family of eukaryotic proteins that are implicated in both cell growth and the human acute allergic response but whose intracellular biochemical function has remained elusive. We report here the solution structure of the TCTP from Schizosaccharomyces pombe, which, on the basis of sequence homology, defines the fold of the entire family. We show that TCTPs form a structural superfamily with the Mss4/Dss4 family of proteins, which bind to the GDP/GTP free form of Rab proteins (members of the Ras superfamily) and have been termed guanine nucleotide-free chaperones (GFCs). Mss4 also acts as a relatively inefficient guanine nucleotide exchange factor (GEF). We further show that the Rab protein binding site on Mss4 coincides with the region of highest sequence conservation in the TCTP family. This is the first link to any other family of proteins that has been established for the TCTP family and suggests the presence of a GFC/GEF at extremely high abundance in eukaryotic cells.
Access options
Subscribe to Journal
Get full journal access for 1 year
$225.00
only $18.75 per issue
All prices are NET prices.
VAT will be added later in the checkout.
Rent or Buy article
Get time limited or full article access on ReadCube.
from$8.99
All prices are NET prices.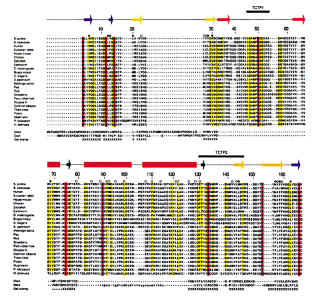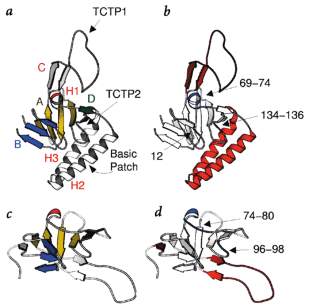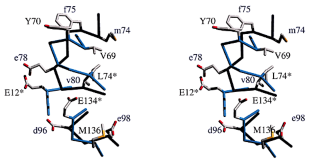 References
1

Yenofsky, R., Bergmann, I. & Brawerman, G. Proc. Natl. Acad. Sci. USA 79, 5876–5880 (1982).

2

Sanchez, J.C. et al. Electrophoresis 18, 150–155 (1997).

3

Norbeck, J. & Blomberg, A. Yeast 13, 1519–1534 (1997).

4

Bohm, H. et al. Biochem. Int. 19, 277–286 (1989).

5

Bonnet C. et al. Yeast 16, 23–33 (2000).

6

Gachet, Y. et al. J. Cell Sci. 112, 1257–1271 (1999).

7

Xu, A., Bellamy, R. & Taylor, J.A. Biochem J. 342, 683–689 (1999).

8

Brown, M.P.S. et al. Proc. Natl. Acad. Sci. USA 97, 262–267 (2000).

9

Macdonald, S.M., Rafnar, T., Langdon, J. & Lichtenstein, L.M. Science 269, 688–690 (1995).

10

Baxter, N.J. et al. J. Biomol. NMR 16, 83–84 (2000).

12

http://www.expasy.ch/prosite/; entry PDOC00768.

13

Holm, L. & Sander, C. J. Mol. Biol. 233, 123–138 (1993).

14

Grindley, H.M., Artymiuk, P.J., Rice, D.W. & Willett, P. J. Mol. Biol. 229, 707–721 (1993).

15

Burton, J., Roberts, D., Montaldi, M., Novick, P. & De Camilli, P. Nature 361, 464–467 (1993).

16

Yu, H. & Schreiber, S.L. Nature 376, 788–791 (1995).

17

Boguski, M.S. & McCormick, F. Nature 366, 643–654 (1993).

18

Pai, E.F. Nature Struct. Biol. 5, 259–263 (1998).

19

Nuoffer, C., Wu, S.K., Dascher, C. & Balch, W.E. Mol. Biol. Cell 8, 1305–1316 (1997).

20

Zhu, Z., Dumas, J.J., Lietzke, S.E. & Lambright, D.G. Biochemistry 40, 3027–3036 (2001).

22

Bax, A., Clore, G.M. & Gronenborn, A.M. J. Magn. Reson. 88, 425–431 (1990).

23

Vuister, G.W. & Bax, A. J. Magn. Reson. 98, 428–435 (1992).

24

Whitehead, B. et al. J. Biomol. NMR 9, 313–316 (1997).

25

Neri, D., Szyperski, T., Otting, G., Senn H. & Wüthrich, K. Biochemistry 28, 7510–7516 (1989).

26

Corlinescu, G., Delaglio, F. & Bax, A. J. Biomol. NMR 13, 289–302 (1999).

27

Brünger, A.T. X-PLOR Version 3.1 (Yale University Press, New Haven, Connecticut; 1992).

28

Kraulis, P.J. J. Appl. Crystallogr. 24, 946–950 (1991).

29

Laskowski, R.A., MacArthur, M.W., Moss, D.S. & Thornton, J.M. J. Appl. Crystallogr. 26, 283–291 (1993).
Acknowledgements
We acknowledge the use of the BBSRC U.K. National 800 MHz NMR facility at the University of Cambridge. We thank L. Higgins and S. Sedelnikova, respectively, for expressing and purifying protein samples; D. Nietlispach for expert assistance at the 800 MHz facility; P. Simpson and P. Artymiuk for many helpful discussions and a referee for bringing the recent publication of Zhu et al. to our attention. This work was supported by project grants and equipment funding from the Wellcome Trust, the British Heart Foundation and the BBSRC. We acknowledge the provision of FELIX software from Molecular Simulations Inc. The Krebs Institute is a designated BBSRC center and a member of NESBIC. J.P.W. is a fellow of the Lister Institute for Preventive Medicine.
About this article
Cite this article
Thaw, P., Baxter, N., Hounslow, A. et al. Structure of TCTP reveals unexpected relationship with guanine nucleotide-free chaperones. Nat Struct Mol Biol 8, 701–704 (2001) doi:10.1038/90415
Received

Accepted

Issue Date