Abstract
Studies on the catalytic mechanism and inhibition of serine proteases are widely used as paradigms for teaching enzyme catalysis. Ground-breaking work on the structures of chymotrypsin and subtilisin led to the idea of a conserved catalytic triad formed by the active site Ser, His and Asp residues. An oxyanion hole, consisting of the peptide amide of the active site serine and a neighbouring glycine, was identified, and hydrogen bonding in the oxyanion hole was suggested to stabilize the two proposed tetrahedral intermediates on the catalytic pathway. Here we show electron density changes consistent with the formation of a tetrahedral intermediate during the hydrolysis of an acyl–enzyme complex formed between a natural heptapeptide and elastase. No electron density for an enzyme–product complex was observed. The structures also suggest a mechanism for the synchronization of hydrolysis and peptide release triggered by the conversion of the sp2 hybridized carbonyl carbon to an sp3 carbon in the tetrahedral intermediate. This affects the location of the peptide in the active site cleft, triggering the collapse of a hydrogen bonding network between the peptide and the β-sheet of the active site.
Access options
Subscribe to Journal
Get full journal access for 1 year
$225.00
only $18.75 per issue
All prices are NET prices.
VAT will be added later in the checkout.
Rent or Buy article
Get time limited or full article access on ReadCube.
from$8.99
All prices are NET prices.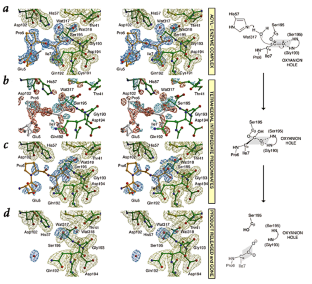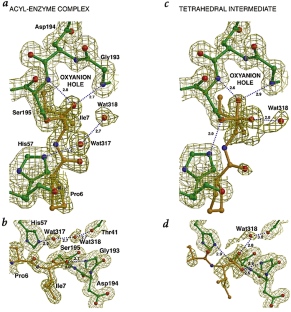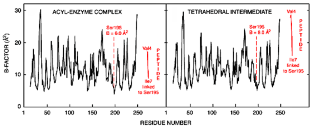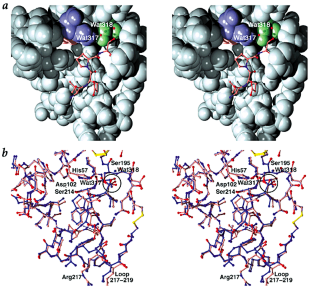 References
1

Fersht, A.R. Enzyme structure and mechanism (Freeman, New York; 1985).

2

Jencks, W.P. Catalysis in chemistry and enzymology (McGraw-Hill, London; 1969).

3

Pauling, L. Chem. Eng. News 24, 1375–1377 (1946).

4

Wilmouth, R.C. et al. Nature Struct. Biol. 4, 456–462 (1997).

5

Wurtele, M., Hahn, M., Hilpert, K. & Hohne, W. Acta Crystallogr. D 56, 520–523 (2000).

6

Lamzin, V. S. & Wilson, K. S. Acta Crystallogr. D 49, 129–147 (1993).

7

Read, R.J. Acta Crystallogr A. 42, 140–149 (1986).

8

Singer, P.T., Smalås, A., Carty, R.P., Mangel, W.F. & Sweet, R.M. Science 259, 669–673 (1993).

9

Perona, J.J., Craik, C.S. & Fletterick, R.J. Science 261, 620 (1993).

10

Meyer, E., Cole, G., Radhakrishnan, R. & Epp, O. Acta Crystallogr. B 44, 26–38 (1988).

11

Ash, E. L.,. et al. Proc. Natl. Acad. Sci. USA 97, 10371–10376 (2000).

12

Bode, W. et al. EMBO J. 8, 3467–3475 (1989).

13

Hof, P. et al. EMBO J. 15, 5481–5491 (1996).

14

Fujinaga, M., Delbaere, L.T.J., Brayer, G.D. & James, M.N.G. J. Mol. Biol. 184, 479–502 (1985).

15

Moult, J., Sussman, F. & James, M.N.G. J. Mol. Biol. 182, 555–566 (1985).

16

Edman, K.,. et al. Nature 401, 822–826 (1999).

17

Royant, A.,. et al. Nature 406, 645–648 (2000).

18

Warshel, A. & Russell, S. J. Am. Chem. Soc. 108, 6569–6579 (1986).

19

Takahashi, L.H.,. et al. J. Mol. Biol. 201, 423–428 (1988).

20

Takahashi, L.H., Radhakrishnan, R., Rosenfield, R.E. & Meyer, E.F. Biochemistry 28, 7610–7617 (1989).

21

Whiting, A.K. & Peticolas, W.L. Biochemistry 33, 552–561 (1994).

22

Hammersley, A.P. FIT2D: A highly successful scientific data analysis program of both general and specific application (ESRF, Grenoble, France; 2000).

23

Bailey, S. Acta Crystallogr. D 50, 760–763 (1994).

24

Otwinowski, Z. In Data collection and processing (eds Sawyer, L., Isaacs, N.W. & Bailey, S.) 55–62 (Daresbury Laboratory, Warrington, UK; 1993).

25

Brünger, A.T. et al. Acta Crystallogr. D 54, 905–921 (1998).

26

Brünger, A.T. Nature 355, 472–475 (1992).

27

Jones, A.T., Zou, J.Y., Cowan, S.W. & Kjeldgaard, M. Acta Crystallogr. A 47, 110–119 (1991).

28

Schneider, T.R. Acta Crystallogr. D 56, 714–721 (2000).

29

Esnouf, R.M. J. Mol. Graph. 15, 133–138 (1997).

30

Merritt, E.A. & Murphy, M.E.P. Acta Crystallogr. D 50, 869–873 (1994).

31

Guex, N. & Peitsch, M.C. Electrophoresis 18, 2714–2723 (1997).
Acknowledgements
We gratefully acknowledge the assistance of W. Burmeister, S. Wakatsuki, R. Wouts and A. Kirrander during data collection. Work was supported by the B.B.S.R.C., E.P.S.R.C., M.R.C., the Swedish Research Council, NFR, the EU BIOTECH programme, AstraZeneca Pharmaceuticals (via a CASE award to P.A.W.) and New College, Oxford (via a Junior Research Fellowship to R.C.W.). We thank ESRF and the EMBL Outstation in Grenoble for beam time and support.
About this article
Cite this article
Wilmouth, R., Edman, K., Neutze, R. et al. X-ray snapshots of serine protease catalysis reveal a tetrahedral intermediate. Nat Struct Mol Biol 8, 689–694 (2001) doi:10.1038/90401
Received

Accepted

Issue Date