A new study has shown that both in patients with multiple sclerosis (MS) and in healthy controls, dopamine inhibits production of IL-17 and IFN-γ by peripheral blood mononuclear cells. The finding adds to previous evidence for the potential benefit of dopaminergic drugs in MS.
Relevant articles
Open Access articles citing this article.
Carolina Prado

,

Francisco Osorio-Barrios

…

Rodrigo Pacheco

Journal of Neuroinflammation Open Access 17 December 2021
Access options
Subscribe to Journal
Get full journal access for 1 year
$99.00
only $8.25 per issue
All prices are NET prices.
VAT will be added later in the checkout.
Tax calculation will be finalised during checkout.
Buy article
Get time limited or full article access on ReadCube.
$32.00
All prices are NET prices.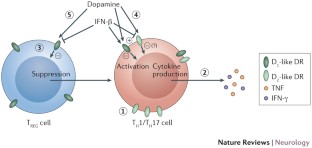 References
Hemmer, B., Nessler, S., Zhou, D., Kieseier, B. & Hartung, H. P. Immunopathogenesis and immunotherapy of multiple sclerosis. Nat. Clin. Pract. Neurol. 2, 201–211 (2006).

Tzartos, J. S. et al. Interleukin-17 production in central nervous system-infiltrating T cells and glial cells is associated with active disease in multiple sclerosis. Am. J. Pathol. 172, 146–155 (2008).

Melnikov, M., Belousova, O., Murugin, V., Pashenkov, M. & Boyko, A. The role of dopamine in modulation of Th-17 immune response in multiple sclerosis. J. Neuroimmunol. 292, 97–101 (2016).

Cosentino, M. & Marino, F. Adrenergic and dopaminergic modulation of immunity in multiple sclerosis: teaching old drugs new tricks? J. Neuroimmune Pharmacol. 8, 163–179 (2013).

Beaulieu, J.-M. & Gainetdinov, R. R. The physiology, signalling, and pharmacology of dopamine receptors. Pharmacol. Rev. 63, 182–217 (2011).

Sarkar, C., Basu, B., Chakroborty, D., Dasgupta, P. S. & Basu, S. The immunoregulatory role of dopamine: an update. Brain Behav. Immun. 24, 525–528 (2010).

Levite, M. in Nerve-Driven Immunity — Neurotransmitters and Neuropeptides in the Immune System Ch. 1 (ed. Levite, M.) 1–45 (Springer-Verlag, Wien, 2012).

Pacheco, R., Contreras, F. & Zouali, M. The dopaminergic system in autoimmune diseases. Front. Immunol. 5, 117 (2014).

Cosentino, M. et al. Human CD4+CD25+ regulatory T cells selectively express tyrosine hydroxylase and contain endogenous catecholamines subserving an autocrine/paracrine inhibitory functional loop. Blood 109, 632–642 (2007).

Venken, K., Hellings, N., Liblau, R. & Stinissen, P. Disturbed regulatory T cell homeostasis in multiple sclerosis. Trends Mol. Med. 16, 58–68 (2010).
Ethics declarations
Competing interests
The authors declare no competing financial interests.
About this article
Cite this article
Marino, F., Cosentino, M. Repurposing dopaminergic drugs for MS — the evidence mounts. Nat Rev Neurol 12, 191–192 (2016). https://doi.org/10.1038/nrneurol.2016.33
Published:

Issue Date:

DOI: https://doi.org/10.1038/nrneurol.2016.33