A recent study demonstrates that amyloid-β (Aβ) can function as an antimicrobial peptide, and additional data show that bacteria and yeast can seed Aβ deposition into amyloid. These data suggest a complex interplay between the normal function of Aβ, its accumulation in the brain, and host immune defence.
Access options
Subscribe to Journal
Get full journal access for 1 year
$59.00
only $4.92 per issue
All prices are NET prices.
VAT will be added later in the checkout.
Tax calculation will be finalised during checkout.
Rent or Buy article
Get time limited or full article access on ReadCube.
from$8.99
All prices are NET prices.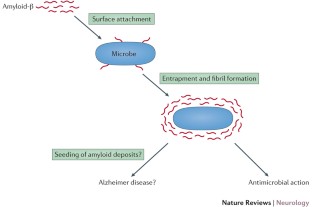 References
1

Kumar, D. K. et al. Amyloid-β peptide protects against microbial infection in mouse and worm models of Alzheimer's disease. Sci. Transl. Med. 8, 340ra372 (2016).

2

Golde, T. E. The pathogenesis of Alzheimer's disease and the role of Aβ42. CNS Spectr. 12 (Suppl. 1), 4–6 (2007).

3

De Strooper, B., Vassar, R. & Golde, T. The secretases: enzymes with therapeutic potential in Alzheimer disease. Nat. Rev. Neurol. 6, 99–107 (2010).

4

Soscia, S. J. et al. The Alzheimer's disease-associated amyloid β-protein is an antimicrobial peptide. PLoS ONE 5, e9505 (2010).

5

Kagan, B. L. et al. Antimicrobial properties of amyloid peptides. Mol. Pharm. 9, 708–717 (2012).

6

Xu, G. et al. Murine Aβ over-production produces diffuse and compact Alzheimer-type amyloid deposits. Acta Neuropathol. Commun. 3, 72 (2015).

7

Jucker, M. & Walker, L. C. Pathogenic protein seeding in Alzheimer disease and other neurodegenerative disorders. Ann. Neurol. 70, 532–540 (2011).

8

Itzhaki, R. F. et al. Microbes and Alzheimer's disease. J. Alzheimers Dis. 51, 979–984 (2016).

9

Heneka, M. T., Golenbock, D. T. & Latz, E. Innate immunity in Alzheimer's disease. Nat. Immunol. 16, 229–236 (2015).

10

Jones, B. Alzheimer disease: TREM2 linked to late-onset AD. Nat. Rev. Neurol. 9, 5 (2012).
Ethics declarations
Competing interests
The author declares no competing financial interests.
About this article
Cite this article
Golde, T. Host immune defence, amyloid-β peptide and Alzheimer disease. Nat Rev Neurol 12, 433–434 (2016). https://doi.org/10.1038/nrneurol.2016.105