In the general population, risk of cardiovascular disease is inversely associated with HDL-cholesterol levels. However, a new post hoc analysis of data from the German Diabetes Dialysis study reports no correlation between HDL cholesterol and mortality among patients on dialysis—a phenomenon that the authors attribute to HDL dysfunction.
This is a preview of subscription content
Access options
Subscribe to Journal
Get full journal access for 1 year
$59.00
only $4.92 per issue
All prices are NET prices.
VAT will be added later in the checkout.
Tax calculation will be finalised during checkout.
Buy article
Get time limited or full article access on ReadCube.
$32.00
All prices are NET prices.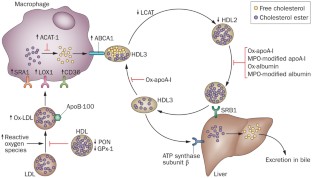 References
Silbernagel, G. et al. HDL cholesterol, apolipoproteins, and cardiovascular risk in hemodialysis patients. J. Am. Soc. Nephrol. http://dx.doi.org/10.1681/ASN.2013080816.

Vaziri, N. D. Dyslipidemia of chronic renal failure: The nature, mechanisms and potential consequences. Am. J. Physiol. Renal Physiol. 290, F262–F272 (2006).

Vaziri, N. D. Lipotoxicity and impaired high-density lipoprotein-mediated reverse cholesterol transport in chronic kidney disease. J. Renal Nutr. 20, S35–S43 (2010).

Vaziri, N. D., Navab, M. & Fogelman, A. M. HDL metabolism and activity in chronic kidney disease. Nat. Rev. Nephrol. 6, 287–296 (2010).

Holzer, M. et al. Uremia alters HDL composition and function. J. Am. Soc. Nephrol. 22, 1631–1641 (2011).

Shao, B., Oda, M. N., Oram, J. F. & Heinecke, J. W. Myeloperoxidase: an inflammatory enzyme for generating dysfunctional high density lipoprotein. Curr. Opin. Cardiol. 21, 322–328 (2006).

Weichhart, T. et al. Serum amyloid A in uremic HDL promotes inflammation. J. Am. Soc. Nephrol. 23, 934–947 (2012).

Yamamoto, S. et al. Dysfunctional high-density lipoprotein in patients on chronic hemodialysis. J. Am. Coll. Cardiol. 60, 2372–2379 (2012).

Honda, H. et al. Oxidized high-density lipoprotein as a risk factor for cardiovascular events in prevalent hemodialysis patients. Atherosclerosis 220, 493–501 (2012).

Moradi, H. et al. Elevated high-density lipoprotein cholesterol and cardiovascular mortality in maintenance hemodialysis patients. Nephrol. Dial. Transplant. 29, 1554–1562 (2014).
Ethics declarations
Competing interests
The author declares no competing financial interests.
About this article
Cite this article
Vaziri, N. HDL-cholesterol levels and mortality in patients with ESRD. Nat Rev Nephrol 10, 621–623 (2014). https://doi.org/10.1038/nrneph.2014.169
Published:

Issue Date:

DOI: https://doi.org/10.1038/nrneph.2014.169
Further reading
Nature Reviews Nephrology (2016)