Abstract
Rarely in the history of neuroscience has a single illustration been as influential as the cytoarchitectonic map of the human brain published by Korbinian Brodmann in his monograph from 1909. The map presents the segregation of the cerebral cortex into 43 areas, as visible in cell body-stained histological sections. More importantly, Brodmann provided a comparative neuroanatomical approach and discussed ontogenetic and pathological aspects as well as structural–functional correlations. One hundred years later, a large number of neuroscientists still use Brodmann's map for localizing neuroimaging data obtained in the living human brain.
Relevant articles
Open Access articles citing this article.
Lingxiao Cao

,

Hailong Li

…

Xiaoqi Huang

Communications Biology Open Access 04 November 2022

Francesca Bertacchini

,

Carmelo Scuro

…

Eleonora Bilotta

Scientific Reports Open Access 03 October 2022

Tal Sharf

,

Tjitse van der Molen

…

Kenneth S. Kosik

Nature Communications Open Access 29 July 2022
Access options
Subscribe to this journal
Receive 12 print issues and online access
$189.00 per year
only $15.75 per issue
Rent or buy this article
Get just this article for as long as you need it
$39.95
Prices may be subject to local taxes which are calculated during checkout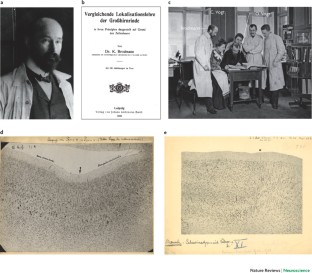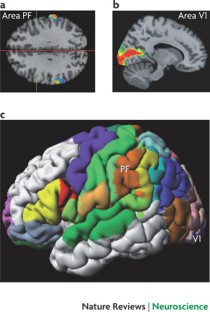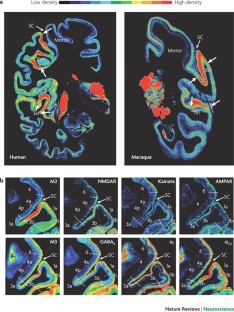 References
Gall, F. J. & Spurzheim, J. C. Anatomie et Physiologie du Systéme Nerveux en Général, et du Cerveau en Particulier (Schoell, Paris, 1810).

Broca, P. in Broca's Region (eds Grodzinsky, Y. & Amunts, K.) 291–304 (Oxford Univ. Press, New York, 2006).

Lichtheim, L. On aphasia. Brain 7, 433–484 (1885).

Hughlings-Jackson, J. Notes on the physiology and pathology of language. The Medical Times and Gazette 1, 659–662 (1866).

Vogt, C. & Vogt, O. Allgemeinere Ergebnisse unserer Hirnforschung. J. Psychol. Neurol. 25, 292–398 (1919).

Foerster, O. Über die Bedeutung und Reichweite des Lokalisationsprinzips im Nervensystem. Verh. Dtsch Ges. Inn. Med. 46, 117–211 (1934).

Campbell, A. W. Histological Studies on the Localisation of Cerebral Function (Cambridge Univ. Press, Cambridge, UK, 1905).

Elliot Smith, G. A new topographical survey of the human cerebral cortex, being an account of the distribution of the anatomically distinct cortical areas and their relationship to the cerebral sulci. J. Anat. 41, 237–254 (1907).

von Economo, C. & Koskinas, G. N. Die Cytoarchitektonik der Hirnrinde des erwachsenen Menschen (Springer, Berlin, 1925).

Brodmann, K. Vergleichende Lokalisationslehre der Großhirnrinde in ihren Prinzipien dargestellt auf Grund des Zellenbaues (Barth, Leipzig, 1909); English translation available in Garey, L. J. Brodmann's Localization in the Cerebral Cortex (Smith Gordon, London, 1994).

Brodmann, K. Beiträge zur histologischen lokalisation der Grosshirnrinde. III. Die rindenfelder der niederen affen. J. Psychol. Neurol. 4, 177–226 (1905).

Huxley, T. H. Evidence as to Man's Place in Nature (Williams & Norgate, London, 1863).

Brodmann, K. Neue Forschungsergebnisse der Großhirnrindenanatomie mit besonderer Berücksichtigung anthropologischer Fragen. Verh. Ges. Dtsch Naturf. Ärzte 85, 200–240 (1913).

Gould, S. J. The Mismeasure of Man (Norton, New York, 1981).

Brodmann, K. in Allgemeine Chirurgie der Gehirnkrankheiten (eds Knoblauch, A., Brodmann, K. & Hauptmann, A.) 86–426 (Verlag von Ferdinand Enke, Stuttgart, 1914).

Sarkisov, S. A., Filimonoff, I. N. & Preobrashenskaya, N. S. Cytoarchitecture of the Human Cortex Cerebri (Medgiz, Moscow, 1949) (in Russian).

Bailey, P. & von Bonin, G. The Isocortex of Man (Univ. Illinois Press, Urbana, 1951).

Lashley, K. S. & Clark, G. The cytoarchitecture of the cerebral cortex of Ateles: a critical examination of architectonic studies. J. Comp. Neurol. 85, 223–305 (1946).

Schleicher, A., Amunts, K., Geyer, S., Morosan, P. & Zilles, K. Observer-independent method for microstructural parcellation of cerebral cortex: a quantitative approach to cytoarchitectonics. Neuroimage 9, 165–177 (1999).

Annese, J., Gazzaniga, M. S. & Toga, A. W. Localization of the human cortical visual area MT based on computer aided histological analysis. Cereb. Cortex 15, 1044–1053 (2005).

Schmitt, O. & Böhme, M. A robust transcortical profile scanner for generating 2-D traverses in histological sections of richly curved cortical courses. Neuroimage 16, 1103–1119 (2002).

Jones, S. E., Buchbinder, B. R. & Aharon, I. Three-dimensional mapping of cortical thickness using Laplace's equation. Hum. Brain Mapp. 11, 12–32 (2000).

Zilles, K. et al. A quantitative analysis of sulci in the human cerebral cortex: development, regional heterogeneity, gender difference, asymmetry, intersubject variability and cortical architecture. Hum. Brain Mapp. 5, 218–221 (1997).

Zilles, K., Armstrong, E., Schleicher, A. & Kretschmann, H. J. The human pattern of gyrification in the cerebral cortex. Anat. Embryol. 179, 173–179 (1988).

Talairach, J. & Tournoux, P. Coplanar Stereotaxic Atlas of the Human Brain (Thieme, Stuttgart, 1988).

Zeki, S. Zu Brodmanns Area 18 und Area 19. Exp. Brain Res. 36, 195–197 (1979).

Brodmann, K. in Handbuch der Neurologie (ed. Lewandowsky, M.) 206–307 (Springer, Berlin, 1910).

Roland, P. E. & Zilles, K. Structural divisions and functional fields in the human cerebral cortex. Brain Res. Rev. 26, 87–105 (1998).

Zilles, K., Schleicher, A., Palomero-Gallagher, N. & Amunts, K. in Brain Mapping: The Methods (eds Mazziotta, J. C. & Toga, A.) 573–602 (Elsevier, Amsterdam, 2002).

Eickhoff, S. et al. A new SPM toolbox for combining probabilistic cytoarchitectonic maps and functional imaging data. Neuroimage 25, 1325–1335 (2005).

Amunts, K. et al. Broca's region revisited: cytoarchitecture and intersubject variability. J. Comp. Neurol. 412, 319–341 (1999).

Toga, A. W., Thompson, P. M., Mori, S., Amunts, K. & Zilles, K. Towards multimodal atlases of the human brain. Nature Rev. Neurosci. 7, 952–966 (2006).

Roland, P. E. & Zilles, K. Brain atlases - a new research tool. Trends Neurosci. 17, 458–467 (1994).

Zilles, K. & Amunts, K. Receptor mapping: architecture of the human cerebral cortex. Curr. Opin. Neurol. 22, 331–339 (2009).

Pierpaoli, C., Jezzard, P., Basser, P. J., Barnett, A. & Di Chiro, G. Diffusion tensor MR imaging of the human brain. Radiology 201, 637–648 (1996).

Johansen-Berg, H. & Rushworth, M. F. Using diffusion imaging to study human connectional anatomy. Annu. Rev. Neurosci. 32, 75–94 (2009).

Mori, S. & Zhang, J. Principles of diffusion tensor imaging and its applications to basic neuroscience research. Neuron 51, 527–539 (2006).

Fatterpekar, G. M. et al. Cytoarchitecture of the human cerebral cortex: MR microscopy of excised specimens at 9.4 Tesla. Am. J. Neurorad. 23, 1313–1321 (2002).

Walters, N. et al. In vivo identification of human cortical areas using high resolution MRI: an approach to structure-function correlation. Proc. Natl. Acad. Sci. USA 100, 2981–2986 (2003).

Fellemann, D. J. & van Essen, D. C. Distributed hierarchical processing in the primate cerebral cortex. Cereb. Cortex 1, 1–47 (1991).

Amunts, K., Schleicher, A. & Zilles, K. Cytoarchitecture of the cerebral cortex - more than localization. Neuroimage 37, 1061–1065 (2007).

Caspers, S. et al. The human inferior parietal cortex: cytoarchitectonic parcellation and interindividual variability. Neuroimage 33, 430–448 (2006).

Amunts, K., Malikovic, A., Mohlberg, H., Schormann, T. & Zilles, K. Brodmann's areas 17 and 18 brought into stereotaxic space - where and how variable? Neuroimage 11, 66–84 (2000).

Morosan, P. et al. Human primary auditory cortex: cytoarchitectonic subdivisions and mapping into a spatial reference system. Neuroimage 13, 684–701 (2001).

Geyer, S. et al. Two different areas within the primary motor cortex of man. Nature 382, 805–807 (1996).

Geyer, S., Schleicher, A. & Zilles, K. Areas 3a, 3b, and 1 of human primary somatosensory cortex: I. Microstructural organisation and interindividual variability. Neuroimage 10, 63–83 (1999).

Zilles, K. et al. Architectonics of the human cerebral cortex and transmitter receptor fingerprints: reconciling functional neuroanatomy and neurochemistry. Eur. Neuropsychopharmacol. 12, 587–599 (2002).
Acknowledgements
This work was partly supported by the Initiative and Network Fund of the Helmholtz Association within the Helmholtz Alliance on Systems Biology (Human Brain Model project to K.Z.). Further support by the Deutsche Forschungsgemeinschaft (AM 118/1-2, K.A.) and the German Ministry for Education and Research (01GW0613, 01GW0623, 01GW0771 to K.A.) is acknowledged. We thank our teams in Düsseldorf and Jülich, in particular S. Caspers, M. Falk, S. Eickhoff, H. Mohlberg, P. Morosan, N. Palomero-Gallagher and A. Schleicher.
Ethics declarations
Competing interests
The authors declare no competing financial interests.
Supplementary information
Interspecies comparison of cytoarchitectonic brain maps. (PDF 1342 kb)
Related links
Related links
FURTHER INFORMATION
About this article
Cite this article
Zilles, K., Amunts, K. Centenary of Brodmann's map — conception and fate. Nat Rev Neurosci 11, 139–145 (2010). https://doi.org/10.1038/nrn2776
Published:

Issue Date:

DOI: https://doi.org/10.1038/nrn2776