Key Points
Sense of agency refers to the feeling of controlling one's own actions and, through them, events in the external world.

Sense of agency can be measured in experimental settings by asking participants to explicitly judge whether their action caused an outcome event or by using implicit measures, such as the compression of perceived time between action and outcome.

Current models of motor control propose that the sense of agency is established retrospectively, by comparing delayed sensory feedback about actions and their consequences with the feedback predicted by an internal model. The connectivity between the frontal areas that develop motor plans for voluntary action and the parietal areas that monitor outcomes plays a key part in computing sense of agency.

Processes in the frontal cortex occurring before the initiation of action also contribute to sense of agency. For example, selecting which of a number of alternative actions to make can increase the sense of agency over the subsequent outcome. These frontal contributions to agency operate prospectively and underlie the metacognitive experience of one's own voluntary action.

Several neuropsychiatric disorders involve distorted or unreliable sense of agency. This suggests that successful computation of agency by the brain is a key element of normal consciousness and mental health.

Many key features of modern human societies, such as social responsibility or use of advanced technologies, are based on the ability of the brain to compute agency correctly, even in complex interactions.
Abstract
In adult life, people normally know what they are doing. This experience of controlling one's own actions and, through them, the course of events in the outside world is called 'sense of agency'. It forms a central feature of human experience; however, the brain mechanisms that produce the sense of agency have only recently begun to be investigated systematically. This recent progress has been driven by the development of better measures of the experience of agency, improved design of cognitive and behavioural experiments, and a growing understanding of the brain circuits that generate this distinctive but elusive experience. The sense of agency is a mental and neural state of cardinal importance in human civilization, because it is frequently altered in psychopathology and because it underpins the concept of responsibility in human societies.
Relevant articles
Open Access articles citing this article.
Lingling Hua

,

Rick A. Adams

…

Peter J. Uhlhaas

Schizophrenia Open Access 28 April 2023

Nadine Dijkstra

&

Stephen M. Fleming

Nature Communications Open Access 23 March 2023

Christopher C. Berger

,

Sara Coppi

&

H. Henrik Ehrsson

Experimental Brain Research Open Access 16 March 2023
Access options
Access Nature and 54 other Nature Portfolio journals
Get Nature+, our best-value online-access subscription
$29.99 / 30 days
cancel any time
Subscribe to this journal
Receive 12 print issues and online access
$189.00 per year
only $15.75 per issue
Rent or buy this article
Get just this article for as long as you need it
$39.95
Prices may be subject to local taxes which are calculated during checkout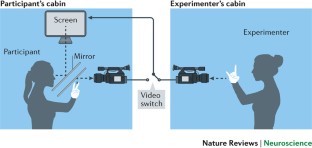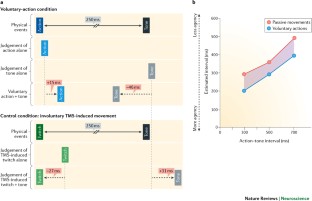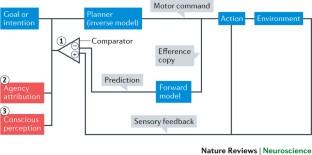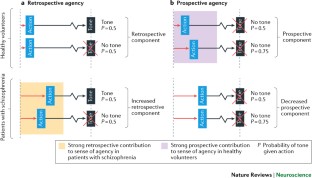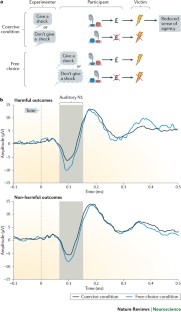 References
Bandura, A. Self-efficacy mechanism in human agency. Am. Psychol. 37, 122–147 (1982).

Friston, K. et al. The anatomy of choice: active inference and agency. Front. Hum. Neurosci. 7, 598 (2013).

Tsakiris, M. & Fotopoulou, A. in Decomposing the Will (eds Clark, A., Kiverstein, J. & Vierkant, T.) 103–117 (Oxford Univ. Press, 2013).

Broadbent, D. E. Task combination and selective intake of information. Acta Psychol. (Amst.) 50, 253–290 (1982).

Rex v. M'Naghten (UKHL J16) www.bailii.orghttp://www.bailii.org/uk/cases/UKHL/1843/J16.html (1843).

Garrison, A. H. The history of the M'Naghten insanity defense and the use of posttraumatic stress disorder as a basis of insanity. Am. J. Forensic Psychol. 16, 39–88 (1998).

Marmot, M. G. et al. Health inequalities among British civil servants: the Whitehall II study. Lancet 337, 1387–1393 (1991).

Frith, C. D., Blakemore, S. J. & Wolpert, D. M. Abnormalities in the awareness and control of action. Phil. Trans. R. Soc. Lond. B 355, 1771–1788 (2000).

Farrer, C., Bouchereau, M., Jeannerod, M. & Franck, N. Effect of distorted visual feedback on the sense of agency. Behav. Neurol. 19, 53–57 (2008).

Sperduti, M., Delaveau, P., Fossati, P. & Nadel, J. Different brain structures related to self- and external-agency attribution: a brief review and meta-analysis. Brain Struct. Funct. 216, 151–157 (2011).

Passingham, R. E. & Wise, S. P. The Neurobiology of the Prefrontal Cortex: Anatomy, Evolution, and the Origin of Insight (Oxford Univ. Press, 2014).

Sherrington, C. S. The Integrative Action of the Nervous System (Yale Univ. Press, 1906).

Gallagher, S. Philosophical conceptions of the self: implications for cognitive science. Trends Cogn. Sci. 4, 14–21 (2000).

Marcel, A. J. in Agency and Self-Awareness: Issues in Philosophy and Psychology (eds Roessler, J. & Eilan, N.) 48–93 (Oxford: Clarendon Press, 2003).

Passingham, R. E., Bengtsson, S. L. & Lau, H. C. Medial frontal cortex: from self-generated action to reflection on one's own performance. Trends Cogn. Sci. 14, 16–21 (2010).

Hart, H. L. A. in Punishment and Responsibility 90–112 (Oxford Univ. Press, 1960).

Wittgenstein, L. Philosophical Investigations (Basil Blackwell, 1967).

Bandura, A. Social cognitive theory: an agentic perspective. Annu. Rev. Psychol. 52, 1–26 (2001).

Fried, I., Mukamel, R. & Kreiman, G. Internally generated preactivation of single neurons in human medial frontal cortex predicts volition. Neuron 69, 548–562 (2011). The authors, following Libet's classical volition experiments, used intracranial recordings to show that the activity of a small number of medial frontal neurons suffice to predict the moment of conscious intention that precedes a voluntary action.

Ford, A. in Essays on Anscombe's Intention (eds Ford, A., Hornsby, J. & Stoutland, F.) (Harvard Univ. Press, 2011).

Haggard, P. Human volition: towards a neuroscience of will. Nat. Rev. Neurosci. 9, 934–946 (2008).

Pacherie, E. The phenomenology of action: a conceptual framework. Cognition 107, 179–217 (2008).

Gallup, G. G. J. Chimpanzees: self-recognition. Science 167, 86–87 (1970).

Sirigu, A., Daprati, E., Pradat-Diehl, P., Franck, N. & Jeannerod, M. Perception of self-generated movement following left parietal lesion. Brain 122, 1867–1874 (1999).

Georgieff, N. & Jeannerod, M. Beyond consciousness of external reality: a 'who' system for consciousness of action and self-consciousness. Conscious. Cogn. 7, 465–477 (1998).

Tsakiris, M., Haggard, P., Franck, N., Mainy, N. & Sirigu, A. A specific role for efferent information in self-recognition. Cognition 96, 215–231 (2005).

Wegner, D. M. & Wheatley, T. Apparent mental causation. Sources of the experience of will. Am. Psychol. 54, 480–492 (1999). This influential paper provided early experimental evidence favouring the view that the sense of agency is retrospectively inferred from outcomes rather than being directly perceived.

Horne, A. Macmillan: The Official Biography (Macmillan, 2008).

Synofzik, M., Vosgerau, G. & Newen, A. Beyond the comparator model: a multifactorial two-step account of agency. Conscious. Cogn. 17, 219–239 (2008).

Dewey, J. A. & Knoblich, G. Do implicit and explicit measures of the sense of agency measure the same thing? PLoS ONE 9, e110118 (2014).

Yoshie, M. & Haggard, P. Negative emotional outcomes attenuate sense of agency over voluntary actions. Curr. Biol. 23, 2028–2032 (2013).

Takahata, K. et al. It's not my fault: postdictive modulation of intentional binding by monetary gains and losses. PLoS ONE 7, e53421 (2012).

Berberian, B., Sarrazin, J.-C., Le Blaye, P. & Haggard, P. Automation technology and sense of control: a window on human agency. PLoS ONE 7, e34075 (2012).

Hagura, N., Kanai, R., Orgs, G. & Haggard, P. Ready steady slow: action preparation slows the subjective passage of time. Proc. Biol. Sci. 279, 4399–4406 (2012).

Yarrow, K., Haggard, P., Heal, R., Brown, P. & Rothwell, J. C. Illusory perceptions of space and time preserve cross-saccadic perceptual continuity. Nature 414, 302–305 (2001).

Morrone, M. C., Ross, J. & Burr, D. Saccadic eye movements cause compression of time as well as space. Nat. Neurosci. 8, 950–954 (2005).

Haggard, P., Clark, S. & Kalogeras, J. Voluntary action and conscious awareness. Nat. Neurosci. 5, 382–385 (2002). This paper was the first to describe the intentional binding effect, in which the perceptions of a voluntary action and its outcome are shifted towards each other across time, introducing a novel implicit measure of sense of agency.

Caspar, E. A., Cleeremans, A. & Haggard, P. The relationship between human agency and embodiment. Conscious. Cogn. 33, 226–236 (2015).

de Biran, P. M. The Influence of Habit on the Faculty of Thinking (The Williams & Wilkins company, 1929).

Moore, J. W., Wegner, D. M. & Haggard, P. Modulating the sense of agency with external cues. Conscious. Cogn. 18, 1056–1064 (2009).

Ganos, C. et al. Volitional action as perceptual detection: predictors of conscious intention in adolescents with tic disorders. Cortex 64, 47–54 (2015).

Shibasaki, H. & Hallett, M. What is the Bereitschaftspotential? Clin. Neurophysiol. 117, 2341–2356 (2006).

Schurger, A., Sitt, J. D. & Dehaene, S. An accumulator model for spontaneous neural activity prior to self-initiated movement. Proc. Natl Acad. Sci. USA 109, E2904–E2913 (2012). This recent paper offered a radical reappraisal of the classical readiness potential, interpreting it as the average of a stochastic process of approaching a motor threshold rather than a specific motor signal.

Jo, H.-G., Wittmann, M., Hinterberger, T. & Schmidt, S. The readiness potential reflects intentional binding. Front. Hum. Neurosci. 8, 421 (2014).

Haggard, P. & Clark, S. Intentional action: conscious experience and neural prediction. Conscious. Cogn. 12, 695–707 (2003).

Barlas, Z. & Obhi, S. S. Freedom, choice, and the sense of agency. Front. Hum. Neurosci. 7, 514 (2013).

Fletcher, P. C., Shallice, T. & Dolan, R. J. 'Sculpting the response space' — an account of left prefrontal activation at encoding. Neuroimage 12, 404–417 (2000).

Rowe, J. B., Hughes, L. & Nimmo-Smith, I. Action selection: a race model for selected and non-selected actions distinguishes the contribution of premotor and prefrontal areas. Neuroimage 51, 888–896 (2010).

Brass, M. & Haggard, P. The what, when, whether model of intentional action. Neuroscientist 14, 319–325 (2008).

Rae, C. L., Hughes, L. E., Weaver, C., Anderson, M. C. & Rowe, J. B. Selection and stopping in voluntary action: a meta-analysis and combined fMRI study. Neuroimage 86, 381–391 (2014).

Khalighinejad, N., Di Costa, S. & Haggard, P. Endogenous action selection processes in dorsolateral prefrontal cortex contribute to sense of agency: a meta-analysis of tDCS studies of 'intentional binding'. Brain Stimul. 9, 372–379 (2016). This paper showed that, across seven experiments and more than 100 participants, anodal stimulation of the PFC boosted the intentional binding effect in free-selection action tasks, which is consistent with the view that action-selection processes contribute prospectively to sense of agency.

Hughes, G., Desantis, A. & Waszak, F. Attenuation of auditory N1 results from identity-specific action-effect prediction. Eur. J. Neurosci. 37, 1152–1158 (2013).

Schlaghecken, F. & Eimer, M. Masked prime stimuli can bias 'free' choices between response alternatives. Psychon. Bull. Rev. 11, 463–468 (2004).

Wenke, D., Fleming, S. M. & Haggard, P. Subliminal priming of actions influences sense of control over effects of action. Cognition 115, 26–38 (2010).

Chambon, V. & Haggard, P. Sense of control depends on fluency of action selection, not motor performance. Cognition 125, 441–451 (2012).

Blakemore, S. J., Wolpert, D. & Frith, C. Why can't you tickle yourself? Neuroreport 11, R11–R16 (2000). This paper provided classical human behavioural evidence for a comparator model of agency, suggesting that predicted consequences of an action are subtracted from the actual consequences, resulting in attenuation of one's own agency.

Blakemore, S. J., Wolpert, D. M. & Frith, C. D. Central cancellation of self-produced tickle sensation. Nat. Neurosci. 1, 635–640 (1998).

Farrer, C. & Frith, C. D. Experiencing oneself versus another person as being the cause of an action: the neural correlates of the experience of agency. Neuroimage 15, 596–603 (2002).

Stetson, C., Cui, X., Montague, P. R. & Eagleman, D. M. Motor-sensory recalibration leads to an illusory reversal of action and sensation. Neuron 51, 651–659 (2006).

Walsh, E. & Haggard, P. Action, prediction, and temporal awareness. Acta Psychol. (Amst.) 142, 220–229 (2013).

Williams, S. R., Shenasa, J. & Chapman, C. E. Time course and magnitude of movement-related gating of tactile detection in humans. I. Importance of stimulus location. J. Neurophysiol. 79, 947–963 (1998).

Bays, P. M., Flanagan, J. R. & Wolpert, D. M. Attenuation of self-generated tactile sensations is predictive, not postdictive. PLoS Biol. 4, e28 (2006).

Reznik, D., Henkin, Y., Levy, O. & Mukamel, R. Perceived loudness of self-generated sounds is differentially modified by expected sound intensity. PLoS ONE 10, e0127651 (2015).

Miall, R. C., Weir, D. J., Wolpert, D. M. & Stein, J. F. Is the cerebellum a smith predictor? J. Mot. Behav. 25, 203–216 (1993).

Wegner, D. M. The Illusion of Conscious Will (MIT Press, 2002). This masterful monograph from the greatly missed Harvard social psychologist contains a well-argued exposition of the argument that volition is an illusion and that our sense of being the authors of our own actions is a retrospective inference.

Aarts, H., Custers, R. & Wegner, D. M. On the inference of personal authorship: enhancing experienced agency by priming effect information. Conscious. Cogn. 14, 439–458 (2005).

Gentsch, A. & Schutz-Bosbach, S. I did it: unconscious expectation of sensory consequences modulates the experience of self-agency and its functional signature. J. Cogn. Neurosci. 23, 3817–3828 (2011).

Moore, J. & Haggard, P. Awareness of action: Inference and prediction. Conscious. Cogn. 17, 136–144 (2008).

Eagleman, D. M. & Sejnowski, T. J. Motion integration and postdiction in visual awareness. Science 287, 2036 (2000).

Farrer, C. et al. Modulating the experience of agency: a positron emission tomography study. Neuroimage 18, 324–333 (2003).

Kincade, J. M., Abrams, R. A., Astafiev, S. V., Shulman, G. L. & Corbetta, M. An event-related functional magnetic resonance imaging study of voluntary and stimulus-driven orienting of attention. J. Neurosci. 25, 4593–4604 (2005).

Craig, A. D. B. How do you feel — now? The anterior insula and human awareness. Nat. Rev. Neurosci. 10, 59–70 (2009).

Chambon, V., Wenke, D., Fleming, S. M., Prinz, W. & Haggard, P. An online neural substrate for sense of agency. Cereb. Cortex 23, 1031–1037 (2013).

Eimer, M. & Schlaghecken, F. Response facilitation and inhibition in subliminal priming. Biol. Psychol. 64, 7–26 (2003).

Chambon, V., Moore, J. W. & Haggard, P. TMS stimulation over the inferior parietal cortex disrupts prospective sense of agency. Brain Struct. Funct. 220, 3627–3639 (2015).

Cavazzana, A., Penolazzi, B., Begliomini, C. & Bisiacchi, P. S. Neural underpinnings of the 'agent brain': new evidence from transcranial direct current stimulation. Eur. J. Neurosci. 42, 1889–1894 (2015).

Moore, J. W., Ruge, D., Wenke, D., Rothwell, J. & Haggard, P. Disrupting the experience of control in the human brain: pre-supplementary motor area contributes to the sense of agency. Proc. R. Soc. B 277, 2503–2509 (2010).

Bratman, M. E. Intention, Plans, and Practical Reason (Cambridge Univ. Press, 1999).

Desmurget, M. & Sirigu, A. A parietal-premotor network for movement intention and motor awareness. Trends Cogn. Sci. 13, 411–419 (2009).

Alloy, L. B. & Abramson, L. Y. Judgment of contingency in depressed and nondepressed students: sadder but wiser? J. Exp. Psychol. Gen. 108, 441–485 (1979).

Frith, C. D., Blakemore, S. & Wolpert, D. M. Explaining the symptoms of schizophrenia: abnormalities in the awareness of action. Brain Res. Brain Res. Rev. 31, 357–363 (2000).

Synofzik, M., Thier, P., Leube, D. T., Schlotterbeck, P. & Lindner, A. Misattributions of agency in schizophrenia are based on imprecise predictions about the sensory consequences of one's actions. Brain 133, 262–271 (2010).

Daprati, E. et al. Looking for the agent: an investigation into consciousness of action and self-consciousness in schizophrenic patients. Cognition 65, 71–86 (1997).

Blakemore, S. J., Smith, J., Steel, R., Johnstone, C. E. & Frith, C. D. The perception of self-produced sensory stimuli in patients with auditory hallucinations and passivity experiences: evidence for a breakdown in self-monitoring. Psychol. Med. 30, 1131–1139 (2000).

Shergill, S. S., Samson, G., Bays, P. M., Frith, C. D. & Wolpert, D. M. Evidence for sensory prediction deficits in schizophrenia. Am. J. Psychiatry 162, 2384–2386 (2005).

Shergill, S. S. et al. Functional magnetic resonance imaging of impaired sensory prediction in schizophrenia. JAMA Psychiatry 71, 28–35 (2014).

Haggard, P., Martin, F., Taylor-Clarke, M., Jeannerod, M. & Franck, N. Awareness of action in schizophrenia. Neuroreport 14, 1081–1085 (2003).

Waters, F. & Jablensky, A. Time discrimination deficits in schizophrenia patients with first-rank (passivity) symptoms. Psychiatry Res. 167, 12–20 (2009).

Voss, M. et al. Altered awareness of action in schizophrenia: a specific deficit in predicting action consequences. Brain 133, 3104–3112 (2010). This paper used a simple experimental manipulation to dissociate the component of sense of agency based on retrospective inference from that based on outcome prediction; patients with schizophrenia relied more on the former, and healthy volunteers more on the latter.

Moore, M. S. Law and Psychiatry: Rethinking the Relationship (Cambridge Univ. Press, 1984).

Milgram, S. Behavioral study of obedience. J. Abnorm. Psychol. 67, 371–378 (1963).

Caspar, E. A., Christensen, J., Cleeremans, A. & Haggard, P. Coercion changes the sense of agency in the human brain. Curr. Biol. 26, 585–592 (2016). This recent study combined an implicit measure of sense of agency with Milgram's classical obedience paradigm to show how coercive instructions reduce sense of agency over action outcomes.

Engbert, K., Wohlschlager, A. & Haggard, P. Who is causing what? The sense of agency is relational and efferent-triggered. Cognition 107, 693–704 (2008).

Wegner, D. M. & Sparrow, B. in The Cognitive Neurosciences 3rd edn (ed. Gazzaniga, M.) 1201–1209 (MIT Press, 2004).

Lacey, N. Responsibility without consciousness. Oxford J. Legal Studies 35, 665–696 (2015).

Libet, B., Gleason, C. A., Wright, E. W. & Pearl, D. K. Time of conscious intention to act in relation to onset of cerebral activity (readiness-potential). The unconscious initiation of a freely voluntary act. Brain 106, 623–642 (1983).

DPP v. Camplin [1978] (UKHL 2) www.bailii.orghttp://www.bailii.org/uk/cases/UKHL/1978/2.html (1978).

Casey, B. J., Jones, R. M. & Hare, T. A. The adolescent brain. Ann. NY Acad. Sci. 1124, 111–126 (2008).

Rex v. Kiranjit Ahluwalia [1992] EWCA Crim 1 www.bailii.orghttp://www.bailii.org/ew/cases/EWCA/Crim/1992/1.html (1993).

Abramson, L. Y., Seligman, M. E. & Teasdale, J. D. Learned helplessness in humans: critique and reformulation. J. Abnorm. Psychol. 87, 49–74 (1978).

Coroners and Justice Act. 2009 section 52. Partial defence to murder: diminished responsibility www.legislation.gov.ukhttp://www.legislation.gov.uk/ukpga/2009/25/section/52 (2009).

Maier, S. F. & Watkins, L. R. Role of the medial prefrontal cortex in coping and resilience. Brain Res. 1355, 52–60 (2010).

Kaye, K. & Fogel, A. The temporal structure of face-to-face communication between mothers and infants. Dev. Psychol. 16, 454–464 (1980).

Ruvolo, P., Messinger, D. & Movellan, J. Infants time their smiles to make their moms smile. PLoS ONE 10, e0136492 (2015).

Cipriani, D. Children's Rights and the Minimum Age of Criminal Responsibility: A Global Perspective (Ashgate Pub., 2009).

Brown, C. My Left Foot (Simon & Schuster, 1955).

Taylor, A. H. et al. Of babies and birds: complex tool behaviors are not sufficient for the evolution of the ability to create a novel causal intervention. Proc. Biol. Sci. 281, 20140837 (2014).

Iriki, A. & Taoka, M. Triadic (ecological, neural, cognitive) niche construction: a scenario of human brain evolution extrapolating tool use and language from the control of reaching actions. Phil. Trans. R. Soc. B 367, 10–23 (2012).

Iriki, A., Tanaka, M., Obayashi, S. & Iwamura, Y. Self-images in the video monitor coded by monkey intraparietal neurons. Neurosci. Res. 40, 163–173 (2001).

Hochberg, L. R. et al. Neuronal ensemble control of prosthetic devices by a human with tetraplegia. Nature 442, 164–171 (2006).

Koralek, A. C., Jin, X., Long, J. D., Costa, R. M. & Carmena, J. M. Corticostriatal plasticity is necessary for learning intentional neuroprosthetic skills. Nature 483, 331–335 (2012).
Acknowledgements
This work was supported by European Research Council (ERC) Advanced Grant HUMVOL (agreement number 323943) and by a grant from Arts & Humanity Research Council (AHRC) (number AH/L015145/1). The article benefitted from a fellowship at the Paris Institute for Advanced Studies (France), with the financial support of the French State managed by the Agence Nationale de la Recherche, programme "Investissements d'avenir" (ANR-11-LABX-0027-01 Labex RFIEA+). The author thanks E. Brann for comments and assistance.
Ethics declarations
Competing interests
The author declares no competing financial interests.
Glossary
Instrumental control

The capacity to initiate an action and thus bring about an intended change in the environment.

Volition

The process of preparing, initiating and executing an action under one's own control. Traditionally, the hallmark of volitional action is that the agent 'could have done otherwise', implying that the action was not directly caused by the current stimulus environment.

Mirror self-recognition

The capacity to recognize a visual percept as being related to one's own body. This has traditionally been assessed by a test in which a coloured mark is placed on a body location, such as the forehead, and subsequently viewed via a mirror. Only if the animal recognizes the body in the mirror as its own, will it try to remove the mark.

Transcranial magnetic stimulation

(TMS). A technique in which a strong magnetic field is applied to the scalp to influence neural activity in a cortical area beneath. If ongoing cognitive performance is impaired, the affected cortical area is assumed to be necessary for the task.

Transcranial direct current stimulation

(TDCS). A non-invasive brain stimulation technique in which a small current passes between electrodes that are positioned on the scalp. Anodal stimulation is thought to increase excitability of the underlying cortex, whereas cathodal stimulation may reduce excitability.

Efference copy

A copy of the outgoing (efferent) motor command from the brain to the muscles. An efference copy, in conjunction with a forward model, can be used to predict the sensory consequences of action.

Prediction error

The difference between the actual outcome of an action and the predicted outcome. Neural signalling of prediction error can be used to adjust and improve performance, and also to learn how to improve future predictions.

Event-related potential

An electrical potential that is generated in the brain as a consequence of neuronal activity becoming synchronized by the external stimulus. Event-related potentials are recorded by averaging electroencephalographic measurements recorded at the scalp and time-locked to a stimulus, and consist of precisely timed sequences of waves or 'components', which may each reflect a specific cognitive process in the brain.

Instrumental actions

Actions that produce a direct or indirect consequence on an animal's external environment. The transformation of the environment is the goal of the action.
About this article
Cite this article
Haggard, P. Sense of agency in the human brain. Nat Rev Neurosci 18, 196–207 (2017). https://doi.org/10.1038/nrn.2017.14
Published:

Issue Date:

DOI: https://doi.org/10.1038/nrn.2017.14