Abstract
Two bacteria are featured this month, and both are at the lower end of the genome size scale. The first, Mycoplasma gallisepticum, belongs to a group of bacteria that have been studied both as important human and animal pathogens and in the pursuit of understanding the essential functions of a self-replicating minimal cell. The second, Nanoarchaeum equitans, is an obligate symbiont that only grows in co-culture with another archaeon. N. equitans seems to be the coelacanth of the microbial world — it has been assigned to a new phylum and represents a primitive form of prokaroytic life.
Access options
Access options
Subscribe to Journal
Get full journal access for 1 year
$265.00
only $22.08 per issue
All prices are NET prices.
VAT will be added later in the checkout.
Rent or Buy article
Get time limited or full article access on ReadCube.
from$8.99
All prices are NET prices.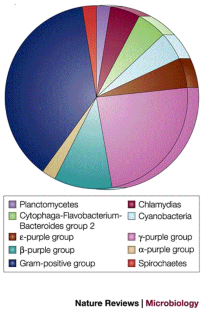 References
1

Papazisi, L. et al. The complete genome sequence of the avian pathogen Mycoplasma gallisepticum strain Rlow . Microbiology 149, 2307–2316 (2003).

2

Waters, E. et al. The genome of Nanoarchaeum equitans: insights into early archaeal evolution and derived parasitism. Proc. Natl Acad. Sci. 100, 12984–12988 (2003).
Related links
Related links
DATABASES
Entrez
FURTHER INFORMATION
Further reading
Kira S Makarova

&

Eugene V Koonin

Current Opinion in Microbiology (2005)