Abstract
Integrative and conjugative elements (ICEs) are being identified in increasing numbers. Although some of the elements now classified as ICEs were discovered a long time ago, such as pSAM2 (1984) and Tn916 (1995), the similarities between these elements have only recently been recognized. ICEs can allow bacteria to survive in new environments and acquire virulence factors, and can have profound effects on the bacterial genome.
Access options
Subscribe to Journal
Get full journal access for 1 year
$99.00
only $8.25 per issue
All prices are NET prices.
VAT will be added later in the checkout.
Tax calculation will be finalised during checkout.
Rent or Buy article
Get time limited or full article access on ReadCube.
from$8.99
All prices are NET prices.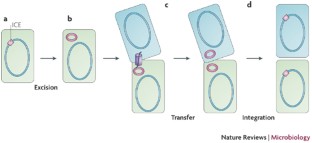 References
1

Burrus, V., Pavlovic, G., Decaris, B. & Guédon, G. Conjugative transposons: the tip of the iceberg. Mol. Microbiol. 46, 601–610 (2002).

2

Lin, T. L., Lee, C.-Z., Hsieh, P.-F., Tsai, S.-F. & Wang, J.-T. Characterization of integrative and conjugative element ICEKp1-associated genomic heterogeneity in a Klebsiella pneumoniae strain isolated from a primary liver abscess. J. Bacteriol. 190, 515–526 (2008).

3

Mavrodi, D. V., Loper, J. E., Paulsen, I. T. & Thomashow, L. S. Mobile genetic elements in the genome of the beneficial rhizobacterium Pseudomonas fluorescens Pf-5. BMC Microbiol. 13, 8 (2009).

4

Taviani, E. et al. Environmental Vibrio spp., isolated in Mozambique, contain a polymorphic group of integrative conjugative elements and class 1 integrons. FEMS Microbiol. Ecol. 64, 45–54 (2008).

5

Osorio, C. R. et al. Genomic and functional analysis of ICEPdaSpa1, a fish-pathogen-derived SXT-related integrating conjugative element that can mobilize a virulence plasmid. J. Bacteriol. 190, 3353–3361 (2008).

6

te Poele, E. M. et al. Actinomycete integrative and conjugative pMEA-like elements of Amycolatopsis and Saccharopolyspora decoded. Plasmid 59, 202–216 (2008).

7

Croucher, N. J. et al. Role of conjugative elements in the evolution of the multidrug-resistant pandemic clone Streptococcus pneumoniae Spain23F ST81. J. Bacteriol. 19, 1480–1489 (2009).

8

Holden, M. T. G. et al. Genomic evidence for the evolution of Streptococcus equi: host restriction, increased virulence and genetic exchange with human pathogens. PLoS Pathog. 5, e1000346 (2009).

9

Pavlovic G., Burrus, V., Gintz, B., Decaris, B. & Guédon, G. Evolution of genomic islands by deletion and tandem accretion by site-specific recombination: ICESt1-related elements from Streptococcus thermophilus. Microbiology 150, 759–774 (2004).

10

Brochet, M. et al. Shaping a bacterial genome by large chromosomal replacements, the evolutionary history of Streptococcus agalactiae. Proc. Natl Acad. Sci. USA 105, 15961–15966 (2008).

11

Nakayama, K. et al. The whole-genome sequencing of the obligate intracellular bacterium Orientia tsutsugamushi revealed massive gene amplification during reductive genome evolution. DNA Res. 15, 185–199 (2008).
About this article
Cite this article
Seth-Smith, H., Croucher, N. Breaking the ICE. Nat Rev Microbiol 7, 328–329 (2009). https://doi.org/10.1038/nrmicro2137
Further reading
Daniela Ceccarelli

,

Matteo Spagnoletti

,

Donatella Bacciu

,

Piero Cappuccinelli

&

Mauro M Colombo

BMC Microbiology (2011)